X-Cart Features
Just about any feature you like with absolutely no hassle at all
Search-as-you-type by X-Cart
Boost your conversion rates with lightning-fast cloudsearch that enables real-time suggestions and spell-checking. Support for synonyms, promotions and statistics make it an even more powerful marketing tool.
Ready for international sale
Show product prices, shipping costs and totals in the currency your buyers are used to. Translate the storefront and catalog to 40+ languages and, if needed, set right-to-left typing to make your store closer to your audience from around the world. Everything is SEO friendly, so both your customers and search engines will love it.
View all languages
Pages that convert
Enrich product descriptions with HTML content, add extra tabs to make your pages more understandable, offer membership, attach an unlimited number of files to your products and let your customers do the same before checkout.
Product filters
Powerful product filters narrow search results by price and in-stock availability as well as specific attributes like size, color, fabric, pattern, capacity, display size or any other custom parameters. Let your shoppers find things fast!
Product comparison
Allow your customers to compare similar products side by side to find exactly what they are looking for. Let them choose to display every single parameter, like size, weight, price and others, or show differences only.
Get this addon for free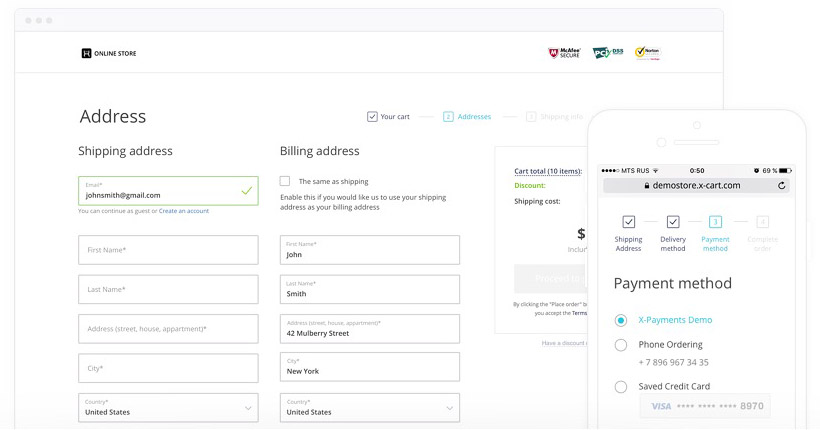 One step & multi-step checkouts for your choice
Multi-step Fast Lane Checkout, compatible with both Standard and Crisp White Skin, lets your customers focus on one piece of info at a time. Splitting X-Cart checkout into several steps, it makes the whole buying process easier and more user-friendly. One page checkout, built into X-Cart 5 by default, goes without the "continue" button at all.
Recurring payments & ability to save credit cards
Host the payment page right on your website and access more than 50 payment processors with PA-DSS certified payment application X‑Payments. By supporting tokenization, it allows for recurring payments and subscriptions as well as PCI-compliant "storage" of credit card details.
Get X-Payments app
Transaction security
Financial transactions require profound security measures. HTTPS/SSL support for secured connections and safe checkout as well as cryptographically strong SHA 2 are here to encrypt your customers' sensitive data.
Fraud detection
Our powerful anti-fraud tools will secure you against online scam and keep your business safe, no matter what.
View our antifraud services
"Pay with Amazon" and "PayPal Express Checkout"
With X-Cart your customers have quick access to shopping cart contents and checkout on any page of the store. Enable "Pay with Amazon" and "PayPal Express Checkout" buttons to make the checkout process even more speedy and reduce customer wait times.
100% PCI-DSS compatible payment processing
X‑Cart makes PCI compliance easy whether customers check out right from your storefront via a merchant-hosted payment page or are redirected to an external payment gateway-hosted checkout page. In any case, credit card data is in a secure location.
Talk to our specialists
120+ supported payment gateways
A significant number of international gateways, such as PayPal, Sage Pay and Authorize.net allow you to accept payments from all over the world in multiple currencies and languages.
View all payment gateways
Social login
Minimize barriers to your store by cutting the need for typing usernames and passwords and enabling the usage of an existing Facebook, Google+ or PayPal account.
Install Social Login app
Guest checkout
Allow orders to be placed without account registration, while easily tracking all "anonymous orders" assigned to the same email address.
"Operate as this user" feature
Place orders on behalf of your customers right through your store: add products to a registered customer's shopping cart, select an offline payment method on Checkout page.
Address book
Returning customers can save multiple shipping and billing addresses in the address book to use them at checkout. No need to type them again and again!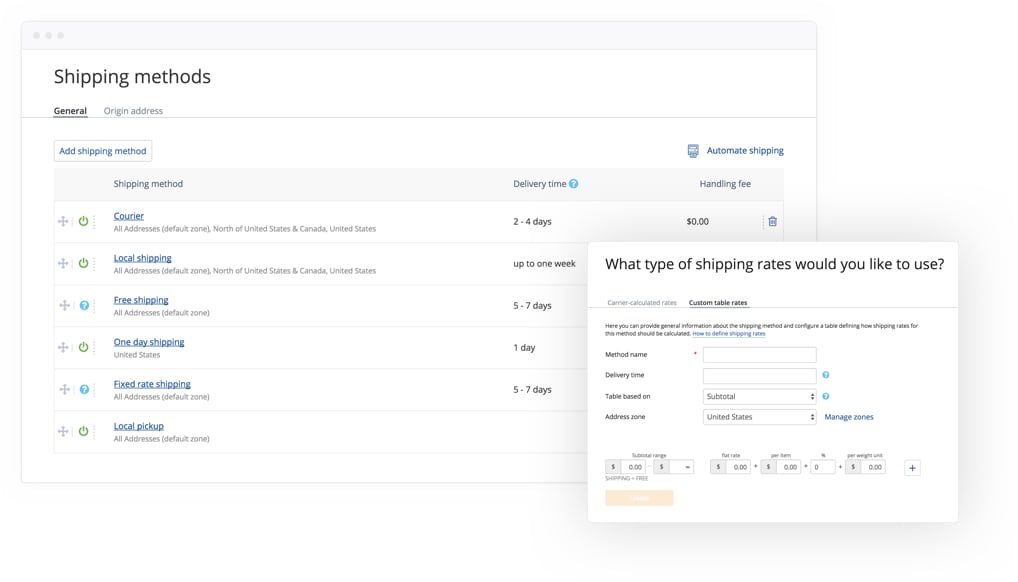 Real-time shipping quotes
Give your customers the most accurate shipping quotes available with real-time prices from Australia Post, Canada Post, FedEx, UPS, DHL, USPS, Pitney Bowes, Pilibaba and ShippingCalc.
View shipping methods
Manual shipping rates
Perfect the way your store charges customers for shipping using X-Cart custom-defined delivery methods with flat rates, weight-, order total- and per-item based shipping cost. Manually add new records with rates, edit or remove outdated ones.
Printed labels
Automate your shipping by printing FedEx, UPS, and USPS labels in one click with Shiplark add-on.
Flexible tax system to define the rates
Sales Tax for the United States, VAT for Europe, PST/GST/HST for Canada and Australia. VAT exemption with online VAT ID validation via the free web service Vies.
View all tax calculation addons
Sales tax automation with AvaTax
AvaTax automatically assigns hundreds of thousands of taxability rules and the latest jurisdiction boundaries to deliver the right rate and tax calculation.
Get AvaTax Sales Tax Automation module
Order tracking numbers
Assign tracking numbers to your orders and let your customers check delivery status of their packages any time they like.
Unlimited number of items
You can sell as many products as you wish, with no limit on the quantity of each of them. The only limitation is your imagination!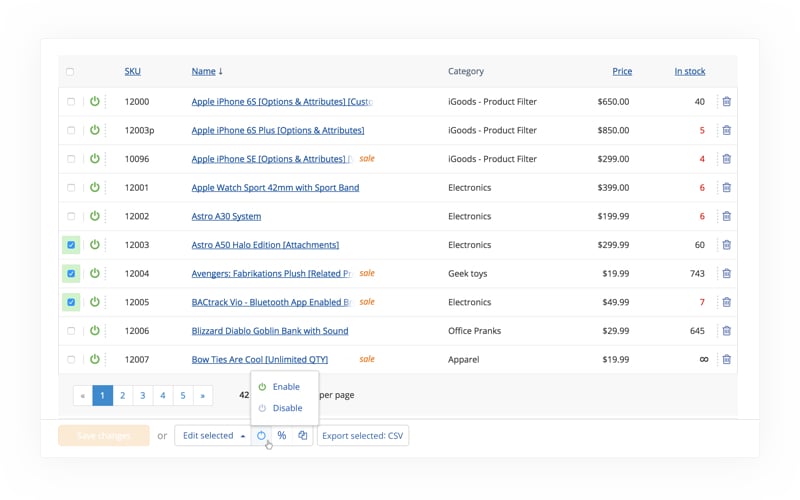 Individual or bulk editing
Use WYSIWYG editor for catalog descriptions and CMS to make your texts more vivid and comprehensive. Speed up catalog management with Excel-compatible CSV export and import. Mass change categories and tags, inventory and shipping info, prices and memberships with bulk editing feature. Rewrite product descriptions directly on the product preview page. There's no need to be a developer to do it!
"Call for price" button
There are cases where publishing your prices doesn't make sense. Disable product prices store-wide or show a "call for price" button for selected goods to let your customers contact you to negotiate the price.
Get Call for price module
Advanced image-processing tools
Upload an unlimited number of product images and images for variants. Generate thumbnails using a built-in sharpness filter and a lightbox effect. Use in-page Smart zoom to show every detail of your product.
Online auction feature
Setup your auction details — the initial price, duration and the minimum bid increment. Monitor each lot and change auction parameters on-the-fly as needed to get more people involved. Raise more money without breaking a sweat.
Try Auction in X-Cart 5 addon
Ability to sell electronic products
You can sell both tangible goods and eGoods in one online store. Just specify whether a file attached to a product can be purchased or downloaded for free.
Add eGoods module to your store
Product attributes and variants
There's a pretty wide possible range of product types and varieties within a single product, like color, pattern or technical specifications. X-Cart allows you to add them all: global, product class and product-specific attributes with optional price modifiers. On top of that, you can generate variants based on these attributes. Everything to make shopping easier!
Inventory tracking
Save valuable time on paperwork, keeping track of the number of products and variants in stock. See bestsellers and low-stock products on your dashboard to understand what your audience really loves.

Advanced order management
Modify orders on behalf of your customers: add/remove products, modify selected options and variants. Update pricing, taxes, discounts, delivery methods and shipping costs.
Custom order statuses
Payment and fulfilment statuses of the order are separated to manage the orders more effectively. For instance, "Awaiting payment" status will be changed to "Paid" when the order is fulfilled. Good news is that you can do the same in your admin area.
Mobile admin app
Manage your store on-the-go from your iPhone or Android-based smartphone with our free X-Cart Mobile admin app. Check quick statistics, see order info, call, send messages to your customers and enjoy mobility — anytime and everywhere.
Support of multiple transactions
X-Cart supports multiple transactions per order, which the administrator can view on the detailed order history page. If your customer decides to make a partial payment or update his order information, you'll see it.
Returns & Refunds
Never worry if your customer changes his mind about the purchase — we've done everything possible to make the whole process as stressless as possible. With Order returns add-on product returns become quick and convenient, allowing you to cut down on endless back-and-forth emails. X-Payments will help you to issue a full or partial refund in just a few clicks.
Get Order returns module
Order messages
Get more personal with your customers by offering an easy and convenient way to reach you right from the order details page. A well-thought out notification system is here to keep you informed, so you won't miss a thing.
Get Order Messages addon for free
Abandoned cart recovery
Pull back reluctant shoppers by sending them beautiful timely notifications about abandoned carts and failed orders. Manually customize notification settings to fit your business needs, attach discount coupons… and finally stop missing out on sales.
Automated accounting
QuickBooks and Xero integrations simplify the whole accounting process to a few clicks. No need to dig into endless calculations.
Get the modules for free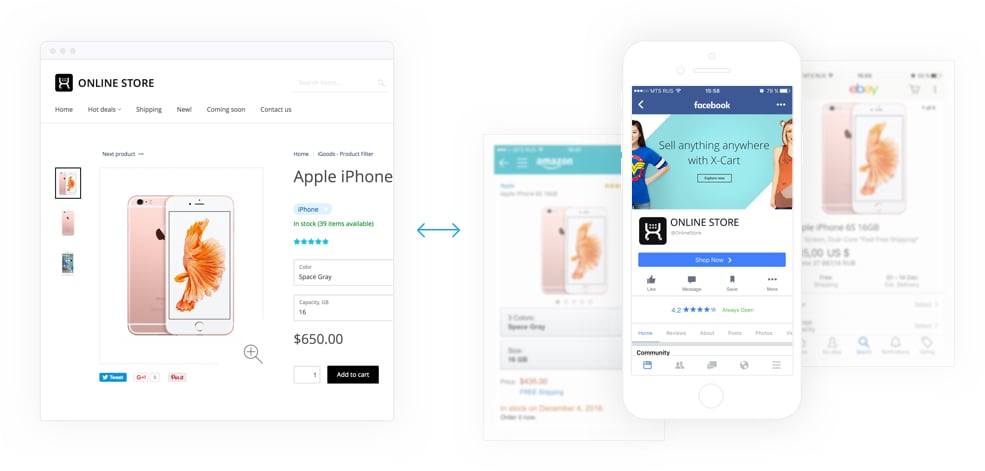 Amazon
Broaden your customer base and instantly boost sales, reaching more than 310 million of Amazon's shoppers. Easily export your product details, inventory, images and pricing from your X-Cart store with the help of our Amazon Feeds module. And then let Amazon do the rest — fulfil your orders, take care of your customers and do the whole marketing thing for you.
Get Amazon Feeds module
Google Shopping, Nextag, Pricegrabber, Shopzilla and other channels
Export your products to multiple popular shopping engines like Google Shopping, eBay e-Commerce Network, Nextag, Pricegrabber, Shopzilla, and find out which tools are the most powerful for your business.
All with Product Feeds module
X‑Cart POS system to connect offline and online stores
Control products, orders and inventory of both retail and online stores within a single web interface, where you can also accept payments, print receipts and barcode labels.
Everything with our X-Cart POS system
Marketing, SEO & Analytics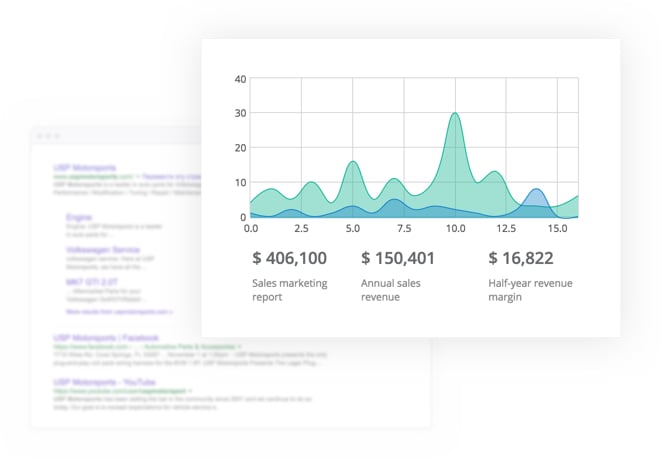 Effective SEO-tools
X‑Cart gives you all the tools you need to get top ranks and high CTR in organic search: clean and canonical URLs, configurable page titles and META tags, XML sitemap and rich snippets shown in search results.
Auctions, coupons and discounts
Conduct classic auctions, offer discount coupons and volume discounts, set wholesale prices based on customer membership levels, and turn on "Sale" mode to take part in Black Friday and Cyber Monday once a year or even more often.
Email marketing
Power your newsletters with MailChimp, an email marketing app that allows for up to 12,000 free emails to a list of up to 2,000 subscribers monthly. Unlock the hidden potential of your transactional notifications with Mandrill and make it easier for your customers to subscribe to your company news with our forever free Newsletter subscriptions addon.
MailChimp, Mandrill and Newsletter addons
Out-of-the-box ideas to level up conversions
Loyalty program, abandoned cart reminder, exit offers and an advanced banner system will make every client a returning client. "Customers also bought" and "Recently viewed", cross-sell and upsell, new arrivals and "Coming soon", featured products and bestsellers will push customers to buy.
Basic statistics
Map & perfect your customer's journey via a handy dashboard — it shows quick statistics like recent orders, bestsellers, low-inventory products, number of orders and revenue for a selected period. Everything you need to know about your users.
Integrated analytics tools
X-Cart has a number of options for tracking statistics, like Google Analytics and Yandex.Metrica, Mailchimp's eCommerce 360 feature and eCommerce Google Analytics, Diib analytics, Segment and CloudSearch will help you to turn insights into actions and improve your customers' engagement by times.
See how we did it!
Advanced in-app marketing
Mobile devices are now an integral part of our daily lifestyle, with people spending nearly 90% of their mobile time in-app. It means that mobile-only deals, location-specific deals, mobile loyalty program and timely push-notification promos will definitely enrich your marketing arsenal.
Social buttons
Put product ratings and reviews at your customers' fingertips. Like, Tweet, G+ and Pin buttons make it easy to share content and get acquainted with friends of your friends.
Go social for free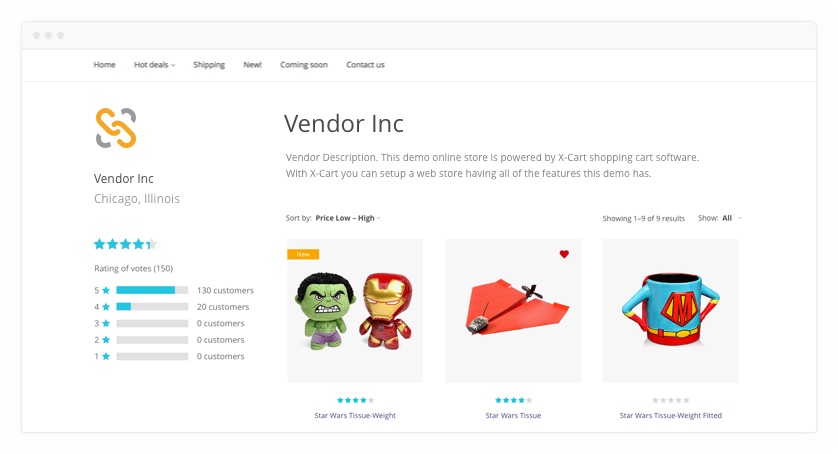 Single vendor Storefront
Several independent product providers share a single "virtual mall" for selling their goods and services — with a single storefront, a single cart and a single checkout.
Separate vendor Back-End
Each provider manages their own products and orders independently of other providers via a personal password-protected account.
Admin control
Root Administrator account controls every aspect of the store and can moderate the accounts of individual providers and the goods they are selling.
Advanced customer experience
Advanced product search and filter, "shop by vendor" feature, vendor info, photo and order messages make it easy to engage people browsing the website. And a single payment checkout makes the shopping experience as simple as microwaving a bag of popcorn.
Warehouse vs Vendors as separate shops
Two different modes are meant to draw the line between those who store their goods in a single warehouse and those who ship products from separate multi-location warehouses. However, the process is absolutely hassle-free for your customers — no matter how many vendors there are, the order is paid just once.
Get Multi-Vendor module for your store
PayPal adaptive for automatic payments
Accept payments for an unlimited number of products from different suppliers within a single interface and automatically split the total amount into several parts. Admin gets the commission, the vendors — their payments.
Trusted / non-trusted vendors
Why should your customers constantly guess what companies are good or bad, reliable or untrustworthy? Tag trusted and non-trusted vendors to help your customers shop smarter.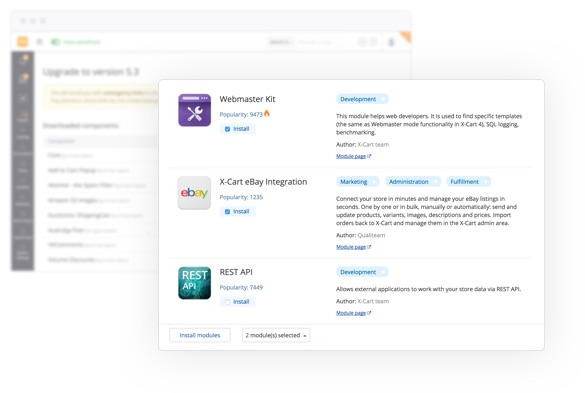 One-click module installation
Install modules and design templates in a couple of clicks without leaving the admin area of the store, just like in Google Play or App Store, and instantly enjoy your new features!
Simple upgrade procedure
Flexible modular architecture allows you to tailor the eCommerce platform to your precise needs without affecting the core. Even a heavily customized store remains easy to upgrade — no jokes:) You click the button, X‑Cart does the rest.
High-level security
100% PCI-DSS compliance for safe payment acceptance and processing for your customers' security
HTTPS/SSL support for secured connections and safe checkout, cryptographically strong SHA 2 sensitive data encryption
XSS- and CSRF-attack protection, protection against SQL-injections meaning that each query to DB is secure and all the variables are being checked
Failed login attempts notifications
Database backup and restore feature
Two-factor authentication that adds an extra layer of security to your store
Architecture
Back-end: MVC with hierarchical widgets
Front-end: fast and dynamic client side widgets built with MVVM in mind.
Several caching layers (data cache, widget cache, query cache) ensure outstanding performance
Developer Tools
REST API module: work securely with the store data without direct access to the server.
WebmasterKit development and debugging module visualizes the hierarchy of templates and shows different kinds of logs, such as script execution time, SQL queries and memory usage.







Language, Database, Frameworks and Libraries
Open source, OOP, PHP 5.4.x+, PHP7 support
Database: MySQL, MariaDB, Percona Server for MySQL
Front-end framework: Twig templating engine, Bootstrap 3.1 with LESS support
Javascript frameworks and libraries: jQuery 1.11, jQuery UI 1.10, Vue.js, underscore.js
Doctrine 2.5: with fixtures in YAML format;
Developer blog and forum
Stay tuned for the latest news about X-Cart and share your thoughts on our constantly updated and carefully monitored forum.
Developer docs and video tutorials
Everything you need to know to manage your X-Cart 5 store is stored in our knowledge base (if you prefer to read) and video tutorials (if you'd like to watch).
Browse X-Cart knowledge base
Watch webinars and video tutorials