←
Back to Blog
Your Complete One-Stop Guide on Amazon Dropshipping [+ Examples]
This blog post was originally contributed by Rukham Khan, a Content Lead at MailMunch.
In the U.S alone, online retail sales totaled a mind-boggling $517 billion in 2018! If you can even capture a small piece, no scratch that, tiny crumbles of this pie, you can expect to add multiple zeroes to the end of your bank balance.
If you're looking to get a piece of this action, a popular and effective way is to get into dropshipping, specifically Amazon dropshipping, because Amazon is the biggest online marketplace on the planet.
The problem with starting an Amazon dropshipping business is knowing prerequisites of setting up a store and finding information that can help you grow to become profitable.
In this article, we'll answer all the most important questions you need to know when setting up an Amazon drop shipping store and give you step-by-step information that will have you enjoying a piece of that juicy half a trillion dollar pie.
And if you find the drop shipping path too complicated or time-consuming, our experts can take care of it for you. With a dedicated account manager, we'll research your opportunities and tailor an ad strategy that perfectly fits your business goals. Don't waste your time and money going it alone.
We'll address:
legalities of Amazon dropshipping
Amazon drop shipping policies
how to start dropshipping on Amazon
how to find suppliers to sell your desired products
dropshipping from Aliexpress to Amazon
profits you can expect.
But first, here's a short refresher on what dropshipping is:
1. What is dropshipping?
Dropshipping is an inventory-less business model. It essentially involves you, the retailer selling to front-end customers but not holding any actual physical inventory. When a customer places an order, the information is relayed to your supplier who then directly ships to the customer with your business's shipping labels.
You are therefore responsible for only marketing and customer communication. Shipping and stocking are handed by your suppliers.
This model of online selling gives you the advantage of low start-up costs, higher cash flows, and simpler supply chain management.
With the dropshipping model, you just need good internet, a working laptop, a good supplier, and of course, demand for what you're selling.
2. Is dropshipping legal?
Yes, dropshipping is absolutely legal. At its core, it's just a way of order fulfillment where the supplier handles shipping.
But it's a great sign if you're asking this question when considering drop shipping fulfilled by Amazon. You should always do your research before you start anything.
Here are some important legal considerations relevant to dropshipping:
1. Ensure you don't violate any tax laws
Whenever you set up a new business, register it with the government to make it legal and legitimate. Always check the applicable laws in the country where you decide to set your business up. In the U.S, you are required to set-up a tax ID which you will use to sell on Amazon.
2. Avoid copyright infringement
When you list brands on your eCommerce store, you have to make sure you have the right to resell their items. You need to make sure that you did your homework. Investigate if the products are fake or not and that you have permission to resell them. Any sort of unauthorized use of brand images, trademarks, logos, taglines, and even colors can land you and your store into trouble.
3. Laws you should know if you're selling in Europe
If you use analytics for your store and tools that collect various visitor information, you are required to disclose that you are doing so under the EU Cookie Law.
If you collect emails from your sales page, GDPR regulations require you have to provide double opt-in to your visitors. This means even when they agree to sign-up to your email list, you have to send them a confirmation email to make the opt-in legitimate.
Amazon Dropshipping Policy
Amazon explicitly states that dropshipping is generally acceptable across its platform.
Even then, there are some policy measures you have to abide by. These include:
Identifying yourself as the seller of your products on all your product slips, invoices, and packaging
Removing any labels and slips, and information that comes from your supplier
Being responsible for product returns and defects
Complying with all other Amazon seller policies
Not purchasing from another retailer and shipping their items to your customers
Following these simple rules will ensure smooth sailing for your Amazon dropshipping store.
Note: If you violate any of the abovementioned rules, your Amazon account may be suspended. Luckily, there is a way out. Check out 10 things to do and NOT to do when your Amazon seller account is suspended.
How to start dropshipping on Amazon?
Now that you know what drop shipping is, and how it's a totally legal way to earn money on Amazon, let's get into how you can start drop shipping products on Amazon.
But before you start setting up your Amazon seller account, you may want to get a better picture of the Amazon basics. For more info on that, check out Seller Labs guide, How to Sell on Amazon: A Guide for Beginners and Experts Alike.
Step 1: Make an Amazon seller account
You can go to Amazon Dropship Central site and sign-up for an Amazon seller account.
First thing you have to decide is whether you'll be signing up as a Professional seller or Individual seller.

As an individual, you incur no monthly fees but you pay $0.99 per sale and can sell up to 40 items a month.
As a professional, you pay a monthly fee of $39.99 dollars but don't incur per-sale costs, and can sell an unlimited amount of items. A Professional seller account has the added benefit of letting you set your own shipping rates and offering products that aren't on listings already created by Amazon.
Our advice would be to go for a Professional seller account if you're serious about dropshipping on Amazon, as the benefits greatly outweigh the monthly $40 cost.
For the actual registration, you'll need 5 important pieces of personal information:
Your business name, address and contact information
An email account you want to dedicate to your store
A credit card with a valid billing address
A phone number, which will be used to authenticate your account
Your tax identity information
If you can gather all these documents and credentials beforehand, you'll have a smooth and quick registration process.
After you've provided this information, you'll complete your registration to become a registered seller on Amazon. Congratulations!
Step 2: Select your product category and set up your profile
Now you will select the product category you want to sell in your store. Finding the right product to sell can be a daunting task. That's why even if you select a category now, Amazon allows you to change your preferences later on, so don't fret about this part too much.
There are about 20 categories for which you don't require prior approval and can start selling in right away.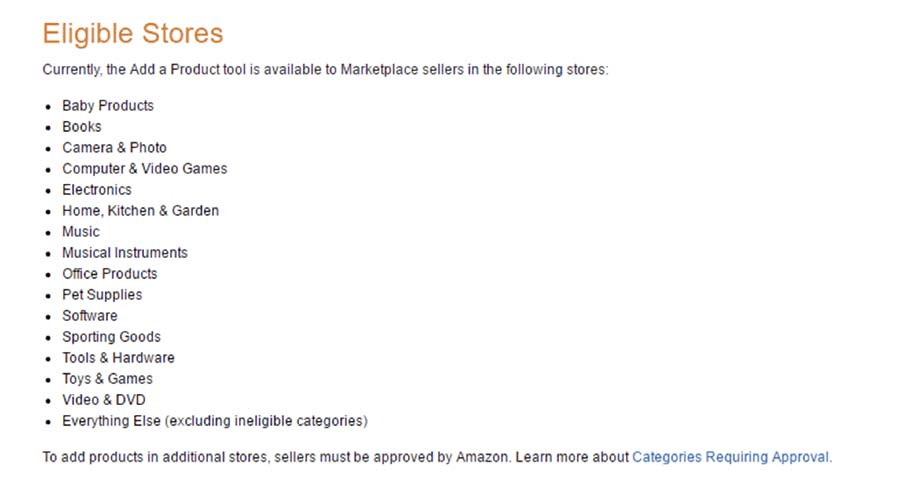 Products outside these categories fall under 'gated categories'. To sell something in gated categories, you have to seek approval from Amazon. Amazon will ask you various questions, send you documents to fill in, and ask you to send pictures of your products you want to sell.
Once your category is approved, you'll set up your seller profile. The more complete and comprehensive your profile is, the easier it will be for you to dropship on Amazon, and the more your buyers will trust you.
In your profile, you'll configure things like notification settings, login settings, tax settings, user permissions and store policies (Amazon assists you in creating policy if you're unsure how to set one).
3. Find the right dropshipping suppliers for your Amazon store
Finding a reliable dropshipping supplier can be a little more complicated than doing a Google search for 'dropshipping suppliers'.
The thing with suppliers is, to provide you products at low cost, they don't spend a lot of money on marketing and so it's unlikely for them to appear in the top SERPs, as they don't invest heavily in SEO.
Another common problem is running into scams when looking for a legitimate dropshipping supplier. Even if you find authentic suppliers, there's always a chance you can
get overcharged
purchase poorly designed products and incur customer wrath
get sued if your supplier doesn't ship what the customer was promised
I know, these problems make dropshipping look very risky but there is a way to avoid all these troubles and still find yourself a supplier that's going to help you rake in the profits.
Where do you find trustworthy suppliers?
We've compiled a list of dropshipping suppliers that you can partner with to sell your products. We've also mentioned their strengths and weaknesses so you can make an informed decision before selecting a supplier.
Megagoods
Cheap products available, low monthly subscription costs
Limited product and website integrations
Wholesale Central
Over 600,000 items listed
Website poorly built, bad UI
SaleHoo
Salehoo has a large, active community where you can learn from others and ask questions. They provide a research lab to experiment with product profitability
No free trial. Training is extensive (can be overwhelming)
Wholesale 2B
Over 1.5 million products to choose from. Built-in e-commerce integrations
Communication with wholesalers limited and slow. Limited analytics dashboard
Sunrise Wholesale
Quick order processing. Access to Amazon selling and research manager
Limited product range (around 15000). High restocking fee
Dropship Direct
Offers free version. Good for beginners
Wholesale pricing higher than the competition.
Oberlo
Modern UI, tight integration with Shopify, easy to import products from Aliexpress
Only works with Shopify stores.
Doba
Large product listing (2 million plus items). Regular email updates regarding suppliers and products.
Pro package can set you back in you're just starting out ($249 a month).
These directories will give you access to a plethora of suppliers you can work with. Even then, as a beginner, you should still do your homework and vet your suppliers.
How to vet your Amazon dropshipping supplier
As a drop shipper, you should make sure your supplier is professional and committed to long-term partnerships.
Download their catalogs to check if they meet Amazon's requirements. You don't want to list a product only to find out that Amazon doesn't allow you to sell that item.
To vet suppliers, check if they have:
1. High-quality products: Check for product ratings and customer reviews. The higher the product ratings and happier the customer, greater are the chances you're dealing with a high-quality supplier. Also, look at the number of previous orders with the suppliers to gauge their popularity.
2. Low order fees: You don't want to go into a business with a supplier that has high per-order fees. Do your calculations to check if you can still make a profit after factoring in costs for purchases, per order fees, Amazon account costs and any ads you may run. Basically, you want to make sure your sales funnel gives you more money than you put in. If not, look for suppliers with lower per-order fees as this is a cost you will incur on every order.
3. Helpful reps: A company is only as good as the people working for it. You can get a good measure of a supplier's professionalism judging the way their sales reps treat you. If they're accommodating and willing to tackle your sticky questions, you're most likely in good hands.
4. Tech savviness: Ideally, you'd want suppliers that have detailed websites with detailed product listings and inventory data feeds that automatically update your product listings. These factors become especially important when your dropshipping business starts to scale and product management becomes more complex.
On the polar end of things, try to avoid suppliers that:
Ask for monthly/membership fees
Don't take on credit or accept checks
Have no address shown on their websites
These are all signs of a lack of commitment and transparency on behalf of a supplier. You'd do well to stay clear of them.
What to ask when setting up a deal with suppliers
Now that you've found yourself a list of suppliers who have your product and seem worth doing business with, it's time to lock down on your targets and set-up a deal.
Find your target suppliers' contact information, emails and phone numbers from their websites. Call them up and ask them these important questions:
What are their payment terms, and is there room to negotiate prices? Can they offer you discounts if you promise to buy certain quantities?
Do they themselves sell their products to consumers? If so, you'll be in competition with your supplier too.
Ask of all the costs involved in doing business with them like fuel surcharges, delivery and restocking fees. You don't want to be surprised by any charges once you've entered a partnership.
Do their products carry a warranty? This will be a good quality signal for their products. Warranties also make customers trust you more.
Can they handle orders for customized options? This might be important if your store scales and you need to differentiate yourself from the competition.
How can they help with or handle returns on orders placed with them?
Once you are satisfied with the terms and conditions, start with a small order quantity. Gauge how much time it takes to ship products, what the shipping process is like, and whether the products are actually as mentioned in descriptions.
You can read more about dropshipping suppliers here and find an extensive suppliers list here.
Can you dropship from Aliexpress to Amazon?
Dropshipping from Aliexpress to Amazon is pretty much like any other dropshipping model. Aliexpress becomes your supplier, you list your items on Amazon, and customers directly receive their orders from the suppliers, most of whom are based in China.
Although Aliexpress gives you the freedom of offering private label products (manufactured by third-party, sold under the retailer's brand name), it is still very risky to source products from Aliexpress, and for one very simple reason:
Fast delivery times have now become a standard expectation for Amazon customers. With Aliexpress, you can expect days, if not weeks for products to get delivered to your customer. These slow times will leave you with unsatisfied customers and negative reviews, which are both bad for business.
In this article, you'll find the unwritten rules for communicating with Amazon buyers to reduce the number of negative reviews to zero. You'll also find some of the most efficient methods for getting seller feedback and product reviews on Amazon.
The question that's been on your mind the whole time: is Amazon dropshipping profitable?
As much as I'd love to say yeah you'll make bucketloads from dropshipping on Amazon, its not that simple of an answer.
Yes, there are cases of people earning enough to quit their day jobs with dropshipping but it always involves commitment and perseverance on your part. We've outlined the following factors that will help you make your Amazon dropshipping business profitable.
Product and volume mix
There's a basic tradeoff concept in sales. If you sell in high volume, expect low margins on each sale. If you sell a high margin product, expect a low volume of sales.
Therefore if you decide to sell cheap, low margin products, expect to do a lot of marketing and advertising to sell in higher volumes to reap profits.
On the other hand, if you sell high margin products, expect to do a lot of customer research. You'll need information on your prospects to design highly targeted ads. You'll also need to do a lot of 1on1 communication with your prospects because expensive products are a risky purchase from a consumer's point of view. You'll be responsible for answering their questions and putting their worries to rest before they are ready to purchase your products.
If you're new to Amazon, the journey to your first sale might seem confusing. That's absolutely natural and should not push you away from your goal. With experts to help, working your way to your customer can be easier than you think. Our friends at Seller Labs can help you master many strategies, including maximizing your ad spend, building PPC campaigns that convert, assisting with key metrics, and providing you with the right tools to connect and communicate with your customers.
Quality and reliability of suppliers
We've already extensively covered how to vet suppliers to find the right ones for you. But it's worth reiterating that you can build a long-term profitable business if you find stable suppliers who don't compromise on product quality.
Conclusion
There you have it, a comprehensive guide on how to dropship on Amazon.
I hope this article leaves you with a better sense of how to set up a store, source products and start making money through dropshipping. Or at least I hope it's given you the confidence to start exploring dropshipping as an option for yourself.
You can set up your own Amazon seller account here, read more about dropshipping here, or find a list of dropshipping suppliers here.
Tell us how you feel about starting your own dropshipping business. Or if you already have one, how has your experience been? We'd love to know in the comments below.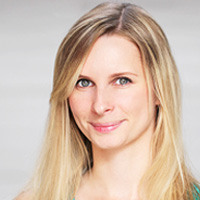 Helen Golubeva
Freelance SEO and Content Marketing Specialist
Helen is an SEO and Content Marketing Specialist. She has been creating and planning content for over 10 years, with 5+ years specializing in eCommerce.
Subscribe to Our Weekly Newsletter to Get
Expert-Backed

Tips Straight Into Your Inbox

Awesome! You won't be disappointed 😉