←
Back to Blog
7 Best eCommerce Website Builders: A Comparison Chart for 2020
I know why you're here: You are looking to create an online eCommerce store and start selling online. Or maybe you're not satisfied with your current solution and looking for the perfect eCommerce platform to migrate to. Luckily, you came to the right place.
This guide will help you find the perfect platform for your eCommerce business that is within budget yet still feature-rich; that does not impose any transactional fees and offers 24/7 tech support; that provides sellers with a wide range of templates that are easy to customize and navigate.
You'll also find out which eCommerce website builders are hosted or self-hosted (or both, like X-Cart), what pricing options are available on the market, what kind of support the platforms provide (if they provide it at all), what online store builder has the widest variety of themes, and which options are free.
I've also listed the pros and cons of the best eCommerce website builders, such as X-Cart, Shopify, Volusion, WooCommerce, and the like.
Read on to find out which website builder will work best for you.
I. X-Cart eCommerce Website Builder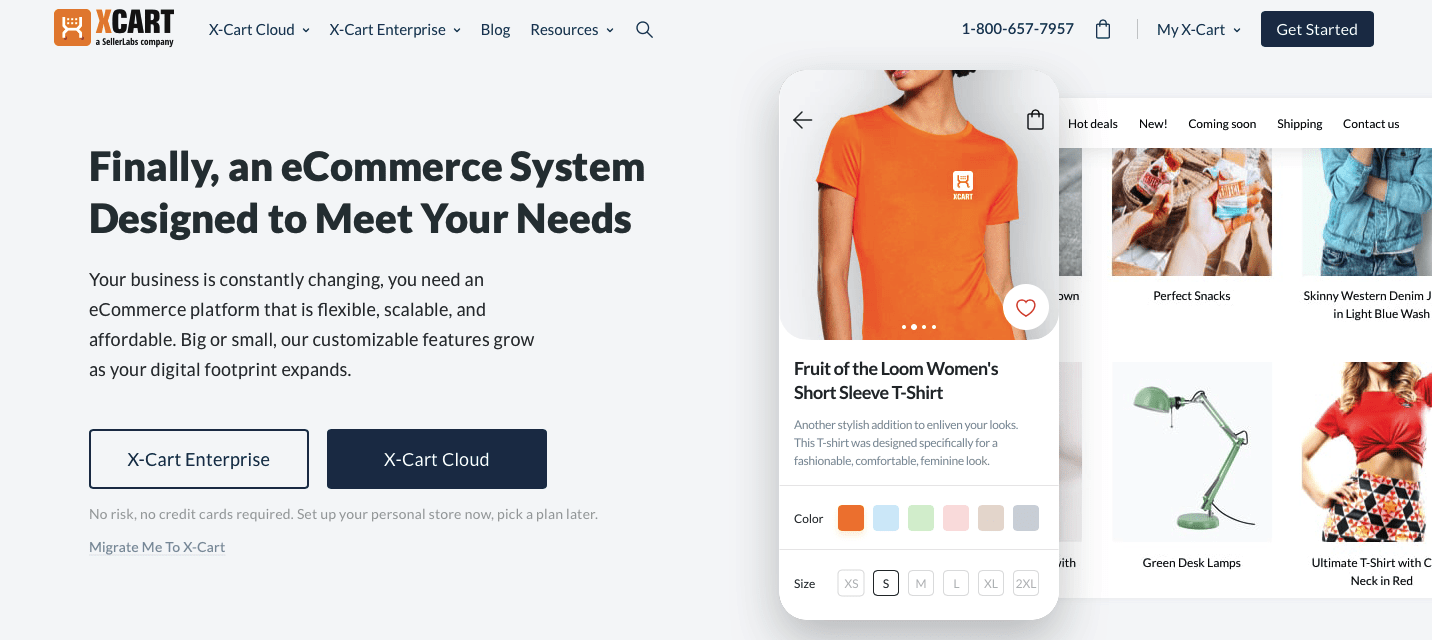 X-Cart is a PHP open-source shopping cart platform that allows for unlimited flexibility and customization. Whether you already have a brick-and-mortar store or an online store on another platform, this self-hosted e-Commerce solution is a perfect fit for you and your business. We will either help you create a new online store from scratch or migrate your store from another platform.
X-Cart Pricing
X-Cart pricing varies for each project, and the amount you pay is based on the custom set of features and services requested.
Contact our eCommerce experts to find out the solution that is best for your business based on your needs.
Our team is here to ensure you select the right product for your business today.
X-Cart Pros: Best eCommerce Solution For Developers
All-in-One Solution
We sell eCommerce software, but it doesn't mean that additional eCommerce services, such as 24/7 support, hosting, web design and website development, migration, catalog management, SEO optimization, custom domain name registration, SSL certificates, are not available. They are, and with X-Cart, you are also free to sell on multiple channels, such as Amazon, Facebook, Google. Enjoy!
Security
X-Cart is the only PCI DSS compliant website builder on the market that can be used with third-party hosting. It means you can install our software on your own server and still sell it in a secure way.
24/7 Support
X-Cart support is available day and night, 24 hours a day, seven days a week. Both free and paid plans are available, and each plan includes unlimited requests, phone and chat support, and some other features.
Our support team's response time is up to eight hours. Urgent help is available, too, and our tech guys can get in touch within just 30 minutes.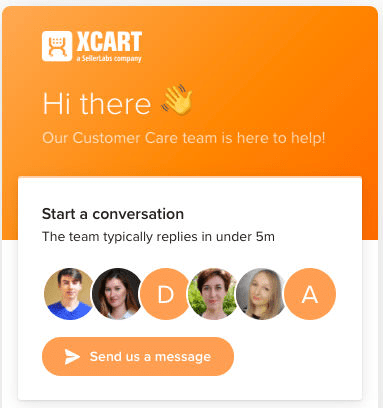 There are several ways to reach out: email, phone (toll-free), HelpDesk, or live chat that you'll find right on the website. They typically reply in under 5 minutes.
One of the reasons to stay with X-Cart, according to the reviews, is the high level of support services.
Working with X‑Cart for years and I haven't regretted it once. I can write a long review about what, why, and how but in two words: excellent choice! You get professional support without any fuss.
Highly Customizable
With X-Cart, you can create any store you like — it's fully open source. You can code yourself or ask our professional team to do it for you.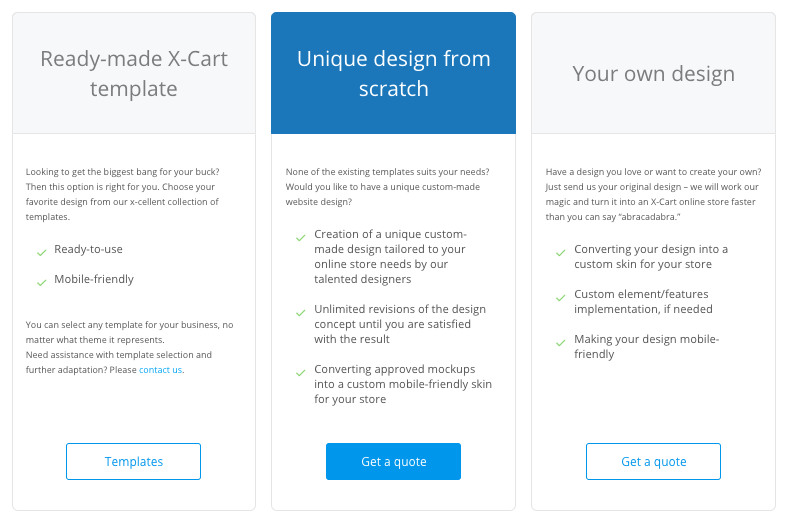 Here's an awesome example of how a redesign boosted eCommerce sales.
Reasonable pricing
Launching an online store with X-Cart starts at $49 per month, about the cost of a new sweater on Amazon. With add-on customizations and the ability to grow as you do, this platform has no transaction fees and will be the last website you ever need.
You can schedule a free demo with our solution advisor and get a free quote.
Managed eCommerce Hosting
X-Cart is a self-hosted eCommerce solution which means you can host it anywhere. You don't have to look for hosting yourself, though. We provide our own hosting specially designed to work with X-Cart software. This is why we can guarantee that your store will run smoother and faster than ever.
Our eCommerce Hosting Services and Plans Include:
Lightning Fast Solid-State Drives (SSD)
1 Dedicated IP Address
US, Canada, Australia, Europe & Asia Locations
Daily Data Backup
PCI Compliant Hosting
99.99% Uptime SLA
Control Panel
SPAM/Virus Filter
24/7 Customer Assistance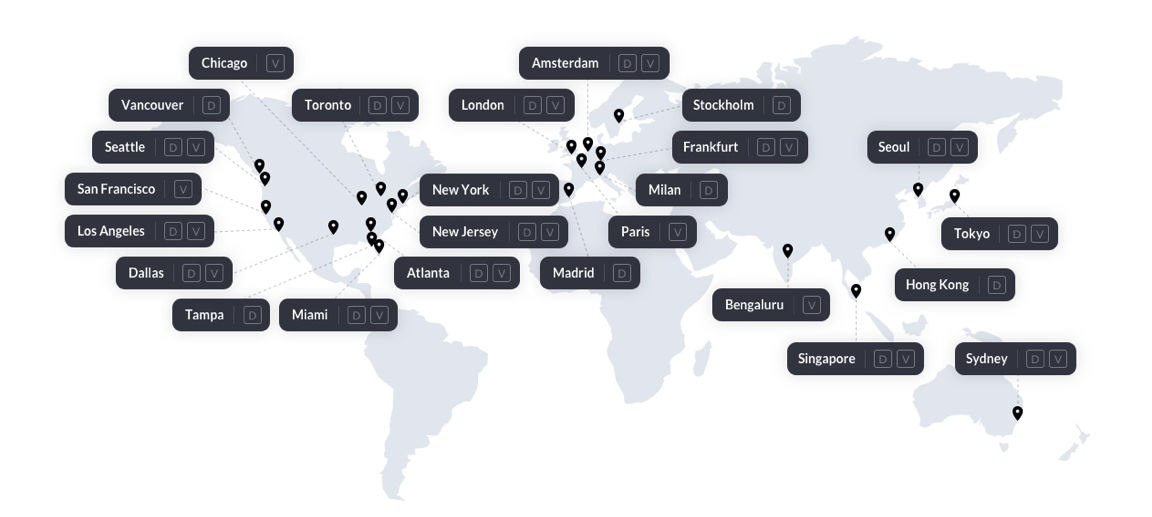 Migration is easy
X-Cart offers assistance when it comes to migrating your data to X-Cart. Just pick your current platform, and we'll handle the rest. During the whole migration process, your website will be up and running so you won't even lose revenue.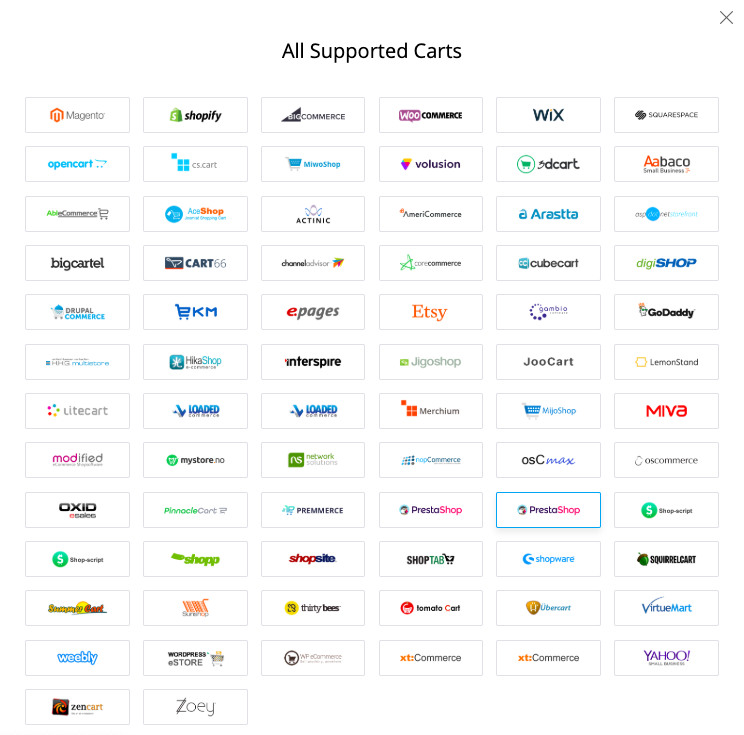 Personal Demo
You can schedule a free demo with one of our solution advisors to discuss your business needs and see for yourself that X-Cart is the last eCommerce platform you'll ever need.
Beautiful Templates
X-Cart offers over 40+ eye-catching adaptive themes. If you don't want to spend your money on a template, or you want to customize your theme to your unique business needs, then a free Crisp White theme would be a great place to get started.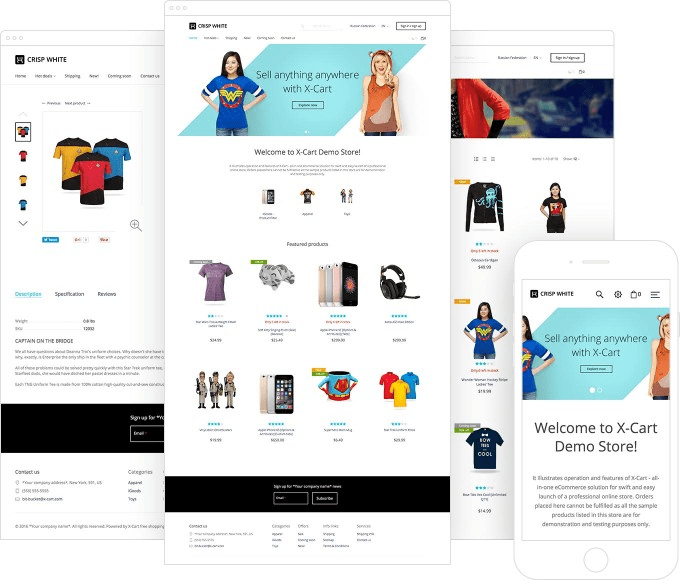 Tweaking templates doesn't require any coding skills, just a basic understanding of how CSS works. There are five tools to help you edit your store's layout:
Editors Template editor
CSS editor
Layout editor
Labels editor
Inline description editor
Watch this short video tutorial to understand what the design process looks like.
If you don't feel like making any design changes yourself, our professional team of experts will design your store from scratch.
Multicurrency, multi-language
X-Cart is one of the best online store builders, which is why we have clients all over the world and support multiple languages, currencies, and weight formats. We can even enable RTL support. All that makes our e-commerce solution universal.
140+ credit card processors
X-Cart has integrated with 140+ payment gateways, all done in accordance with PCI compliance requirements.
X-Payments
We have developed our own tool for extra secure payment processing. X-Payments is a PCI Level 1 Certified solution that works as an intermediary between the shopping cart, payment gateways, and 3D-secure systems.
SEO-friendly
X-Cart is SEO-friendly, so you are free to optimize as you see fit when it comes to strategy. We also offer tools for SEO optimization should you need them.
X-Cart Challenges
You might need coding skills
To customize your store, you'll need to know how to code. If coding is not in your wheelhouse, however, our team can do the job for you. Nobody will do it better than platform developers.
The support service is commercial-based
While the support service is not free, we do our best to help every X-Cart user, even if they do not have an active support plan. The response time and solution, however, are not guaranteed in this case.
You can also try and ask for help on our forum or find the answer yourself in our Knowledge Base — these tools are totally free to use.
X-Cart might not work properly on free or cheap hosting
Using a cheap shared hosting service is not recommended if you are building a website using X-Cart. It's not secure and, what's more, you won't be able to use the eCommerce platform to its full potential. As an eCommerce store owner, you should care about your store's performance and your clients' sensitive data.
II. Volusion Online Store Builder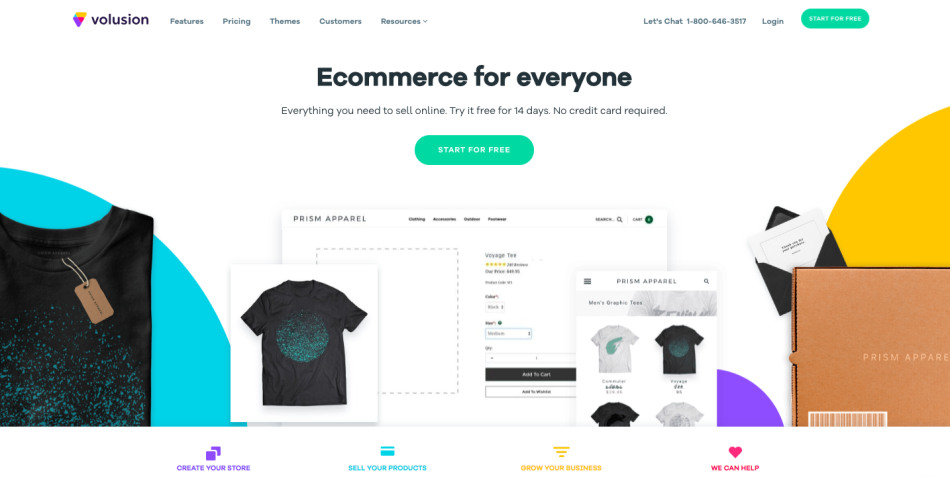 Volusion is a hosted e-Commerce website builder. It runs in a browser and you don't have to install it on your server, so you can start a store from any device and any place with access to the internet.
However, since it is a SaaS solution, you'll have to pay a monthly fee as long as you use it. Volusion provides you with all the tools to create and maintain your online store: hosting, support, themes, and others. Even if you're not tech-savvy at all, you can still create your own online store.
Volusion pricing
Volusion has four pricing plans, which makes you think that it's quite affordable. In reality, it's a bit of an illusion.
"Personal" will cost you $29/mo
"Professional" costs $79/mo
"Business" costs $299/mo
"Prime" with custom pricing
You'll have to pay $3600 a year to be able to access such features as API, Amazon, and eBay sales channels, along with third-party gateways. Paying annually, however, you can save up to 10%.
If you go for the Personal plan, you won't be able to sell more than 100 products online. And the Professional package won't let you earn more than $100K/yr.
No free version is available, only a 14-day free trial.
Volusion Pros: Best Ecommerce Website Builder For Data Nerds
Built-in ratings & reviews
You can gather your customers' feedback easily, as the Ratings and Reviews feature is built-in. However, you'll have to pay at least $978/yr to be able to access it, as it is not available on Volusion's starter plan.
In-Page Editing
You can directly fine-tune your storefront from any page with Volusion's content management system, called Rich Content Editor. This may seem like a strong point but it is actually not, as this is the only way you can customize your online store. You cannot access your product or category pages via FTP and some code is hidden and there's no way you can access it. Volusion's customizability is extremely limited.
Store Management Mobile App
They promise you that you can take your store wherever you go with their free mobile apps for iOs and Android, which have all the tools to keep things running smoothly. But if your business is outside the US, Canada, or Australia, you are out in the cold.
Integrated payments
Volusion offers 35 payment options that are the perfect fit for small businesses. This isn't very many when compared to X-Cart's 140+ payment gateways. Nonetheless, these payment processors can be easily integrated into your store. They also have their own payment gateway called Volusion Merchant program. However, you won't be able to use it if your business is located outside of the US.
VISA
MasterCard
American Express
Discover
PayPal
Volusion Payments (in the US only)
Wire transfers
Cash
Check by email
Volusion Cons
Poor Website Performance
Many business owners consider Volusion to be one of the slowest shopping carts out there.
Templates are not responsive or user-friendly
Not all the templates are responsive, which is likely to deprive you of around 60% of sales in 2020. The user interface is quite cumbersome and uneven, and you should also be ready to spend a bit of time and money to adjust the template to your liking.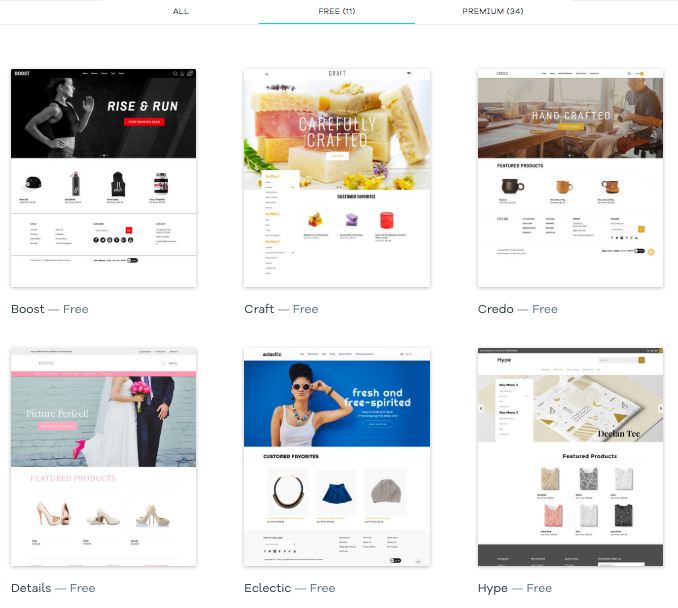 Transaction fees
Volusion eCommerce website builder doesn't charge transaction fees, but the gateway you use will. Processing fees start from 2.15%.
The app store is growing slowly
There's an App Store and, while it is growing, it might not be as fast as your business needs.
The system logs you out
Meant to be Volusion's pro feature and initially implemented for security reasons, this behavior can be really annoying at times. It won't let anyone access your store's backend if you accidentally forget to log out. And it won't let you in immediately if you forget your password.
Ever-changing coding issues
When you add or change something in the ticket, it refreshes. When they say they have fixed the issue, it may show up the next day again.
No search field on mobile
Mobile phone functionality doesn't have a search field. It looks like a bug to me and Volusion's clients complain about it, too. Maybe they did it on purpose but I don't see the reason why. After all, how are you supposed to find anything in a store that has no search?
Subpar customer service
Customers subscribed to the Priority Tech Support are likely to wait for an hour or more to talk to Volusion's reps.
Additional resources:
III. BigCommerce eCommerce Website Builder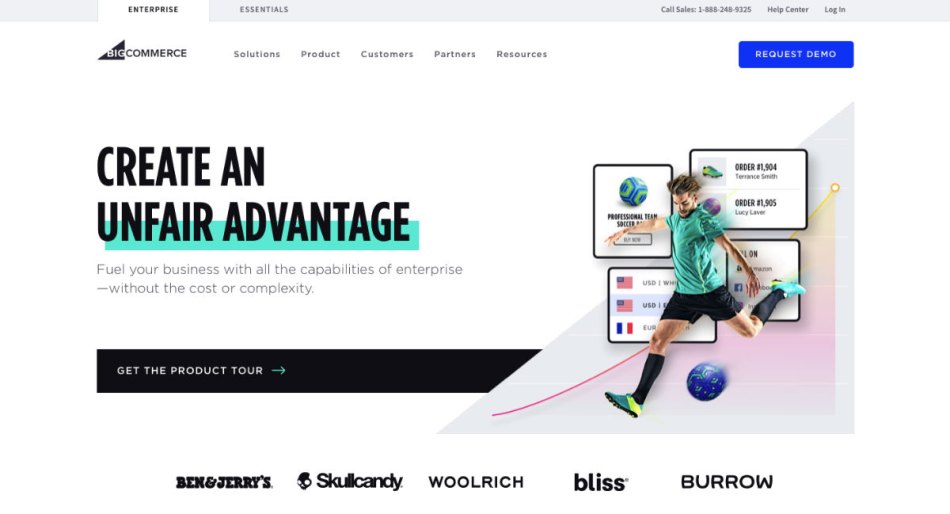 BigCommerce is a hosted eCommerce solution, which means you don't own the software and have to pay a monthly fee to use it. The store builder is simple enough to use, but its customizability is very limited.
BigCommerce Pricing
BigCommerce pricing looks quite moderate at first glance, but as you add new features (most of them are subscription-based), it becomes more and more costly.
Bigcommerce "Standard" plan costs $29.95 per month
Bigcommerce "Plus" edition is $79.95 per month
Bigcommerce "Pro" costs $249.95 per month
Bigcommerce "Enterprise" pricing depends on your business requirements
They claim to have no transaction fees, but this rule doesn't apply if you use PayPal. Thus, you'll have to pay up to 2.9% + $0.30 per each transaction.
There's no free version, but a 15-day free trial is available.
BigCommerce Pros: Best Online Store Builder for US-Based Small Businesses
Free templates
Bigcommerce eCommerce website builder has 12 free templates. Every template has a preview that will show you how your online store might look on a desktop or a mobile device. But if you are planning to tweak these themes to your needs, you'll have to pay for it. Custom styles are rather complicated and costly, even if you hire a professional developer.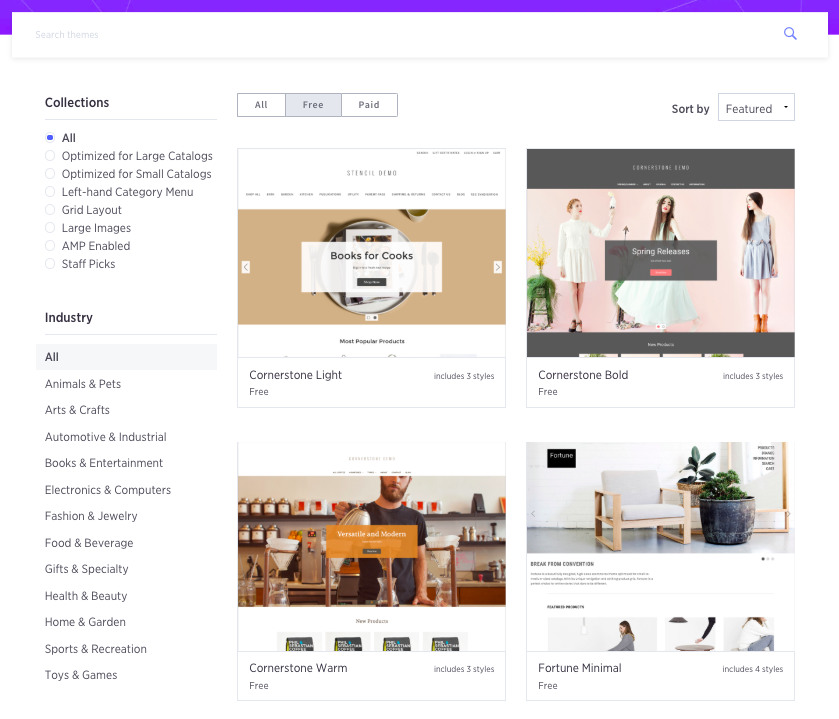 There are paid templates, too, with more functions and a higher price tag — up to $300.
Camden Marketplace $235
Luna Light $300
Luna Dark $300
Luna Bright $300
Luna Warm $300
Merchant Classic $250
Peak Standard $250
Atelier Minimal $250
Hero Minimal $250
Scales Chic $250
Mogul Classic $250
Brixton Classic $250
Camden Hardware $235
24/7 support team
The BigCommerce support team is ready to answer your questions and solve your problems 24/7 via phone, email, or chat. However, they are often unaware of the ongoing issues which may be frustrating at times. Also, store owners have to wait several days to get a reply — something that I find to be totally unacceptable.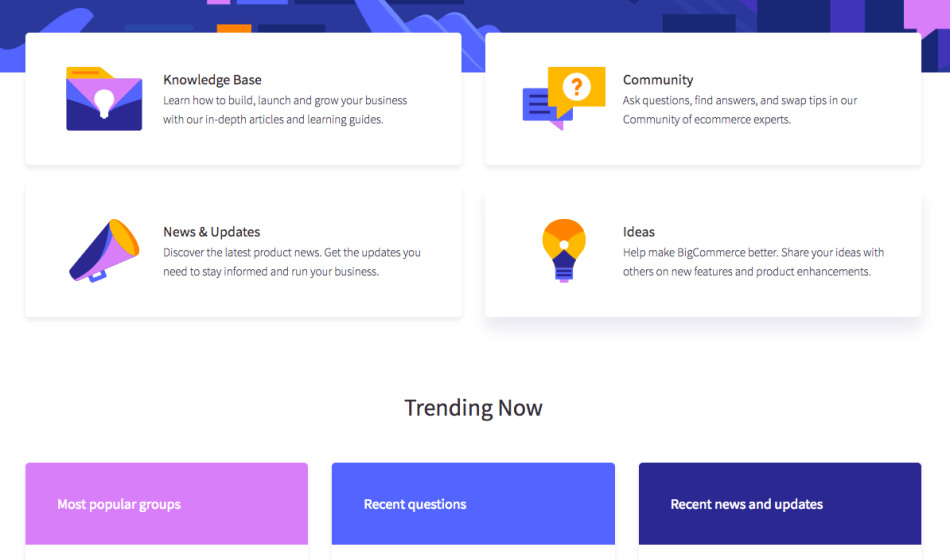 Many integrations with different services
Bigcommerce's basic functionality can be extended with various integrations, such as Mailсhimp, Shipstation, and Google Shopping. But no matter how robust their AppStore is, it lacks many options other competitors have. And the lack of thought behind many features makes the situation even worse.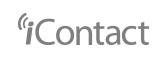 BigCommerce Cons
Notably Slow Performance
BigCommerce is among the slowest eCommerce website builders out there. Many store owners are immensely dissatisfied with their mobile page speed, which is below the average according to Google. And though they offer an automated image optimization tool to speed up your web pages and improve search rankings, the results are still less than ideal.
Sales limits
BigCommerce won't allow you to stay on the selected plan forever. If your yearly sales outgrow a certain limit, you'll be forced to migrate to the next plan and they will start to bill you accordingly. Yes, against your will.
Poor value for your money
Meant to fill the needs of small businesses, the software pricing seems quite expensive for store owners with a small budget. You will have to pay $3600/year to get access to features like faceted search and customer reviews, and $960/year to store credit cards, save abandoned carts, and segment your audience. Isn't that a rip-off?
Not ready for SEO
Due to limited customizability, SEO optimization is quite problematic. Slow website performance adds to the issue.
Inferior automation and reporting tools
Customizing reports is a challenge as the interface is not intuitive.
Poor user experience
BigCommerce's navigation is not user-friendly, especially during checkout. Moreso, users are often blocked from purchasing for no reason at all.
Features available in the US only
Some of the advertised features are only available to users from the United States.
Confusing store setup up process
Initial setup can be overwhelming, especially for the beginners who do not know how to calculate tax, set up shipping, payments, and the like.
Features are slow to implement
Not only stores are slow, but the BigCommerce team also doesn't frequently implement new features or fix the bugs.
Additional resources:
IV. WooCommerce Online Store Builder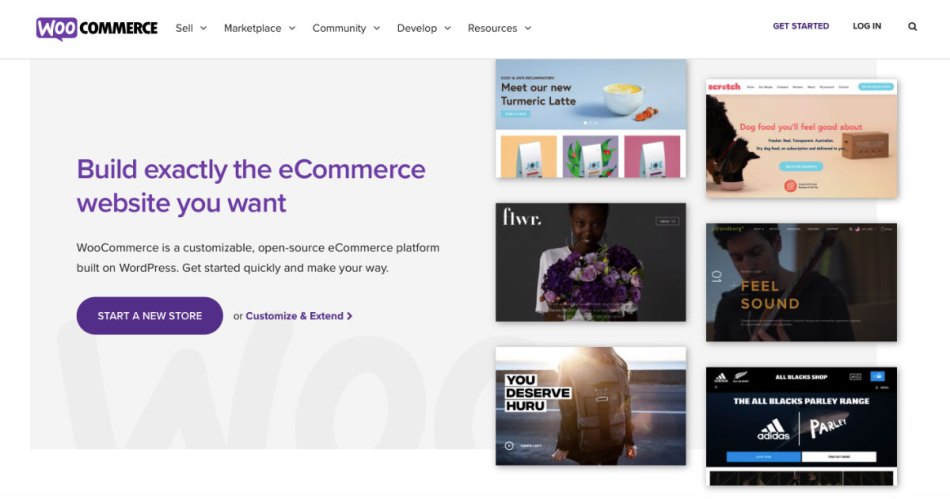 WooCommerce is an open-source self-hosted eCommerce plugin that adds shopping cart functionality to WordPress sites.
WooCommerce pricing
Both WooCommerce and WordPress are free open-source tools. However, there are some costs to consider when starting your WooCommerce online store.
Costs to consider:
Hosting costs: $120 per year (average)
Domain registration: $15 to really costly
Theme cost: $0 – 100 per year (free themes available)
Communications (email marketing tools): $120 per year
SEO: $49 per year
Security: $100 and up
Extra expenses
Learn more:
WooCommerce Pricing: How Much WooCommerce Costs to Launch & Operate
WooCommerce Pros: Best Online Store Builder For WordPress Lovers
Adaptive design
There are both free and paid WooCommerce themes that are easy to customize. However, since the themes are built to appeal to a wide audience, their codebase is bloated and can result in poor SEO and speed issues.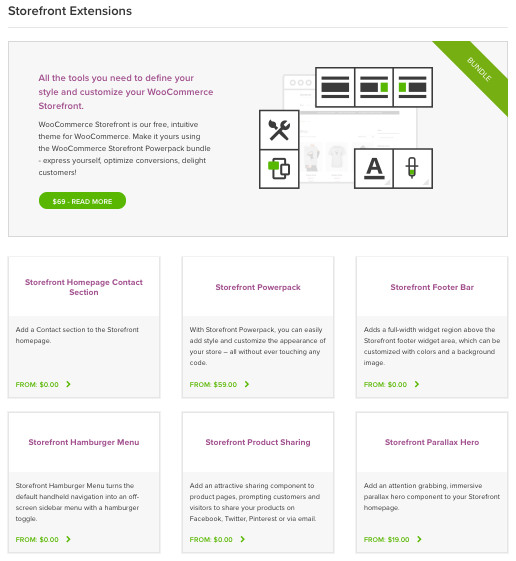 Customer and admin accounts
There's a range of customer and admin accounts with different rights. Guest check-out for customers with no account is also available.
Note: WordPress accounts are often targeted by hackers, so you have to make sure you keep your WP site secure, maintained, and compliant.
Analytics tools
The WooCommerce eCommerce website builder provides plenty of analytic tools. These tools help you easily measure your sales, customer statistics, and more.
WooCommerce Customer History
WooCommerce Sales Report Email
KissMetrics
MixPanel
Metorik
Cart Reports
JetPack
Some of them are built-in, while others need to be connected to your website via Google Analytics Account.
The bad news is that most of the apps are subscription-based, which means your annual fee is going to grow with each app that you install.
WooCommerce doesn't charge any fees
This is partially true. You still have to pay your yearly subscription fee for the Woo shopping extension. In addition to that, your payment gateway will charge fees per transaction, and fees vary by the gateway.
WooCommerce Cons
Tricky setup process
You can start with the pre-installed version but the setup process can be tricky for a non-techie. The learning curve is not the easiest.
Virtually zero support
Themes, plugins, and hosting come with different support channels, so it'll be tricky to get the answers to all your questions in a single place.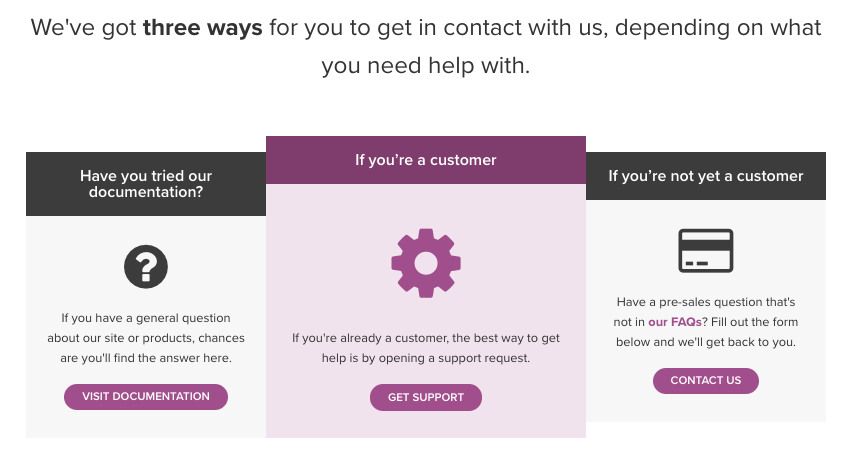 Dreary upgrades
The upgrade process is not smooth. If there is an issue, you have to go back and figure out how to fix it.
Can be costly
WordPress and WooCommerce are free of charge, but almost useless without purchasing dozens of expensive apps. There are various themes and plugins available but it's likely that not all of them will meet your requirements. If you want to customize the site according to your requirements, it will take you a good bit of time and money.
Content doesn't always look right
When updating your content through the visual tab, it doesn't always look the way it should in the actual browser. You'll need to have HTML and CSS skills to avoid such problems.
Reporting and order management
Reporting and order management tools leave something to be desired. The interface looks cluttered and annoying.
Hosting is underperforming
Woo hosting and maintenance is a real mess as it takes forever to load the site.
Additional resources:
V. Shopify eCommerce Site Builder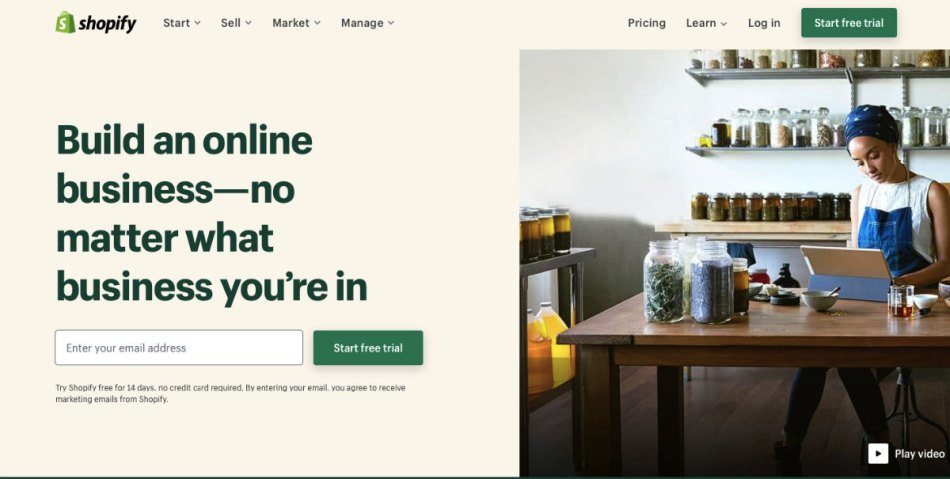 Shopify is a cloud-based SaaS e-commerce platform that can help you start your online business in just a couple of clicks. It offers five monthly payment plans and a management panel where you can add your products and process your orders.
Shopify Pricing
Shopify looks quite affordable at the start but gets more expensive with every app you add.
"Shopify Lite" add-on costs $9 per month
For "Basic Shopify" you'll pay $29/mo (+2% per transaction)
"Shopify" is $79/mo (+1% per transaction)
"Advanced Shopify" is $299/mo (+0.5% per transaction)
"Shopify Plus" pricing starts at $2K/mo
Shopify eCommerce website builder offers a 14-day free trial, allowing you to test the software and see if it's right for your business.
Shopify Pros: eCommerce Website Builder for Small Businesses
Paid technical support
If you have any issues customizing your store, you can contact Shopify's support team. Phone, email, or live chat — choose the option you prefer. Customers complain, though, that Shopify's support lacks detailed issue-solving. And it's not free. They also offer guides to help you implement certain features, but if you have little experience, it won't be of much help.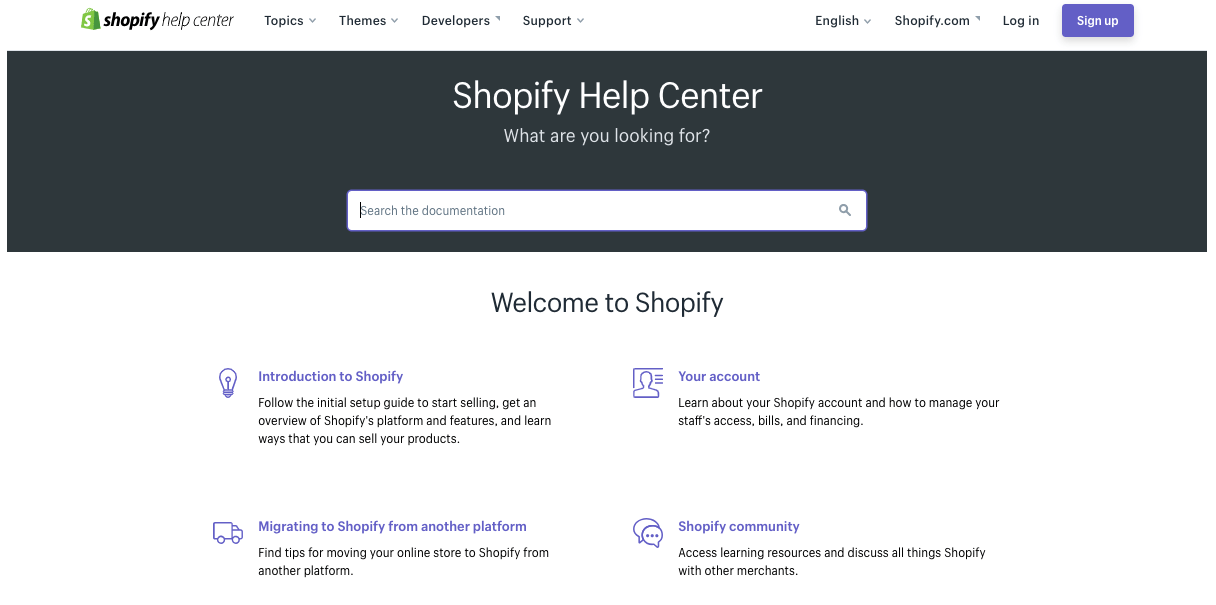 Apps for iOS and Android
There are iOS and Android apps to manage your store on the go. However, if you want to improve your customers' mobile experience and create an iOs and Android app of your own, you'll have to reach out to third-party developers.
Shopify offers stores for sale
You can buy an existing Shopify business on Shopify's Exchange Marketplace. But think twice before pulling the trigger, especially when it comes to dropshipping businesses.
Since you didn't personally do the product research, partner with suppliers, optimize for SEO, or set up integrations with third party services, you may face some serious problems with shipping, sales, site visibility, reputation, and product demand in general.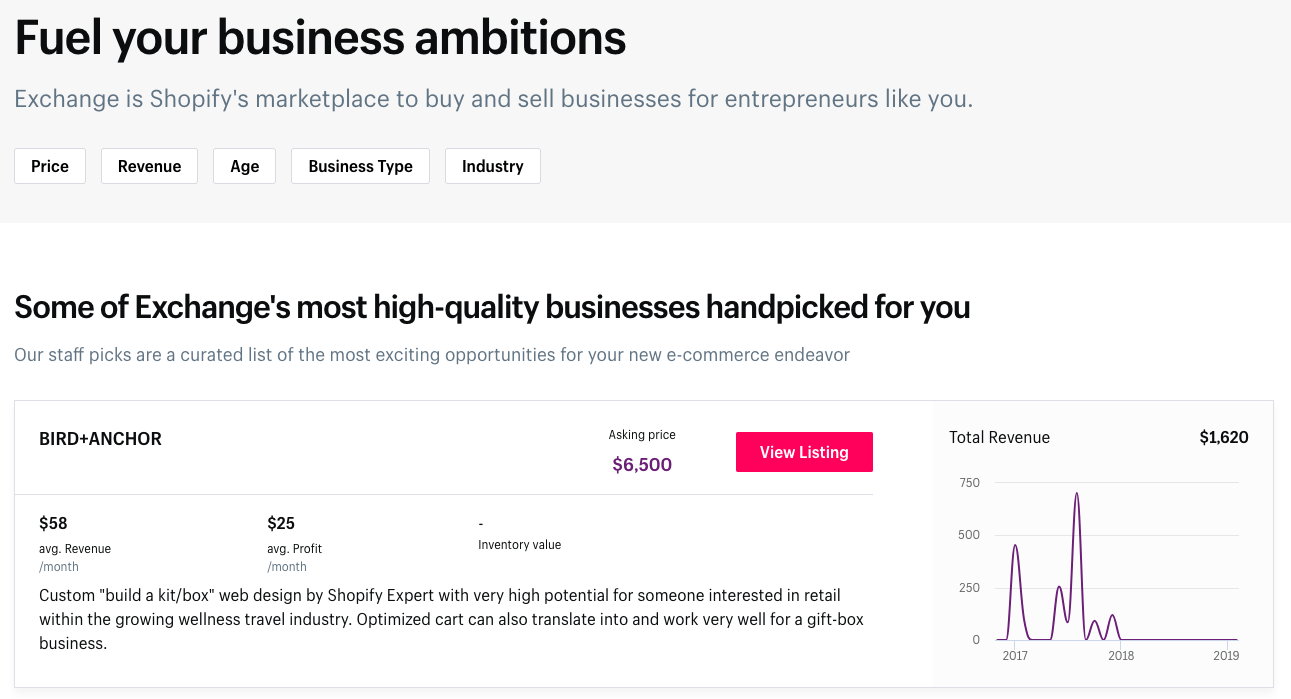 Do you know the reason why the store is for sale? Who owns the social media accounts? What do people say about the company you are looking to purchase? Building an online store from scratch may be more difficult, but buying an existing business may leave you high and dry.
Shopify Cons
Transaction fees
Many SaaS solutions charge a user for each transaction on top of the service fees. For Shopify users, the rates differ from plan to plan:
For "Basic Shopify" transaction fees are 2%
For "Shopify" transaction fees are 1%
For "Advanced Shopify" transaction fees are 0.5%
Paid apps
The default functionality of your Shopify store is quite basic, and you might need to extend it with apps.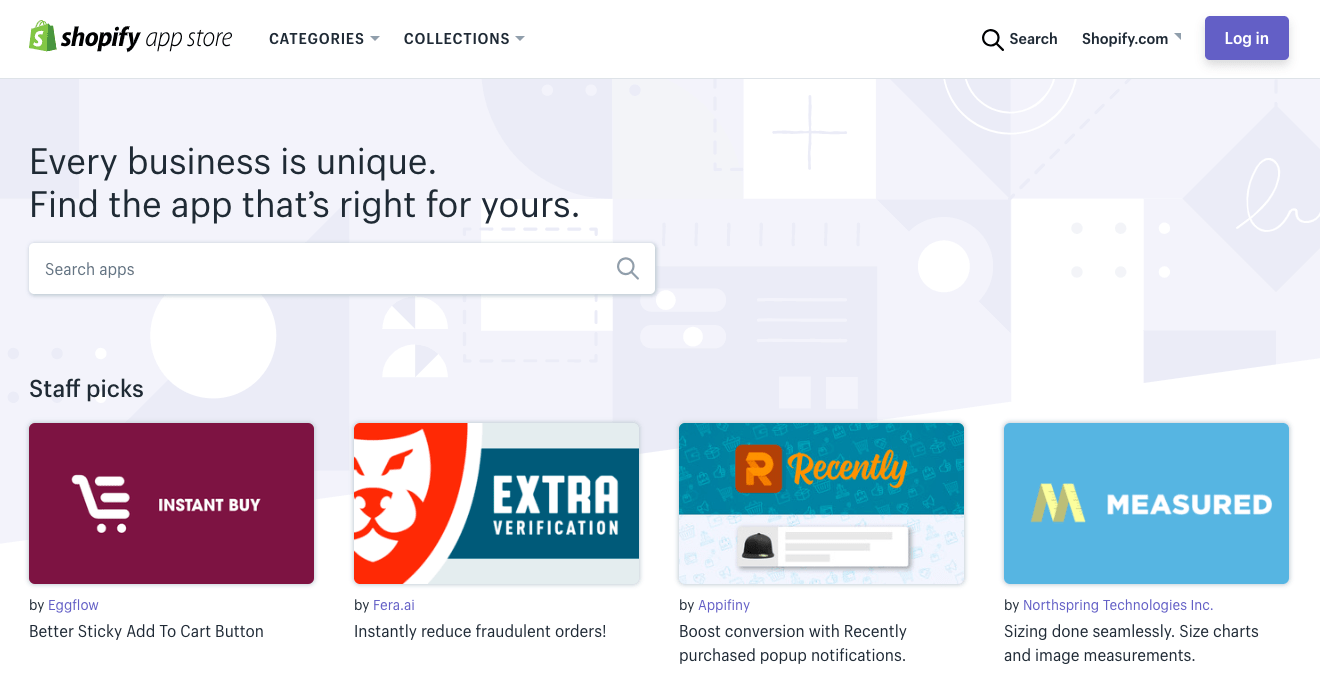 The thing is that around two-thirds of Shopify apps are paid. For some of the Shopify apps you pay once, for others there's a monthly fee. The more functions an app has, the more it costs.
The analysis from ASoft shows that the median price of an app is $7, and the average price is $29.06.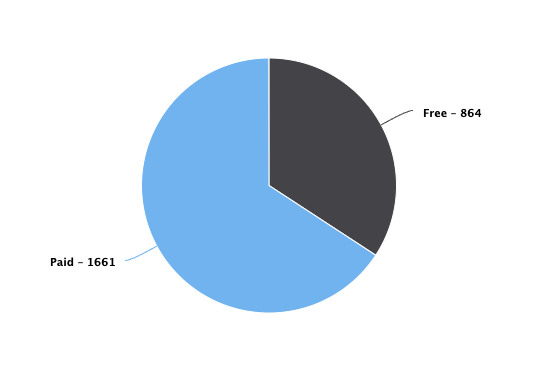 Changing the theme and widgets isn't beginner-friendly, if at all possible
Customizing your theme demands knowledge of Liquid, a combination of tags, objects, and filters, to load dynamic content. You'll also need to know HTML, CSS, and JavaScript. But even if you are tech-savvy, customizing your Shopify store is a bad idea.
Shopify Payments are not available for every country
Shopify Payments is supposedly built to accept payments online without any fees or third-party providers. That's an illusion. First, Shopify has its own fees. Second, if your business is located outside the US with the exception of a few other countries, you won't be able to use Shopify Payments:
Australia
Austria
Canada
Denmark
Germany
Hong Kong SAR China
Ireland
Italy
Japan
The Netherlands
New Zealand
Singapore
Spain
Sweden
United Kingdom
United States
It's not multi-language
It doesn't support multiple languages, which might become a problem for a lot of businesses, especially if they sell overseas.
Pictures are shown in wrong proportions
Sometimes, images are uploaded with the wrong proportions, so the store owners have to crop every image before uploading it to Shopify.
Not ready for SEO
Due to its limited customization options, Shopify SEO is rated poorly by many sellers.
Limited stock and inventory management
Shopify is a limited eCommerce website builder and good only for those with small inventory volumes.
Additional resources:
VI. Magento Online Store Builder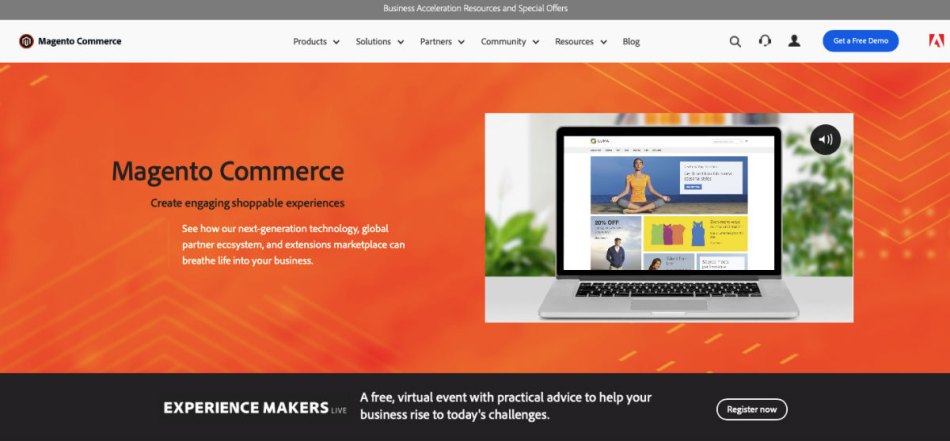 Magento is an open-source self-hosted eCommerce solution that provides eCommerce sellers with a bunch of marketing, SEO, and catalog-management tools. This eCommerce platform has a huge developer community and is suitable for medium and large businesses, rather than the small ones. The reason is its insanely high cost of ownership.
Magento Pricing
It's not that easy to tell the exact price as it varies. Anyway, you can consider the following information:
The community version is free but you need to hire a developer or an agency.
If you are just launching your business, the basic Magento store will cost somewhere from $20,000 to $40,000. It will include the latest version of Magento Open Source, simple design theme, basic shipping and inventory options, initial setup and testing. Seems overwhelming for beginners, right?
If you go for Magento Enterprise Edition, be prepared to spend $100,000 – $250,000 or more. Among the features you'll get are mobile commerce solutions, customer segmentation, and targeted promotion, built-in addons, multiple stores and return management, wholesale solutions, and the like. All in all, Magento is a costly solution. You won't find pricing on the website, but you can find some info on forums and business review sites.
Check these resources to learn more about Magento pricing:
How Much Does Magento Cost?
Magento Pros: Best Online Store Builder For Companies With Huge Investments
Many features to choose from
The Community (free) version has a lot of features not commonly available in other solutions. However, many of them are poor quality third party or custom extensions. Oftentimes, they are not built to work with large product catalogs and may result in a performance decrease. And, what's more, Magento is not responsible for that.
Huge community
A community of users who have developed many plugins can be helpful in answering your questions and providing you with valuable tips. You can find developers, designers, and tech support there, too.
Finding a decent Magento developer is tricky, though. Magento is an extremely large system (over 20,000 files and 200 database tables) so it requires an experienced developer.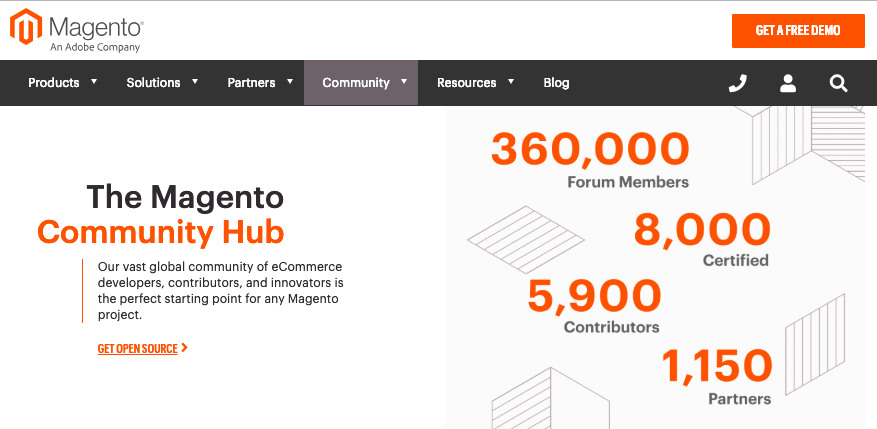 Ability to add unlimited number of products
While there are no limits when it comes to products, I personally would not recommend doing that. Magento eCommerce website builder is the platform least prepared to handle big catalogs. The more products you add, the slower the software. But, of course, that all also depends on your hosting capabilities.
There's a free version
Magento has a free edition, so you can just easily download it from the web. The bad news is that you'll have to invest a significant amount of money tweaking it to your needs.
Ready for SEO (but not quite successful)
Magento was designed to be search engine friendly, but something went wrong. They may have fixed the issue in Magento 2, but indexing in Magento 1 CE has always been one of the major bottlenecks. The reason is that the website builder is not designed for big catalogs and can be bloated to millions of records.
Magento Cons
Poor to no support
No (for CE – Community Edition) or poor (for EE – Enterprise Edition) support is provided by the vendor. They resolve the core issues only and do not investigate third party code.
No in-house developers and designers
You have to find developers and designers yourself. In Western Europe and the US, freelance developers will cost about $150-$200 an hour, and the average price for agencies varies somewhere from $3,000 to $80,000. In Western Europe, the price will be higher — from $40,000 to $80,000.
Slow bug fixes
Magento is slow to fix bugs in the Community Edition.
Hard to find the right hosting
Server requirements are not met by every hosting, especially if you expect your store to load fast. Shared hosting won't work. Running Magento on normal shared hosting will be the reason for negative user experience. You should find providers who specialize in Magento hosting.
Below is the list of top-rated Magento hosting providers:
CloudWays
BlueHost
GoDaddy
InMotion
BlackFire
Development is time-consuming
Be prepared to spend more time and money on Magento than on any other eCommerce solution.
Slow performance
Magento is 2-2.5x slower than X-Cart, which means it will hardly pass Google's Page Speed Test.
Limited Choice of eCommerce Themes
There are very few templates to choose from. The price goes up to $499, which is quite expensive.
No automated upgrades
You won't be able to upgrade to a new version of Magento in a couple of clicks. Upgrades are generally very expensive.
No 1-click app installs
You'll have to code to implement new features.
Additional resources:
VII. Wix: Free Website Builder With Paid eCommerce Features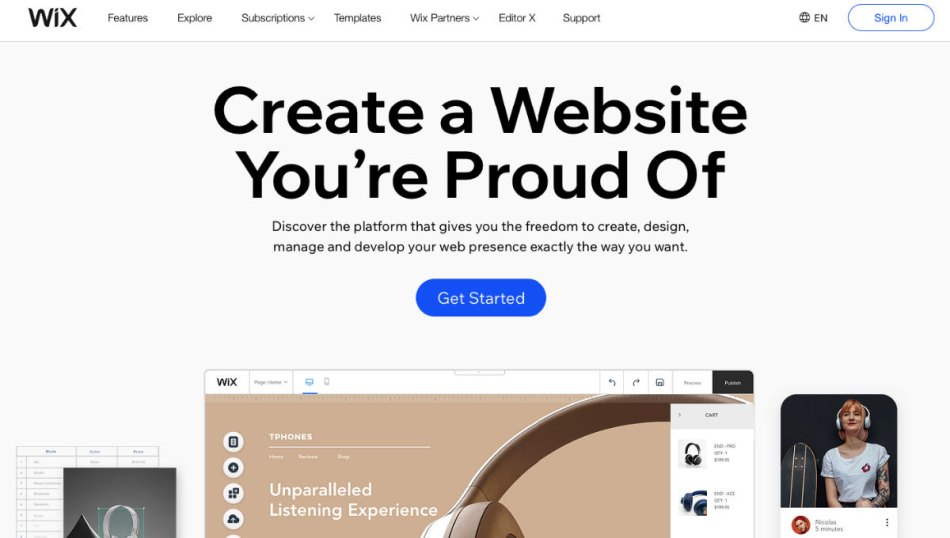 Wix is a cloud-based eCommerce website builder that provides eCommerce templates so you can start building your online store easily. It doesn't require any coding skills to create a Wix online store. As such, it is very limited in design.
Wix pricing
While Wix pricing may seem quite affordable at the very start, you should know that everything else you may need in the future will cost extra. And though their service and functionality are quite mediocre, the price continues to blow out constantly. Also, be prepared for some unexpected troubles with billing. Store owners often complain about the ongoing charges, even if the subscription is paused.
Wix offers the following eCommerce plans:
Business Basic costs $17/month
Business Unlimited costs $25/month
Business VIP costs $35/month
Wix Pros: Site Builder For Non-Designers
Hundreds of templates to choose from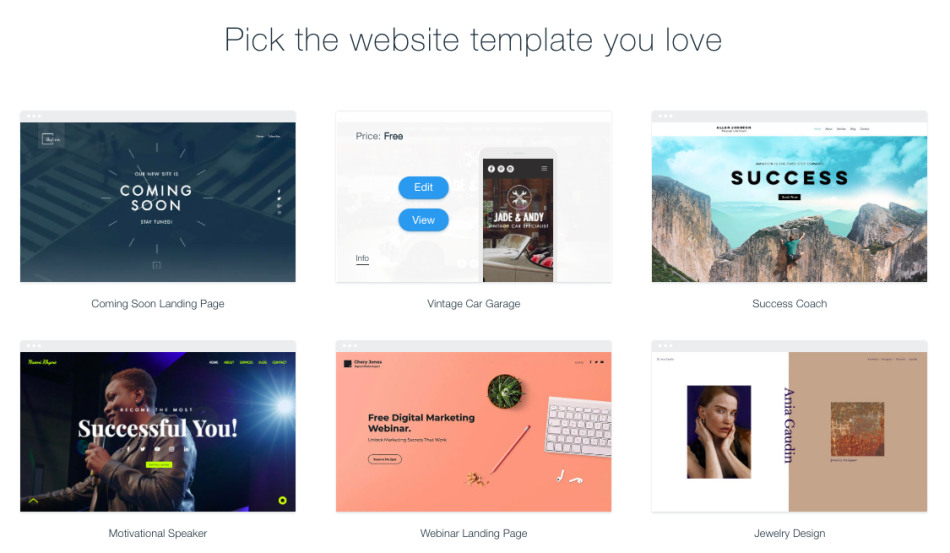 Wix offers 700+ templates that are categorized in the following way:
Business
Online Store
Photography
Video
Music
Design
Restaurants & Food
Travel & Tourism
Events
Portfolio & CV
Accommodation
Blogs & Forums
Health & Wellness
Fashion & Beauty
Community & Education
Creative Arts
Landing Pages
Though all the templates are customizable, many of them are not responsive and poorly optimized for mobile which negatively affects SEO.
Wix ADI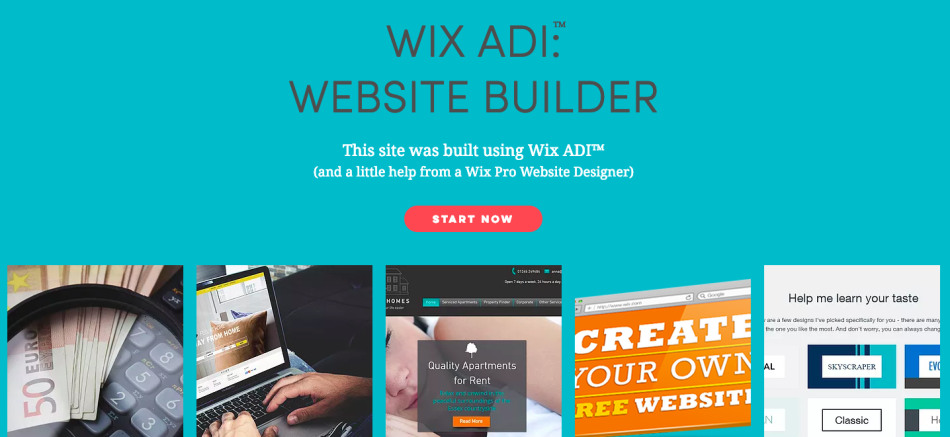 Let's start with what a Wix ADI is. As they say on their website, Wix Artificial Design Intelligence (ADI) is the first-ever artificial intelligence that helps you design a beautiful online store that reflects your business's personality.
Wix ADI learns about you and your business and applies this knowledge to create the perfect site for your needs.
Help center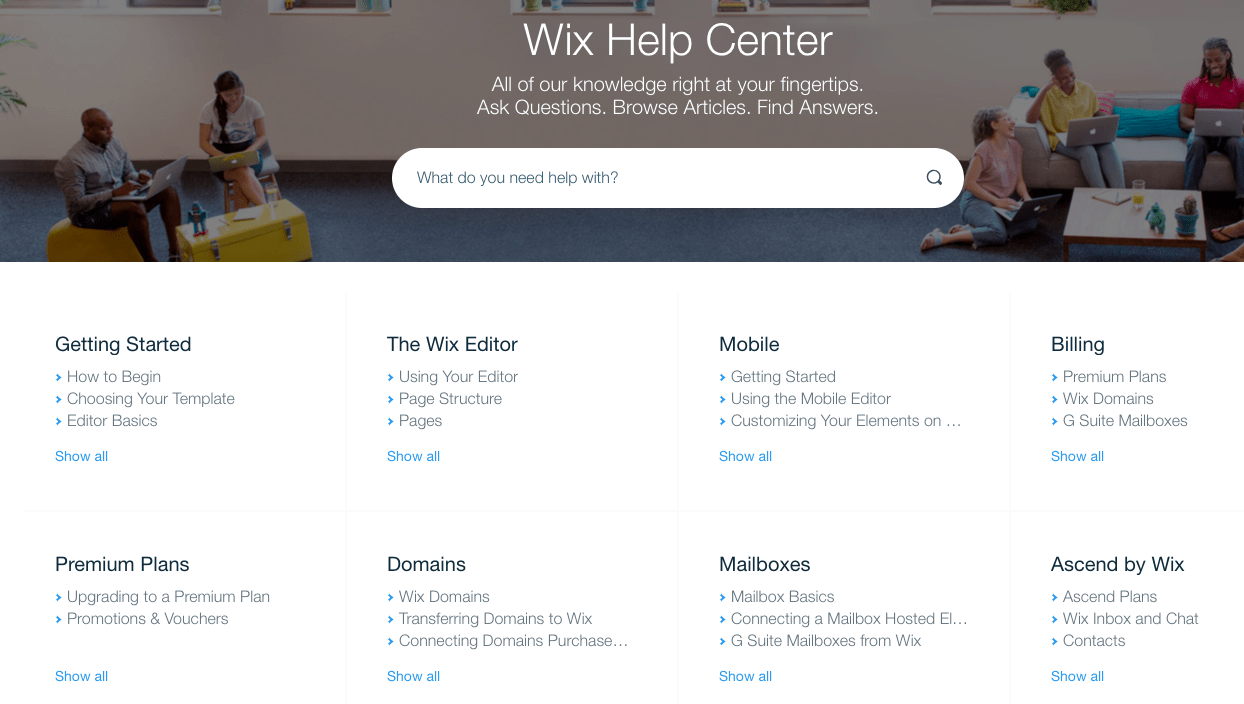 Wix Help Center is well-categorized and easy to navigate. You can find the answer yourself, request a call, or create a ticket, and the support team will contact you. Though they advertise 24/7 support, many customers claim they have to wait for 15 days to get a reply. People are also dissatisfied with the long wait times for the issues to be resolved.
Wix Cons
Severe security issues
A serious DOM XSS vulnerability was detected in Wix, allowing hackers to get access to the root user and do whatever they feel like. Fraudsters can also gain access to admin session cookies and resources through template demos. Be careful.
Constant crashing
Wix website builder is freezing or crashing every 10-15 minutes, which is annoying.
Hidden costs
There are extra costs that you should be aware of. Some integrations with complex systems are not free and require extra fees. Free domains are not entirely free. I suggest that you read the documentation before signing up with Wix and its services.
Sluggish load times
Wix stores can be slow and frustrating at times, and poor website performance may lead to SEO issues.
No live chat support
You can request a call and place a ticket, but there's no live chat option available. Yep, eCommerce websites without live chats still exist.
Changing a template might be a bad idea
You can't just change your template and keep the same website — you'll have to build a new website from scratch. So think twice before choosing a template, because changing it might take you more time and effort than you might expect.
Poor tech SEO
Wix is also known for having a poor SEO reputation, and could explain why its mobile-unfriendliness causes search engines to have little liking for Wix stores.
Using Wix is fine if you're not planning to generate new leads via search engines. You can market your store using word of mouth, referrals, social media, and other strategies, but if SEO is an essential part of your long-term marketing strategy or you work with an SEO professional, Wix will impede those efforts.
Migrating to another platform is not an option
Wix won't just let you do that. As noted on the official Wix website, 'your Wix site and all of its contents are hosted exclusively on Wix's servers, and cannot be exported elsewhere'.
No other eCommerce website builder dares to bar their users from replatforming. Wix does, however, making it impossible to export or embed files, pages, or sites created using the Wix Editor or ADI to another external destination or host.
Think about it before choosing Wix as a shopping platform.
Additional resources:
In Summary
Here you are, at the end of this huge blog post. Happy to see that you've read through it all, but I've got one more little table in store for you. Here you'll find only the most important information that should help you compare these eCommerce website builders and understand which one is best for you.
Cost
Extensions
Hosting
Support by Vendor
X-Cart
Based on your business needs
$1,459
24/7 premium support
WooCommerce
free
$7,700+
not available
Magento Commerce
$40,000.00 – $190,000 per year
$114
hosted
included into price
Magento Enterprise
$22,000 – $125,000 per year
$114
self-hosted
included into price
Magento Community
free
$749
self-hosted
not available
Shopify
$9-$2000/month
monthly fee
hosted
included into price
Volusion
monthly fee
hosted
included into price
BigCommerce
monthly fee
hosted
included into price
Wix
$11-$29/month
monthly fee
hosted
included into price
Now that you know a few things about the most popular eCommerce website builders, I bet there will be no problem creating an amazing online store for your business. Good luck, and remember, no platform is perfect — but by weighing the pros and cons, you're bound to find out which website builder will best suit your business's needs.
Want to See Your Store in Action?
We'll connect you with an eCommerce expert who can show you the unique features that X-Cart can add to your online store.
Please answer the following questions so that we can generate your store.
Thank YOU!
We'll get in touch with you shortly to discuss your project.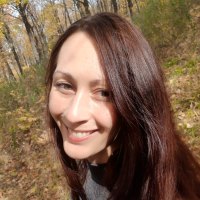 Maria Navolykina
SEO Content Specialist
Maria is an SEO Content Specialist at X-Cart. Once captured by digital and content marketing in her student days, she keeps living and breathing it ever since.
Subscribe to Our Weekly Newsletter to Get
Expert-Backed

Tips Straight Into Your Inbox

Awesome! You won't be disappointed 😉