←
Back to Blog
How to Sell Art Online: 11 Places to Sell Art Online in 2020
This blog post was originally contributed by Jake Rheude, Vice President of Marketing at Red Stag Fulfillment.
Thousands of artists are making solely through online sales and commissions thanks to virtual galleries being unlimited and many new systems having marketing tools built right in — it's never been easier to find an audience.
Choosing the right platform, however, has become the tricky part because there's only so much time in the day to make art, photograph it correctly, put it up for sale, and manage the business side of things. Whether you're focusing on selling prints, creating unique sculpture, or want an online gallery to highlight your work, it can feel like there are too many tools.
We're looking at 11 of these to highlight the best places artists told us that they got started. You'll find options designed to showcase new work, some that can work on your site, and a few services that do it all for you.
In a move that'll shock some artists, we're leaving Etsy out of this list! Why? Because many we talked to said that every artist knows about it, and the recommendations and if it is worthwhile can vary greatly based on artist ability, type of work, and more. There's no single answer for any platform, but Etsy was the one all artists said was worth reading about in the community to see if it is the right choice for you to stand out from the crowd.
So, now that we know the king isn't on the list, let's see what artists told us should make the cut.
Selling Art Online via X-Cart eCommerce Platform
Already an established artist with your own website, pulling decent traffic? You might want to sell directly to the people finding you. There are some pre-built services and integration tools for eCommerce that can help artists. Among the most customizable is X-Cart. We've got several stellar guides on how to sell your art products on Pinterest and Etsy via our eCommerce shopping cart.
Need Help Setting Up an Online Store With X-Cart?
Reach out to our solution advisor and take a tour around the platform.
Talk to an Expert
This online shopping cart platform is all about selling goods and making it easy for you. That means you can customize and adapt to your site and needs as you'd like. There are more than 120 sales channels and 128 marketing tools designed to help with sales that also integrate with X-Cart and plenty of tools to make it easy to sell, collect payments, get clients to pay for shipping, track sales and inventory, and much more.
X-Cart is flexible and adaptable. It powers 38K+ businesses worldwide and can get you selling for as little as $495. It's a one-time fee which means you are not tied with monthly charges as when you sell with Shopify or BigCommerce. On top of that, there is a free version, not that feature-rich though but perfect for evaluation purposes. You can also set up a free trial and upload your artwork just to test the waters and see how the software looks from the inside.
There's a bevy of artist website templates to sell art and photography online that will facilitate website design and development process.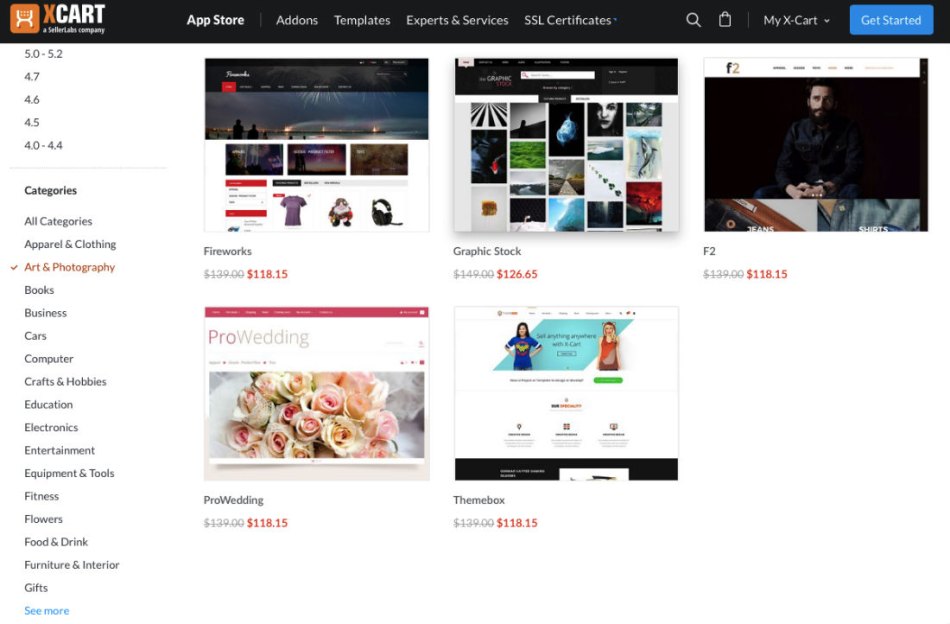 And if you need an example, we've got a success story about Ann 'N' Eve. These entrepreneurs create gorgeous western wear and sell it online with X-Cart for over 5 years already.
If you want customized work, X-Cart has many in-house developers who have experience with artists and are ready to code whatever comes to your artistic mind.
Chapter II
Selling Your Artwork on Instagram
Instagram is a highly visual service, making it a perfect place to sell your art online. You can build your own channel and interact with people, driving them to your website and making sales, all by only investing some time. You can showcase your work, process, and anything you like with an extremely large potential audience.
Many emerging artists use Instagram to help find fans, ask what people want to see, and even to share work that isn't for sale. People can become interested in what you do and follow you on the service, so your posts and artwork show up in their feeds.
If you want to run traditional marketing campaigns, you can also highlight products through paid ad campaigns and even sell content directly on Instagram with special purchase buttons. The Instagram Shopping tools make it easy to run promotions, set costs, and feature multiple products in your ads. The service wants to help you get more viewers and interactions, so you get plenty of tools to help.
Instagram is highly valuable, whether you sell through it or just create a following. Hashtags make it easy to find you, and you can take part in events like #inktober to reach a wider audience. People like to share Instagram content, especially if you interact with your audience."On Instagram, you rely on people finding your page, and frequently larger artists will shout out your work to their followers to give you a boost. I don't know if it's just the fiber arts community or if this is common across the art spectrum, but there have been so many kind and supportive artists out there that don't feel threatened by you doing well. There is even a popular hashtag for it: #communityovercompetiton," said Caitlin Rethwish of Etcetera Embroidery.
Chapter III
Using Twitter to Sell Art Online
Twitter is a hot place for artists to promote their overall brand instead of individual pieces. This means many successful sellers are using it to post about sales and promos, share news and announcements, or give people a way to find their store and exhibits. It's how you let the world know what you're doing.
There are many collaborations that happen on Twitter and the art community is very engaged. This means enthusiasts and other artists will share and retweet your posts, helping you gain wider acclaim. To be most successful, you'll need to do the same too!
It's all about building your own community and driving people to buy on other platforms.
One of the growing trends on Twitter is to post work that you create as a commission. It shares your abilities and gets people interested; plus, new owners are included to share too. This not only helps more people find you, but it gives customers a chance to approach you directly and commission a piece.
Chapter IV
Selling Art on Amazon
Amazon has its own art section, which many of us overlook as we shop for air filters and coffee pods and much more. It opened back in 2013 and has become a growing hub for artists to sell their work across the globe. It has a very broad range of content, styles, types, sizes, and prices.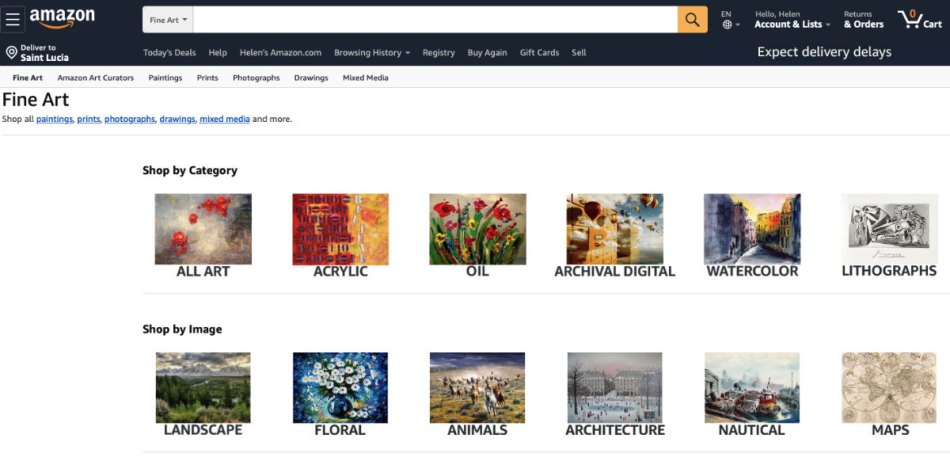 You need to be pre-approved to sell on Amazon, and it has a variety of restrictions. In some cases, such as sculpture, you'll have to meet larger production volumes and sell your work outside of its fine art categories. There are some curated elements and many search tools, though you'll get mixed results in searches.
For instance, if you click on the selection tool to find artwork for 72 inches to 84 inches, results will also include a vacuum cleaner, bed frames, and more. Best-selling products move higher up in results too, so some sections are dominated by mass-produced elements or popular artists. Lora Zombie has focused heavily on Amazon selling, so her work dominates the general art page.
Amazon sellers have plenty of opportunities to explore in 2020. To help you do that, our parent company has put together the most comprehensive guide to selling on Amazon for beginners and experts alike. You'll get a basic understanding of how to sell on Amazon, plus you'll discover some of the most effective techniques to stay competitive and grow sales.
For example, selling your creative projects on Amazon can be a terrific way to expand your reach and find a viable audience, though running the Amazon storefront will take up a fair chunk of your time. Entrusting some of the most time-consuming tasks to the experts from Seller Labs should maximize your time and help you get more revenue in a relatively short amount of time.
It can be a terrific way to expand your reach and find a hungry audience, though running the Amazon storefront will take up a fair chunk of your time.
Chapter V
How to Sell Art Online With ArtPal
When asking around, ArtPal is one of the top suggestions for artists getting started. They don't have membership costs, commissions, or other fees, and you can get up and running in just a few minutes. It also supports a wide range of payment options — with no restrictions on type of art — so you can reach customers easily. The system offers a free gallery and provides a free print-on-demand service. If you use ArtPal to handle the printing and shipping, customers pay directly for those elements so you're not facing any costs.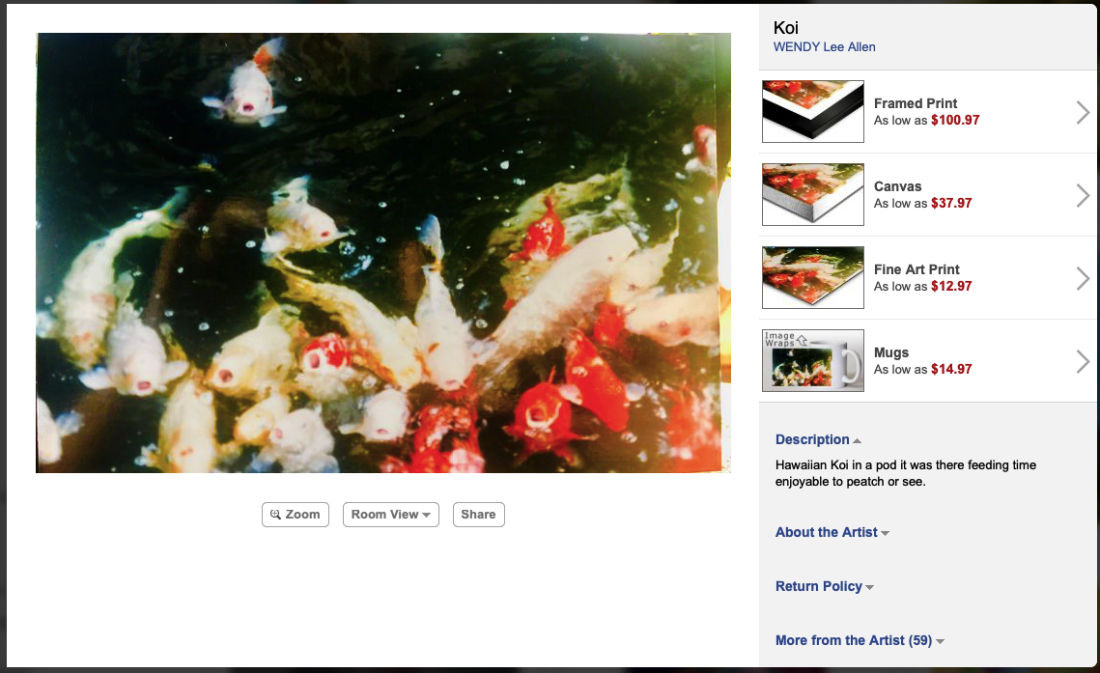 ArtPal makes money through its printing and shipping services. It has a flat cost for these, and you simply set a price to add for each item that is on top of the base costs, receiving 100% of those profits. If you want to use it as a digital gallery but handle the shipping yourself, there's no commission and you get 100% of sales through the platform.
It has some of the broadest art-type support, including a variety of glasswork, and we've found artists who have sold pieces from a few dollars to a few thousand. With no cost and plenty of support, it's a great starting point. The only downside is that there are more than 144,000 artists on its site, meaning a lot of competition and you'll likely need to do external marketing.
Chapter VI
Sell Original Art Online on Artfinder
Artfinder is a popular European service though it has a growing presence in the Americas. In total, there are more than 10,000 artists from 108 countries, and it says it adds roughly 15,000 new pieces each month. It covers paintings, prints, photos, sculpture, digital art, and more.
The service takes either 33% or 40% commission, saying the money goes to hosting, site management, marketing, and they offer customers free returns. You pay commission on the retail price of the piece, meaning there's no jump because of shipping costs — which can save you a lot if you end up selling internationally. Commission and monthly charges depend on your subscription, and the higher options give you greater access to tags, promotional packages, and fan interactions.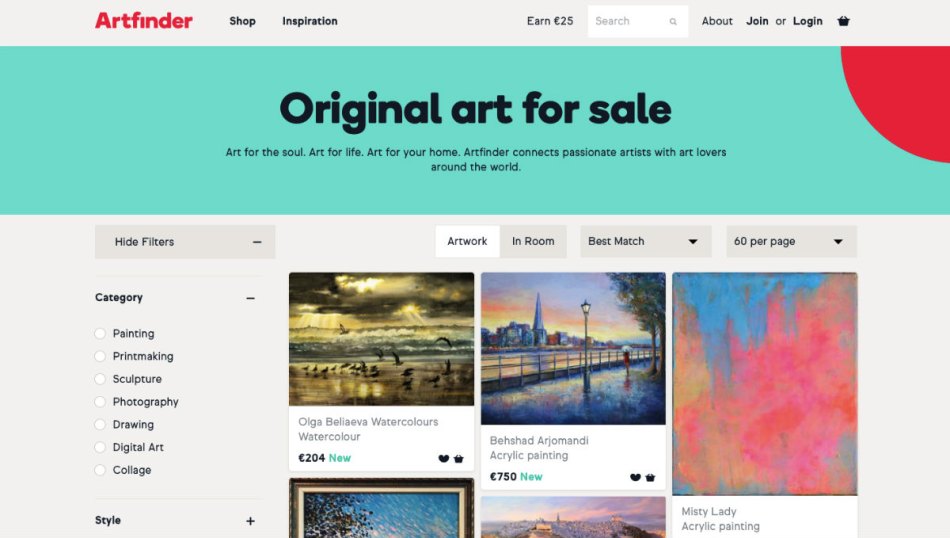 One wonderful thing about the service is that your artwork will show up in searches even after it is sold. This allows people to find and start following you. There are also a lot of filters and options to help your audience find what they can afford. Visitors set their regional preferences — such as currency, language, and units of measure — and the site adjusts the information of pieces to help sales reach more people.
Chapter VII
Selling Crafts, Clothes, and Jewelry Online With ArtFire
If your art tends toward handmade items such as jewelry, clothes, and crafts, then ArtFire could be a strong art marketplace for you. It sees around 300,000 unique visitors each month and gives you access to selling tools and help. Many artists use ArtFire in place of their own website initially.
The platform is also designed to be easy to connect with other artists, and you'll find a variety of collaborations over time. Generally, people are willing to help with questions on sales and shipping, while ArtFire itself does much of the marketing and SEO work you'll need.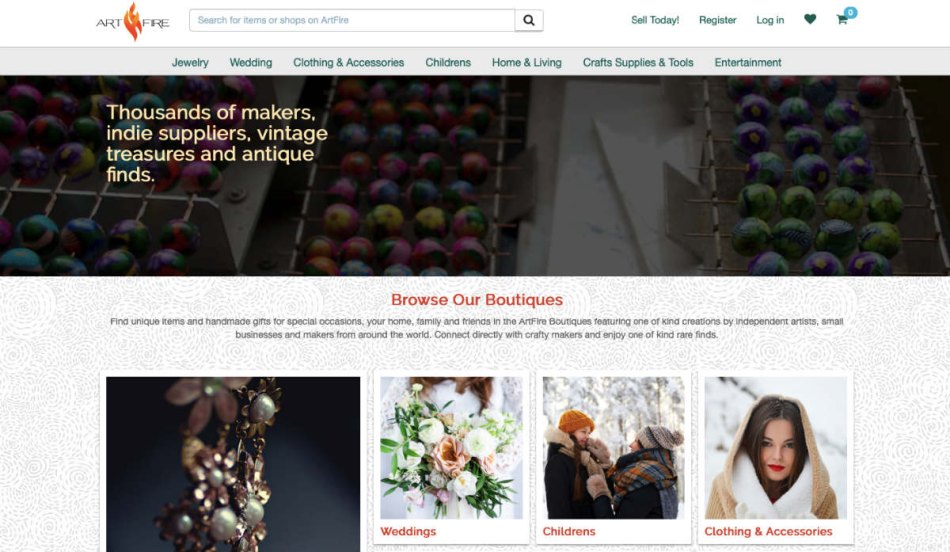 Depending on the package you choose, you'll have a monthly cost, potentially a cost for listing items, and a final valuation fee of either 12.75% or 4.5%. It's easy to grow and expand with the platform too, integrating with other sites if you end up building a website too.
Chapter VIII
Pixapp — Best Place to Sell Art Prints Online
For smartphone enthusiasts, Pixapp offers you a tool to sell via apps. It works by you updating the app with specific artwork as well as designs, photos, and other elements that can be added to phone cases, tote bags, shirts, coasters, or be produced as metal prints, canvas prints, posters, and framed items. You'll keep 90% of each sale, and Pixapp doing the printing and creation means you're able to generate passive income without a lot of creation and the need to sell the originals.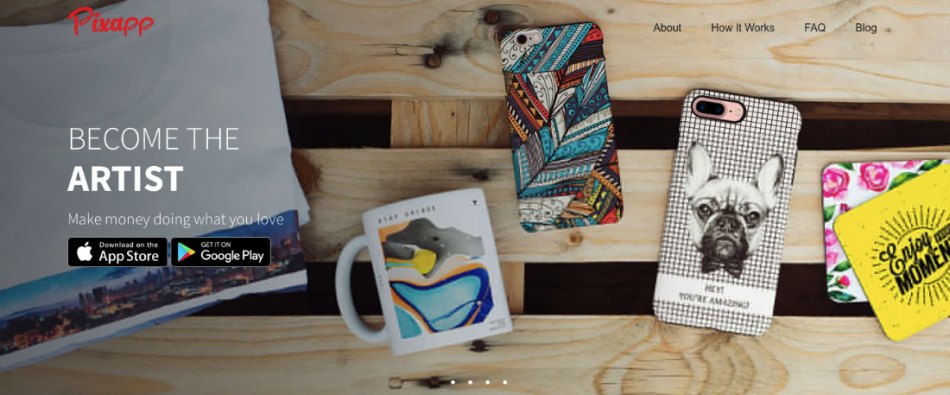 Pixapp will handle the customer service, shipping, and if there are any returns. You're not managing the business, just providing Pixapp with content to sell. It's growing somewhat and has an active artist community. Reviews of the service, from the artist's perspective, come in a wide range, and there have been some concerns over image quality reductions after uploads.
It isn't going to be the only place you sell if you want to make a living from your art, but it can be a good part of your mix while you sell on other channels.
Chapter IX
Sell Your Drawings Online For Money on Saatchi Art
For established artists, art collectors, and those with a growing fanbase, Saatchi Art offers a world-class gallery online. The site gets 1.6 million monthly visitors and has already sold art to more than 1 million people — and they get its printed catalogue, too. When added, you get a boost in credibility from the Saatchi name.
While it initially focused on paintings, the service has expanded to include collage, photography, drawing, sculpture, printmaking, mixed media, limited edition prints, installation, and open edition prints.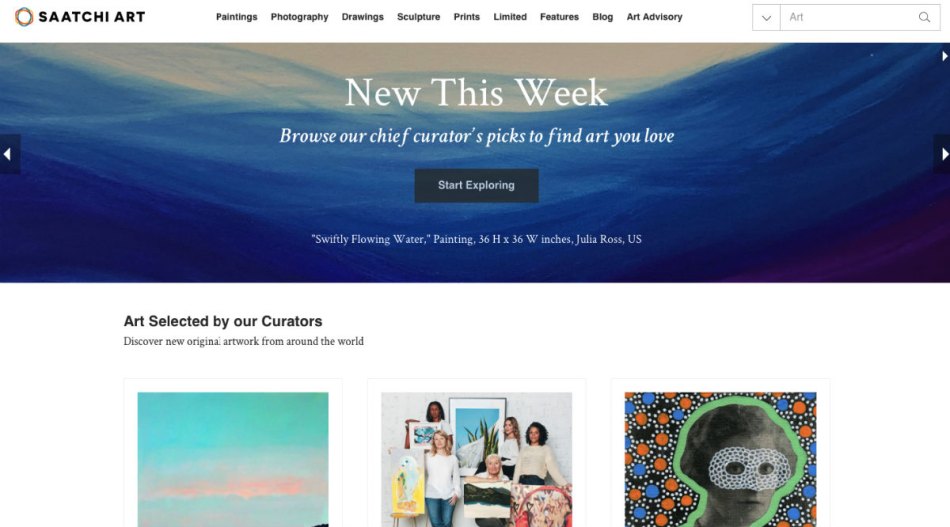 Artist accounts are free, and Saatchi will pay for shipping (you must package items for sale), with no hidden fees. The downside is that you receive 65% of the artwork sold. Thankfully, there are no exclusivity policies common with larger galleries. The PR tools and advertising support are there to help you, with many free options.
What sets Saatchi Art apart is how it positions itself. This service aims to be a true online gallery showcase, so its statements discuss how well it compares to galleries — such as reach or not having the high standard of a 50% commission. While it does cost more than other online tools, artists say that they sell their work in the $5,000+ and $10,000+ range.
Chapter X
Society6 Will Help Sell All Types of Art Online
If your work translates to a wide range of products and styles well, it might be time to look at Society6.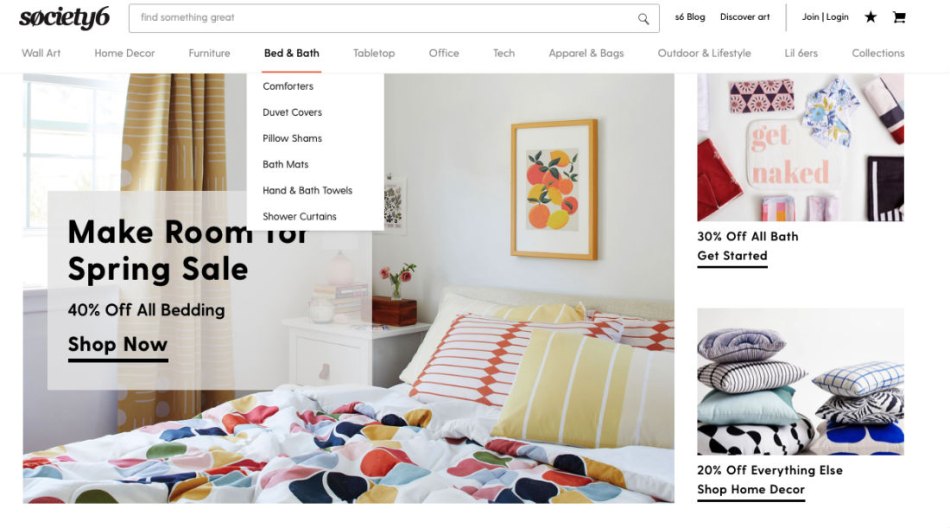 This print-on-demand service feels very much like a Pinterest board turned into a storefront and it'll give you a variety of options to get onto different items, from traditional prints and coffee mugs to things like comforters. You get to set the royalties and pricing on items like canvases and art prints — Society6 sets a baseline price and you add some on top. For other items, they have a fixed price and fixed profit amount for you.
If you have ever thought of extending your product line and selling a wider variety of products, this list of eCommerce platforms (other than eBay, Etsy or Amazon — everyone knows them already) and online marketplaces to sell stuff online will help you build the right strategy for the future business development.
Chapter XI
Kite.ly is a Perfect Place To Sell Art Prints Online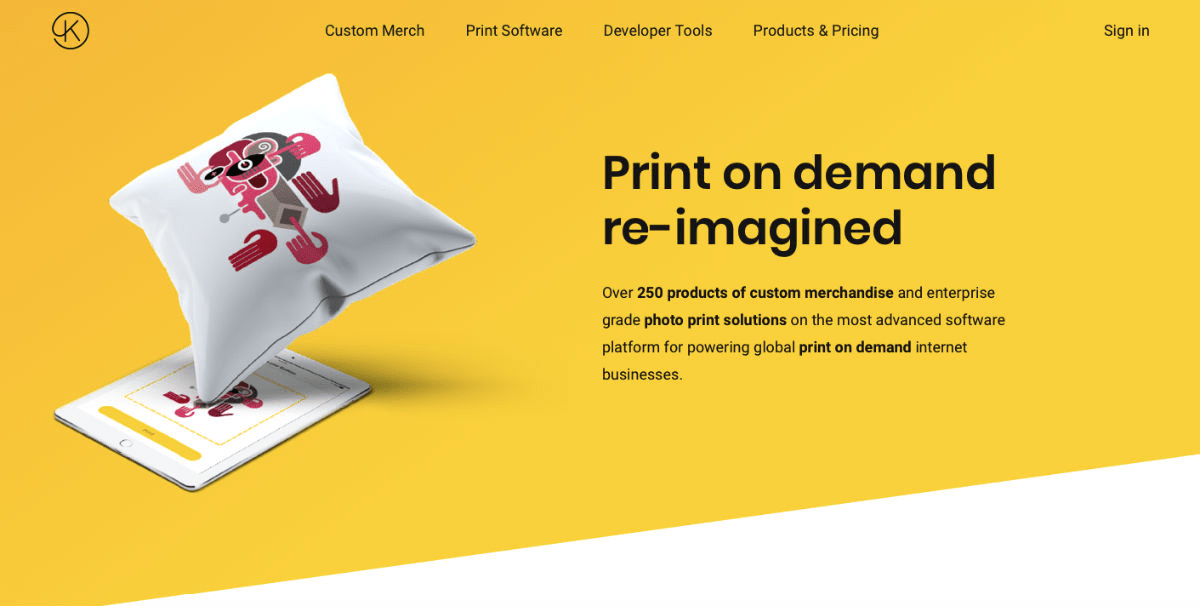 Kite.ly offers a print-on-demand service that you can add to your own website, including a merchandise shop, that you can incorporate through an API. You get print and post services, mobile support, and more. It offers a variety of apparel, cards, photo books, and more for you to use. It says there are more than 250 options for your business.
Essentially, you create the art and upload an image, integrate Kite.ly, and then they print the item after a sale. It is used for small artists and growing businesses as well as some large enterprises including Lenovo and Polaroid.
Your costs depend on the account and what item you sell, making it easy to sell products online in your own online store.
Kite.ly does integrate with other ecommerce services and plugins, which can help you grow your business in a greater deal of control.
Shipping Is Key to Long-Term Success
Successfully selling your work online comes in three phases:
Create your art
Work with the platform to land visitors and make a sale
Ship it to the buyer
That last bit can be pretty tricky when it comes to your work. You need to keep costs low so you can attract buyers, but also must heavily ensure that you protect the artwork. Often, this means packaging it carefully and then buying or building a crate for it. Saatchi has a nice walkthrough for packing in a crate, which is the preferred method for high-quality pieces.
Posters, prints, and rolled artwork items can still be shipping tubes. Small pieces that aren't going to break can be put into padded envelopes or flat-rate boxes, but ensure they have adequate protection around the edges. The more you're selling your work for, the more demanding customers will be for shipping protections.
You'll also want to look for ways to reduce the shipping costs of your ecommerce art store, which might mean using stronger but lighter materials, turning to air-filled pillows for a greater cushion, consolidating boxes, and understanding the DIM weight of packages.
Everything has to arrive free of damage. That's how you land the sale and keep it. Maximizing value here includes both reducing your costs while ensuring security and safety. Do what works best for the art and you'll avoid many of the challenges and frustration that can come from running a business and selling products online.
You put your heart and soul into the piece, keep it there for your customer to enjoy.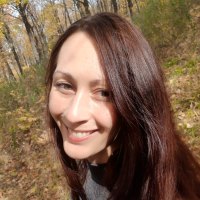 Maria Navolykina
SEO Content Specialist
Maria is an SEO Content Specialist at X-Cart. Once captured by digital and content marketing in her student days, she keeps living and breathing it ever since.
Subscribe to Our Weekly Newsletter to Get
Expert-Backed

Tips Straight Into Your Inbox

Awesome! You won't be disappointed 😉