How to Sell on Pinterest And Explode Ecommerce Sales

If you plan to triple your eCommerce business growth and drive more sales in 2018, you should learn how to sell on Pinterest.
Why? Just because it is a formidable community.
This new red-hot sales channel brings more social media traffic than Twitter, giving way only to Facebook which is a little bit ahead.
Plus, Pinterest users spend much more per order (from $50 and more) than users of any other social media platform. Even more than oh-those-super-active Instagram users.
In September 2017 Pinterest community was celebrating a major milestone — they'd grown nearly 40 percent since the previous year.
As of now, two hundred million people log in to their Pinterest accounts every day to hunt for ideas, inspiration, and, what is more important, plan their next purchases.
As Evan Sharp, the co-founder and chief product officer of Pinterest, smartly put it, "if Pinland were a country, it'd be the 7th largest in the world!".
Just think of that!
So you are not going to miss an opportunity to grab your piece of that yummy eCommerce marketing cake, are you? Baked with love and fragrant spices, Pinterest social media platform is well and truly one of the best places to promote your online store.
Our beginner's guide to selling products on Pinterest is chock-full of business ideas and marketing tips that, applied right, should help you bring more traffic to your eCommerce site and take your online marketing to the eighth heaven.
Ready? Go.
The Barebones of Pinterest
Before I tell you the truth about the way you can use Pinterest for eCommerce, let's have a look at the "bare skeleton" of Pinterest marketing.
I'll address the following questions:
Who are those 2 million people pinning products every single day?
Is he a young hipster or middle-aged businessman?
Where are Pinterest users from? The North Pole?
How much money are they ready to spend for your brand?
What kind of products can you sell on Pinterest?
What is the difference between a Pinterest business account and a personal profile?
How To Find Your Pinterest Audience
A little more than a year ago Pinterest was a social media platform baked for hipsters and moms only. They used it to share visually inspiring content, like posh tattoos or baby boy coming home outfits to their pinboards.
Now this social networking platform has grown to be one of the most influential marketing tools for eCommerce, with over two million people of all social groups and interests, pinning products every day.
Pinterest gender demographics. What is curious is that 60% of Pinterest users are women. Males account for only 40% of total posts on Pinterest. Impressive, right?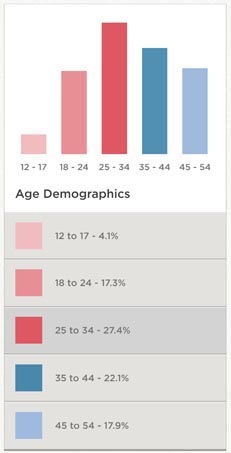 Pinterest age demographics. The average age of a Pinterest user is around 40. However, the majority of active pinners are far below. For example, millennials — Gen Xers and Boomers — using Pinterest as much as Instagram. They actively create Pinterest boards, upload images, and subscribe to product pages.
Pinterest location demographics. Wonder where your users live? According to Pew Research Center study, more than half of Pinterest users live in urban or suburban places, and only 30% of people are from rural areas.
What do you think a hurry-scurry urban-dweller dream about? Of course, to escape from his bustling city and enjoy charm & serenity of a country retreat.
Active Pinterest users from US: over 120,000,000 (almost 60%)
Active users from the rest of the globe: over 200,000,000 (as of September 14, 2017)
If you live in the United States of America, you should check how to sell on Pinterest, because your potential customers are already there.
Pinterest income demographics. Pinners are not afraid to spend money, which is quite favorable for merchants planning to use Pinterest for eCommerce.
Half of Pinterest users have the annual income of $50K or more, with 10% of users earning more than $125K.
Well, how much do you think these guys spend? According to Javelin Strategy & Research study, the average order value of pinned products is $50, which is 126% higher than Facebook's $54,64 AOV.
What to sell on Pinterest
Promoting your products on Pinterest is pretty easy, especially if you sell items related to fashion, food or home decor. Its audience, consisting of more than 200 mln people, LOVES the things like that.
People typically (72% out of 100%) use Pinterest to find ideas for everyday life and plan things ahead — gift ideas for the upcoming holiday, easy breakfast recipes, home renovation tips or a pair of new hiking shoes.
Stuffing boards with product pins is not the only thing Pinterest users do. One out of two pinners will purchase your products.
Pinterest will perfectly fit for any other product as well, be it a pet dress or a supersonic acrobatic rocket-powered battle-car. There are so many hundreds of thousands of people hanging out there every single day. So it doesn't matter what products you are trying to sell on Pinterest.
Here are some mind-blowing stats for you.
Still struggling to figure out what to sell on Pinterest? Relax. We've got a pack of tips for you. Check my 'How To Find A Profitable Product To Sell Online' guide. ATTENTION: lots of examples and pics.
Types of Pinterest accounts
Pinterest is not just a set of artfully arranged images as it looks like at first sight. It's a fast-growing marketing engine, revved up to bring traffic and sales to your eCommerce site.
If you are new to this platform, you might be unaware of the fact that there are two types of Pinterest accounts — a business account and a personal one. So you have got two strings to bow. Which one to choose? Let's see.
A personal account is right for inspiration hunters, pressing "Pin it" button three times a second (i.e., your potential customers).
But if are a store owner, planning to use Pinterest to promote your products, make sure you sign up for a business account. While free like a personal account, it's is double-stuffed with pretty features — rich pins, advertising options, buy buttons, advanced analytics and many more.
Let's take a closer look at each of them:
1. Analytics
As an owner of an eCommerce business, you should know that without analyzing the results of your online marketing campaigns your business is dead in the water.
Good news is that internal analytical tool is available for anyone with a business account who has registered their website with Pinterest.
Pinterest analytics works pretty much the same as any other analytical tool you may have ever used. It allows you to track new pinners and the number of repins, identify posts that attract the highest engagement, what your audience is into and where are your customers from.
Here's the way it looks: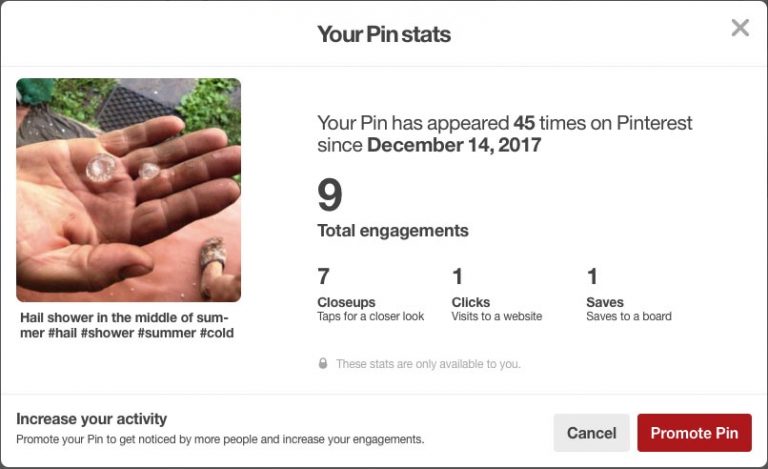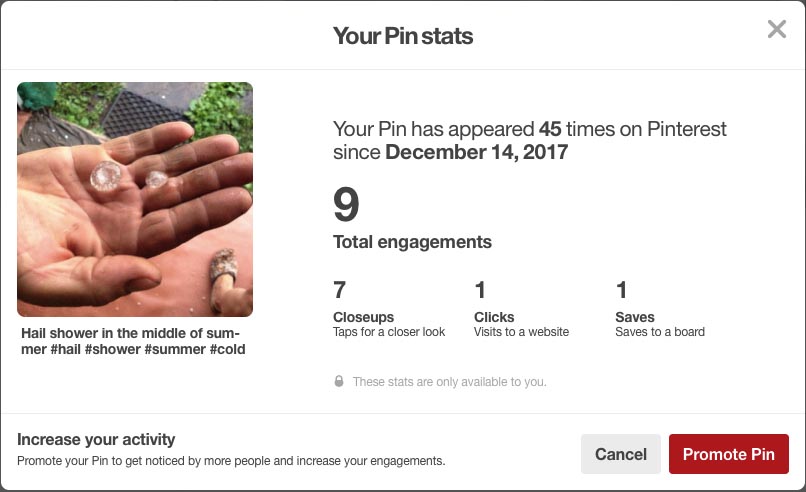 It's curious that many of users still rely on gut feeling and pure guesswork for promoting their products on Pinterest. But this is apparently not a practical strategy to follow. Decisions that are not centered around research and data often lead to unwanted results.
2. Promoted pins
I'm sure you, as a retailer, already know a thing or two about online marketing and advertising. Facebook, Instagram, Twitter — all these platforms can provide you with social media marketing tools for selling online. eCommerce marketplaces like Etsy and Amazon also have built-in paid advertising options. Let alone Google with its super-powerful Google Adwords system.
If you know absolutely nothing about selling on Amazon, see our step-by-step guide on how to sell on this marketplace. It's a 10 min read. So before diving into it, do some quick neck & back exercises.
It's time to disclose the secrets of Pinterest marketing. Yes, there is also a range of tools that can help you advertise on Pinterest.
Have a look at this screenshot.
There you can see a promoted pin. It looks like a regular pin, but show up more often in your potential customers' search results, category feeds and the home feed.
Promoted pins run on a 'cost-per-click' basis and can be targeted to the relevant audience. Just remember to tailor a personalized message.
NB: Promoted pins are available only for the US and UK-based businesses. Pinterest ad system will geographically pinpoint users based on their IP addresses and show ads only to those living in the United States of America or the United Kingdom of Great Britain.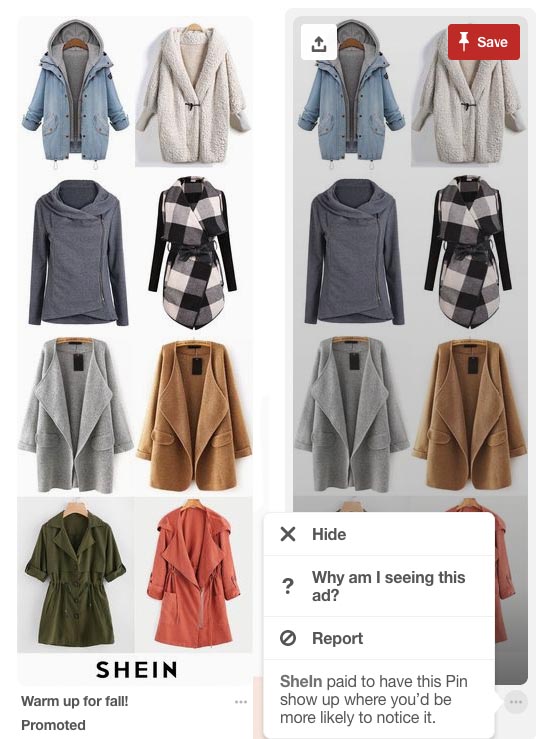 There are three types of promoted posts, each designed to make it a little easier for you to promote your products on Pinterest:
One-tap pins. A single tap would be enough for your user to find himself on your eCommerce website. Look at this post promoted by Overstock.
Video Pins. You won't have to send your user to another site to let him watch your video. Everything is right at his fingertips.
App Pins. This type of pins makes it easier to promote your mobile app.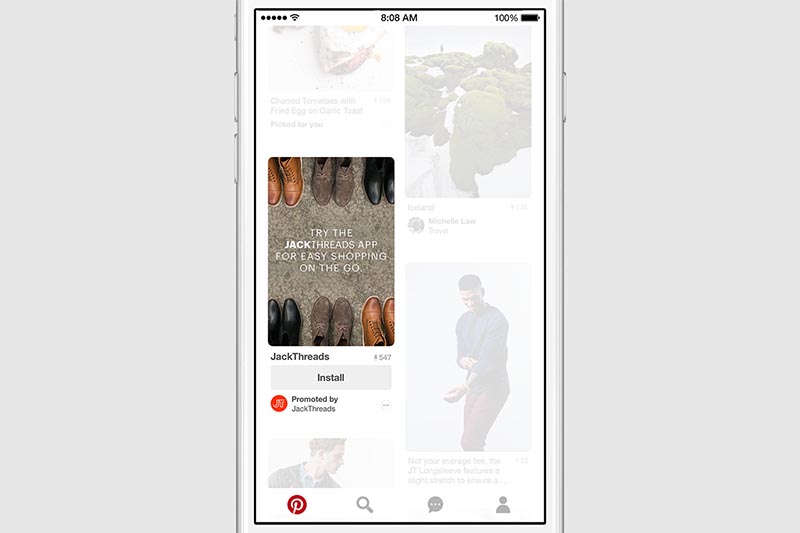 3. Rich Pins
A rich pin is not a run-of-the-mill social media post. This delicious feature makes Pinterest pinning more straightforward and seamless.
Now there are only four types of rich pins on Pinterest: recipe, article, app and product pins.
It looks like that there were two more types — place and movie pins. At least they were announced on the Pinterest blog back in 2013.
I couldn't find them.
To enable rich pins on your eCommerce website you need to add the appropriate metadata to your eCommerce site content and then validate them on Pinterest.
Rich pins are automatically enabled for Bigcommerce, Etsy and Shopify stores. They include real-time pricing and stock availability.
With such a wide variety of online marketing tools at your fingertips, you should no longer ignore this opportunity to sell on Pinterest.
How can I create a Pinterest account?
Creating a personal Pinterest account (without a single option for promotion) is a piece of cake. First, join the community using your login and passport, or login with your Facebook or Google profiles.
Now, that you have a personal account, it's easy to start using Pinterest for business purposes. Click on the three-dot button in the right upper corner and choose 'Switch to business' option.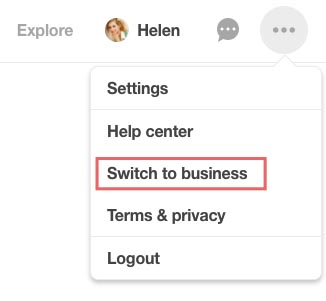 To switch to a free business account, you'll have to fill in a couple of fields about your eCommerce business — your business name (ex. Little Pig Cafe), business type (ex. public figure, an online marketplace or a local business), and website (ex. littlepigcafe.com). Then, confirm that you're okay with Pinterest's Business Terms of Service and Privacy Policy.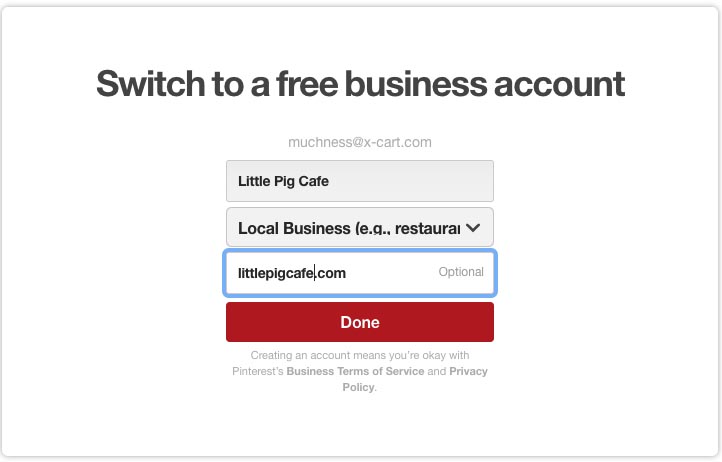 And you are done. So, what's changed? Oh, lots of things. Pay attention to a large search bar across the top of each page you visit.


To the left, you'll see the logo, which takes you back to the homepage when clicked. Your home screen displays the most recent products sold on Pinterest by other retailers.
Near the logo, there are two menu options for analytics and ads. I've told you about these options already.
To the right, there's an 'Explore' button, that shows trending boards and images that may be interesting to you. This option is available in personal accounts as well.
Next to that, you'll see the cross sign which allows you to upload an image (from your device or right from your eCommerce website) or create a promoted pin. This is not a chemist's shop.
And the last distinctive feature that can be found only by the owners of Pinterest business accounts — a personal shopping cart.
That's a little bit something about the difference between personal and business accounts.
How to promote and sell products on Pinterest
Creating a presence for your eCommerce business on Pinterest is a piece of cake if you know where to add a little bit more butter.
Here's the list of essential ingredients for baking the most scrumptious ever Pinterest marketing pie that drives sales like crazy.
NOTE: Before you start make sure you know all the general rules of selling your products online. You should define your buyer personas, find out the best price for your products, understand how to close the sale even when the lock is broken and the key is lost.
1. Pin images you find beautiful, not just your product photos
One of the most important things you should keep in mind when it comes to Pinterest marketing is that people hate when they feel you are trying to suck their money out. No one likes sales guys, especially the pushy ones.
So you should learn how to sell products on Pinterest without being too salesy.
The rule of thumb — DO NOT TRY to publish everything you sell on your eCommerce website. That won't do any good for you. It's better to tease Pinterest users with one a two best items and encourage them to visit your online store to browse the other products you have.
Plus, if your product photography is lame, no one will click on it or press a 'Save' button. Leave landscapes to painters. The Pinterest interface is not geared to viewing of landscape imagery. Learn how to create Pinterest-friendly vertical images, they are re-pinned more often than horizontal ones.
Add a product image that is optimized for maximum exposure. I recommend using an image that is formatted in a 2:3 aspect ratio like 735 (pixel width) x 1102 (pixel height).
Looks good, isn't it?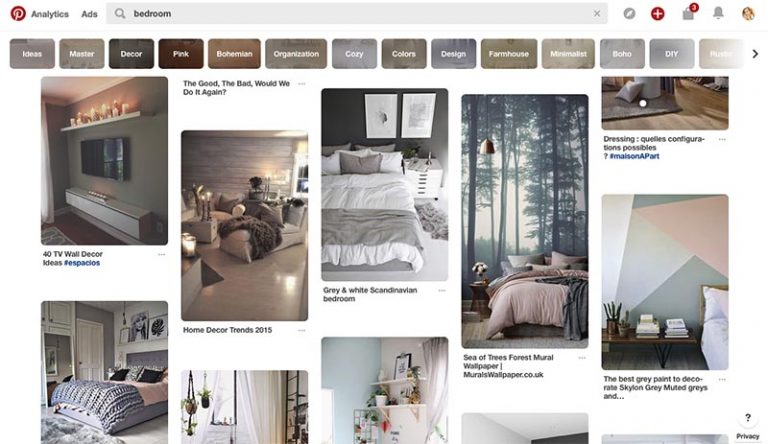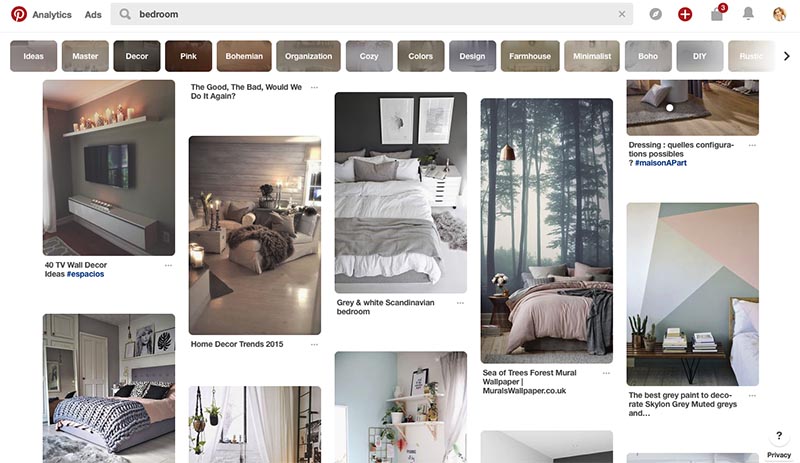 Just in case you need it, here's our product photography guide choc-full of tips. It will teach you how to shoot product photos like Nike, what equipment to use and how to set it up.
2. Show the human side of your brand
Showing your personality is a win-win online marketing strategy for promoting your products on Pinterest. This trick works for your emails, and it will as well work for your product pins.
Why? Curiosity is the moving force. Everyone is interested in people's private lives, values, opinion, taste, and personality.
Not only will it allow you to connect with your customers on a personal level, but it will also bring you more sales and build loyalty to your brand.
Here's what Gabrielle Karley Black wrote below the saved from tumblr.com pic:
"Forget those little barbells, girls, just walk with two chunks of wood on your feet. This is par for the upside down and bizarre times."
Do you feel her personality? I do.
3. Resonate with your audience
Spend some time swimming in the ocean of Pinterest boards and images that relate back to your eCommerce business — very soon you'll find out what resonates the most with your audience.
If you are still not sure what type of content should fill your product board, you can check trending ideas. Just put your cursor in the search box, and you'll see your recent searches, ideas for you and trending ideas.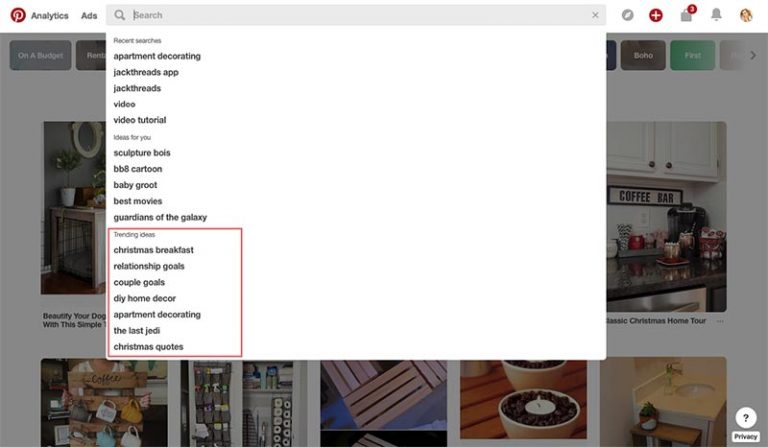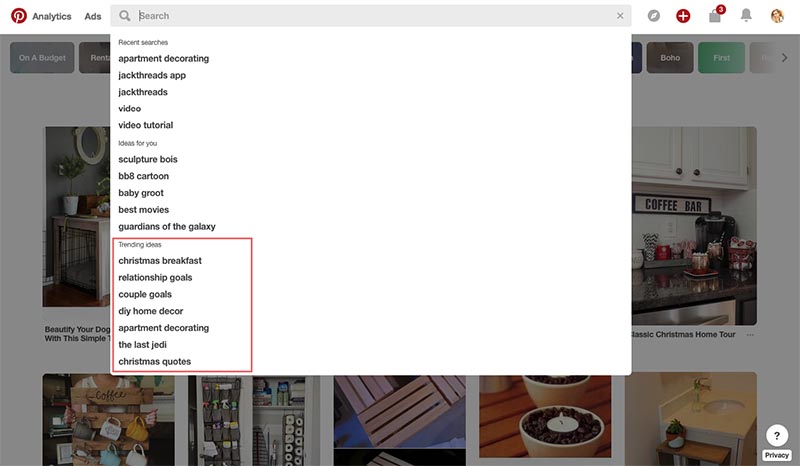 You can also take a sneak peek at what your competitors do — what strategies they use to promote their products on Pinterest and what their products boards are stuffed with.
Have a look at the Macy's "Things We've Loved" board. The color of the images changes as you scroll the page — from blue to purple, from purple to pink, then goes black-n-white palette, then blue (again!), green and red, and on it goes.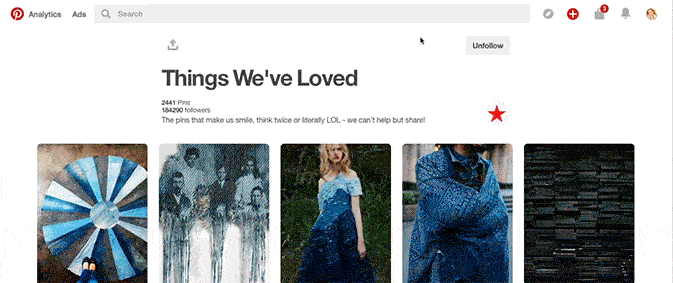 Mmmm… Looks charming, right? Put this idea down in your scribbling diary.
4. Make the most out of a celebrity sporting your products
Product shots are boring. There are over 50 billion pics on Pinterest, and yet another plain picture of your product will never catch the eye. Unless you are selling something bizarre, like this:
But I hope you are not. So what can help you highlight your item is showing the way your customers use it.
For example, clothing retailers can make a photo of a man proudly wearing a tuxedo, or of a good-looking girl in brand-new high heels.
If you can get a picture of someone influential using your product, you are lucky. This post is likely to get more shares than a regular image. This way you will be able to advertise on Pinterest without spending a penny for promotion.
5. Go creative
Pinterest is a sweet spot for creativity. Millions of people draw inspiration and refill their creative juices browsing boards and pinned products. There are several ways to be creative to drive sales using your Pinterest business account:
Create a gift guide

Gift guides are excellent for driving traffic to your eCommerce website. Even if someone isn't ready to purchase your products now, they can look around your site and hopefully come back later to make a sale for you when they feel they do need what you are offering.

There are lots of examples of Pinterest gift boards over there. For Instancer, Rockler woodworking and hardware retail chain company has managed to attract 41K followers, 33K (80%) of which are subscribed to their 'Gifts for Dad' board. Pinterest ninjas they are!

Group products around a theme

Themed Pinterest guides are also rather effective for selling your products on Pinterest. This could be a theme around health, ingredients, decorations or anything else interesting that can be categorized into boards.

Try to mix the repins from your eCommerce site with the ones from other brands, so that your board doesn't look like one giant ad.

Neiman Marcus eCommerce retailer has done a great job splitting his boards into the-art-of-somethings — the art of shoes, the art of spring, gown, fragrance and so on and on it goes.

Make a reading list

Share all the good reads you think Pinterest users would be interested in. This can be a blog post published on your eCommerce website or a piece of news related to your industry.

Run contests

84% of Pinterest users time is spent repinning. Cater to this desire! Ask your visitors to share your post for a discount or any other goodie. This way you can run your Black Friday or Cyber Monday sales.

For example, the Pink Lily online boutique is running a giveaway contest, asking subscribers to "pin it to win it". And that works!
6. Use graphics, videos, and gifs.
Your choice is not limited to images — you can as well upload videos and gifs to your Pinterest board. This way you can virtually create knitting or workout guides, or just fuel your content with animation.
Look at this Guardians of the Galaxy dancing Groot.
No one is happier than this little monkey. NO ONE.
That's how Pinterest marketing works.
7. Don't forget about jokes
Social media websites are mostly about fun. Give your Pinterest feed a cheerful tone. Add a few funny pics, make your potential customers smile. People experiencing positive emotions are more prone to shopping online. Plus, laughable images are much more likely to be shared.
Here's how the 'Keep Doggie Safe' eCommerce online shop sells a Paws Aboard Dog Boat Ladder on their Pinterest profile:
Funny? Are your fingers itching to click? BIG FAT YES. I clicked to see the way this dog boat ladder looks like and how much it costs.
8. Serve the female consumer
As previously said, the most part (more than 70%) of Pinterest users are women. I hate to sound sexist but, anyway, women and men have different buying preferences and perception of social media marketing tricks.
So even if you sell male-oriented products, you will need to tailor your pin descriptions to the dominant audience.
An example of the wrong message: "Guys, are you ready to look stylish this spring?"
The message would be much more useful if you changed it this way: "Do you want your boyfriend look stylish this spring?".
9. Use the right keywords and hashtags
Heads up! Hashtags do not function the same on Pinterest as they do on Instagram. You may be tempted to add hashtags in your profile bio or your board description, but please don't do that. Pinterest hashtags only work in pin descriptions.
Using proper keywords in your post descriptions is even more critical. The thing is that Pinterest pins are tightly connected to the product landing page you are pinning from. If the product page (on your website) uses the appropriate keywords in the title and alt tags, have improved chances of being discovered.
How to test pins with secret boards
Pinterest is a public social networking service. It means that anyone on the web can see what images you repin, whom you follow, what products you sell.
That's wonderful as the more people see your products boards, the more potential sales you get to your eCommerce website.
But what if you are planning a big launch and no one should observe the things you are preparing to sell on Pinterest?
That's what Pinterest secret boards are here for. Rolled out back in November 2012, this feature is still massively popular among Pinterest users.
When you add a picture to a secret board, it is visible only to you and a few authorized members. It won't show up anywhere else on Pinterest.
How you can use this tasty feature:
To repost the images you like without alerting others;
To share something with a small group of close friends;
To prepare a marketing campaign.
Just imagine — you have a secret hobby you'd like to conceal from your subscribers. Say, gardening. Pinterest secret boards is a perfect spot for finding gardening tips and saving them into a single place.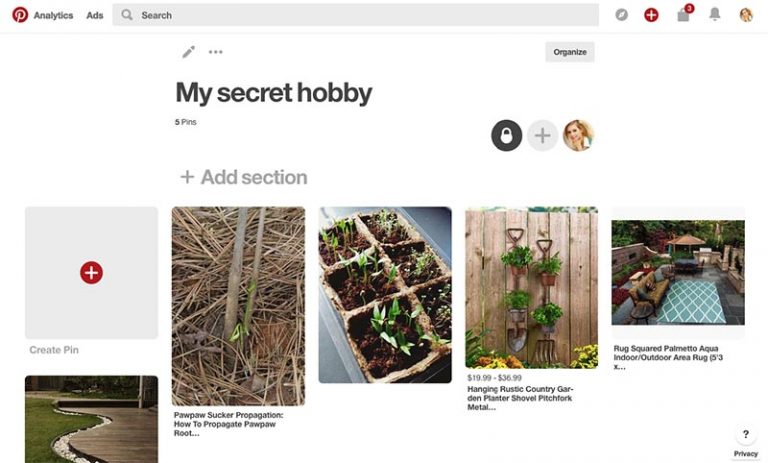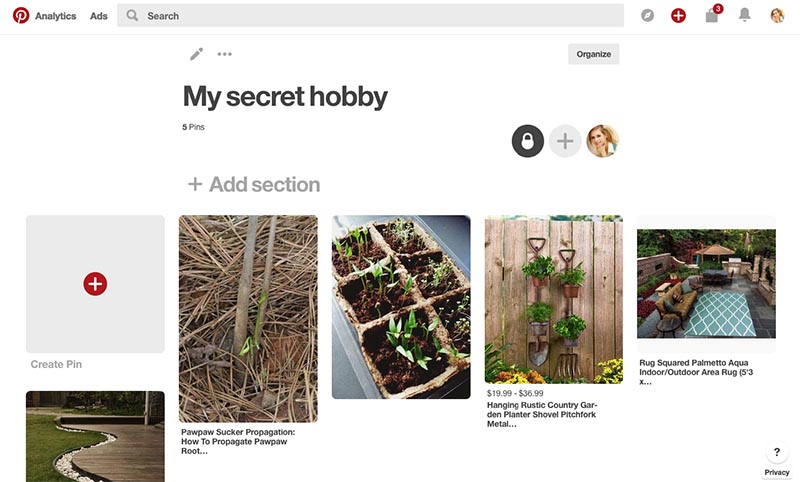 No one will reveal the secret truth about your hobby. Never. Ever. And if someday you master up your nerve to share it, you can easily convert your secret board into a public one.
It's a button away.
How to promote buyable pins with Pinterest ads
You may have already seen some excellent results after uploading your content to Pinterest. I've got some more good news for you. Using a "Promote" button will grow your eCommerce business even faster.
You might think that you'll have to invest much of your time and energy to create an advertising campaign on Pinterest. And the correct answer is: "Nothing of the kind."
It will take you no more than 9 seconds. See below:
Let's see what steps you should make to launch a promotion campaign. Your starting point is that red "Promote" button: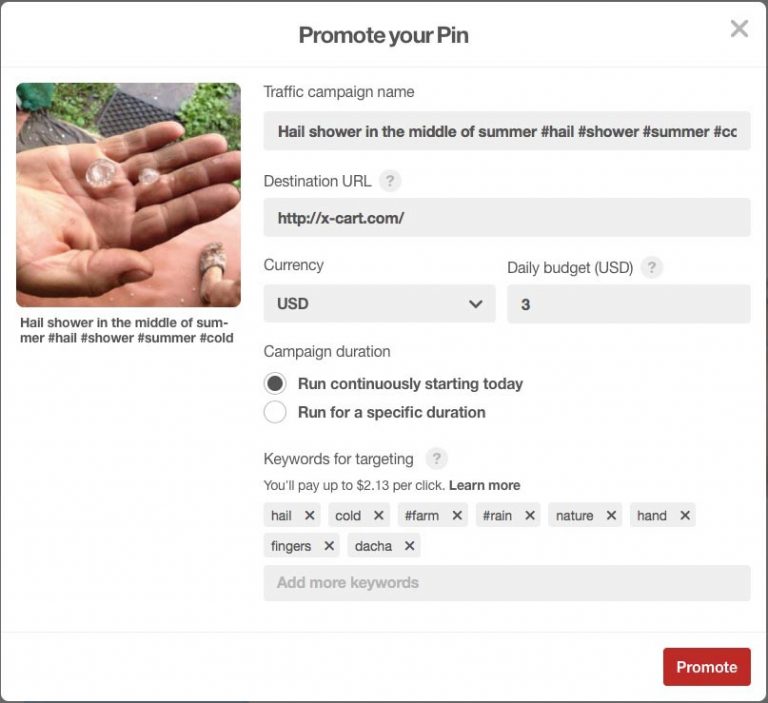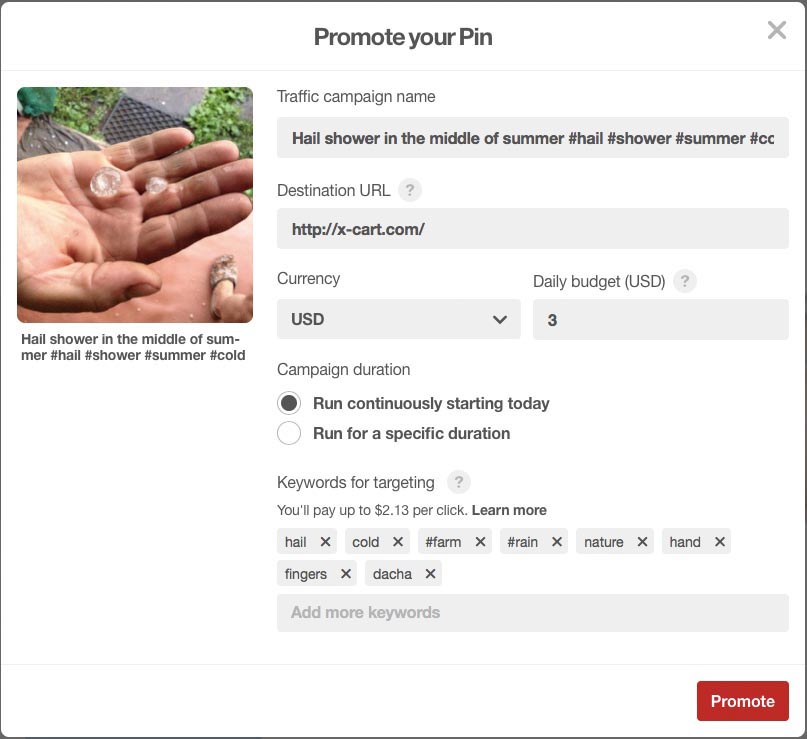 Give your traffic campaign a name, specify the destination URL (you can as well add tracking parameters to your link), choose the currency and set the daily budget. You can run this campaign continuously or limit it in time.
It's important to add at least ten keywords to help people find your Promoted pin. The cost per click depends on the types of keywords you use to describe your product. I'll pay $2.13 per click. It means that my daily budget cannot be less than $3.
As you see in the screenshot, most fields are already pre-filled. If everything is alright, you won't have to spend a second to tweak your campaign.
When everything is set, you should hit the "Promote" button once again. Here you'll have to agree with the Promoted Pins terms of service.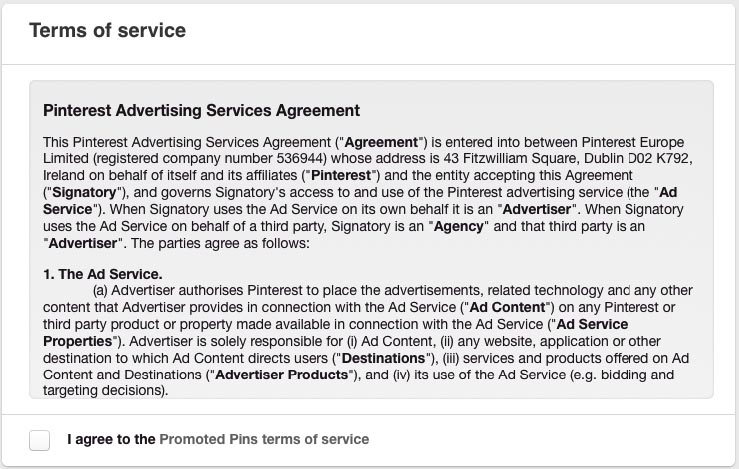 Then you'll have to add your billing details and payment information. That's it.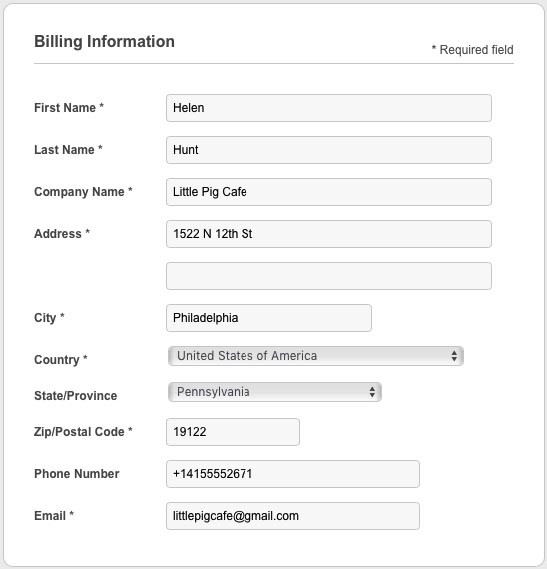 Promoted pins are usually mixed with free organic pins. That's probably why the Pinterest feed looks so natural. However, if you set a pretty higher bid, your campaign is likely to be displayed in the upper part of search results.
What can you do with promoted ads? Oh. There are lots of options.
STEP 1: Choosing the type of Pinterest ad campaign
Pinterest allows you to create marketing campaigns based on five business goals: awareness, engagement, traffic, app installs and video views.
1. Get traffiс and send the motivated audience to your eCommerce website. You will be charged for clicks to your site.
2. Build brand awareness by displaying promoted pins in the most visible places of Pinterest. You will be charged per 1,000 impressions.
3. Boost engagement. You'll be charged for any engagement — closeup, repin, click.
4. Increase installs for your mobile app. Drive app downloads directly from Pinterest.
5. Increase the number of your video views with video autoplay option. You get charged on impressions.
STEP 2: Add group details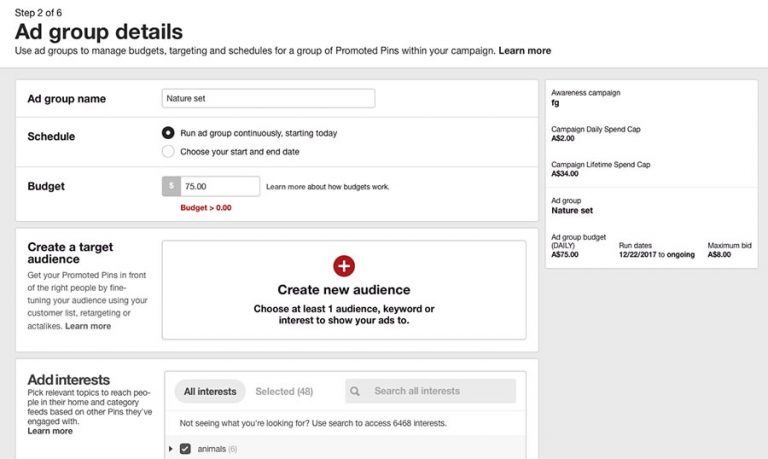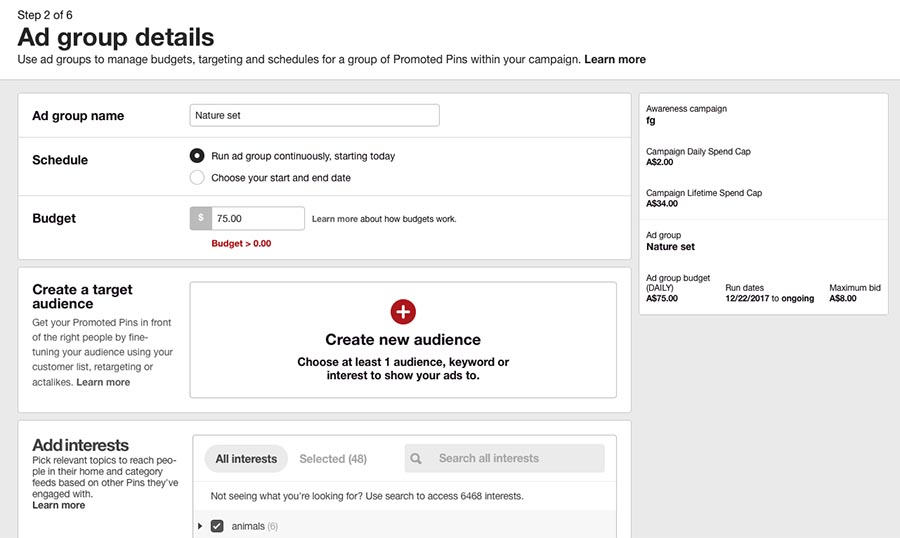 Set the budget, create a target audience, add their interests, keywords, locations, languages and so on to make your advertising campaign maximum effective.
STEP 3: Choose a pin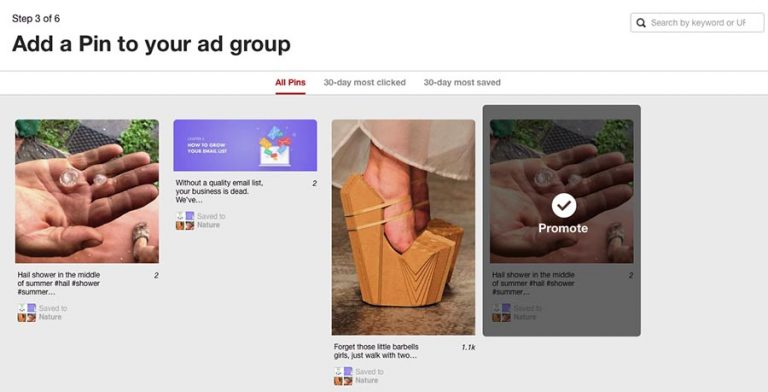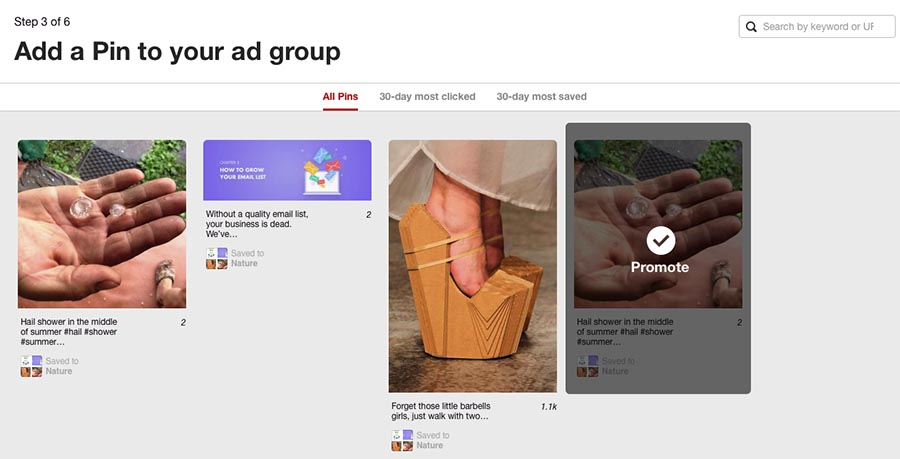 This is the most straightforward step. Here you can filter your posts and see which of them are 30-day most clicked or saved.
STEP 4: Add pin details


In the next few steps, you'll be offered to fill in your billing information and agree to the terms of use.
So there you have it.
The lame thing about Pinterest buyable pins is that they are currently available for the U.S. users. And if you are located, say, in the United Kingdom or Australia or anywhere else in the world, you won't see the buy button (and probably the price, and the number of items left in stock, and other tasty things).
However, if you are eager to see how these promoted posts work without moving to the US, there's a trick.
Log in to your Pinterest profile and change your country to the United States. Then, go to the homepage and search for any product.
I googled for 'rms lip shine':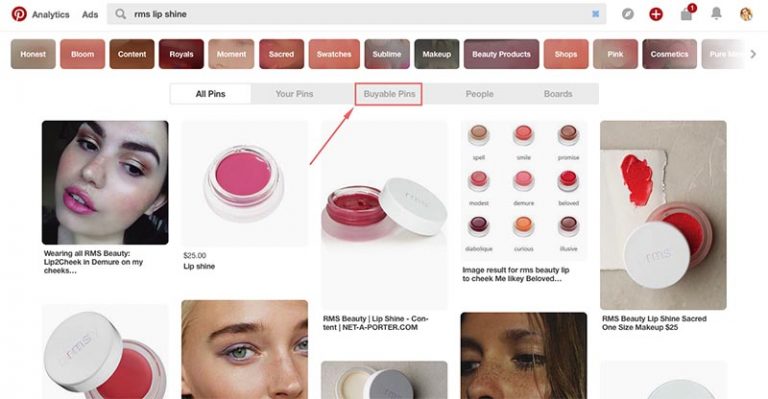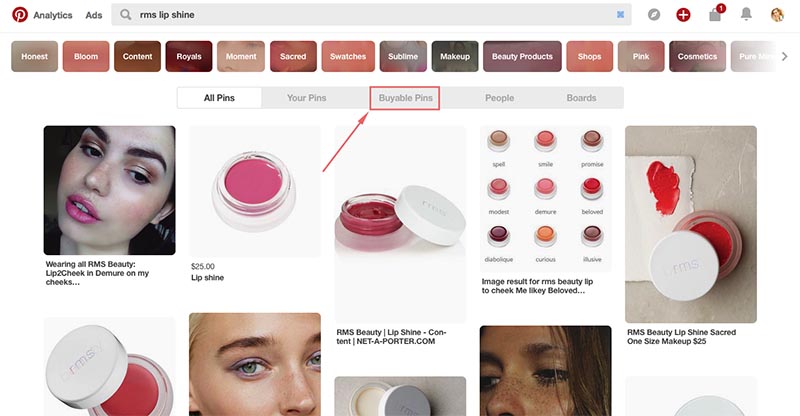 Users from the US see an additional filter right below the search bar and the suggested keywords. There you can choose to browse 'Your Pins', People', 'Boards' and, of course, 'Buyable Pins'.
Now let's get a sneak peek at what's available for purchase in our search results.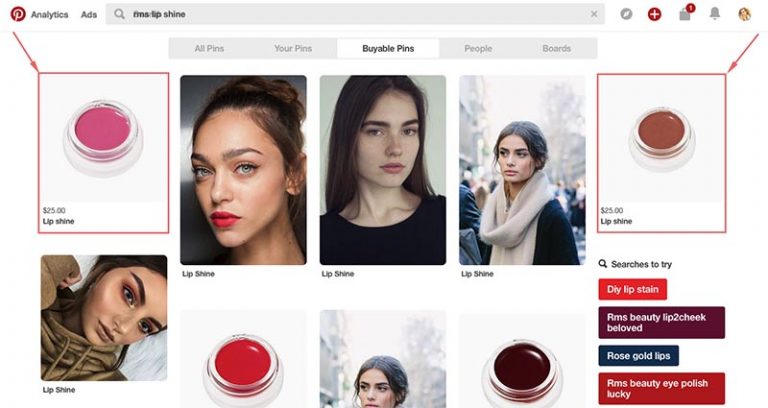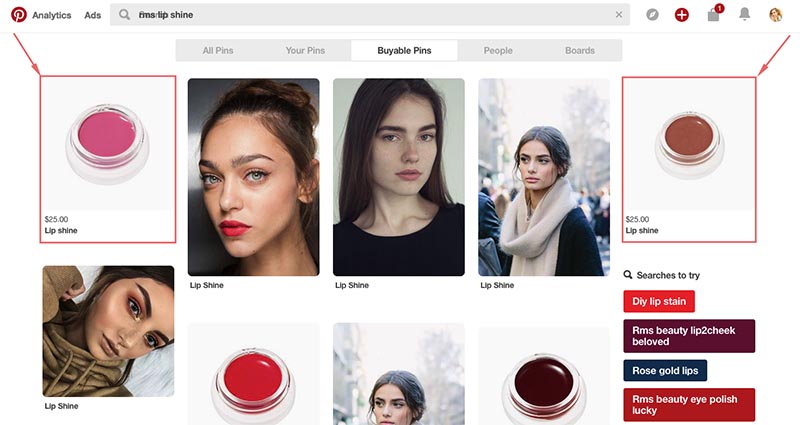 Yay! Among pretty faces, there is a range of buyable pins. Let's click on the left upper image to zoom it and see the details.
Here it is the buy button, aka 'Add to bag', that allows for direct product purchase. We also see that the product is in stock and costs $25.
Enjoy your shopping!
How to sell art and craft on Pinterest
Pinterest is the place for artists made by artists. It beats other social media networks in displaying artworks and hand-crafted things, hands down. Everything is so beautifully organized that you feel as if a myriad of creativity bombs had just exploded right before you entered the site.
Ok, ok, I'm exaggerating. But anyway, for me, pinning is the next best thing after blogging, which helps art retailers build brand awareness and sell their artworks online.
I've spent some time browsing Pinterest boards to find out what marketing tricks artists use to sell their art on Pinterest.
1. Links. The very first rule of using Pinterest for selling art and craftworks is to use links wherever it is possible. If the image you save links back to your eCommerce website, where they were first on.
That makes Pinterest a perfect lead generation tool — your potential customers find art they love and then go directly to your eCommerce site to learn more about the artist. His biography, for example:
If you do not have an online store of your own, you can upload your works on Etsy, eCommerce site focused on handmade and vintage items, and link back to Pinterest where more users can find you.
You cannot buy this leather bracelet directly from Pinterest, but you can visit Etsy and add it to bag there.
2. Price. There are lots of art lovers on Pinterest. There are as many of them as the ones who are fond of DIY things. And the whole half of them do not mind buying your piece of art, be it an oil painting or a hand-knitted hat.
So don't forget to add a price to your product, just like Michel Keck does:
3. Share other artists' posts. By interacting with other users of the community, you establish networks and attract attention. Someone may repin your artwork as well.
4. Don't keep silence if someone reacts (saves it to his board or comments on it) to your piece of art. Thank them for the support.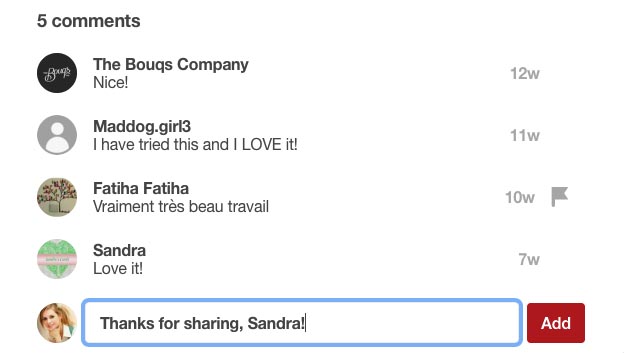 5. Analyze your statistics to see which pins get more attraction. That should give you insights on what to post in the future.
6. Let your followers dive into the process of creation. Have you ever tried sharing the way you paint? I know lots of people who love watching the "How to" guides on Pinterest. Here's how to make a fairy micro garden and draw a little black… cat:
7. Build inspiration boards. Find the pics that inspire you most of all and attatch them to your inspiration board.
Well, there are numerous of lifehacks about selling your art on Pinterest, and each artist makes up his own every day.
Now about the money. Don't hurry to buy the hype and invest your entire time in Pinterest. Just create great art and craft, stick it to your board and let people do the rest of the work for you. You may need no investment to make a profit from Pinterest.
What you also need to know is artists around the internet are freaking out about Pinterest potentially stealing their work.
How to sell jewelry on Pinterest
Selling jewelry on Pinterest is pretty easy. In addition to your eCommerce site, Pinterest will handle all your billing, payments, and even a bit of marketing as well.
As with art and craft, the first thing you should do is to upload your jewelry to your Pinterest account. Then, see all the marketing techniques above. They will also fit into jewelry industry marketing.
However, there are still a few finer points that you should take into account when selling jewelry on Pinterest.
1. Images. Shopping online is effective if your customer sees the details. But you will get even more profit if you show your item in action. How? Just put your diamond ring on your finger.
Which picture is better? Both.
2. Seduce users with an unusual background. Your silver sea ring will look much better on the sand background.
3. Classify your jewelry to make pinned items easier to discover.
Silver jewelry:
Jewelry necklaces:
Engagement rings:
Don't get upset if Pinterest does not bring many leads to you. It happens sometimes. But, luckily, there are lots of other amazing sites that allow for selling art, jewelry, and crafts online. Check them out in this article created by Jake Rheude, Vice President of Marketing at Red Stag Fulfillment.
How to build a follower base
As a store owner, you should know that without a proper follower base your Pinterest marketing will bring you no traffic and zero sales. No panic. There are at least six ways to gain followers on Pinterest quickly:
1. Use keywords
You may already use some keywords to search engine optimize your online store or to help users find you on Facebook. Pinterest should be no exception. Don't forget to use keywords for writing descriptions for your posts and Pinterest boards. Make a quick research to see what keywords are popular in your niche. This will help you attract more people.
2. Make Re-Pins or just click the heart-shaped buttons
When someone likes or repins your products, you receive an email like that: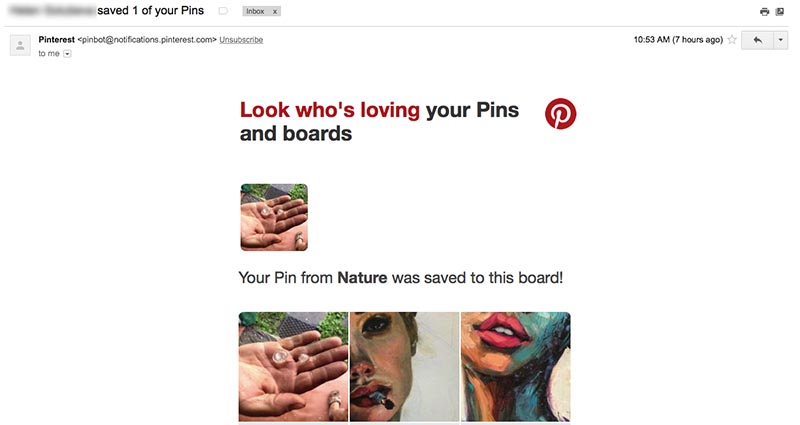 Why not use the same strategy to create buzz and awareness about the products you sell on Pinterest?
Your repins may have nothing to do with the items you sell, but they may bring attention to your Pinterest profile and attract more curious visitors to your eCommerce store.
Btw, there's an extensive article about transactional emails on our blog. You'll learn what tools will spruce your transactional emails and where these emails can go wrong.
3. Lure your social media friends by beautiful photos
Sharing your Pinterest stuff on other social media platforms like Twitter, Instagram, Facebook or LinkedIn is also an excellent way to grow your follower base.
4. Comment actively
Be an active member of the community. Express what you think. People like when their posts are commented.
5. Send pins to your friends or tag users
Just like on Instagram or Twitter, you can tag users using the @ symbol on Pinterest. Choose the person you want to tag, and he will be notified.
6. Do a bit of coding magic on your eCommerce store
Add a follow button and a profile widget. Your widget will drive potential customers to your Pinterest page.
Build your brand by engaging with the community via repinning, commenting on and liking other pins.
How much does it cost to sell on Pinterest?
Even though Facebook dominates the social media landscape (btw, do you sell on Facebook?), Pinterest is a more efficient channel for selling products, as the average transaction fee is much higher than the one coming from other social media platforms.
Keep it in mind that your users are not there for finding friends or chatting. They are here for finding ideas, get inspiration and, naturally, purchase.
So even if you do not spend a penny for Pinterest marketing, you win.
If you run a cost-per-click or engagement campaigns, Pinterest will automatically give you a cost estimate depending on the keywords you use or interests you target. You should expect to pay a minimum of $1 per click. If you go with an awareness campaign, the minimum sum of money will be $5.
Not much for a start.
Over to you
I hope that this ultimate guide to selling your products on Pinterest inspired you to take action and use this social media platform for your eCommerce business.
If not, please visit this page. There are over 75 success stories about the way such famous brands like Hunter, Cheetos or Sephora use Pinterest for selling online.
Happy pinning!
Subscribe to Our Weekly Newsletter to Get
Expert-Backed

Tips Straight Into Your Inbox

One email a week, we promise.

Awesome! You won't be disappointed 😉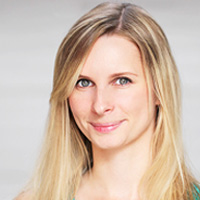 Helen Golubeva
Storyteller at X-Cart
Addicted to yoga, interested in philosophy, and totally mad about copywriting. She loves using the power of words to inspire people and help them grow their eCommerce businesses.