←
Back to Blog
How to Use WhatsApp for Business [Ultimate Guide for Beginners]
This blog post was originally contributed by Yaakov Karda, the co-founder of Chatra.io.
For some, trying to imagine a world without WhatsApp is almost like imagining a world without the internet – you just can't. And yet, the app, which gets checked on average more than 23 times per day, didn't exist ten years ago.
No one can disagree with the popularity of the messaging app. It has more than 1.5 billion active users in over 180 countries and is expected to grow even more by next year. WhatsApp is the number one messaging app in 104 countries, and its popularity is unrivaled in Latin America, Europe, Africa, and Asia, with the exception of China.
The number of monthly active WhatsApp users worldwide from April 2013 to December 2017 (in millions).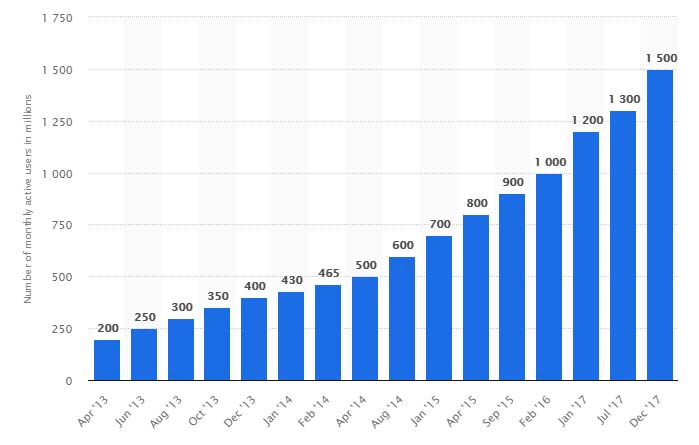 The meteoric rise of WhatsApp is understandable: with it, you can easily share multimedia content – think photos, videos, GIFs and even your live location – as well as send and receive documents, anytime, anywhere. All of this using end-to-end encryption, which ensures that only the sender and the receiver can read what's sent, making the conversation fully private. Finally, it's also completely free to download from your mobile device's app store.
With the unveiling of WhatsApp for Business last year, first for Android, and later on, for iOS, WhatsApp opened the door for small-sized businesses to tap into this enormous potential.
Do you really need to use another messaging app?
There are 5 million companies using WhatsApp Business app, but should you choose to be one of them? We know that today's customer support is omnichannel.
And while your customers might decide to go old school and get in touch with you using traditional communication tools, like a phone call, in the end, they'll reach out in the way they feel most comfortable in.
Nowadays, that's increasingly the same method they use to communicate with family and friends – that is, using a messaging app. It's not surprising then that 65% of customers now talk to businesses via messaging apps like WhatsApp.
One of the reasons why so many businesses choose to be on WhatsApp is that the app has an impressive reach. It also allows you to engage with your customers in real conversations, connecting with them in a close, personal way. If used in the right manner, WhatsApp for Business can take your business communications to the next level, strengthening the relationship with your customers.
In this post, we'll dive into:
What WhatsApp for Business is and how it works.
Why your company could benefit from using WhatsApp for Business.
The difference between WhatsApp for Business and WhatsApp for Business API.
The exact steps you will need to take to create a WhatsApp account
How to use WhatsApp for Business as a marketing tool
WhatsApp for Business' main features
I. What's WhatsApp for Business?
WhatsApp for Business is a free to download messaging app that allows companies to securely interact with their customers using the WhatsApp messaging service.
One advantage of using the business account of WhatsApp is that you'll have a verifiable business profile with information like your company's email, address, and website. This allows consumers to be sure that they are chatting with a legitimate business and not a fake account.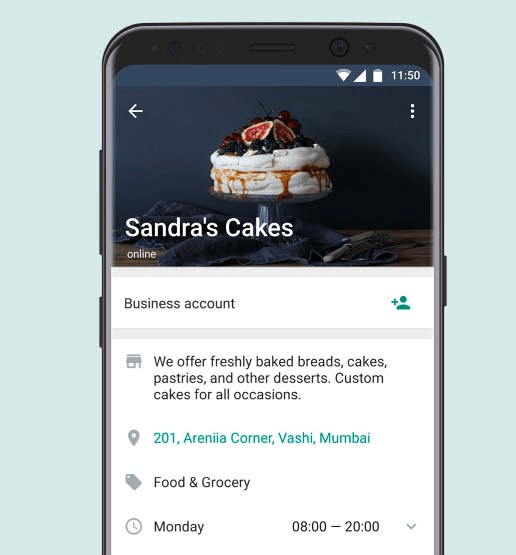 The app, which was designed for small-sized businesses in mind, is built on top of the technology that WhatsApp Messenger uses. This means that it includes the usual features like the ability to send and receive multimedia content, making free calls, international messaging or group chats.
With WhatsApp for Business, you'll have access to tools specially built for businesses like the ability to automate, sort, and respond to your customer's messages in real-time. You can use WhatsApp for Business to speak to your customers about what the best size would be when making a purchase, help them locate a missing order or answer general questions.
For example, when Indonesian fashion retailer Sale Stock introduced WhatsApp as a way to connect with customers about their orders, they saw 90% of delivered messages being read — a read rate nearly 2X higher than SMS. Indian online marketplace Shop Clues integrated use of WhatsApp resulted in a 57% increase in new orders per message sent.
Indonesian fashion retailer Sale Stock introduced WhatsApp for Business as a way to get closer to customers.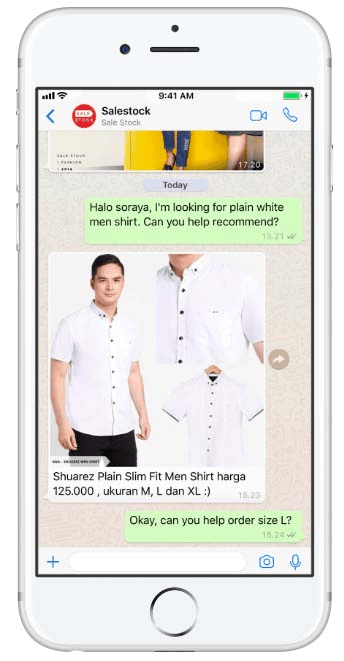 The version for iOS of WhatsApp Business was recently released from the Apple Store, but the Android version has been around since early 2018. If you're already using WhatsApp on a personal basis, you won't need to get a separate phone to be able to use the business version: both WhatsApp Business and WhatsApp Messenger work on the same phone, however, each app will need its own unique phone number.
There are two existing ways to set up a WhatsApp business account. Unless you're a large scale brand with your own set of specific needs, you'll be using WhatsApp Business. Otherwise, you should use the WhatsApp Business API, which requires a lot more technical work to set up.
What is the WhatsApp Business API?
If you are a medium or large-sized business, the chances are that WhatsApp Business won't be enough for you: you'll want a higher degree of customization of the app. That's precisely what the WhatsApp for Business API is for: allowing developers to build greater capabilities and special features out of the app to reach more customers on a bigger scale.
Companies using the API are able to automatically send things like boarding passes or shipping alerts, among other notifications. WhatsApp Business API availability is currently limited, with only a few businesses selected to use it, like Singapore Airlines or Booking.com. To begin using the API, you'll need a Facebook Business Manager account.
II. How to use WhatsApp for Business
Cementing strong brand relationships with your customers isn't just a nice-to-have, it's this relationship that can turn your business into a successful or a mediocre one. WhatsApp provides businesses with a familiar context in which they can talk with their customers on an almost personal level. Not many apps out there do that in as smooth and straightforward of a way as WhatsApp does.
WhatsApp provides businesses with a personal environment in which to communicate one-on-one with their customers. Remember that even though the app is where many people talk informally with family and friends, you still need to be professional and trustworthy.
Think of it as a "business casual" environment where you need to use the right tone while having the license to be creative. Use emojis or a GIF if the conversation is right for you to have a little fun.
The high rate of user engagement typically seen in messaging apps means that what you write is more likely to get read, so make sure it's worth your customer's time! As long as you feel that it represents your character, you can experiment with how you engage with your customers. You'll come off as honest and real, which help increase loyalty towards your brand.
Another way in which WhatsApp for Business can help your company is in those instances where your customers are spread around the world. The power of WhatsApp remains in its popularity on a global scale. For example, it's the most used app across Africa, where it has driven internet uptake in the continent – accounting for as much of 50% of data usage in Zimbabwe.
Lastly, WhatsApp has the extra appeal of providing a private way to connect businesses. The two-factor authentication, which is integrated into the app, gives users the assurance that their conversation, including photos, videos and text is protected from falling into the wrong hands.
III. Steps to Use WhatsApp for Business
Setting up a WhatsApp for Business account is pretty simple. It starts with downloading the app from the Apple Store (if you're using iOS) or the Google Play Store (for Android users). Then, you'll need to follow these steps:
Verify your business phone number, which you'll use to chat with customers. You'll also need to add your country in the drop-down.
If you've used WhatsApp before and want to have access to past conversations, you can choose to restore your chat history.
Add your business name and logo so your customers can easily recognize you. Once you've added your business name, you won't be able to change it so make sure you get it right the first time around!
It's time to build your profile. Tap More options > Settings > Business settings > Profile. Here you'll be able to add your business address, URL, email, opening hours, and a short bio.
When you create a business account, you'll receive a verification badge. For example, if WhatsApp has verified that an official brand is the owner of the account, you'll see a green markup in your profile.
IV. What features does WhatsApp for Business have?
WhatsApp for Business comes with a list of features that will make your work easier, thanks to various tools to automate, sort, and quickly respond to messages.
Greeting message. The greeting message sets the tone for that first conversation you'll be having with your customer, and a key aspect is the speed of the response. WhatsApp lets you craft a message that people will receive when they contact you for the first time and under which circumstances they receive it.
Away messages. When you're busy or unable to immediately answer new inquiries, you can set an away message to automatically send messages to all or just some selected contacts. You can also schedule away messages during a certain time, for example, whenever your business is closed. That way your customers will always know when they can expect your answer.
Quick Replies. Use Quick Replies to respond to your customer's most common questions with up to 50 pre-written replies. To insert a quick reply, press the "/" button on your keyboard, and it'll automatically show you all your canned responses.
Labels. Labels is a super handy feature because it allows you to organize and easily filter your chats and messages with labels. Using labels with different colors, you can then create broadcast lists for specific audiences based on their label. For example, if there's a delay with a specific product, you can choose to only message those customers that placed an order involving that product.
Short link. You've got WhatsApp for Business up and running, but you still need to let your customers know, right? One way to do it is by using the Short Link feature, which allows you to easily share a link to your profile with your potential customer. You can also choose to let your customers know you're on WhatsApp by adding your WhatsApp for Business phone number to the bottom of a page.
WhatsApp web and desktop: It wouldn't be practical to spend your whole day texting with your customers over the phone. Get comfortable by using WhatsApp for Business desktop or web app!
Statistics. Although still relatively simple, you can access some basic stats to help you understand your customers' engagement and experience. You can track the number of sent, delivered, read, and received messages.
Quick Replies helps you save time by letting you save and reuse messages you send frequently.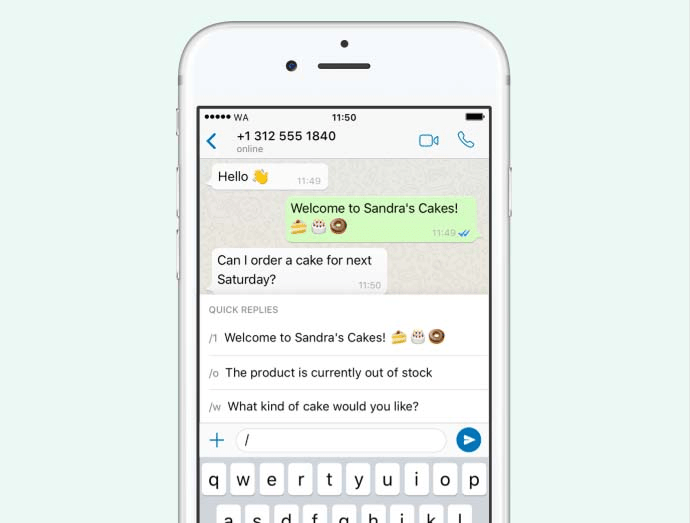 V. Using WhatsApp for Marketing
While WhatsApp serves as a great way to send notifications like shopping confirmations, delivery alert, and customer support-related information, you can also use it as a marketing tool. Using WhatsApp's multimedia communications, you can reach out to users across the world. Unlike other tools like SMS, there are fewer restrictions on the format, so your chances to effectively reach your customer are much higher.
You can use WhatsApp to send images, audio files, short video clips of your products and text messages to users across the world. Of course, don't use WhatsApp to spam your customers with offers and ads, instead be mindful about their needs. Use it to connect with your most loyal customers with whom you've already interacted in the past instead of trying to reach new audiences.
VI. WhatsApp for Business: Fish Where the Fish Are
One thing is for certain: as the use of WhatsApp messenger continues to grow, you can expect to see more and more businesses integrating the app into their communications. Using WhatsApp for business is a great business decision: the willingness to connect with your customers exactly where you know they are. And, in many countries in the world, from India to Brazil to the Netherlands, you won't find them using Twitter or Facebook Messenger – you'll find them on WhatsApp.
According to Facebook Business, 67% of people surveyed across eight markets say that their messaging has increased over the past two years. If you want to remain competitive and have genuine conversations with your customers, even as a small business owner, WhatsApp for Business could be the right tool.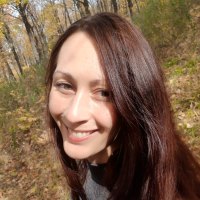 Maria Navolykina
SEO Content Specialist
Maria is an SEO Content Specialist at X-Cart. Once captured by digital and content marketing in her student days, she keeps living and breathing it ever since.
Subscribe to Our Weekly Newsletter to Get
Expert-Backed

Tips Straight Into Your Inbox

Awesome! You won't be disappointed 😉