←
Back to Blog
15 Robust Customer Service Tools For eCommerce Businesses
This blog post was originally contributed by Robert Brandl, the founder of Tooltester S.L.
I was about to open this article with "getting ahead of your eCommerce competition takes a lot of work and ingenuity". But you've heard that one before.
There is no way to even tell exactly how many companies are using the World Wide Web as a platform to sell goods. Whatever that number is, it's formidable, and enough to send a neat shiver down your spine.
Luckily, there is an area of eCommerce operations you can excel in, that can make a world of difference between bottoming out or making it big: the way you treat your customers.
Choosing to focus on customer happiness through proactive customer support will distinguish you from the pack.
And working in the digital era means there are countless customer service tools you can choose from to help you master this task. By giving your customer service agents access to some of the tools we cover below, you will be giving yourself more than a fighting chance: you will be arming yourself for success.
1. Hubspot's Service Hub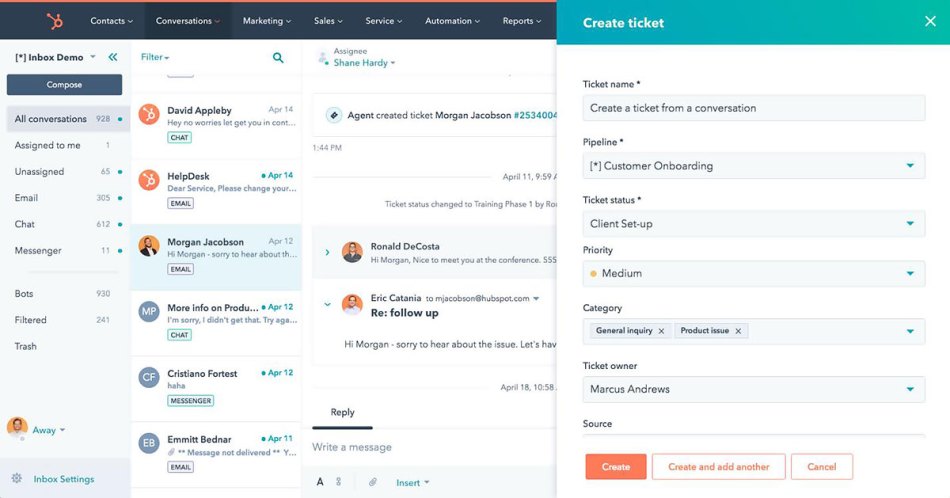 Hubspot is often hailed as the king of all marketing tools, resources and surveys.
Their Service Hub is a one-stop solution and a truly excellent piece of customer support software.
Some of its more prominent (and most pertinent) features include:
a team inbox – meaning all of your team members can be aware of everything that is going on at all times
ticketing automation – all emails are turned into tickets automatically, and can be responded to via templates or canned responses
chatbot support – able to help your customers with routine queries
customer data collection and feedback – allowing you to better your responses and future campaigns
The Service Hub can also be integrated with the Hubspot CRM, and every other piece of Hubspot software, of course. However, even without it, the clear benefit of using Hubspot's Hub is that you will have access to an entire field of data from a single dashboard, saving you valuable time on decision making.
The Hubspot Service Hub has a 30-day free trial, so you can test all the features out yourself. If you choose to take it on board, it will come at $50 per month with its lowest plan. HubSpot offers quite a lot of different features so if you are interested in something beyond their service hub, here's a detailed breakdown of HubSpot pricing plans.
2. Salesforce Service Cloud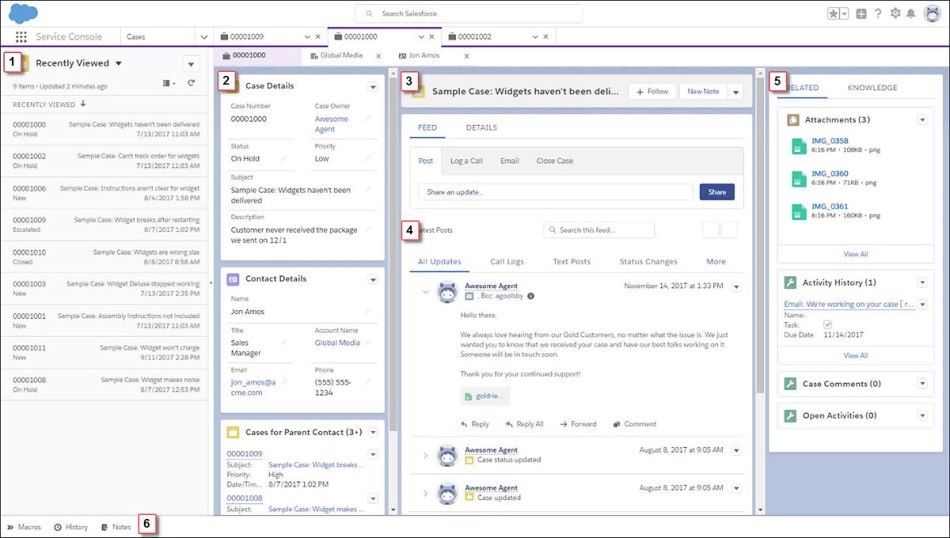 Another insanely popular option among customer support tools, the Service Cloud is powered by AI and usable for a wide range of customer-facing tasks.
Some of its more prominent features include:
Integrated customer data – access all of your tickets from a single space
Detailed customer analytics – allowing you to improve customer experience based on relevant data
Calls – your agents can make calls to a phone number from the tool itself, and access data about a specific customer before they hit the call button
Multi-channel support – customers can contact you via several channels, be it your website, social media or your landlines
Salesforce offers an excellent all-in-one solution if what you are looking for is one tool to rule them all. This desk software can house all the information you need, meaning you never have to bother with integrations – although you can connect it with other tools, if you need to.
After a 30-day trial you can pay as little as $25 per month to use Salesforce Service Cloud.
3. Zendesk Customer Service Tool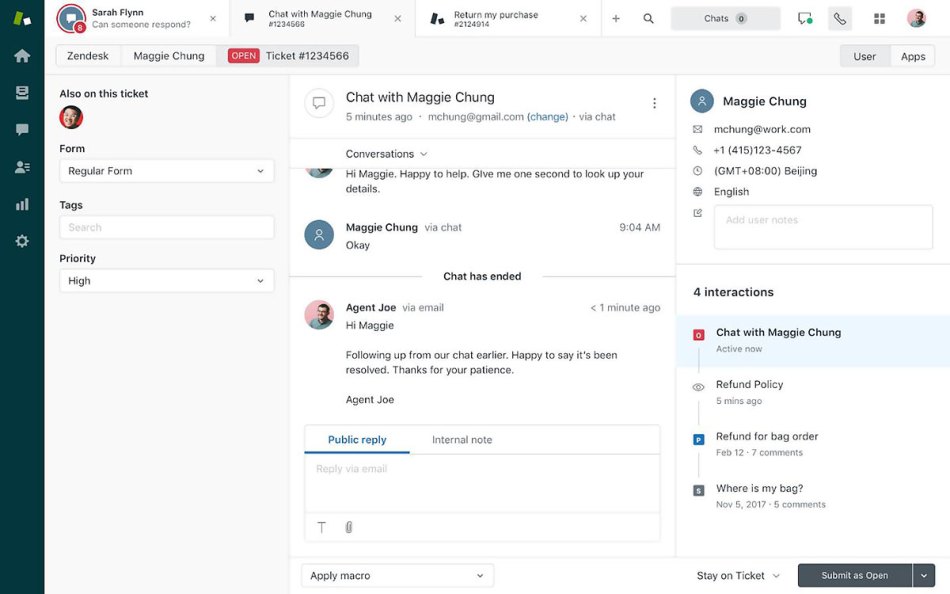 Zendesk may be the best-known tool on this list. It is currently used by many major names, including the teams at Slack, Uber and Shopify.
It is yet another complete solution, ready to handle every step of a customer's journey, and includes:
Ticketing system – allowing you to manage all customer tickets from a single dashboard
Live chat – an application you can install on your website, allowing for better customer feedback
Calls – both from landlines and mobiles, as well as texts
Zendesk also allows you to create your own custom knowledge base, making it easier for customers to find the information they were looking for, and it comes with its own CRM.
Needless to say, its analytics and reporting features are excellent and easy to master.
Zendesk also offers a 30-day trial, after which you can choose to purchase all of the features separately, or in a bundle. The Zendesk Suite starts at $89 per month.
4. Freshdesk Customer Service Agent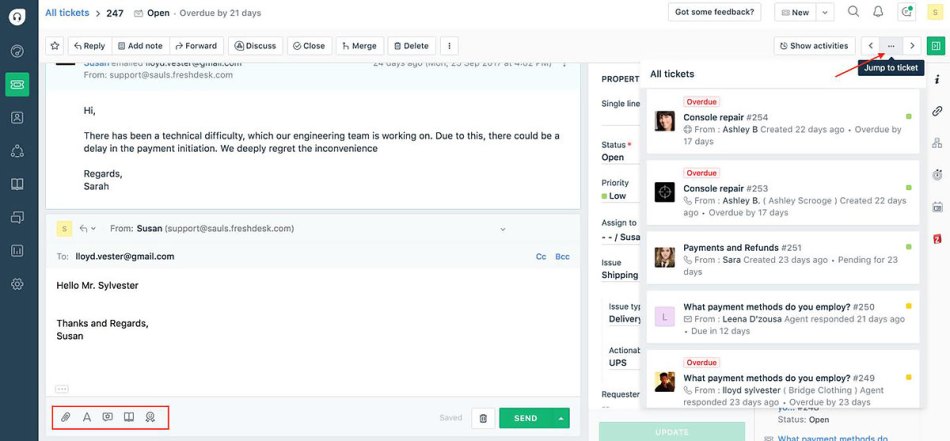 Freshdesk is probably the second most popular customer service software on this list (or any other list for that matter).
Its most notable features include:
Ticketing system – allows you to integrate multiple channels, including social media, email, website queries, etc.
Calls and texts – access to all customer communication from a single space
Knowledge base – custom CMS that allows you to create your own knowledge bank
Reporting – access to information like the most popular times for customer calls or most productive agent times of day
This is just the tip of the iceberg when it comes to Freshdesk features, however, because what you will actually get is much, much more. Truth be told, depending on the size of your business, you may not actually need all of them, so choose wisely.
You can opt for a free version of Freshdesk and use the basic features, or choose to pay $15 per agent per month, and get access to the whole shebang.
5. Groove Customer Service Software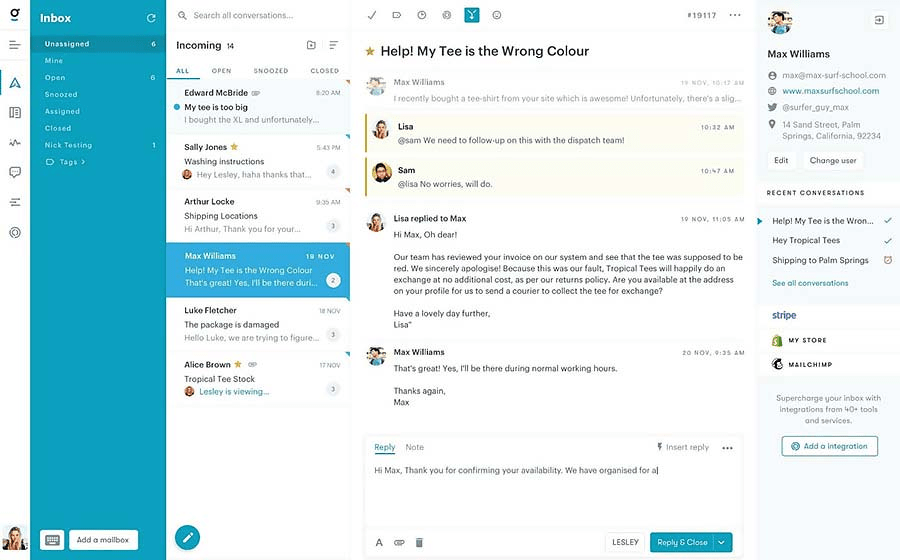 Unlike most of the other tools on this list, Groove offers a universal plan, which gives you unlimited access to all of its features. However, you can pay for the additional add-ons and integrations you might need, that don't come with the core tool.
It's a well-designed and functional ticketing system, with no specific bells and whistles, but that gets the job done seamlessly. Some of its more notable features are:
Modern design – more intuitive than some of the other tools on this list, and easier to get used to
Free knowledge base – which will help you connect with your customers in a more meaningful way
Email client integration – you can hook up Groove to your Gmail or Outlook account and answer tickets like you would an email, which is a great feature if you would prefer to remove the clutter of a customer service software
Groove also has a 30-day trial, and starts at $15 per month for the paid version.
6. LiveChat Customer Service Tool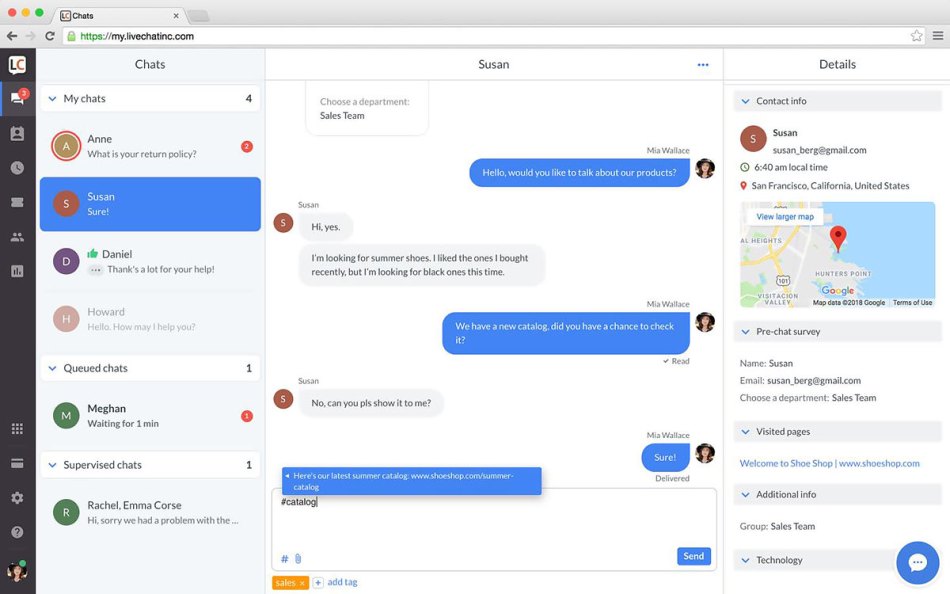 LiveChat is a very useful live chat tool that can be installed on your website. It comes in the form of a little bubble that appears in the bottom corner, and gives visitors access to your team.
On your side of the chat, it looks like your garden variety social media chat app, and is easy to use and understand. You can have both a desktop and a mobile version as well.
On top of that, you can have agent profiles created for different chats, allowing for a more personalized experience for your customers. It also allows you to track different chats and see which have led to sales, so you can perfect your pitches and sales approach.
Don't make the mistake of thinking this feature is an obsolete one – as having a direct line of communication open between customers and support teams is becoming increasingly important. This is one of the main reasons for using live chat in eCommerce. LiveChat comes with a 14-day trial, and will cost you $16 per agent per month in the most basic pricing plan. For more info, check out this LiveChat review.
7. LiveAgent Live Chat Software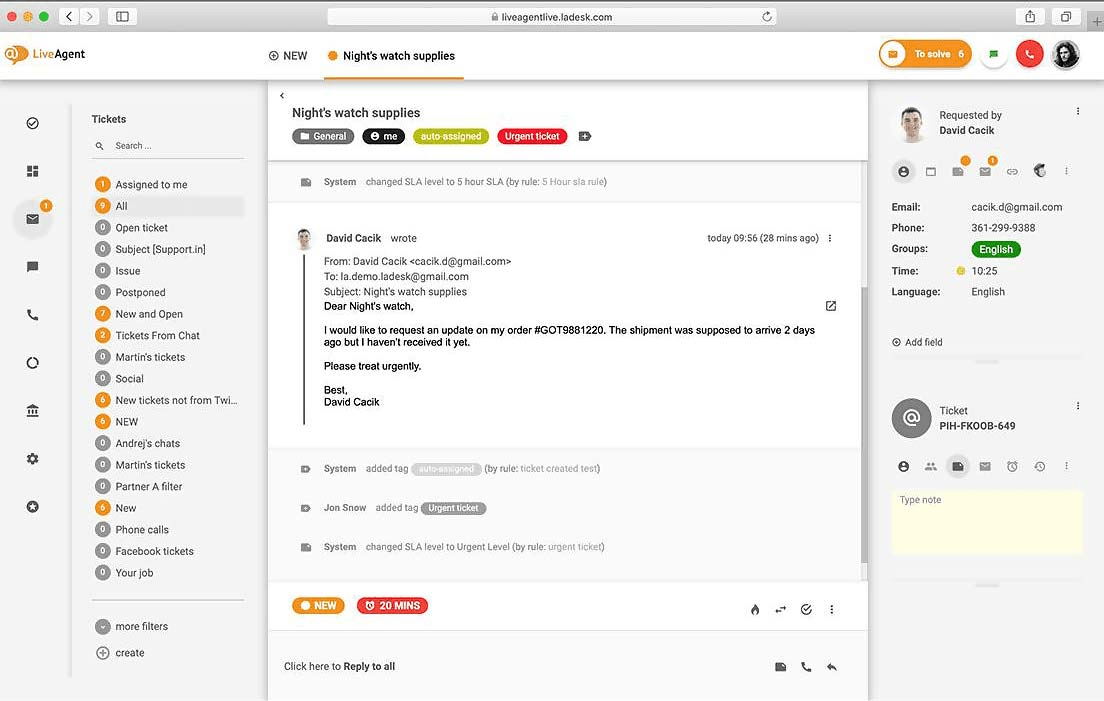 Built for smaller teams, but still packing all the large features you would come to expect from the biggest players on the market.
It comes with a team inbox, a live chat feature and integrated call options. What sets LiveAgent apart from all the other tools we have mentioned so far is its gamification approach to customer support. Your support team can earn points and reward for completing tasks, and feel like they are on a quest, rather than at work.
Rankings in the "game" are also available, and you can choose how to reward your most successful players.
LiveAgent comes with a 14-day trial, and starts at $15 per month.
8. Survey Monkey Online Survey Tool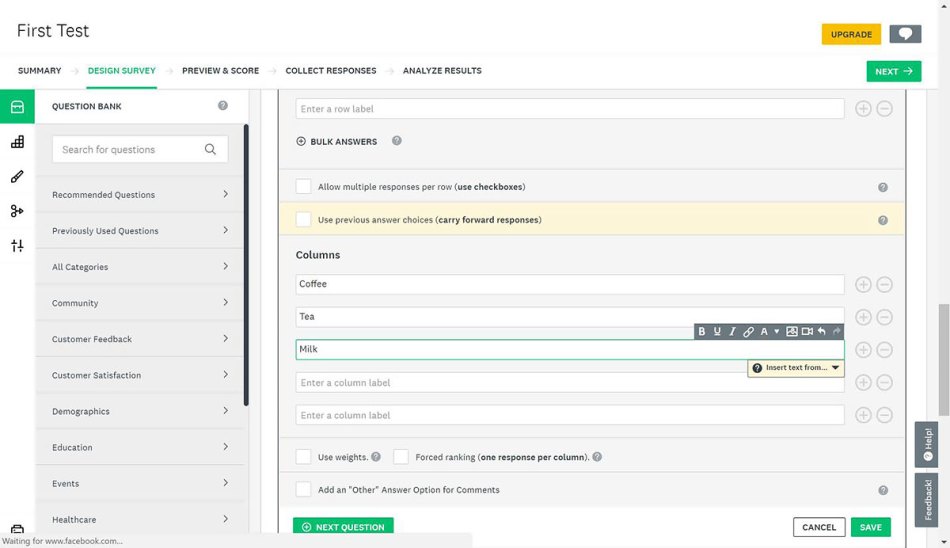 Getting feedback from your customers is crucial for the success of your future campaigns, and your business in general.
Survey Monkey allows you to gauge how your leads and customers feel about what you have to offer with its well-designed survey templates. You can of course create your own, and customize them as much as you need to.
There is also the option of branding your surveys, reinforcing your message and helping you to stick in the minds of your customers.
There is also an analytics feature you can use, that will give you access to a plethora of customer information, and help guide your future decisions.
Survey Monkey will set you back 30 euros per month per user.
9. Acquire Customer Service App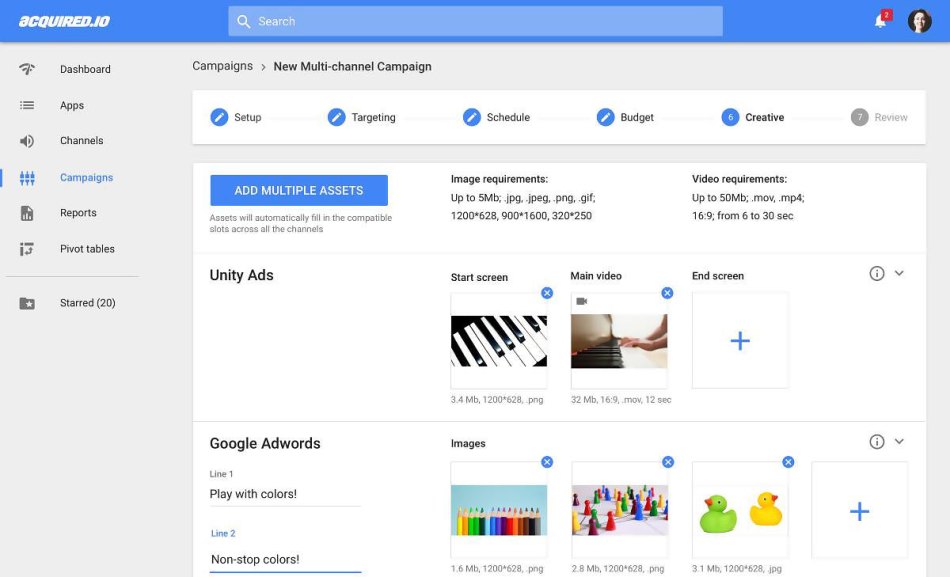 Acquire is yet another live chat tool on this list, but unlike the ones we have previously mentioned, it has one unique feature.
It allows screen sharing between your customer service team and your customer in real-time, without forcing the customer to download a piece of software for the purpose.
This cuts down on communication time and allows for a more streamlined solution, and will ultimately positively impact your customer's satisfaction.
Acquire comes at $300 per month, and two of the more notable names that are currently using it are Audi and Samsung.
10. Feature Upvote Product Feedback Tool

Feature Upvote is a tool that provides feedback boards that come with a built-in voting option.
It can be used both to gather information from your customers and your team members from a single space.
What you do is create a board with your idea (be it for a product or a feature), and invite others to provide feedback. They can add their own thoughts or simply upvote others, allowing you to see what the most popular ideas are.
It has a 30-day free trial, and will cost you $35 per month afterwards.
11. Thankbot Handwritten Letter Service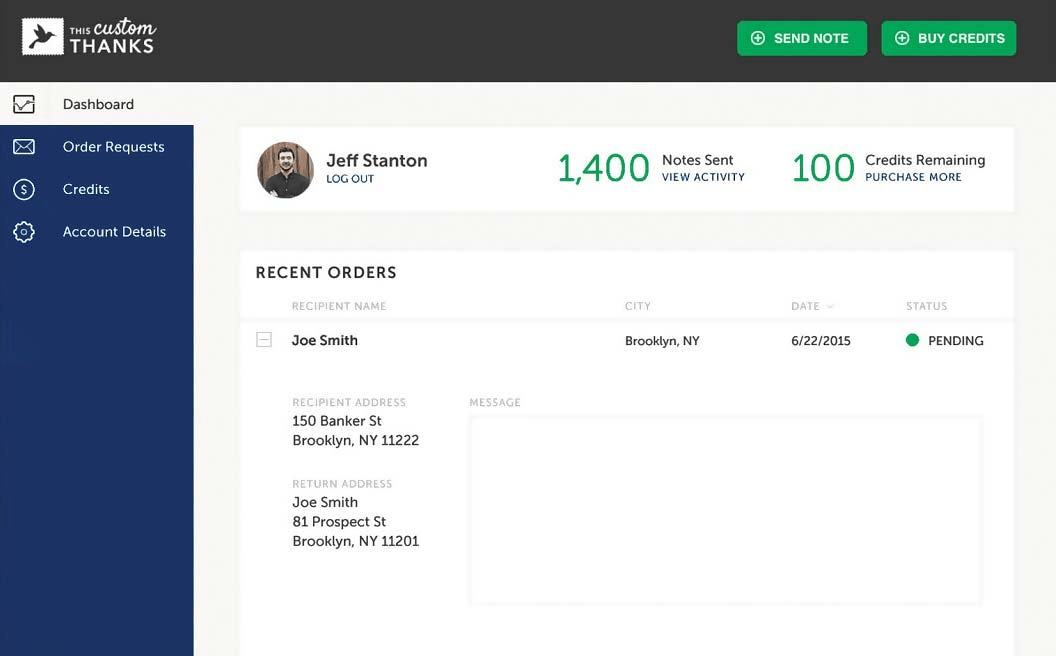 Thankbot is a bit of a different kind of customer service tool.
It lets you send handwritten and personalized thank you notes to your customers, and is completely scalable. This means you won't have to spend hours on end writing out notes, as the tool will help you handle the load.
Since this specific kind of personalized approach is not the norm in eCommerce, you can easily stand out among your competition, and be remembered as a brand that cares.
10 notes will cost you $55, while 100 notes come at $475.
12. Referral Candy Affiliate Marketing App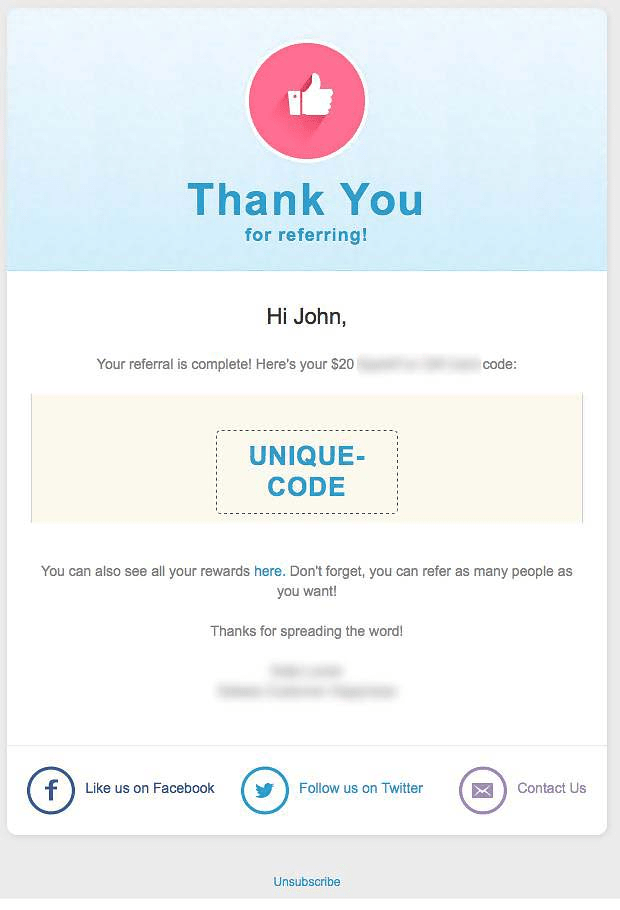 Referral Candy allows you to establish an ambassador program for your brand.
Your customers will get a custom link they can then share with their friends, family or followers in exchange for a reward: a discount, access to limited deals, etc.
As turning your valuable customers into brand ambassadors is one of the best ways to not only spread brand awareness, but also reach new customer bases, this tool might come in extra handy.
It comes with a 30-day free trial, and costs $49 + commission each month.
13. Smile.io Loyalty Program Service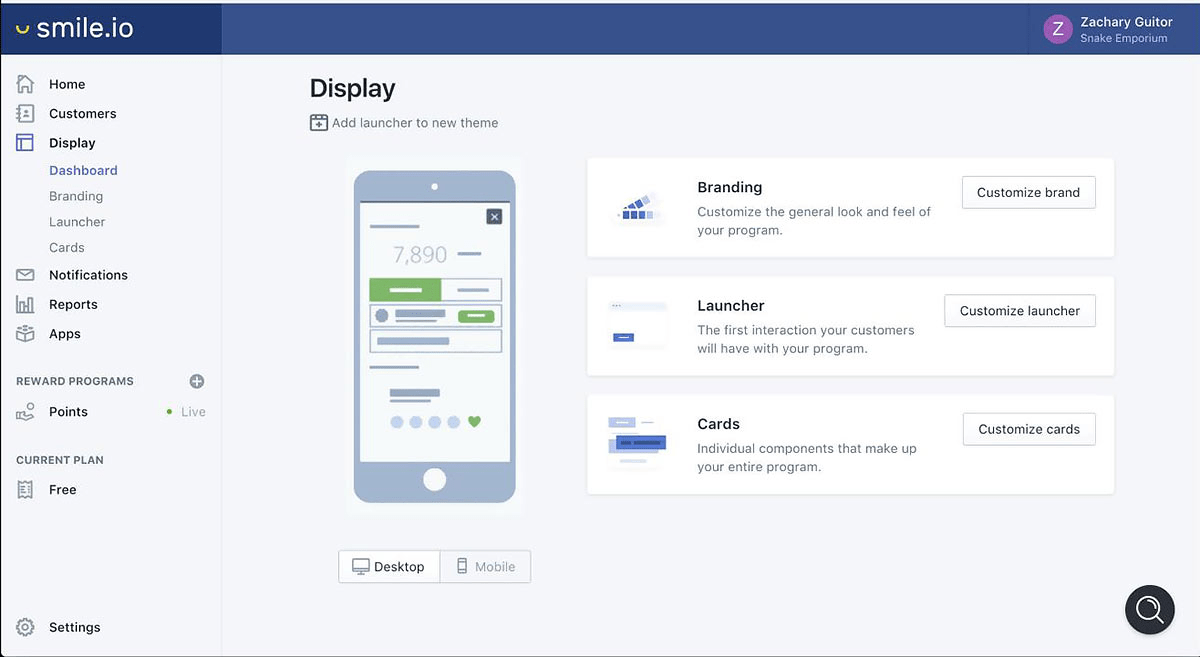 Another loyalty program-style app that lets you create customer rewards for your customers.
You can choose to give out points or even specific rewards for a certain action, such as social shares, customer referrals or basic purchases.
The tool can also be integrated with numerous other eCommerce platforms. Smile.io starts at $49 per month.
14. Zohodesk Help Desk Software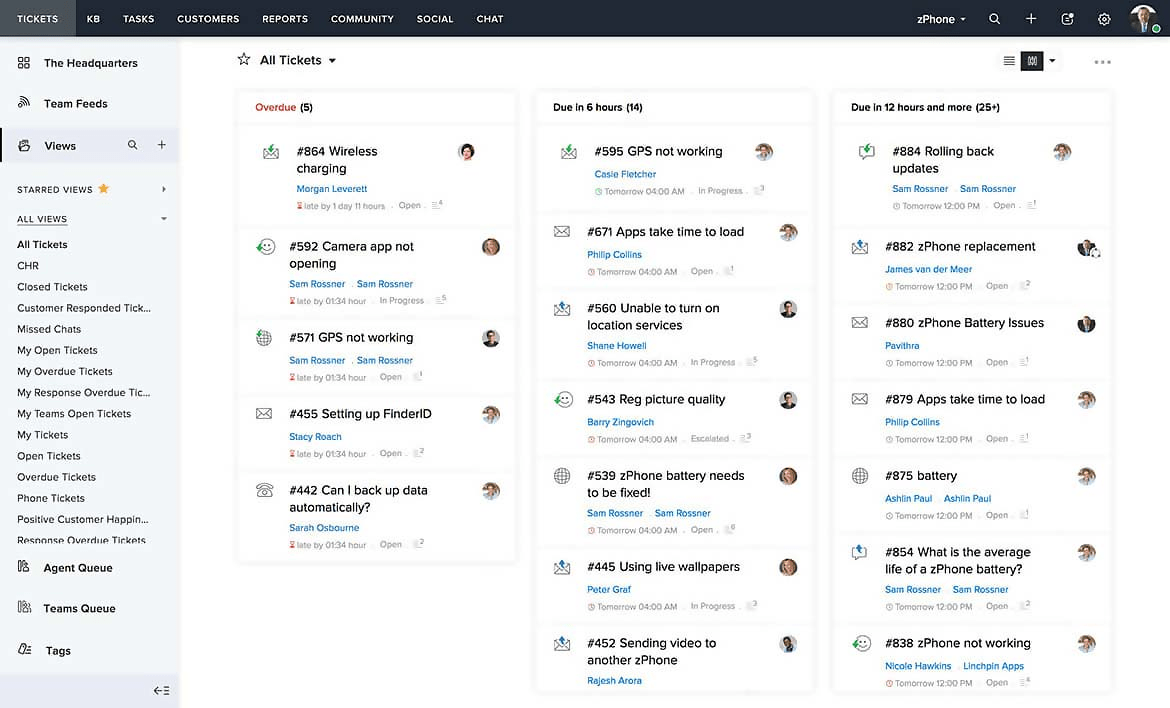 Zohodesk offers everything that most tools of its kind do: email and ticketing systems and the option to create an integrated knowledge base.
What sets it apart is the fact that you can use a free plan for up to 10 users, with all the basic features included. An upgrade will provide additional features (helpdesk automation, ticket tagging and customer happiness rating for example), and will start you off with 12 euros per month per user.
15. ProProfs Chat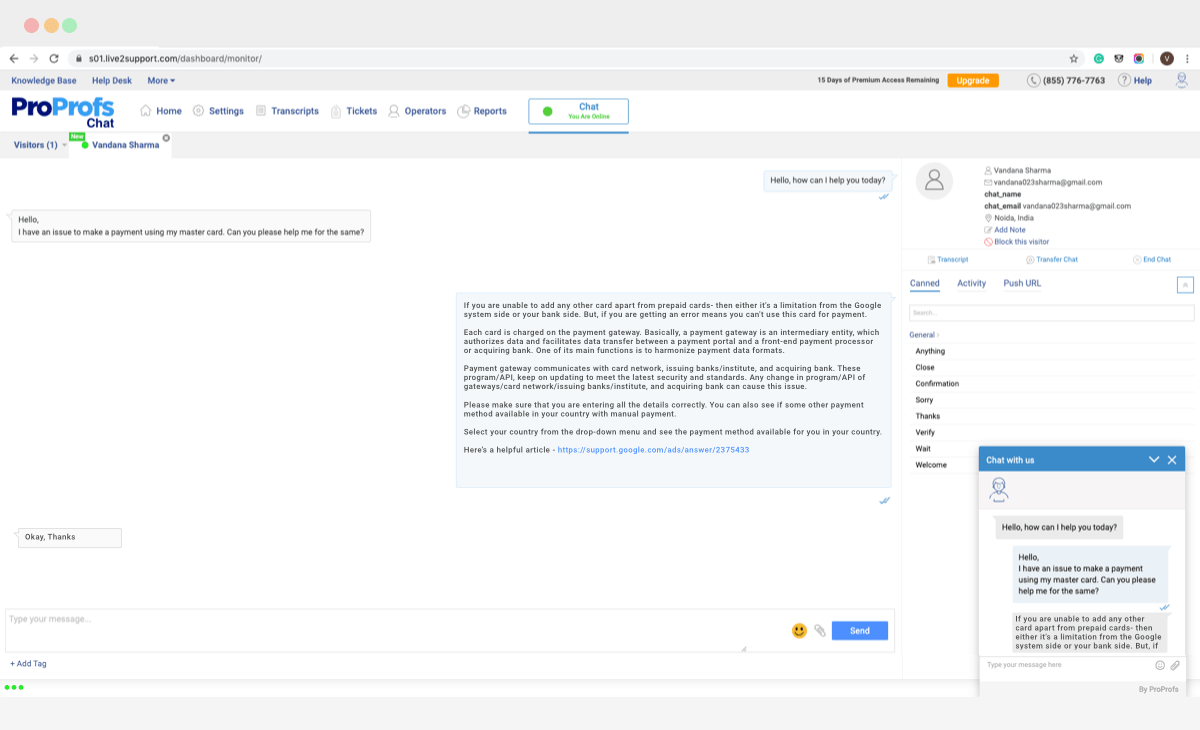 Get the perfect amalgamation of speed and ease with ProProfs Chat. You can create a complete customer support bundle in minutes that allows you to deliver the best customer experience.
Some of its most notable features are inclusive of:
In-built Ticketing System. Never miss a support opportunity with ProProfs Chat. Not only does it support third-party integrations with popular ticketing software options but it also supports an in-built one.
Knowledge Base Integration. Reduce your tickets by 80% with a knowledge base integration.
Customer Relationship Management System. With multiple options for popular CRM integration, ProProfs Chat allows its users to complete their support suite.
100+ Customization Options. The drive to deliver an awesome support experience doesn't end at powerful integrations. From white-label, language settings to operator profile customization, you get a variety of options under the settings section to help you modify the chat as per your requirements.
In-depth Reports. Learn what your customers think of your business and support reps, and also track operator activities easily with reports.
Seems like it? Well, we've just started with the feature list of this customer support tool. There are a lot of features that are yet to be mentioned. Honestly, it is important to determine the needs of your customer support team because it is not necessary that all features can turn out to be fruitful. You may not feel the need to use all the features at your disposal.
Keeping that in mind, ProProfs Chat offers different plans that not only match the needs of its users but also allows them to create awesome customer support experience. What's more, you can start a 15 days free trial for any of the existing packages. And that's not all. The tool also supports a forever free plan to help startup business owners kick-start their customer support process.
16. Tidio Live Chat Solution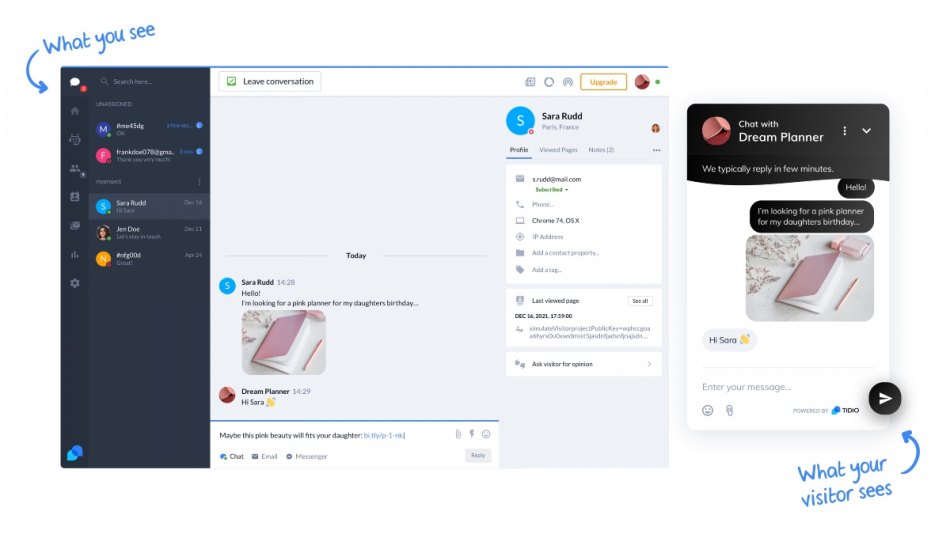 Tidio is an intuitive, no-code live chat platform that helps you effortlessly and naturally engage your customers and turns your client support into a real-time event.
Tidio live chat button is a small icon located in the bottom corner of a website. Adding a live chat button allows visitors to start a real-time conversation — all they have to do is send the first message. On the other hand, with Tidio, customer support operators can handle multiple queries simultaneously and thus serve more clients at the same time.
The tool will support you in automating work, nurturing leads, and cutting down on the time that it takes to communicate with your customers.
You can easily integrate Tidio live chat with Messenger, WordPress, and many more. It works great with a number of CRM, eCommerce, and email marketing platforms as well.
Tidio offers a forever-free plan with essential live chat, chatbots, and email marketing features.
If you want to unlock advanced live chat features, you can upgrade your plan to Communicator, Chatbots, or Mailing. Paid plans start at 18 EUR/mo.
What Kind Of Built-in Support Can You Expect From An Ecommerce Platform?
This varies from platform to platform so let's take a look at X-Cart shopping cart, for example. There is a robust Help Desk system used to communicate with customers.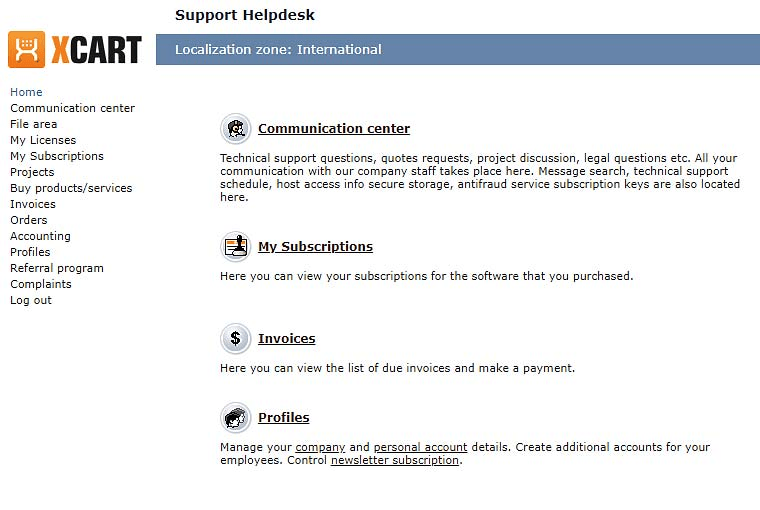 As you can see in the picture above, you can find all relevant information regarding your account in one place, as well as create and search support tickets.
X-Cart also offers plenty of integrations like Kayako Classic Integration you can use to integrate any X-Cart-powered store with Kayako Classic multi-channel customer support services that includes both help desk and service tickets.
Which Customer Service Tools Do You Need?
All of these customer service tools work well. When it comes down to it – all that you need to decide is how they can fit into your overarching plan, and choose the one that fits your needs and budget.
You can go with an all-in-one solution and not think about it anymore. Or you can just as easily choose to build your own customer service toolset that will only feature the options you really need to have, no superfluous bells and whistles.
Before you make your decision, test out as many products as you can, make copious notes on each, and compare all of their features and usability. Don't make yourself have to switch tools a mid fiscal year.
Remember – while the customer may not always be right, they are entitled to an opinion. How you deal with it is up to you.
Lastly, if you are looking for customer service tools for your new online store, you might want to know that X-Cart offers ecommerce web development services.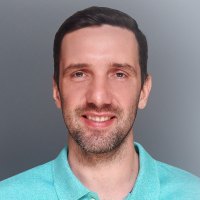 Alex Dyachkov
Enterprise Account Executive
Alex joined X-Cart in 2005 and since then spearheaded Support and Hosting departments, focused on customer needs as a Director of Customer Success and now helps our clients to grow and prosper as Enterprise Account Executive. He truly believes that if we don't take care of our customers, someone else will.
Subscribe to Our Weekly Newsletter to Get
Expert-Backed

Tips Straight Into Your Inbox

Awesome! You won't be disappointed 😉