←
Back to Blog
How to Sell on Facebook in 2021 [Tutorial For Beginners]
You asked Google "how to sell on Facebook" and found yourself on this page? Good for you! You're about to read a comprehensive guide on how to launch a Facebook store and monetize it.
Selling products on Facebook has been red-hot since the early birds started on Facebook back in 2011.
As of 2020, this sales channel is still a trendy and probably promising direction to move in with eCommerce projects. There's a caveat: a few years ago Facebook announced preparing… well… a bit of bummer for businesses.
But first things first.
Currently, Facebook offers a good plate of opportunities for selling your products online… but they are generously spiced with all sorts of complications.
It's hard to balance between adding more (and more, and more) features, without becoming monstrous. This line is thin, and Facebook is about to overstep it. Try setting up your Facebook store, and you will hardly withhold comments like:
"OMG WHAAAT? Facebook Shop and Facebook Marketplace are two different ways of shopping and selling? Which option should I go for?"
"Wait. What about Facebook buy and sell groups? Isn't it the same as selling on Facebook Marketplace?"
"Hmm… There's a Facebook Ads Manager, the 'Boost Post' and 'Promote' buttons, and they're all for one and the same thing — creating Facebook Ads? Okay, got ya. But where do I create a campaign?"
"No way. There's another tool — Facebook Commerce. Can I use it to sell on Facebook or Instagram? Or both?"
"What do you mean I need a Facebook Business Page? Isn't my Facebook account a page? Do you want me to create a Facebook group? Or WTF do you want?"
"And what the hell is Facebook Business Manager? Given that there is an Ads Manager and a Commerce Manager, don't you think that there are too many managers on your end?"
If you're trying to understand this rocket science and your brain is starting to boil, you're not alone.
Oh yeah, I know the feeling. So I have done the homework for you and systemized all the bits and bytes of information into this Everything Facebook Commerce Guide.
This step-by-step guide will help you decipher the alphabet soup of Facebook selling and have its benefits clearly defined and organized in a digestible manner.
No Time to Learn the Ropes of Facebook Selling?
We have a ready solution to help you sync your online store with a Facebook Shop and win more eyeballs for your business. Reach out to one of our solution advisors to get started.
I. Facebook Marketplace, Facebook Shops, Facebook Buy & Sell Groups: What's the Difference?
Facebook Marketplace
It may sound like Facebook Marketplace has something to do with online buying and selling, but, in fact, it's far from being a true eCommerce platform.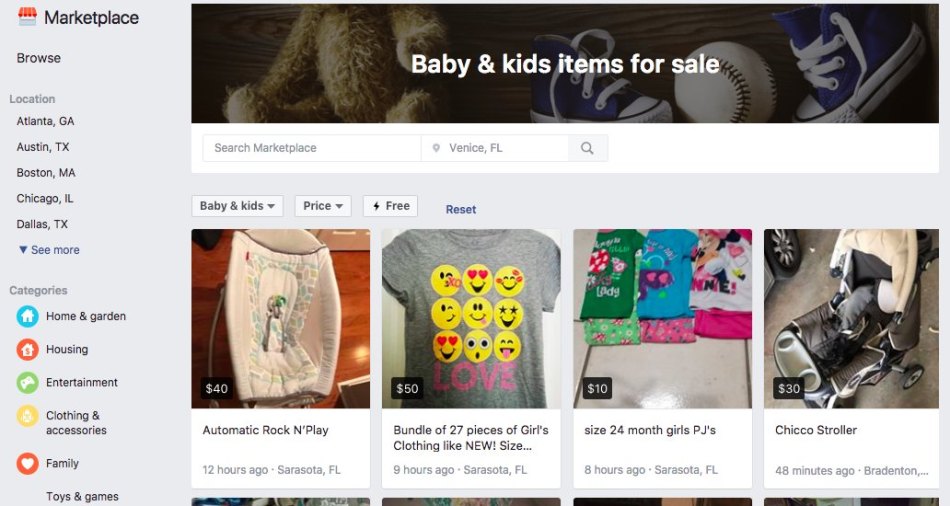 You cannot actually buy and sell items on the Facebook Marketplace. You can just find the products (or list them) and get in touch with the owner to arrange payment or negotiate the price.
No payment processor supported. No shopping cart, no tax calculation, no nothing that you expect to see as a seller.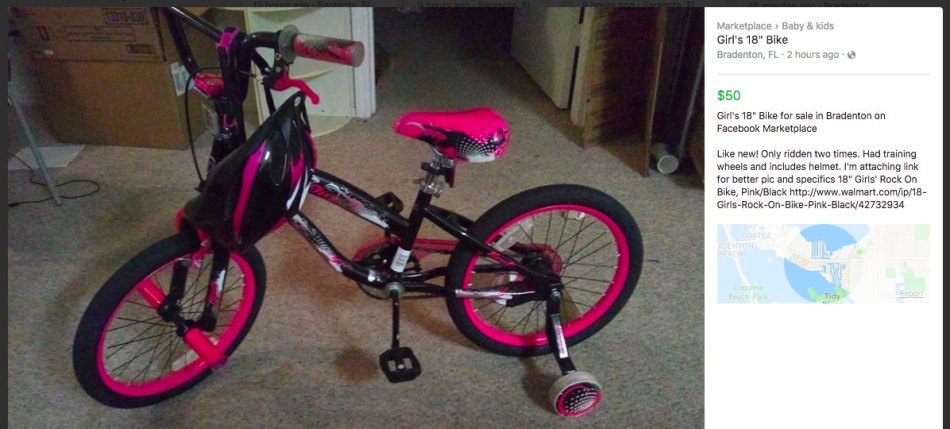 If you pick the wheat from the chaff, Facebook Marketplace becomes simply a listing of local personal ads. In a sense, it's an attempt to build another Craiglist — but only for FB users.
Do you get the idea? It's aimed at users, not businesses.
So cross the Marketplace off the list of possible B2C tools with a determinate face, and let's switch our attention to Facebook Shops.
Facebook Shops
Unlike Facebook Marketplace, creating a Facebook Shop is a way to go for businesses looking to sell stuff on Facebook and Instagram. It is definitely closer to an online store.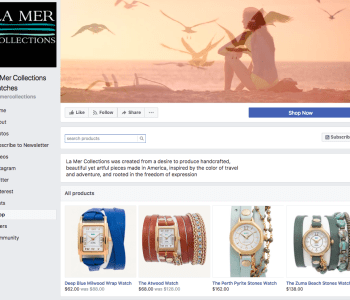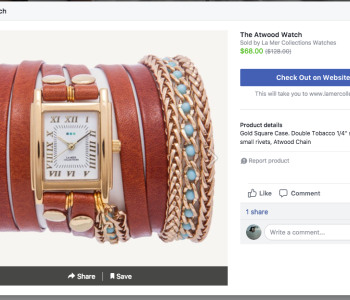 If you wish, you can even set up a shop with a checkout that will allow your shoppers to buy items directly from your Instagram or Facebook store. However, transactions are available in the US only and to a limited number of other businesses. You'll have to pay a selling fee, too, for each and every sale you make:
A 5% fee per shipment;
Or a flat fee of $0.40 for shipments of $8.00 or less.
You keep the rest of your earnings.
The rest of the world has a single way to accept orders — redirect buyers from your Facebook or Instagram shop to an external eCommerce website to complete their purchase.
The call to action button that you select for your Business Page can be attached to your Amazon shop, Shopify store, eCommerce site powered by X-Cart, or any other online store builder.
Facebook Buy & Sell Groups
Facebook Buy and Sell Groups is another amazing way to sell products online… with its own nuances, though.
First, it's not yours. You do not own the entity but rather rent it for advertising purposes.
Second, you'll have to manage each listing in different buy and sell groups separately, even if it's for one and the same item. Not that it's too troublesome but it will definitely take tons of time. Nah!
And no, creating a Marketplace listing for the item is not the same as selling products in Facebook's buy and sell groups — you'll have to manage them all separately, too.
Below you can see personalized search results based on my location:

The good news is that you don't have to wait for your personal Facebook group to become popular enough to bring sustainable traffic to your store. Just select the group that has the buy and sell feature turned on and create a Marketplace listing for your item.
II. How Do You Add a Shop on Facebook?
If you want to start selling your products or services via Facebook, the very first thing you will need is a Facebook Page.
Yes, in terms of Google, your profile page is a web page indeed. But in Zuckerberg's social network, "Facebook Page" is a separate business page, where you will act as an admin.
So, go create a Page, it's a no-brainer.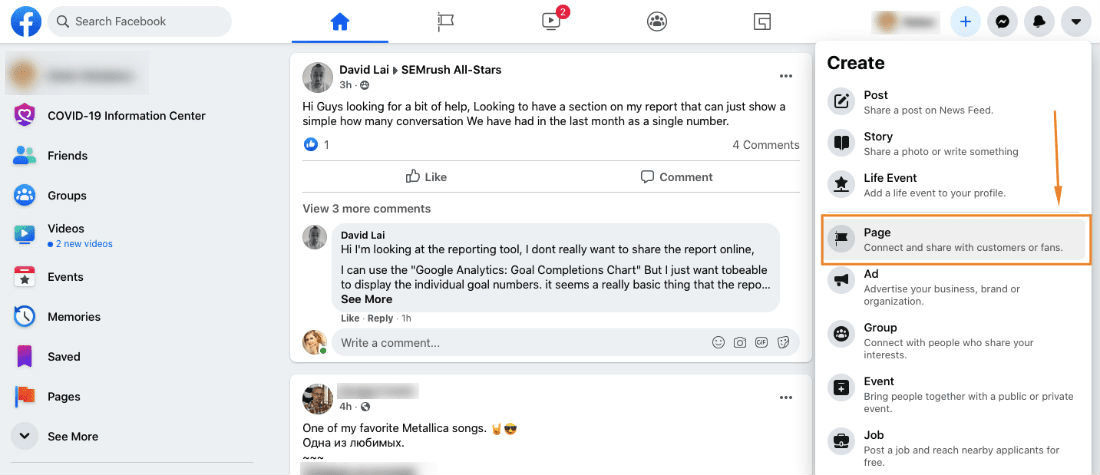 You'll be asked to choose a Page name, choose a category that describes what type of business your Page represents, and write a short description. Images, contact info, and other details can be added after you create the Page.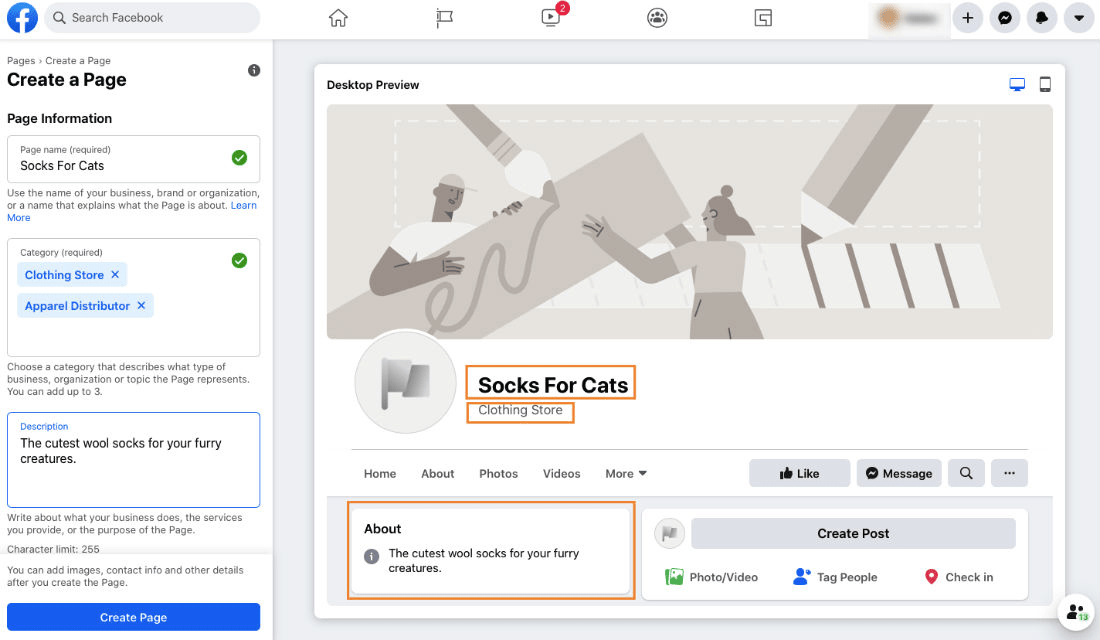 Now that the basic info is set, you can add a logo and a cover image that represents what your Facebook Page is about.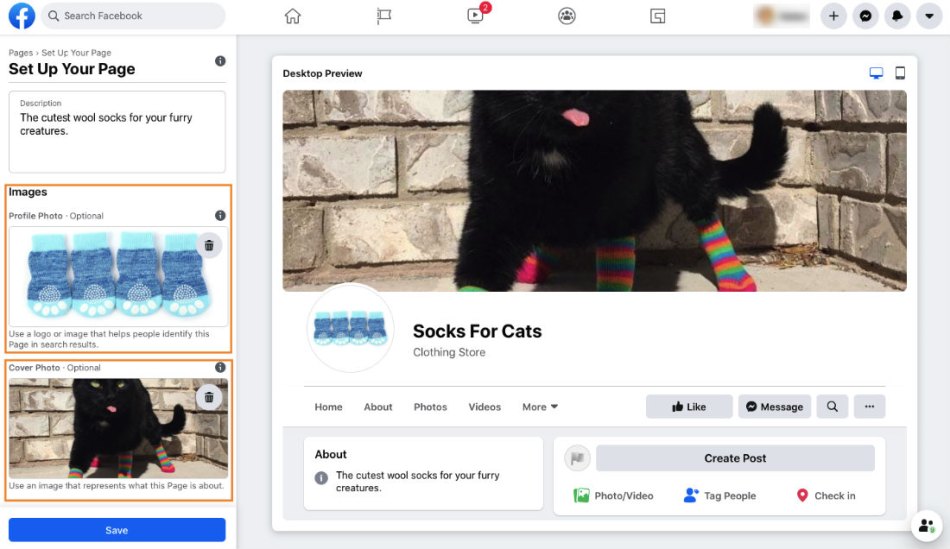 Now let's take out a magic wand and create a nice Facebook store out of nothing.
Here we go!
1. Add a Shop Section on Facebook
Facebook Shop Tab is quick to set up, but rather tricky to find. The first thing you should do is to check if you have access to it.
Visit your Facebook page and check if there's the Add a Shop Section link below your cover picture. It should look like this: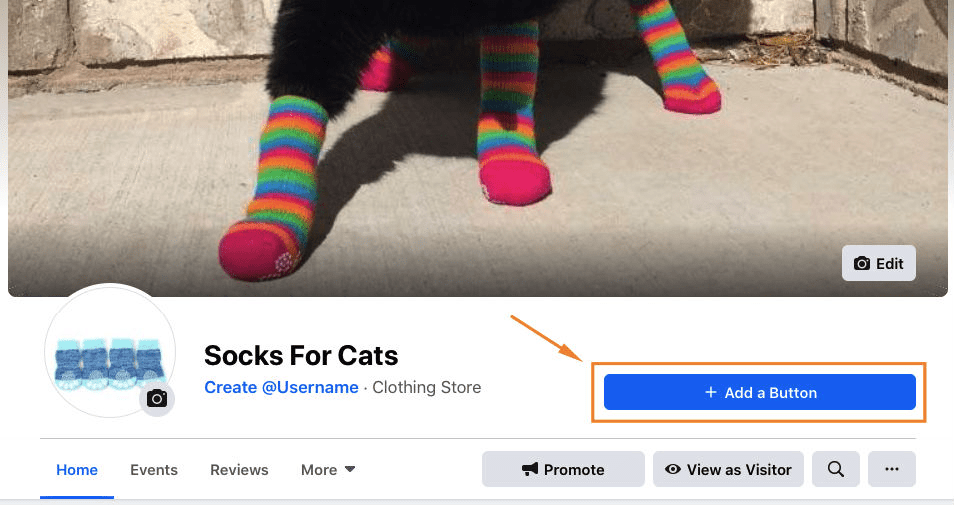 Don't get upset if you don't find this option. Here's the step-by-step scenario for you:
Open the Page you created in a previous step.
Click "More" below your cover photo and head over to the Templates and Tabs section.

You'll be able to rearrange the tab order to make the navigation even more convenient for your shoppers and enable the Shop feature right there.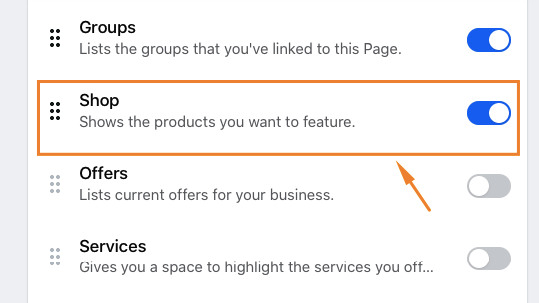 You are almost there!
Since May 2020, business owners have an opportunity to showcase their products on Facebook and Instagram using the Commerce Manager. This tool allows you to have all things eCommerce in a single place:
Add products and group them by categories.
Redirect shoppers to your eCommerce site or let them complete their purchase right from their Facebook or Instagram profile.
Customize your shop to your brand's identity.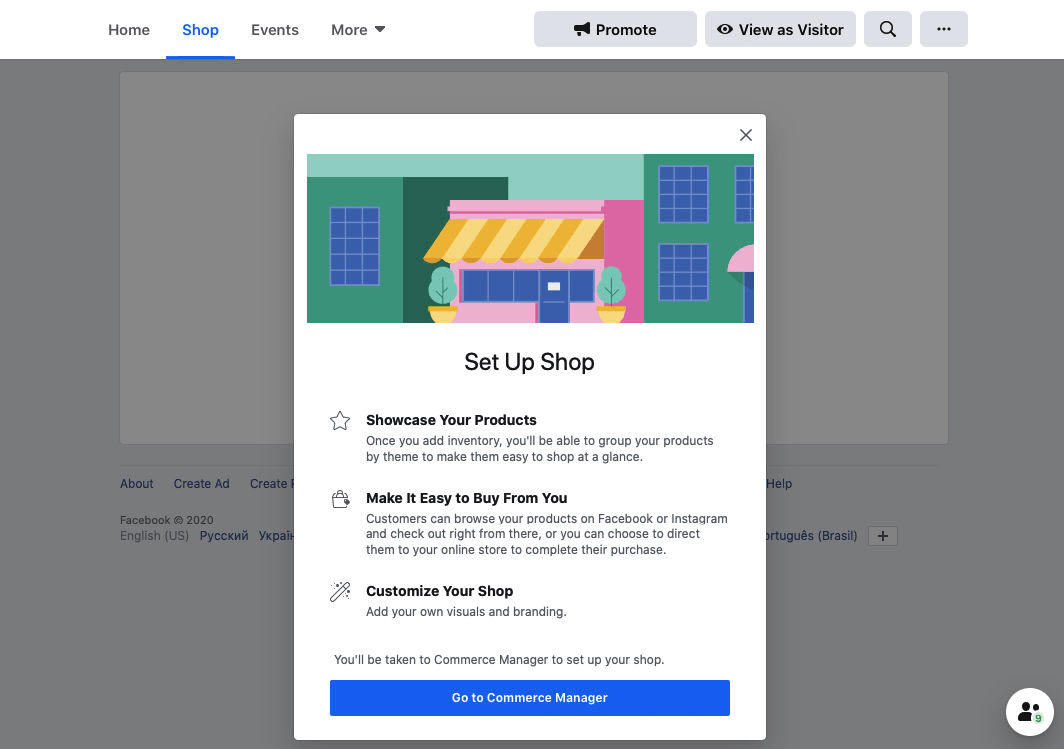 Next, you'll be asked to set up your store and select the checkout method. Here you have three options to choose from:
Shoppers are redirected to your eCommerce website to complete their purchase.
Customers will be able to checkout right on Facebook or Instagram with Facebook Pay (this feature is currently available for the US-based businesses only).
People will have to chat with you directly to make a purchase. Easy to kick off, but rather time-consuming in the long run, even for a small business.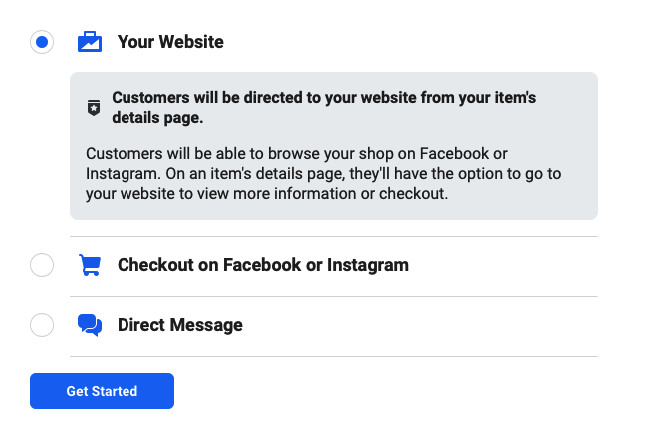 There are two more scenarios to go through — you can select a partner and start an online store using a third-party platform, like ShipStation or Freedonomics (but that's obviously not where we would like you to go).
Facebook launched another handy tool — a Test Shop — that gives you an opportunity to play around with the Facebook Shops interface and try out the customer buying experience. Managing test inventory, placing test orders, tweaking the storefront to your liking — these are some of the things that you can try using pre-filled banking, tax, and credit card info.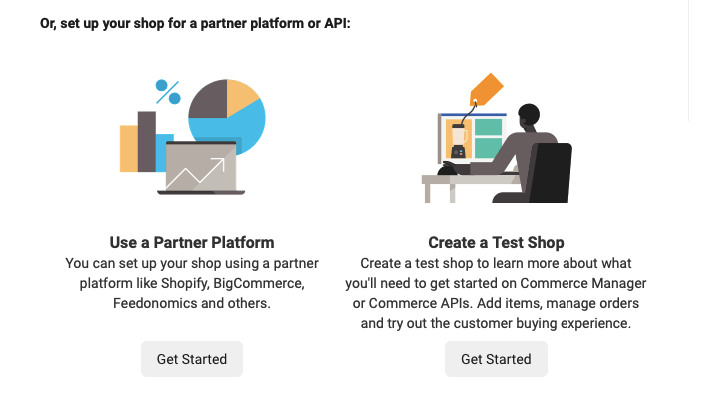 I've decided to send shoppers to my eCommerce store built with X-Cart.
Now that the "walls" of the store are raised, but the storefront is empty, it's time to put your products there using Facebook Catalog Manager.
More on that in the next chapter. Read on.
2. Adding Products Using Facebook Catalog Manager
Adding products to Catalog Manager is as easy as creating an account on Facebook. You can either bulk upload an unlimited amount of products or add items manually one by one.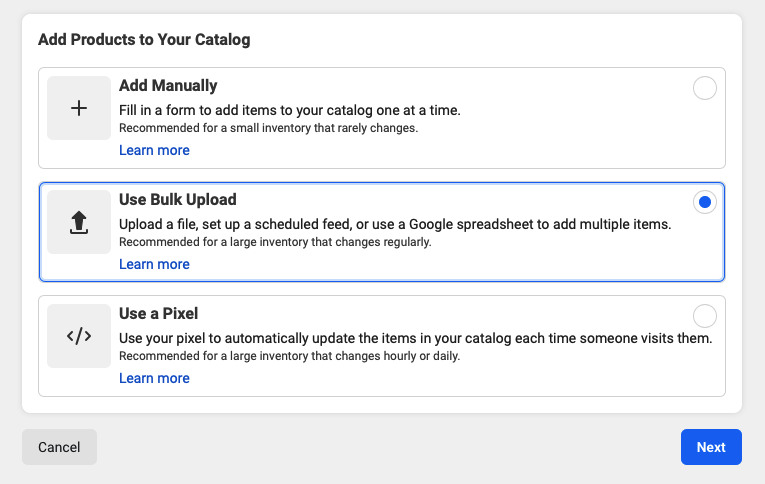 Specify product titles, craft a unique description, upload eye-candy product photos, add a link to your website, set the price, select whether it is visible to the public or not, and whether it is on sale.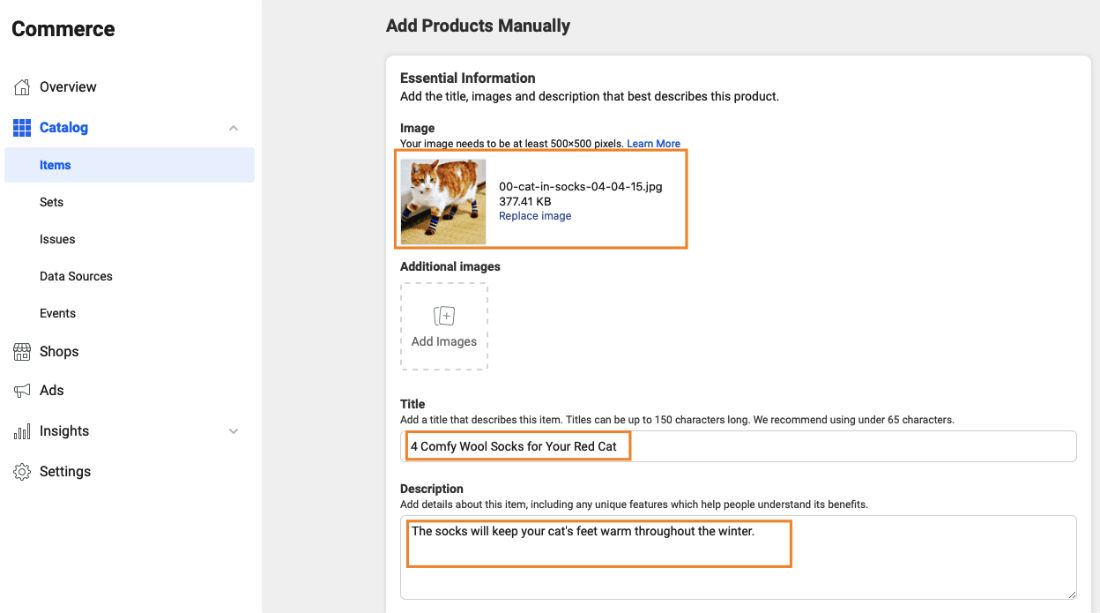 Don't expect to see your Facebook store immediately. It may take up to 4 weeks for the Facebook moderators to review your eCommerce account. So keep calm and just wait.
Facebook Catalog Manager allows you to create sets of products, check whether there are any issues with your listings, and add attributes.
You can also view insights on how your ads are performing by connecting a Facebook Pixel, SDK, and other tools.
Facebook Pixel app for X-Cart will give you insights on how effective your Facebook ads are. It will collect data on your users' behavior to let you target people who may be interested in your ads.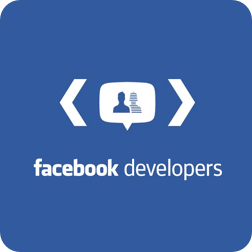 Facebook SDK will help you pass app event data from your app to Facebook. Thus, you will be able to track and measure the actions your customers take in your app.
3. Sell on Facebook With Ecwid Commerce 
The word "Ecwid" may sound a bit weird. "Hic-weed", as it has been jokingly referred to in one of the thousands of positive reviews.
Jokes aside, it's a superb eCommerce widget that you absolutely must consider if you want to add shop to Facebook, as well as Wix, WordPress, Weebly, Adobe Muse, or any other existing website builder that your site is powered by.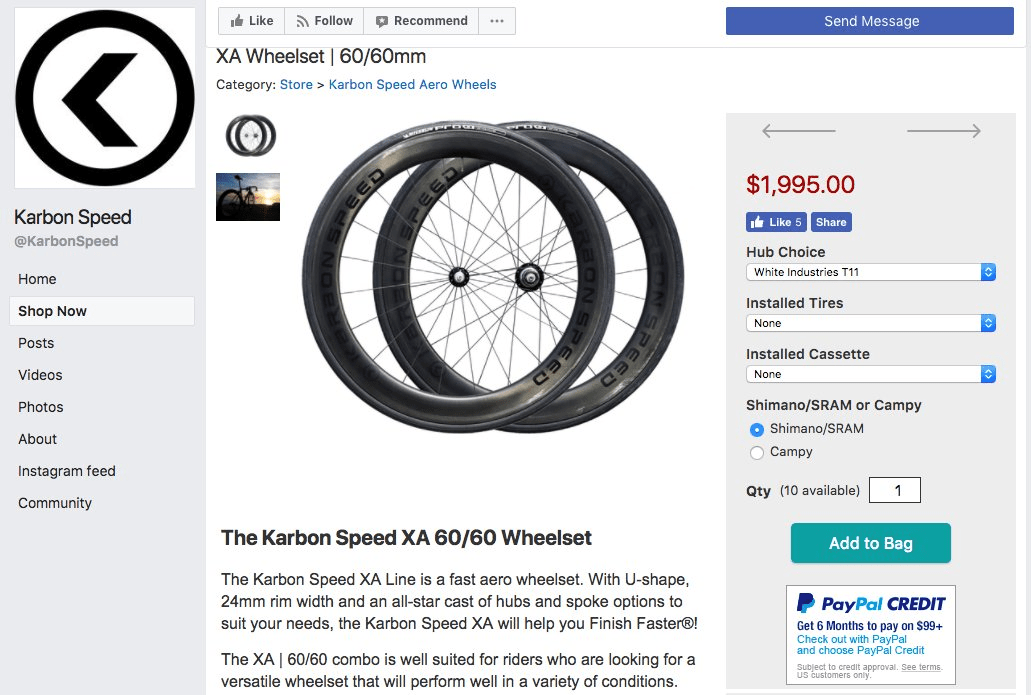 Icing on the cake, it has a free plan. But believe me, being free is not the main reason to take a closer look at selling online via Ecwid.
40K stores are powered by Ecwid on Facebook only, over 1 million sellers in total — that IS the reason. All these successful businesses selling products around the world can't be wrong.
Ecwid's Facebook shopping cart features are even wider than Facebook's. They include:
Automatic Tax and shipping cost calculation. It integrates with carriers like USPS, UPS, FedEx, and more.
Zero transaction fees and secure checkout with 40+ payment options to choose from, such as Authorize.Net, Square, Stripe, along with offline payment methods like Cash on Delivery or Check.
Synced inventory is perfect if your online store is connected not only to Facebook, but also to WordPress, or Weebly, or Wix, or any other platform. Ecwid will showcase the same products, prices and descriptions on all the storefronts. You upload the products directly to Ecwid, it synchronizes the listings everywhere.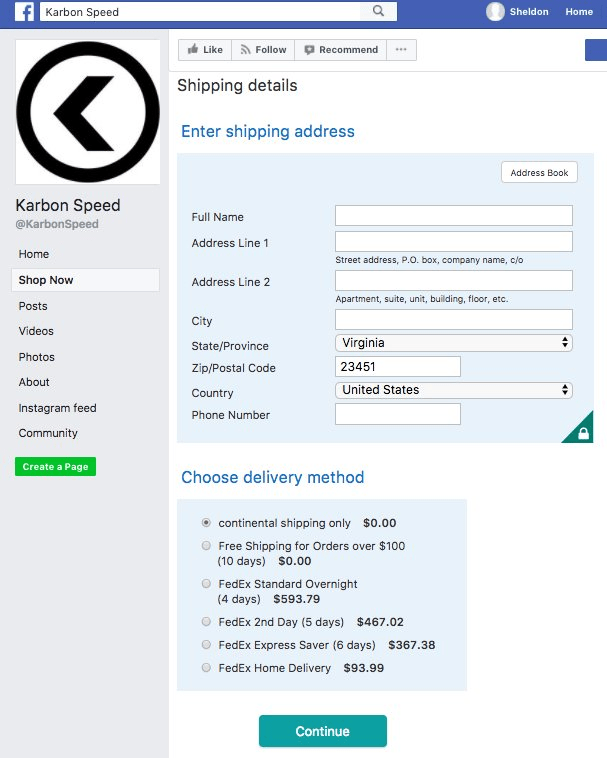 If this option has caught your attention, take a quick look at this video — you'll see how easy it is to start selling your products on Facebook with Ecwid.
By the way, you may notice that a link to Ecwid is not an affiliated link — I will not earn a dime, even if you subscribe to their paid plan.
And since I have no financial interest, doesn't it make my friendly recommendation more trustworthy? =)
4. A Native App for Your Shopping Cart Solution
Many eCommerce platforms have a ready-made app listed in their official marketplaces.
X-Cart users can integrate their eCommerce stores with Facebook and Instagram using this nifty addon.
Facebook Marketing app for X-Cart will help you upload your products to Facebook Catalog and automatically sync it to make sure all the information is up-to-date.
Price: Free
Below are some of the most distinctive features that can be enabled in your store's back office with just a couple of clicks:
Entire product catalog on Facebook Shop tab — searchable, with categories structure, and featured products.
Customers shopping on Facebook are redirected to complete checkout through X-Cart web storefront.
Sales coming from Facebook are marked in your X-Cart admin backend for tracking.
The ability to set up Instagram and Facebook ads all in a single place and sell efficiently on both platforms simultaneously.
With Facebook Pixel in place, you can target the right audience and understand your customers better.
Top-level personalization will give you the ability to set goals and budget for your ad campaigns, to choose the target audience, format, and device where you want to run your campaigns.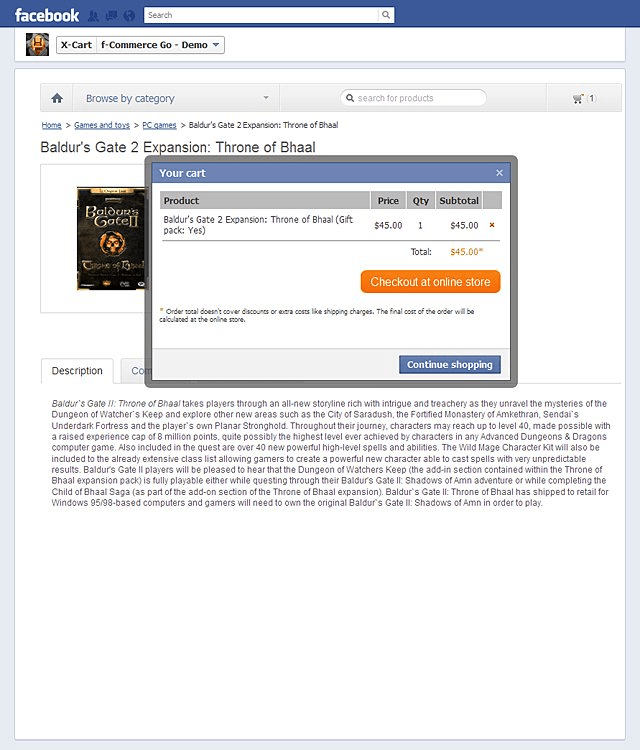 I'm sure that the top eCommerce Platforms also offer integrations that can help you sell products directly on your Facebook Page and enable checkout right on Facebook via Facebook Shop API.
If you already have an online store, go check whether such an app is available on the platform provider's marketplace. Just search for "Facebook" and if the app exists, it will appear in search results.
If none of these options seem acceptable or the process appears to be overly complicated, just close the page and start selling on Amazon. This huge marketplace, consisting of a community of 95 million shoppers, is open for all business owners (yes, even for those located outside the US!). This step-by-step guide to selling on Amazon can help you understand the key rules of the marketplace.
Another option for those who prefer taking the path of least resistance: Reach out directly to our solution advisors to get help getting established on Facebook. They are here to help you get your eCommerce business off the ground with minimum effort.
So, now you see that creating your very own store on Facebook is easy-peasy. But that's not all. You don't need deadweight, you want your store to kick ass!
III. How to Market Your Shop on Facebook?
Making money — that's actually the only purpose of adding Facebook as another sales channel, right? Well, money comes when customers come. Customers come when traffic comes. No traffic — no money.
Got it? You need traffic. Passive waiting brings you nowhere. You snooze — you lose.
Before you continue reading make sure you know the general rules of selling online — how to set the right price, how to define your target audience, what skills can help you sell anything to anybody, and the rest. These rules will work for Facebook, as well.
What are "legal" ways to market your Facebook store that do not contradict TOS?
1. Generate Engaging Content
According to our estimates, the majority of sales are made through posts on your Facebook wall, not through people who visit your Facebook page. So waiting for potential buyers to come, stumble upon your Shop tab, and hit the Buy button is the worst possible social media marketing strategy.
You have to build a real community of followers, post engaging content, and systematically promote your products and top deals between the non-selling posts.
"Systematically" does not mean "only"!
Your promotional content should not outnumber entertaining and relevant content. 3-4 promotions a week is the golden number, as long as you post daily.
A list of creative posts ideas for business from this Instagram guide applies to Facebook Fan Page, too. I have revised it a bit to take into account the specifics of FB:
Creative product showcase: Lifestyle shots, customer testimonials.
Backstage: Process of product manufacturing, packaging, and shipping orders.
The corporate culture of the company: About the team, offsite events, charity programs, exhibitions, and shows.
Educational posts: If you're selling surfboards, you may share your expertise on choosing a board, give tips on surfing, comment on the most recent local events, interview celebrities spotted surfing.
Industry news and trends: Anything that seems interesting for you — this may grab your followers' attention, too.
Fun shots that still apply to your brand: New way to use your goods, Hawaii party in the office. A Black Friday or Halloween edition of your product will also do a great job =)
Quotes and surveys: This might be a cheesy tactic, yet it will resonate with some groups of followers. So think of using them, but think twice =)
These posts will be "selling without selling", as they're building a stronger relationship between your brand and those that have liked your Facebook page.
And it goes without saying that to keep conversations going, you need to respond to comments.
2. Run a Facebook Giveaway on Your Fan Page
You may consider running a contest on your Facebook Fan page. In terms of Instagram marketing, it's a proven way to gain more followers. "Tag-a-friend-to-enter", "repost-to-enter", and other similar mottos boost your following enormously.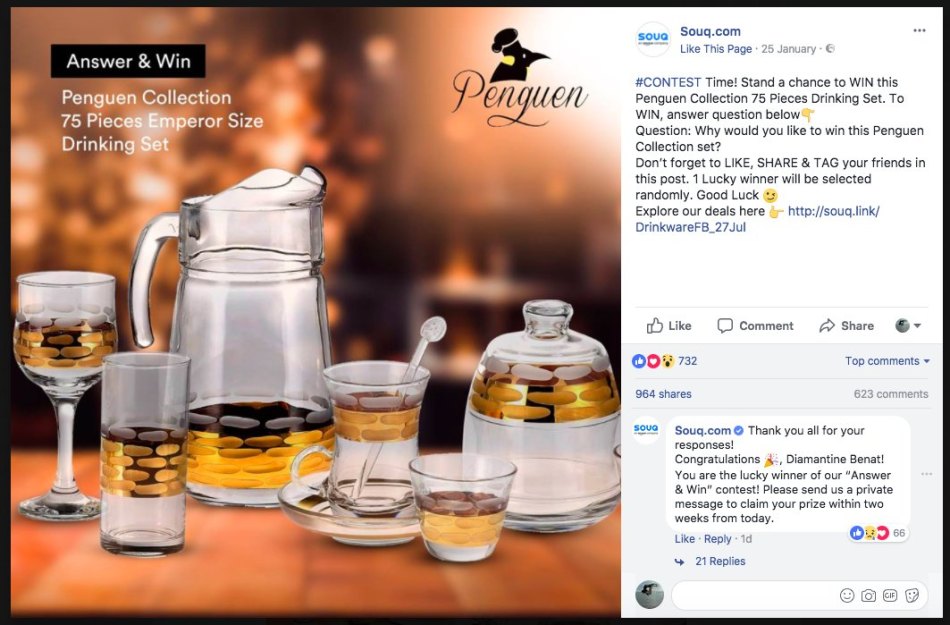 Thousands of shares — that's what every Facebook marketer dreams of.
But what these guys are doing is against the rules of Facebook. They are breaking the rules because of ignorance, or practicing the happy-go-lucky attitude, or for whatever reason. Yet, that's not officially allowed.

Check out Facebook Community Standards to find out what types of things are and aren't allowed on Facebook.
I should also add that you can not ask participants to change their Facebook timeline cover photos. The only two conditions allowed officially are to like and comment, period.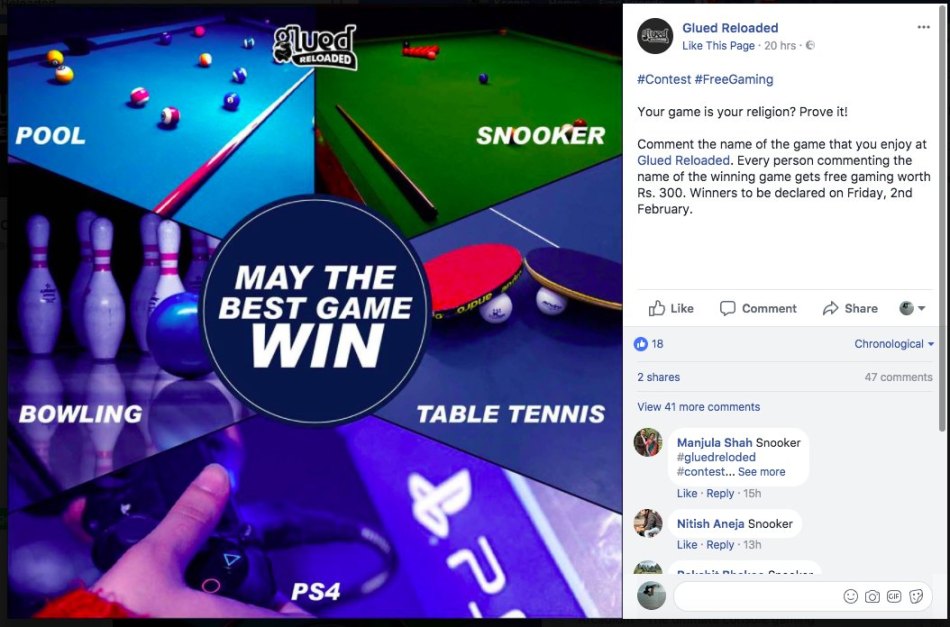 Is there any use in running such a contest then? Well, it will definitely NOT be that effective, as an Instagram campaign would. But it definitely IS a way to raise your posts in Facebook feeds of your existing followers — which has become kinda a pain in the butt, too.
The thing is, the Facebook Algorithm shows the post with the highest engagement rate first. If the very first viewers are not commenting and liking your posts like crazy, it may never be shown to any further subscribers at all. You may leave it on your timeline or throw it in the trash right away — the effect will be the same, zero (<sigh>).
So, if you want your posts at least to APPEAR in the news feeds, make them super-engaging (newsworthy, funny, provocative, viral, you name it) or run contests. If you decide to, this article features a couple of free tools to pick a winner.
You'll hardly ever be punished for anything (unless you violate data protection rights of your customers, of course) if you are running a contest on your own eCommerce store. With X-Cart, running various types of contests is a piece of cake:
Wishpond's app for X-Cart provides you with a wide variety of templates that will let you create an amazing landing page for your next promo campaign or contest. It will also let you send trigger emails and email campaigns, create pop-ups, and implement other hacks to get your potential shoppers interested.
Justuno app for X-Cart will also enable you to run contests, create landing pages, exit and email pop-ups to convert high-intent traffic into leads — all optimized for mobile devices and propped for high conversions. 
Both add-ons are free.
3. Take Advantage of User Generated Content (UGC)
If you can not ask your customers to share the posts of YOUR fan page in exchange for bonuses, you can ask them to post their own!
User-Generated Content is a great way to sell on social networks for a number of reasons:
Your brand actually reaches the Facebook audience of the content participants — for free.
You're getting the social media content (photos and videos) demonstrating your product in use — that's what "refined" product photos of your store may lack.
Rarely do people simply post photos — normally Facebook users also add a caption, describing their shopping experience — that's exactly what you want.
Facebook Contest Ideas is what you may be stuck with, but thanks to this absolutely amazing article by Wishpond, all you need is to choose one from the list.
Jordan Lore, a Content Marketer & PPC Manager at Wishpond, has collected 25 creative contest ideas, such as:
Tell us how you would use [Product] to win it!
Take a photo of yourself using [Product Name] OR at [Location] OR doing [Activity]
Name our new [Product]
Caption this to win [Prize]!
Vote on which [Product/Service] we should put on sale
Vote for your favorite product
Selfie contest
… (the rest is here, as well as detailed howtos and examples.)
Want to see a Facebook contest with UGC in action?
This is an example of a very successful social media campaign that covers Facebook, too: "BUSCH BEER IS SENDING 500 FANS TO THE 2018 DAYTONA 500".
The number of public posts with brand mention is huge and growing, all with positive comments — that's exactly what a brand is looking for.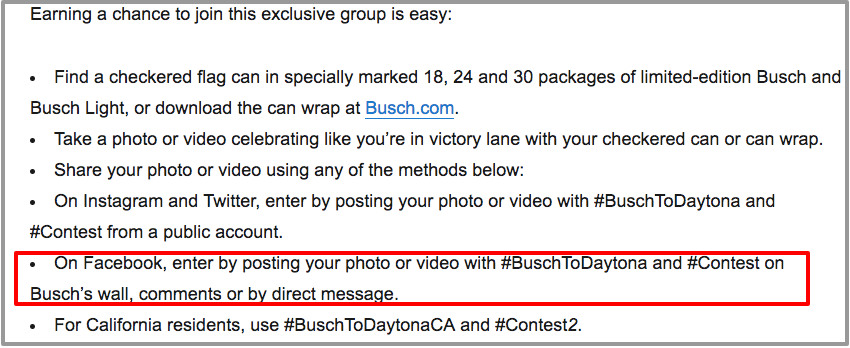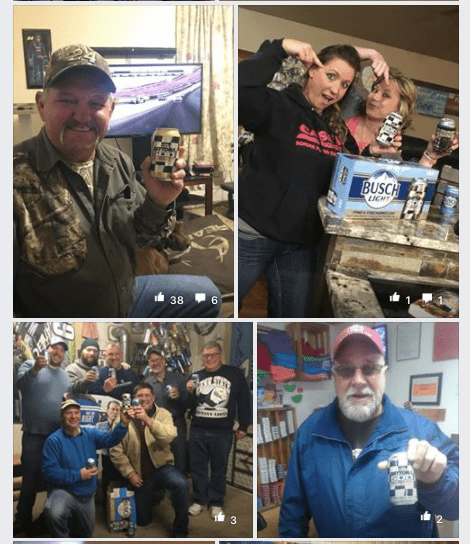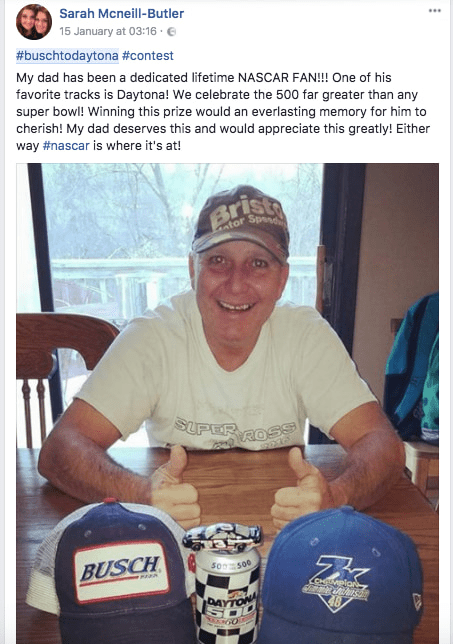 Sources:
#BuschtoDaytona
Sarah Mcneill-Butler
4. Run Facebook Ads
We occasionally run paid FB campaigns and see "Facebook-assisted" orders, according to Mixpanel. But I should honestly say that I'm not a fan of Facebook advertising.
It looks promising, it seems powerful, it is designed to impress advertisers.
Moreover, there's a specialized tool — Facebook Ads Manager — that makes it easier for business owners to create bombastic ad campaigns, with real-time reporting and the ability to manage them on the go using mobiles.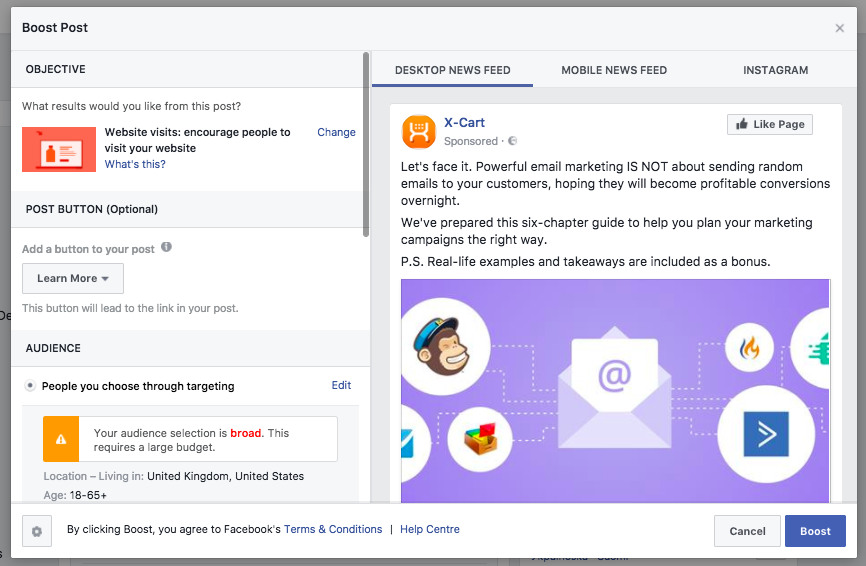 However, this video by Veritasium is the final nail in the coffin of my trust in this tool.
Indeed, no matter what geography and target audience I was trying to configure in the Ad Manager, most likes I saw were from very alike accounts that don't seem to belong to real people.
And just like on Instagram, I would do my best to avoid fake followers by all possible means.
Fake likes will not only generate no sales, but also damage the "deliverability" of your content to real subscribers.
They will not engage with your posts when you publish them.
It will be a sign for Facebook that your post is not interesting to anyone (even if it really IS).
Say good-bye to seeing it in the news feeds of potential buyers.
In my opinion, nothing beats an organic audience. Why?
It's engaging.
It's converting.
It's free.
But it would be overconfident to consider myself the sole possessor of ultimate truth.
There are experts that stand for the opposite.
Neil Patel, a marketing guru you may be very well acquainted with, states with authority:
I think every online business tries Facebook ads, fails at it and then blames the platform. People just suck at making Facebook ads work for them.
If these words inspire you to experiment with Facebook advertising, please read the full guide on Facebook Advertising by Neil Patel.
If you feel like experimenting with advertising on any other marketing platform, such as Amazon, there's a robust tool that should help you set up your first (and then second, third, etc.) campaign and attract a new audience to your online store.
Tapping into Pinterest Buyable Pins can also be a perfect initiative for small businesses looking to sell arts and crafts online. Here's a meaty guide on how to sell on Pinterest, updated recently to fit the tendencies of the year 2020.
There's another route that gets you to Scrooge McDuck's money vault at an earlier time — launching your very own online store with X-Cart and, then, advertising it like crazy. Luckily, there are tons of advertising tools and services to choose from, such as Google and Bing ads, Exit Offers, SalesForce, etc. But you'll never know for sure which channel works best for your business, unless you discuss your plans with our solution advisors. That's who knows 1001 ways to market your store with X-Cart. If none of them take your fancy, they can at least push you to the right direction. Anyway, hit the button below.
Hey man, where's the MEAT of the guide, the part about sales?
The juiciest part about online selling is here, yeah.
But it won't be about Facebook (good grief!)
You may probably not like this fact, but no matter how successful your Facebook store is, you will be getting only about 10% of all sales, compared to having your own website PLUS Facebook presence.
Facebook is just another marketing tool. Your own eCommerce website — that's the main locomotive of your online sales. So if you're serious about selling products online, do consider creating your online store (we have a guide with instructions and how-tos).
Another strong argument not to put all eggs in Facebook's basket is an announcement by Mark Zuckerberg, Founder and CEO at Facebook:
This revamp of Facebook's News Feed algorithm to prioritize content shared by friends and family, and demote branded posts from publishers and businesses can't but affect their post views and sales.
They will for sure notice a huge drop in the audience reach. And they already do. It's been almost three years since Mark decided to initiate his plan, and he kept his word — Facebook keeps demoting posts from businesses in its search results, which is lame.
If Facebook is going to sacrifice the interests of businesses for the sake of individual users, starting an eCommerce business on Facebook is probably the worst idea.
But in 2020, there are TONS of other opportunities. From selling on Etsy, Amazon and eBay, to creating your own AliExpress, you can always dive into the omni-channel pool. Head over to this 'Omni-channel marketing' guide for more details.
Do you consider Facebook a viable place to sell? Let me know your thoughts in the comments section below.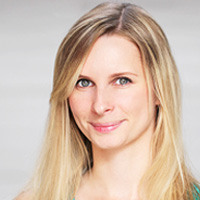 Helen Golubeva
Freelance SEO and Content Marketing Specialist
Helen is an SEO and Content Marketing Specialist. She has been creating and planning content for over 10 years, with 5+ years specializing in eCommerce.
Subscribe to Our Weekly Newsletter to Get
Expert-Backed

Tips Straight Into Your Inbox

Awesome! You won't be disappointed 😉