←
Back to Blog
13 eBay Alternatives: The Best Websites to Sell Online in 2020
This blog post was originally contributed by Karen Evans, a blogger at Start Blogging Online.
You most likely landed on this blog because you are exploring options of where (or where else) to sell your products, apart from eBay. That's a good start! There are many fantastic online marketplaces that give small business owners the ability to reach new customer bases without geographic restrictions through online sales. These sites, however, are not created equally and certain selling sites may be better suited to sell your product than others. If you are starting up or are an experienced vendor, consider opening an online store of your own.
If you think creating an online store requires great effort, lots of time, and coding skills, think again. With a go-to-market solution like X-Cart, all you really have to do is begin. The rest is up to our flexible software and a team of experts behind it. Speak to one of our representatives to learn how X-Cart can help grow your business.
These digital marketplaces feature different proven tools and resources to help sellers maximize sales. The marketplaces also have different fees for sellers who join their platform. Finding the right platform for your business is imperative to achieving success and growing sales numbers.
Below we give an overview of some of the most popular online marketplaces and eCommerce platforms and how they stack up to eBay. Read more to see which selling website best suits the unique needs of your business.
If you are starting your own eCommerce store, take a look at these awesome stores built on X-Cart.
13. OpenSky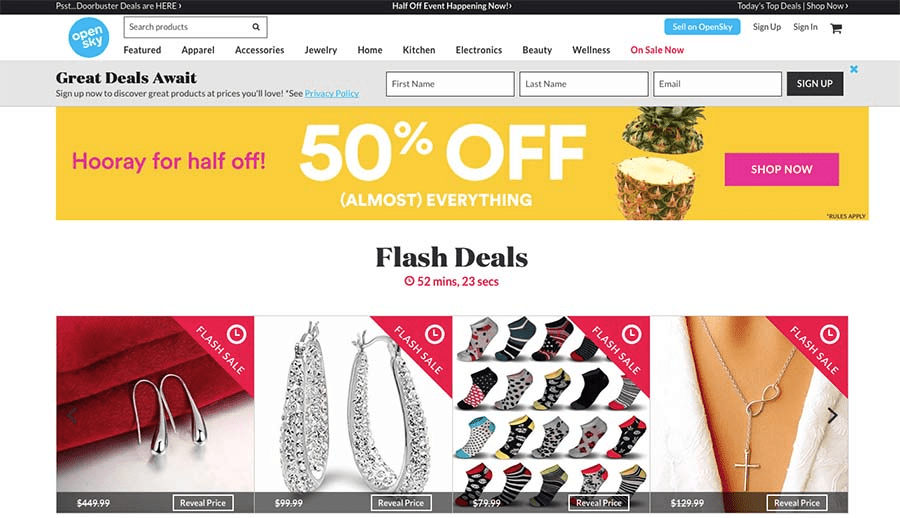 OpenSky is a members-only marketplace that offers a wide range of trendy products at discounted rates. OpenSky shoppers are spending more than $1 billion a month on clothing, home goods, electronics, beauty products and more.
This site is an ideal selling site for retailers seeking to capture young professionals who are looking for a great deal.
OpenSky merchant accounts start at $32/month and merchants are charged a 15% transaction fee and 3% credit card processing fee on every sale.
Account holder perks include eligibility to be featured on more than 200 ad channels as well as marketed on Facebook, Pinterest, and Google. Account holders are also eligible to be featured in the OpenSky's emails, retargeting campaigns and can have unlimited product listings.
Learn more about OpenSky.
12. Zibbet Marketplace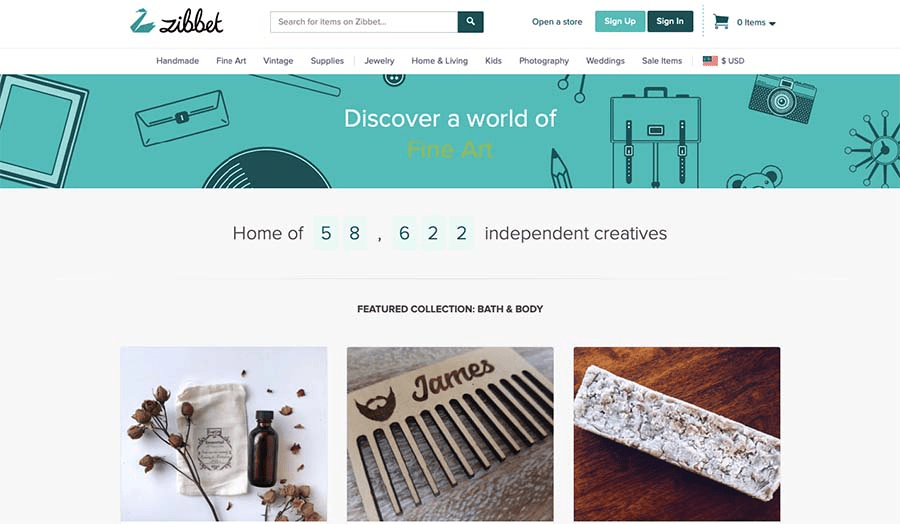 Zibbet is a well-known source of handmade products and art. Like Etsy (mentioned later on this list), Zibbet specializes in handmade and handcrafted products and attract buyers seeking these items.
Zibbet offers a free plan allowing merchants to list and sell up to 10 items a month without paying transaction fees. However, using the free tier, sellers can only include one picture in the item listing. If you want to sell more than 10 items, paid plans start at $5 a month.
Using the top tier, Zibbet Unlimited Plan, sellers can create coupons and discounts, use premium themes, customize their online shop, and access advanced analytics tools.
Zibbet also gives sellers the ability to list on additional channels like Etsy. Channel listing fees will apply, for example, Etsy cost $.20/listing.
11. GoAntiques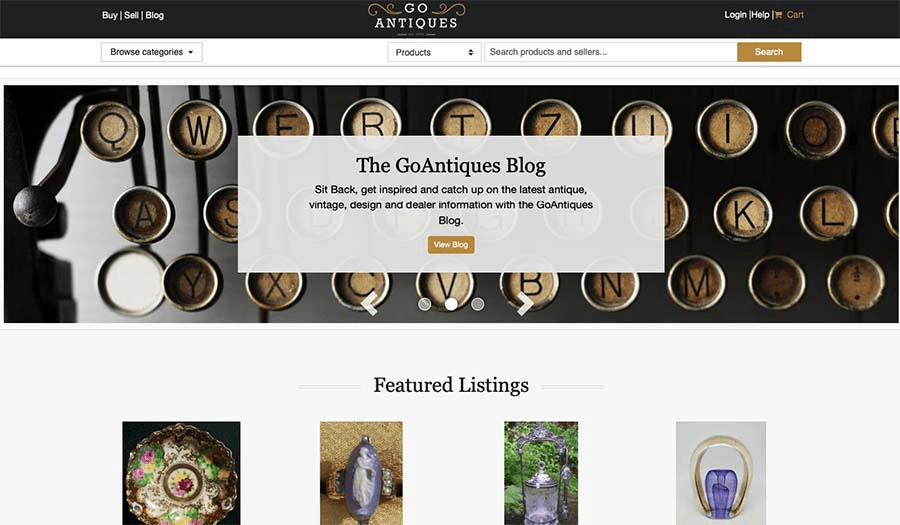 If you deal in antiques or vintage goods, GoAntiques is likely the selling site for you.
GoAntiques vendor fees are simple, $24.99/month for basic membership with no listing fees or commissions. The top tier seller account is $74.99/mo allowing the seller to list up to 1,000,000 products.
GoAntiques seller accounts provide easy-to-use tools to enable retailers to edit multiple market listings and view their sales stats. GoAntiques also allows cross-platform listing with a partnership with Etsy.
Learn more about GoAntiques selling here.
10. Sears.com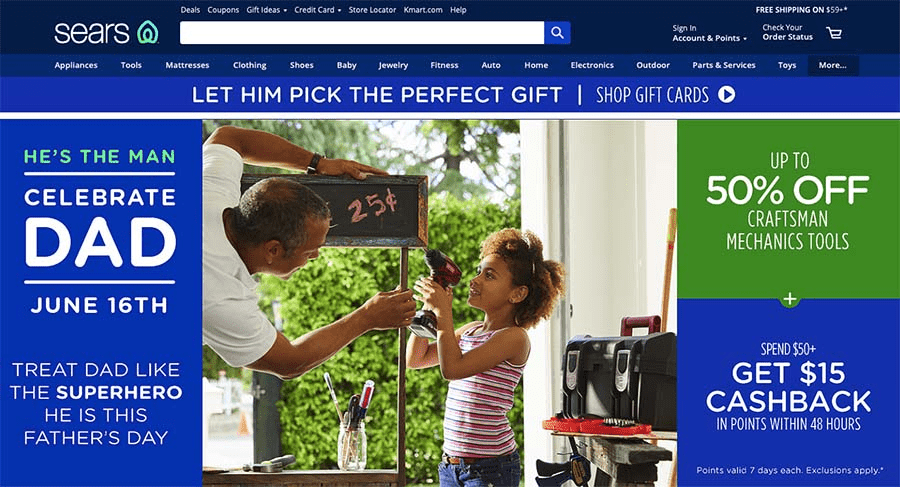 Many online retailers are surprised to learn that Sears allows retailers of any size access to their online marketplace. Sellers who utilize this selling site have access to Sears' massive, million-plus person customer base.
Joining as a retailer cost $39.99/mo. This allows retailers the ability to list products in a wide array of categories. The products listed will appear on Sears.com, in the Sears mobile app, and across the nation in kiosks at Sears retail outlets.
Along with the monthly fee, Sears charges a 2.5 percent interchange fee, and commissions ranging from 8 percent to 20 percent on each item sold. Percentages vary based on the product category.
Retailer Mercent.com said, "Sears is a key online shopping channel for Mercent and its portfolio of more than 550 large brand name retailers."
Learn more about Sears merchant accounts.
9. Wayfair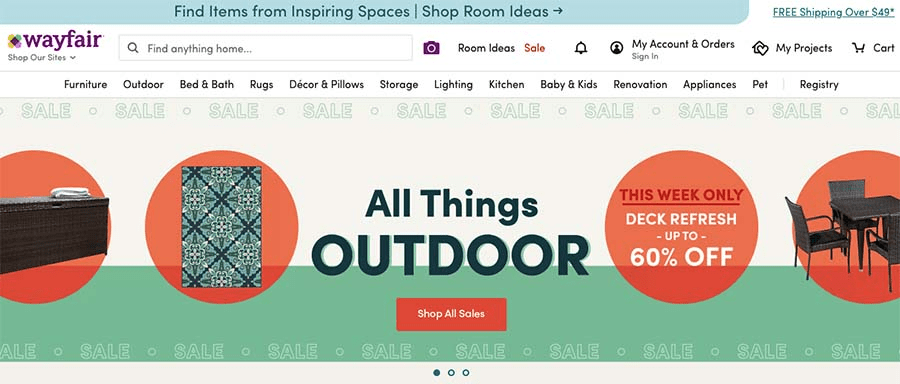 Founded in 2002, Wayfair is slightly different from the other programs on this list, in that Wayfair is a dropship seller. This means all orders are placed through Wayfair and as a supplier, you simply fulfill the order and earn a profit for each sale.
Margins vary from product to product based on numerous factors. Wayfair itself is the US' largest home goods retailer, with over 6.7 billion in revenue in 2018.
If you manufacture homeware products, Wayfair is well worth a deeper look.
Learn more about becoming a Wayfair supplier.
8. Newegg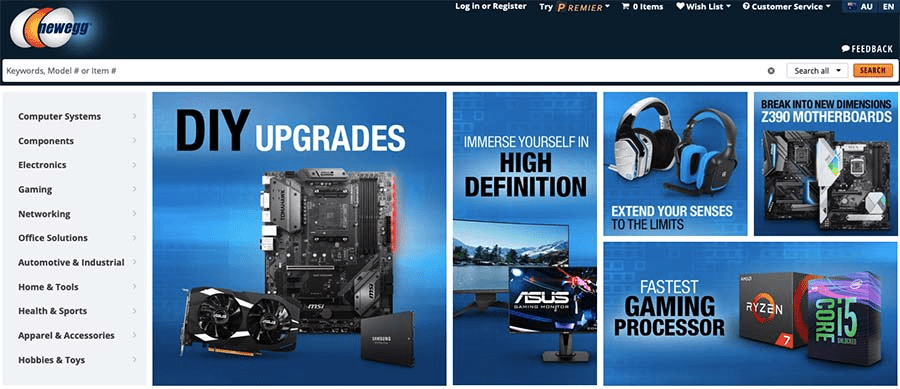 Founded in 2000, Newegg sold roughly $2.7 billion worth of products in 2018. Newegg has become a top choice for tech items for tech-savvy consumers. Newegg primary product sales include computer parts and components, but also include a wide array of tech products.
For sellers, Newegg has both a free and premium tiers. All tiers must pay an 8 percent to 15 percent commission based on the product category.
The free tier provides sellers access to their seller portal. From here, sellers can upload up to 5,000 products, are able to bulk upload items, can edit all aspects of their listings and can process order shipments and returns.
Premium plans are $29.95 per month for the "Professional" tier and $99.95 per month for the "Enterprise" tier. With the Professional tier and upload up to 25,000 products, are provided with a dedicated account manager, receive a customizable premium seller store, have access to Newegg's top seller program, and receive discounts on fulfillment and shipping services.
The Enterprise program grants the same benefits as the Professional tier with larger discounts on fulfillment and shipping and offers customizable post-purchase emails. In addition, Enterprise sellers can list an unlimited number of products.
Learn more about Newegg.
7. Bonanza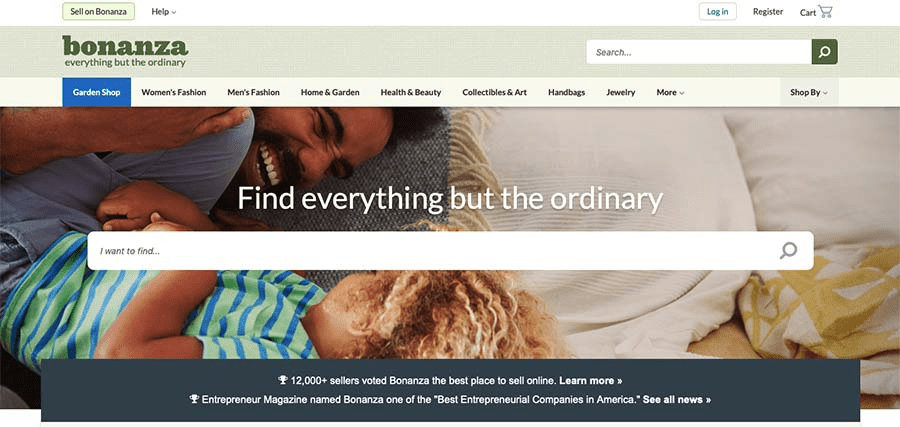 Bonanza is a great selling site for retailers who specialize in fashion, home, beauty, and art.
Bonanza's tagline, "find everything but the ordinary," describes the often unique and offbeat items that can be found on this selling website. From colorful shoes to artsy planters, Bonanza has it all.
Bonanza fee structure differs from the other sites and is much cheaper for sellers in many cases. Bonanza does not charge a listing fee for sellers but collects a 3.5% closing fee for sales less than $500. On transactions over $500, Bonanza charges 3.5% of $500 plus 1.5 percent of the sale amount over $500. For more on Bonanza fees, read here.
One of the reasons Bonanza is a highly rated selling site is due to their suite of highly seller-focused tools such as a deep Google Shopping integration, image background removal, and automatic product synchronization tool to other online marketplace tools.
Bonanza also gives sellers the option to give up a greater percentage of sales in exchange for higher search ranking and additional advertising. This is a great risk-free way sellers can further expand their advertising efforts.
Learn more about Bonanza here.
6. Wish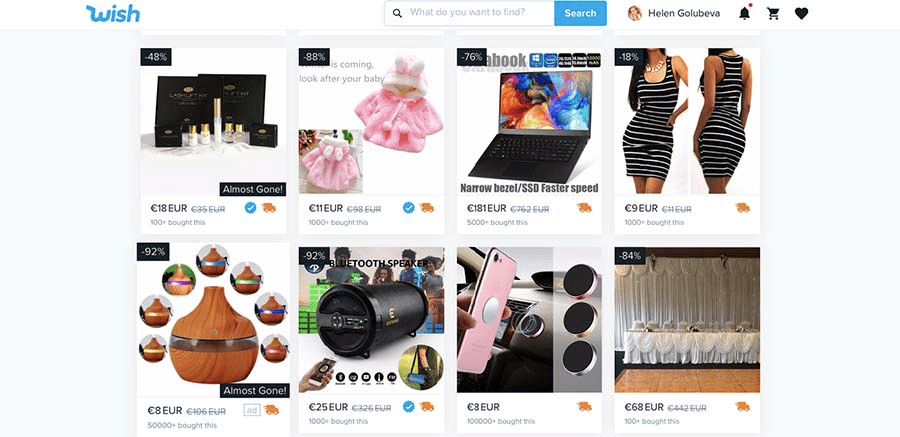 Wish is the number one selling site in 42 countries. With an emphasis on ease of use for both sellers and buyers, as well as a focus on mobile optimization, Wish is an extremely popular destination for mobile shoppers to purchase electronics, fashion, clothing, accessories and more.
Much of Wish's popularity is due to the success of the Wish mobile app. The app aims to put products in front buyers that are the most "relevant consumers based on their demographics, buying behavior, and wishlists."
According to the company, "Hundreds of thousands of consumers spend thirty minutes browsing products every day on Wish," meaning that you will be exposed to shop-initiated users.
Wish is a great place to sell unbranded products as typical Wish buyers place product value above other product details. Wish is also risk-free because, unless you make a sale, there are no fees.
Learn more about becoming a Wish seller here.
5. Jet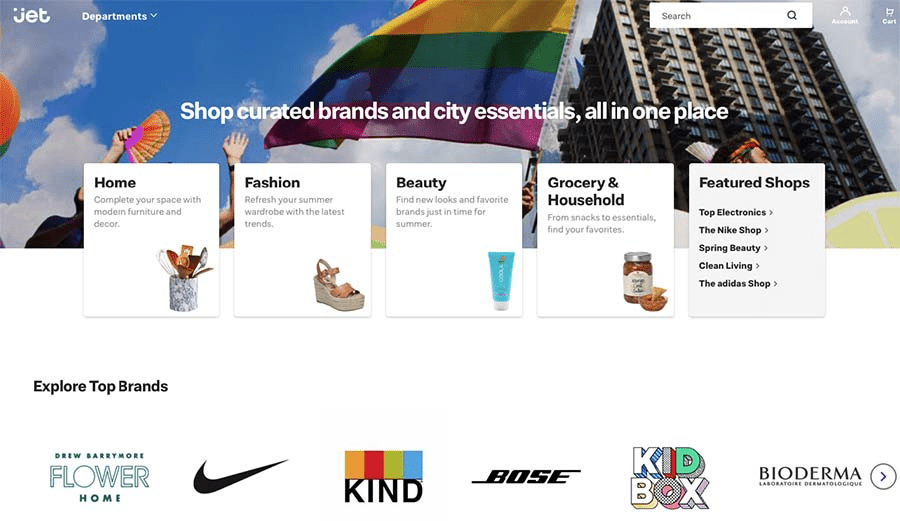 Jet was founded in 2014 and aimed to be an Amazon competitor. After being acquired by Walmart, Jet quickly grew into an eCommerce giant.
Jet has a very similar fee structure to Walmart.com with no monthly fees, strictly commission on sales based on the product category.
Selling on Jet involves an API integration or the use of a trusted third-party channel, such as ChannelAdvisor.
4. Facebook Marketplace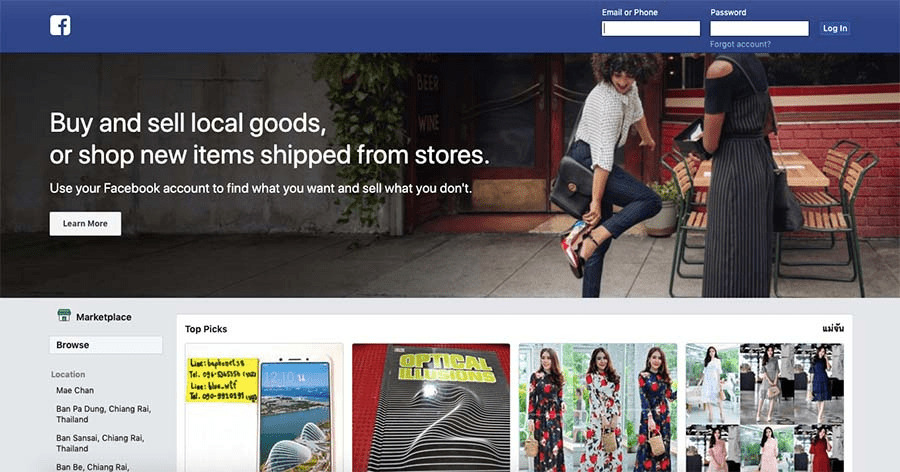 Facebook needs no introduction. With over 2.37 billion monthly active users, Facebook is a household name across the globe.
Facebook marketplace may not be as common of a name, but is still a massive player in the eCommerce realm.
Facebook marketplace is a great place to list local items for sale as well as reach national audiences.
Facebook has no listing fees and integrates with most big eCommerce platforms.
Listing on the Facebook Marketplace can help improve Facebook ad conversions by delivering audiences a more personalized ad experience. With Facebook's massive reach there is no doubt a listing in the marketplace will improve product visibility.
For more information, read this Facebook Marketplace guide.
3. Etsy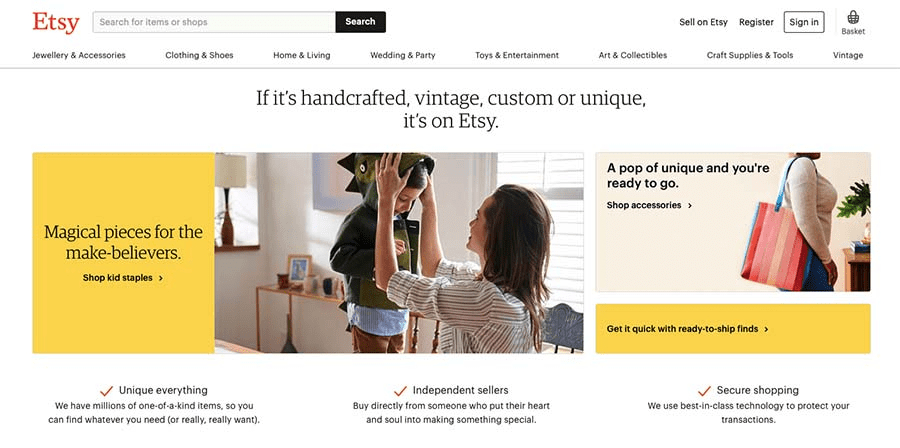 Etsy is the premier selling site for those dealing in handcrafted and homemade items. With over 50 million products and 38 million active buyers, Etsy has become a juggernaut in the space.
As previously stated, this site is designed for products that fit the handcrafted, "homemade" niches. If you deal in these types of products a key advantage of Etsy is that buyers visiting Esty are specifically looking for "homemade" items. The number of Etsy's active buyers has continually and dramatically increased in year after year since its founding in 2005.
Etsy charges $0.20 per item listed + a 5% transaction fee (of the selling price). Additional fees may be added on based on a number of factors. To learn more about Etsy's fee structure, read here.
Etsy also offers a top-tier program to sellers that are in good standing. This program cost $10 per month and offers an expanded set of tools to help acquire new customers.
Find out more about selling on Etsy and discover 11 more ways to sell art online.
2. Walmart.com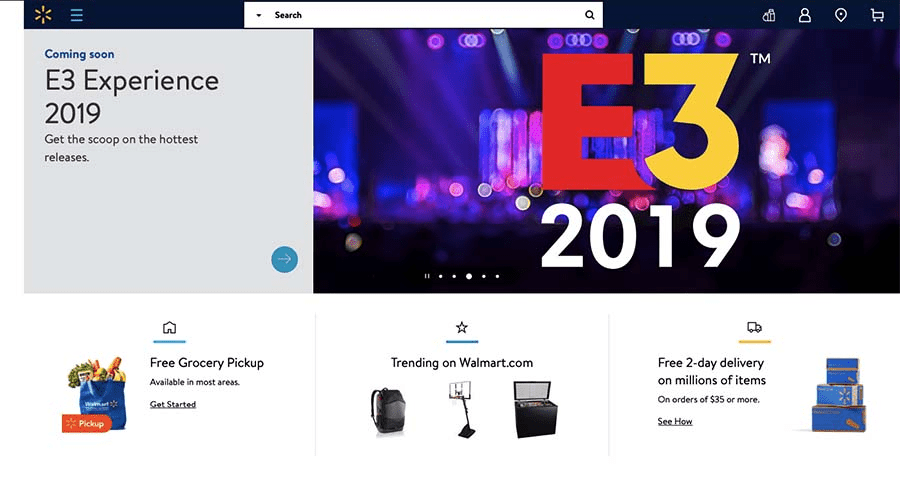 Like Sears, Walmart is a brick and mortar giant, but also an extremely large online marketplace with millions of loyal customers.
Walmart gives accepted retailers the ability to sell their products and reach new customers via the Walmart.com online marketplace. For accepted retailers, Walmart.com is a great, affordable selling site. There are no monthly fees for accepted vendors and commissions range from 8 percent to 20 percent based on the product category.
Learn more about the way Walmart differs from Amazon.
1. Amazon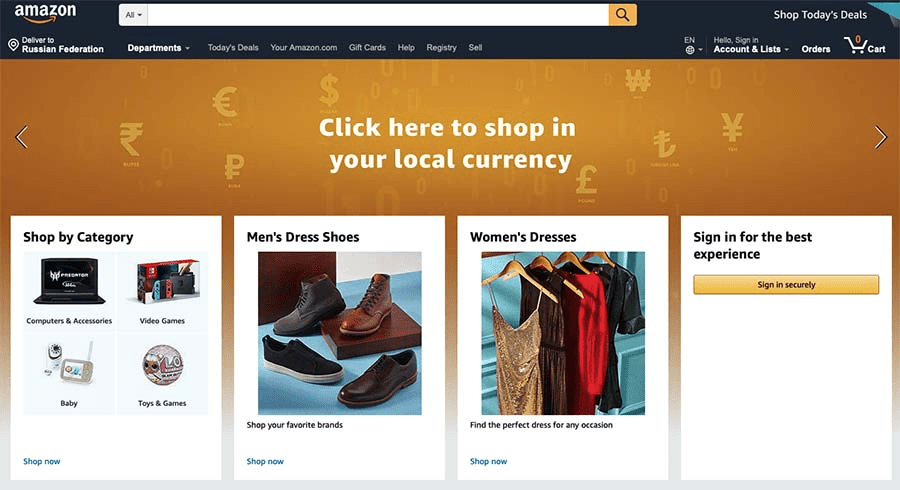 Amazon is widely known as one of the largest online selling sites. Their digital marketplace is probably one of the first platforms that comes to mind when considering selling items online.
Amazon's easy-to-use platform is great for selling a wide range of products and can be great when seeking to find new potential buyers.
The Amazon marketplace sellers program is divided into two tiers.
For individuals planning to sell less than 40 items per month, Amazon charges a flat $0.99/item + referral fee ranging from 6% to 45% (average fee of 15%). The referral fee is dependent on the product category, and whether or not the product is eligible for the Fulfillment by Amazon service. This service allows Amazon to store your products, handle customer service, shipping, and fulfillment.
Those who are planning to sell more than 40 items per month will need to enroll in Amazon's professional sellers' tier. This tier charges a monthly subscription fee of $39.99+ the same referral fee that is charged to individual sellers.
The professional seller program allows you to sell throughout North America, use bulk listing and reporting tools, customize shipping rates for your customers, offer gift wrapping and special promotions to select products, and make products eligible for top placement on product detail pages. The professional seller program also makes your products eligible for the Fulfillment by Amazon service.
With over 5 million merchants already selling successfully on Amazon, launching another store on this marketplace may sound like a huge task. Luckily, there are many tools, such as Seller Labs Pro, that can help you sell on Amazon (even if you're still a newbie). This AI-powered marketing platform is composed of four products that will help you crack the Amazon code, including:
Additional Resources:
Your All-in-One Guide to Selling Online
How To Sell On Amazon: Step-by-Step Guide For Beginners
Your Complete One-Stop Guide on Amazon Dropshipping [+ Examples]
Amazon SEO: How to Get Your Products Found on the Amazon Marketplace
eBay – The Original
Ebay is nearly synonymous with online selling. Ebay launched in 1995 as an online auction site and has become a global eCommerce website superpower.
The eBay sales fee is 10% of the total sale value, with a maximum fee of $750. For merchants who plan to sell more than 50 items per month, a $ 0.30 per item insertion fee may apply. For a full breakdown of what it cost to list on eBay, read this article.
eBay sales are a great way to increase turnover. Since setting up the automatic exports with X-Cart, our sales have increased by 20%.
Seller care able to customize their "eBay Store" to further entice potential buyers. This includes adding a banner image, displaying featured products, displaying large product pictures, determining product categorization, and creating customer newsletters.
For international sales, eBay sellers are able to sell products in 101 + countries utilizing the Global Shipping Program. When eligible for this program, products are stored in a Kentucky-based warehouse from where they can be shipped globally upon purchase.
Read more about eBay sales.
Final Selling Thoughts in Online Marketplaces
Thanks to the Internet, the absence of a brick-and-mortar location is no longer a barrier to your business' success. Business retailers can use numerous selling sites to market and sell their goods.
You can grow your small business successfully by choosing the right site to sell your products and while avoiding those with heavy fees or contracts. When selecting a selling site, it is imperative you utilize the sites that best match your product.
If you're looking to expand your digital presence further than product listings in the marketplaces mentioned above, check out our guide on everything you need to know about building an eCommerce site or better yet, schedule a personal meeting with one of our Solution Advisors to learn how X-Cart can be a foundation for your new business ideas.
Different buyers go to different sites. Know who your customer is and know where they shop. The rest is simple!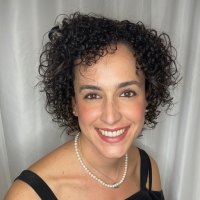 Carolina Lorenzzetti
Sr Marketing Manager, X-Cart & Seller Labs
Carolina is the Senior Marketing Manager at X-Cart. Results and data-driven, she has spent her career navigating through multiple disciplines within Marketing, and lately focusing on her passion: Content and Organic growth. She is fluent in 3 languages, with 14 years of experience leading B2B marketing strategies domestic & internationally. In her tenure, she has had the opportunity to navigate in multiple industries: Technology, Telecommunications, Construction, eCommerce and SaaS. An avid traveler, she's now halfway through visiting all of US' 50 States.
Subscribe to Our Weekly Newsletter to Get
Expert-Backed

Tips Straight Into Your Inbox

Awesome! You won't be disappointed 😉