←
Back to Blog
8 Video Marketing Statistics For 2020 (New Data)
This blog post was originally contributed by Nick Shaw, CRO of Brightpearl. He has written for sites such as Hubspot and Sap.
Business owners and decision-makers must keep their fingers on the pulse of sales and marketing trends. It's vital to know the desires, needs, and opinions of their target audience. That's how firms stay ahead of the curve.
One way to track those trends is by delving into statistics. You can get a good idea of how best to reach an audience by studying their current behavior. Stats on social media, email, and other channels can help you hone your marketing strategy.
Video marketing stats, meanwhile, are also invaluable. By tracking video trends, you can find out if video should be a part of your content marketing. You can also discover how such content may benefit your organization.
We've combed the latest studies and surveys for the most exciting video marketing statistics 2020 has to offer. We've then arranged them according to the most useful insights they provide. That should make it quick and easy for you to use them to create or improve your video marketing strategy.
Videos Boost Your Organic Search Traffic by 157%
Whatever you sell, from groceries to an inventory management system, organic traffic is crucial. The more visitors you can get to your pages, the more sales you'll make. Videos are proven to help boost organic traffic.
Video can increase organic search traffic to a website by as much as 157%. That's a significant increase by anybody's reckoning. Imagine the difference to your bottom line if you could double the amount of traffic you have now.
It can be easy to feature videos that add value to your pages, as well as earning more traffic. Adding customer testimonial clips to product pages is a prime example. It's a type of video that makes sense to appear on those pages. What's more, it provides an encouraging reason for a visitor to buy your product. Speaking of which…
More People Remember Video Than Any Other Content
The popularity of video isn't the only reason why the format should be a part of your marketing strategy. It's much more effective to convey information by video compared to any other media. Users watching branded videos find them more memorable than either photo or written content.
Across different age groups, it's video content that most sticks with consumers. That's because people tend to pay more attention to videos than other mediums. It's easy to skim or even ignore a blog post or email. You can just as easily scroll past a social media post. When you watch a video, you pay attention.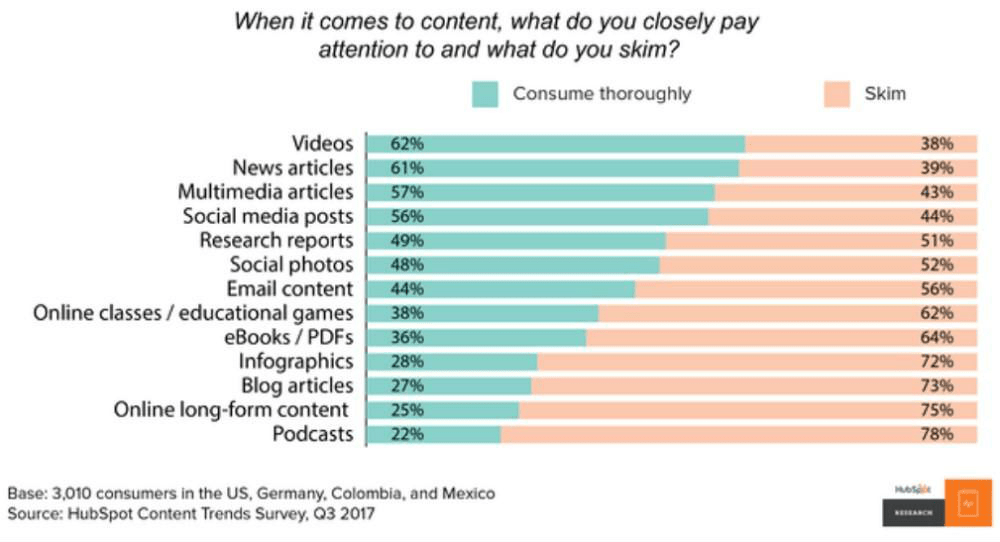 Content that sticks with a consumer is the holy grail for marketing. If you're trying to promote a product or spread a message, you want your content to have a long-lasting impact. Video is content that viewers pay real attention to, and that gets through to them. That's what the second of our video marketing stats tells us.
85% of Facebook Videos Are Viewed in Silence
Time was, a business had to rely on TV advertising to communicate with customers via video. Today, there are dozens of channels by which people can access and share videos. Firms can have videos on their sites, send them out on social media, or create their own YouTube channels.
What you can't do, though, is assume that you can use the same content across channels. That's because video is consumed differently according to where and how it's viewed. Take Facebook videos, for example. As much as 85% of the videos watched on that social network are viewed without sound.
Instagram also runs videos in a unique format. Stories on Instagram tend to be viewed in a full-screen, vertical format. That's very different from the landscape format videos are often watched on Facebook, YouTube, or elsewhere.
It's crucial to tailor videos that you share specifically for the platform. On Facebook, you'll want to include captions or lean on animations that make a point without sound. Different considerations, meanwhile, apply to videos shared by Instagram or other means.
A Tik Tok video, for instance, is short by design. Any content you share on that platform has to hit harder in a shorter period of time. Instagram's IGTV, meanwhile, is a channel that allows for longer, more in-depth videos.
45% of Consumers' Favor Video on Social Media
Social media is everywhere in the modern world. Most people have accounts on many social networks and use them daily. No good marketer can afford to ignore social media as a channel. Video is the favorite type of content for social media users.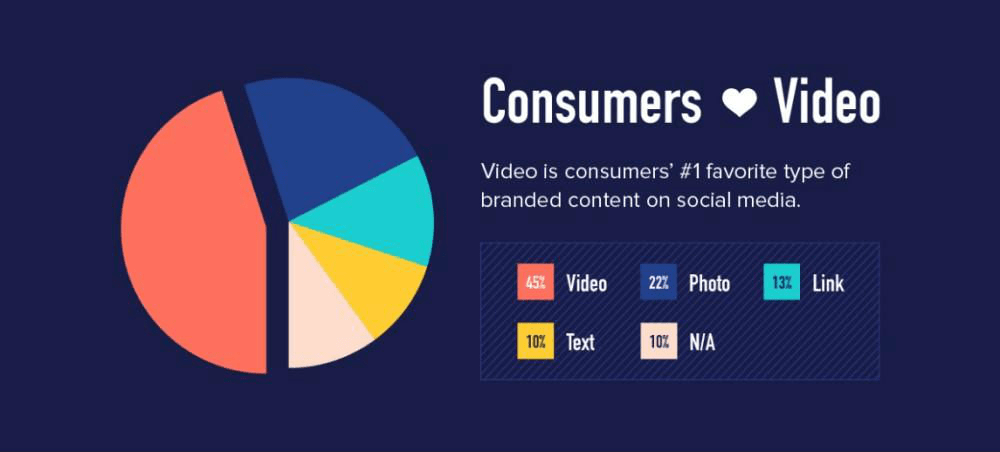 45% of consumers rate videos as their favorite branded content on social networks. That's almost twice as many as those who rate photo content as their preferred type. Social media users expect video content from all brands that they follow.
Consumers also want to see more video content from brands they follow or support. Whether that means live video or pre-recorded material. When marketers say video must be a part of your social media strategy, they're not overstating the fact. The social media video statistics prove it's the type of material your audience wants.
Visitors Stay 2.6X Longer on a Webpage With a Video
So far, we've focused mostly on online video consumption statistics. We've talked about how popular video is in general. We've also touched on how video is in vogue on social media, and how content must be optimized for each platform. What we're going to look at now is how video marketing can benefit you.
There is an array of ways in which featuring videos on your website, for instance, can aid conversions. A significant study by Wistia reveals the first of these. The research looked at 100 pages over three years. It showed that people dwell on pages with videos far longer than on those without them.
On average, the study found that visitors spent an average of seven minutes, 21 seconds on video pages. The standard for pages without video was only two minutes, 48 seconds. Video kept visitors on pages for an average of 2.6 times longer. That's a lot more time to get your message across or sell your product.
As well as using video on social media and via marketing channels, you need to get it featured on your site. It's content that captures the attention, and that can work wonders for your bounce rate.
85% of Internet Users Watch Videos Online
As an ecommerce firm, there will be lots of solutions and processes you use to support your business. You probably employ a CRM solution and maybe even a warehouse management system. Many online retailers have yet to wise up to the potential of video marketing. The fact is, though, that video marketing can be hugely beneficial to your bottom line.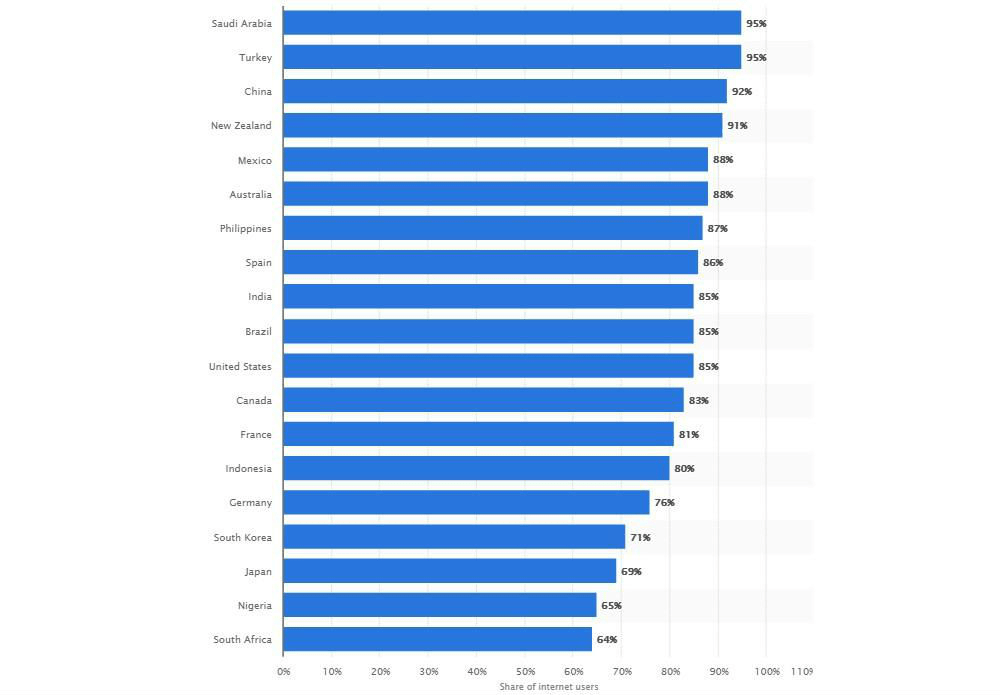 Video consumption globally is higher than it's ever been. According to Statista, in the USA, 85% of internet users reported at least sometimes watching videos on PC or mobile devices. The figure's even higher in nations, including Australia, China, and Mexico.
People spend far more time watching video content, too. YouTube has around five billion video views each day. A global forecast predicts that an average person will spend 84 minutes per day watching online videos in 2020. It also foresees that figure rising to 100 minutes in 2021.
Those averages include time spent watching subscription services like Netflix. It's not all branded video content. What the figures reveal, nonetheless, is that people's appetite for online video content, in general, is both high and rapidly increasing.
What these video marketing statistics tell you is that video content is something you can't afford to ignore. It's right up there with good product development and proper management of your inventory. Video is the kind of content that your audience wants. Having that insight is a first step toward improving how you market your product or service.
68% of People Watch Online Videos to Help With Purchase Decisions
Videos don't just help get people to your pages and keep them there longer. Videos also aid in turning site visitors into customers. There's lots of evidence that points to the fact that videos help consumers make purchase decisions.
Explainer clips are popular with consumers trying to decide whether to buy a product. A Google/Ipsos Connect survey found that 68% of YouTube users watch videos to help make a purchase decision.
The impact of videos on sales isn't restricted to traditional ecommerce, either. 69% of people have decided to buy or download a piece of software thanks to a video. SaaS firms, therefore, can reap the rewards from featuring video clips on their pages.
Alongside supporting multi-channel marketing, videos can boost conversions and sales. Whether you look to mobile video or clips on your site, the content format is one you can't afford not to exploit.
87% of Marketers Report a High ROI for Video Marketing 
If you do choose to embrace the power of video, you'll be in good company. A state of video marketing 2019 report showed that 87% of businesses use video as a marketing tool. That figure has risen sharply from 63% in 2017, and 81% in 2018.
One of the critical reasons for the increasing uptake of video is that video marketing ROI is high. Compared to other marketing tools, video delivers excellent results for a lower outlay. Close to 90% of video marketers say that they're satisfied with the return on investment that they get.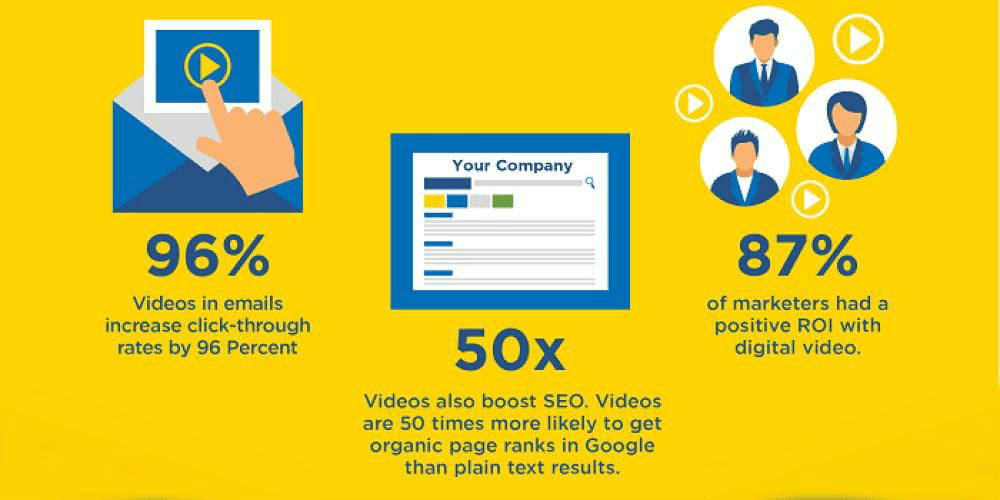 Video as a tactic has such an impressive ROI thanks to its many uses and areas of benefit. We've already shown the power of video via the above video marketing stats. That power extends across social media, SEO, and conversions. Video email marketing statistics also show the format's effectiveness in that area. Video truly is a media that your company can reap diverse rewards from if you use it correctly.
Video Can Boost All Aspects of Your Marketing
The above video marketing statistics reveal a range of invaluable insights. First, they show that if you haven't already embraced video, you're behind the curve. It's a content format that consumers love and which many firms already swear by.
What we've also learned is that video marketing is nuanced. There's no one answer to the question of how to do video marketing well. You need to understand your audience and the channel by which you intend to share any video content.
Get your video marketing right, though, and you'll reap the rewards. Video can get more people to your pages and keep them there longer. It can turn more site visitors into customers by overcoming their objections. That's all as well as helping you to spread brand awareness on social media, by email, and other channels.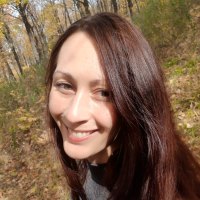 Maria Navolykina
SEO Content Specialist
Maria is an SEO Content Specialist at X-Cart. Once captured by digital and content marketing in her student days, she keeps living and breathing it ever since.
Subscribe to Our Weekly Newsletter to Get
Expert-Backed

Tips Straight Into Your Inbox

Awesome! You won't be disappointed 😉