←
Back to Blog
The Total Guide to The Best Free Video Editing Software [2021]
In 2020, video content is something that can help your business stand out. But creating impressive promos for social media channels like YouTube, Instagram, or Facebook requires good video editing software.
High-quality product videos have proven their value for businesses. According to Hubspot, 81% of businesses use video as a marketing tool — up from 63% over the last year.
Are you among those 81%?
If not, this guide might seem daunting, but don't let that put you off digging into video and what it can do for you.
If so, well done, but keep reading for even more ways to win with video and our recommendations for the best video editing software for your eCommerce needs.
Understanding Video Editing Software
What is video editing software?
Video editing software is a set of tools that are designed to edit, modify, or generate videos and movies. Video editing programs allow you to cut and rearrange video, add effects and sounds to express your ideas.
Why does my online store need it? What are the advantages of using video editing software?
Show, don't just tell! Video editing software is an opportunity to promote your eCommerce website and showcase your products and services more clearly and creatively.
It also provides the use of transitions, color correction, sound editing, captions, titles, and animated effects to present your products in the best light and to answer product questions before customers even need to ask.
To learn how to feature your products the best way possible, check out our Product Photography Guide. You'll learn how to set up your own studio, use light and shadows, and more.
Can a beginner learn video editing or is it just for pros?
It might seem hard until you get started. When you do, you'll see that a user-friendly interface and tutorials will make the whole process not only easy but pleasant, too. Just try to keep in mind your purpose: why you want to video editing and how you will benefit from it. Video is yet another tool for communicating and persuading. You can definitely learn the basics well enough to add sales-driving multimedia to your store.
Best Free Video Editing Software for Desktop
Today there are so many video editors for PCs and Macs and open-source operating systems that it's incredibly easy to create promotional videos for your business. If you're looking to save on editing apps while still getting plenty of features, here are your best bets. Keep in mind that video editing software for mobile is improving quickly and dramatically as tablets and phones become primary devices, but for now, the real power apps are for desktop.
Our picks for best video editing software for beginners and professionals.
1. VSDC Video Editing Software

VSDC is a light professional non-linear video editing suite for creating a movie of any complexity. This is a desktop software that offers both free and paid versions. Although the free version doesn't offer all of the advanced features, it's still a very decent option for creating videos. The VSDC free video editor review will provide you with all the information to make the decision if VSDC software is for you.
For those who are just starting, there's a complete VSDC free video editor tutorial available.
Main features:
Video stabilization
3D diagram templates
Color-correction tools
4k resolution to make your movies crystal clear
Available for Windows (Sorry, Mac people, your big chance is next.)
Pricing: Free; Pro version $19.99
2. iMovie Video Editing Software

iMovie is free video software for iOS and macOS. It offers a drag-and-drop interface, which makes this video editor extremely easy to use. Although you won't find such features as 360-degree video editing, multicam editing, and motion tracking, iMovie is still a good way to create powerful videos. And because it's from Apple, it's super intuitive.
Main features:
4k resolution to keep things sharp
Touch Bar functionality on the Mac Book Pro
iCloud integration so you can work on a video from any of your Apple devices
Major shareability via Messages on iOS and MacOs, easy uploads to YouTube and your social media channels
Special effects such as picture-in-picture and split-screen effects
Video filters that add a cinematic touch, including silent-era style, vintage appearance, and a futuristic look
Available for: Mac
Pricing: free as part of iOS and MacOs
3. Lightworks Video Editing Software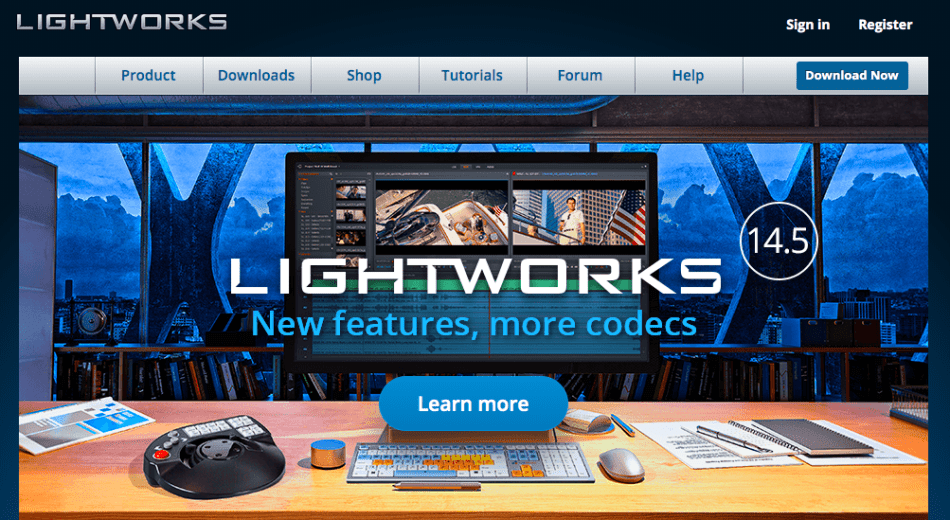 After 25 years on the market, Lightworks has proven itself to be stalwart video editing software. It has a simple and intuitive user interface, so it's easy to get started with. If you aren't familiar with Lightworks, check out the tutorials. Still not sure it's for you? Read the Lightworks reviews.
Main features:
Access to stock videos and music clips licensed for use
Real-time project sharing and the ability to set the editorial rights
Supports for various video formats
Multicam editing
Available for: Mac, Linux, Windows
Pricing: Free 7-day trial, $24.99/mo
4. Blender Video Editing Software

Blender is a free open-source 3D creation suite. It supports the entirety of the 3D pipeline — modeling, rigging, simulation, rendering, compositing and motion tracking, video editing, and 2D animation. If there's one thing this software is famous for it's unique Blender animation capability.
To see what users say about it, check out Blender video editing reviews.
Main features:
Fully customizable user interface
Large library of visual effects
Extensive modeling toolset
Wide range of animation features
Available for: Mac, Linux, Windows
Pricing: Free
5. Shotcut Video Editing Software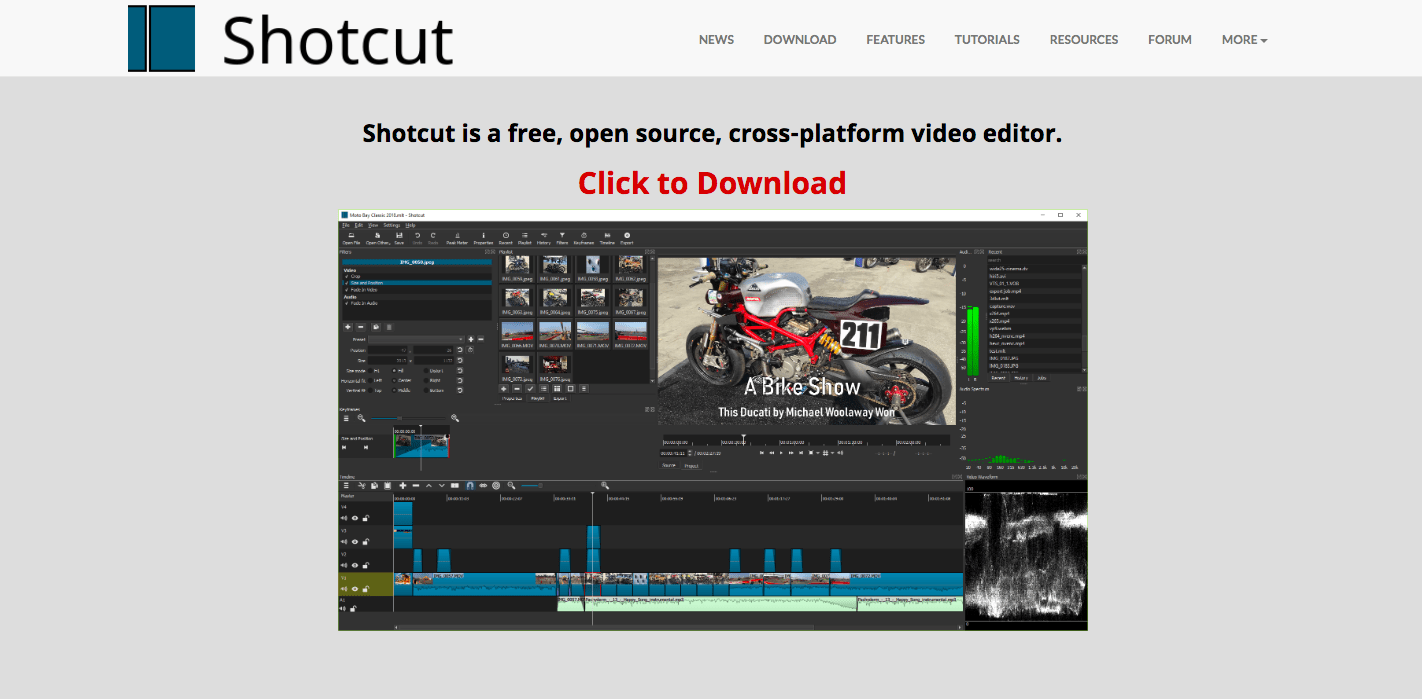 Shotcut is a party of a free, open-source, cross-platform video editor that supports a wide range of formats and offers 4k resolution. What users most appreciate in this software is its audio toolset. To get started with Shotcut, check out their tutorials.
Main features:
Various audio and video filters and video effects
Direct import of files right into project instead of importing it to the library first
4k resolution
Available for: Mac, Linux, Windows
Pricing: Free
6. OpenShot Video Editing Software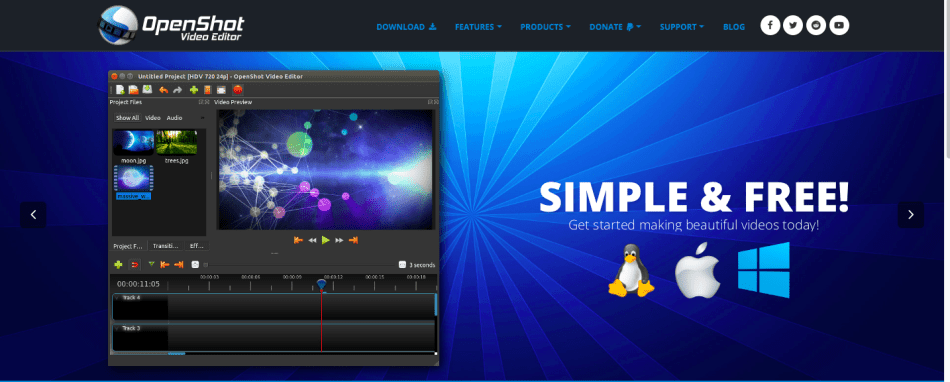 OpenShot helps users trim and animate video objects with its open-source video editing solution. It's a perfect fit for beginners with its easy-to-use interface and all the necessary features for those who are just starting.
Main features:
Built-in audio editing features, e.g. displaying waveforms on the timeline or rendering the waveform as part of a video
Desktop integration and full drag-and-drop support
Powerful keyframe animation framework capable of an unlimited number of keyframes and animation possibilities.
Available for: Mac, Linux, Windows
Pricing: Free
7. Adobe Premiere Pro Video Editing Software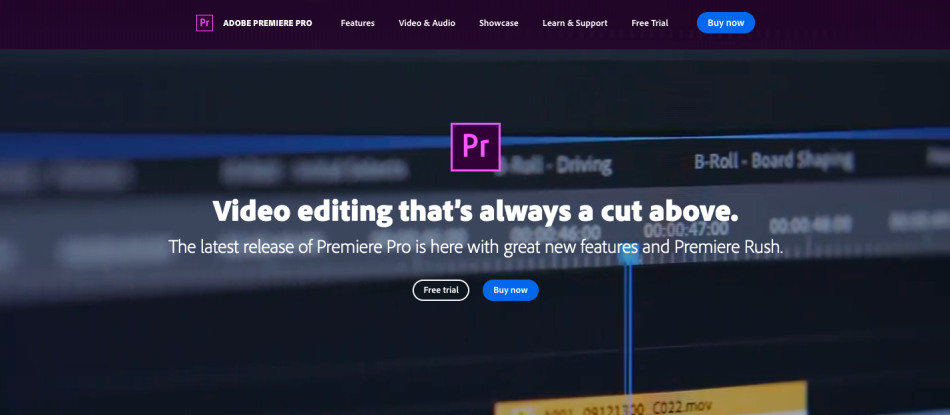 Okay, this one isn't free, but it's kind of the grandaddy of video editing so I'm including it. Adobe Premiere Pro is a video editing software for film, TV, and the web. Creative tools plus integration with other apps and services help you craft footage into polished films and videos. It is a great professional video editing software for download.
Main features:
Edit footage in any format, from 8K to virtual reality
Time-saving automated tools and integrated workflows
Seamlessly integration with other Adobe software such as Photoshop, After Effects, Adobe Audition, and Adobe Stock.
Includes Premiere Rush, a new all-in-one app that works across all devices.
Available for: Mac, Linux, Windows
Pricing: $20.99/mo
8. VideoPad Video Editor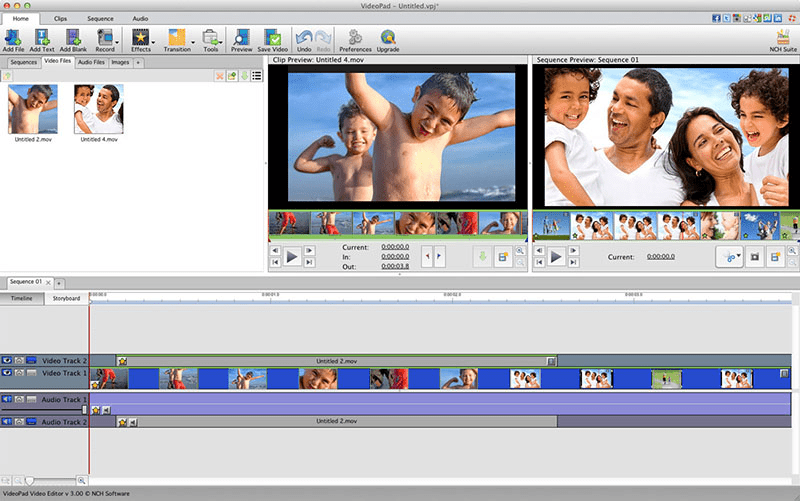 VideoPad is a professional video editing software for Windows. Use it to create movies and edit videos of various formats, including AVI, WMV, 3GP, WMV, DIVX, and more. It supports several languages: German, English, French, Italian, Korean, Russian, Spanish, and Chinese.
VideoPad is a good choice for beginners as it is easy video editing software that has a user-friendly interface and supports multiple languages for users all over the world.
Main features:
360-degree camera editing and output
Multiple exporting presets
Video effects and transitions.
Available for: Windows
Pricing: Free
9. Final Cut Pro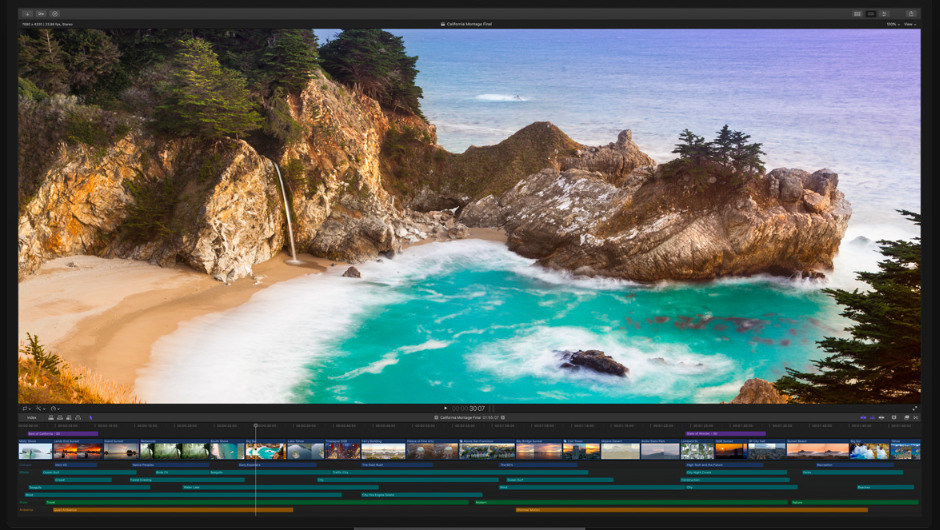 Another non-freebie that I include due to its longevity and reputation. Final Cut Pro is desktop video editing software that allows you to edit more complex projects and work with larger frame sizes, higher frame rates, and more effects — all at blazing speeds. And it's built to harness the extreme power of the new Mac Pro for next-level performance. AV pros love this software and have made it the industry standard for Mac users and creatives.
Main features:
360° video editing and VR headset playback
Advanced color grading, HDR support, and ProRes RAW
Advanced multicam editing to sync up to 64 angles of video with different formats, frame sizes, and frame rates.
Powerful noise reduction tools that reduce or eliminate grain and video noise.
Available for: Mac
Pricing: $299.99
10. Movie Maker 10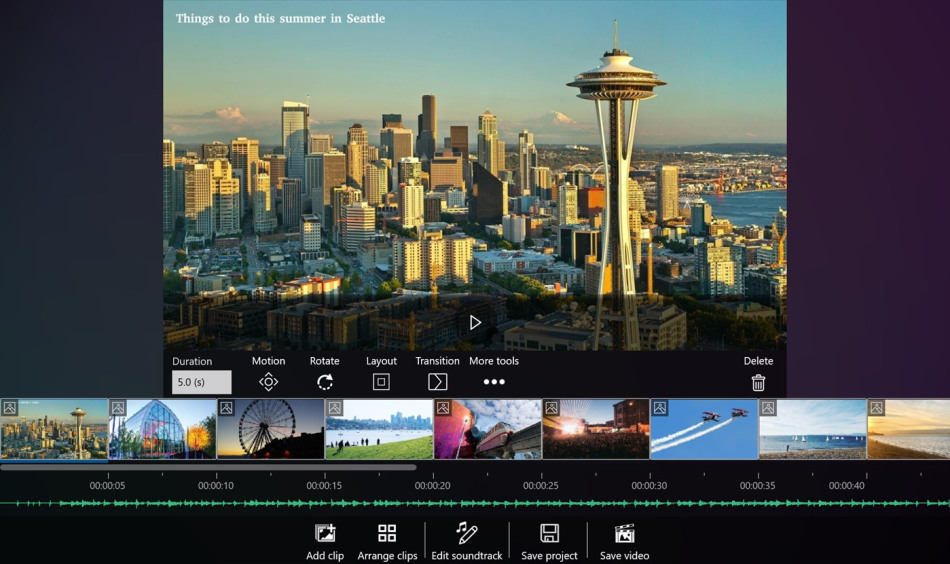 Movie Maker 10 is a good video editing software for Windows. It's a simple video editor that will allow you to do the basics and create short videos. No fuss, no frills, just get 'er done.
Main features:
Easy-to-add music, text, and titles
Support for most popular media formats: MP4, WMV, MKV, MOV, AVI, MPEG, MTS, JPG, PNG, GIF, MP3, M4A, WAV.
Customizable appearance and duration of photos and videos.
Available for: Windows
Pricing: Free
11. DaVinci Resolve 16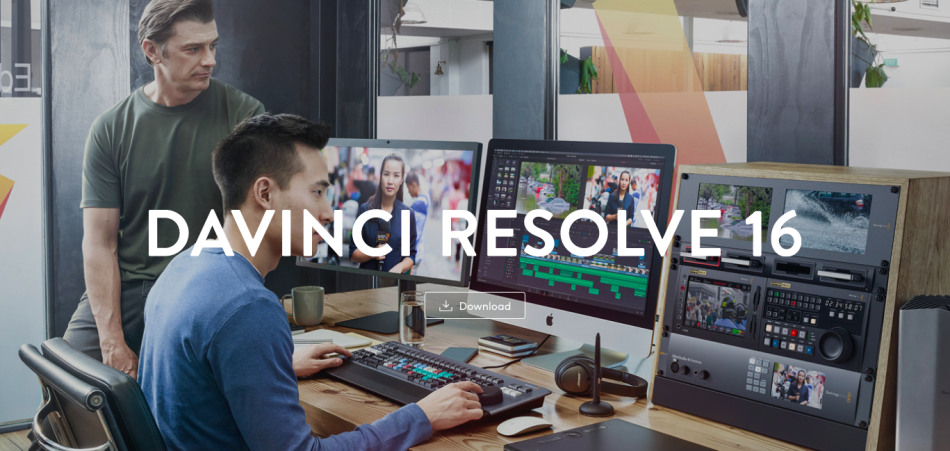 DaVinci Resolve 16 combines professional 8K editing, color correction, visual effects, and audio post-production all in one software tool. It's designed for multi-user collaboration so editors, assistants, colorists, VFX artists, and sound designers can all work live on the same project at the same time.
Main features:
Custom timeline settings allow users to create timelines with different frame rates, resolutions, monitoring and output settings in the same project
DaVinci Neural Engine detects faces in your clips
Easy-to-apply stabilization with full camera lock, zoom, smooth, and strength controls right on the Edit page
Blend modes, transformations, ResolveFX, color grades, and more
Available for: Mac, Linux, Windows
Pricing: Free, $269 for the extended version
12. Promo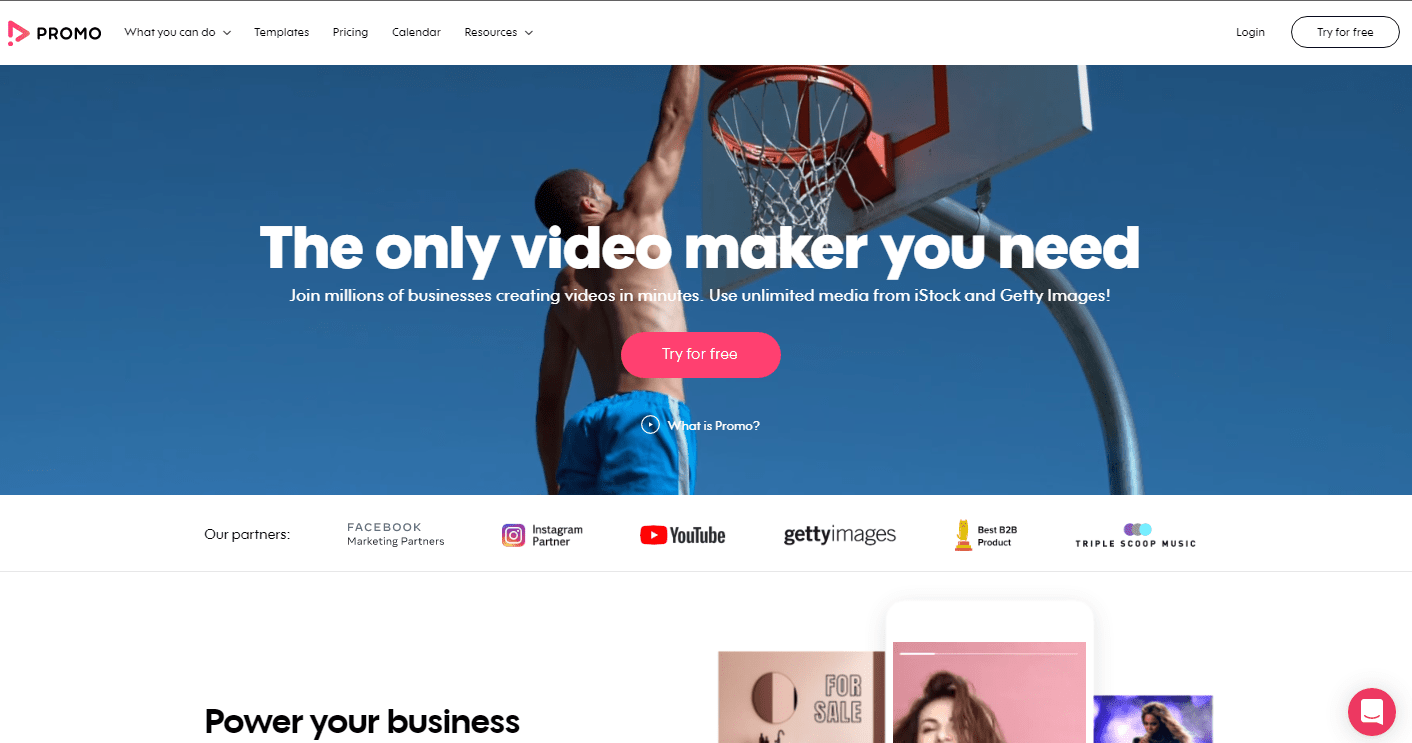 Promo is an online video maker and video editing software that gives you everything you need to make high-performing videos that will boost your business. We are ready to use templates for any kinds of business types and it fits all types of contents. With Promo, you can also make video advertisements freely and easily. Promo helps you to promote your business or products, improves brand awareness, widen your reach, and engage your customers.
Main features:
Easy to add subtitles or captions
Adding a lyric to your videos
Easily to cut your video in one of our tools online video cutter and easy to resize or compress the video
Support media formats mp3, mp4
Available for: Windows, Mac, Mobile app
Pricing: Free 1-mo trial, $18.00/mo
13. Veed.io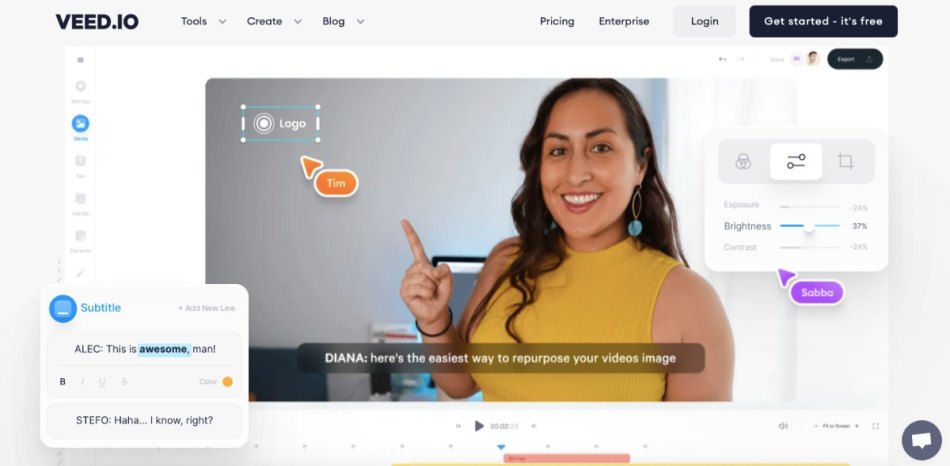 Veed.io is a powerful online video creation tool that makes it easy for you to create, share, and track videos. With Veed.io, you can create professional-quality videos in minutes without learning complicated software or hiring a video team.
Main Features:
Video Editor Add Image, Text, Music, and Etc. to a video.
Subtitles and Transcriptions Add Subtitles, Auto Subtitle, Audio to Text, Translate video &, etc.
Recorder (Screen Recorder, Voice Recorder & Web Recorder)
Video Compressor
With Veed.io, the possibilities are endless! Create marketing videos to promote your business or explainer videos for your website or application. You can even use company overview videos to show off what you do and who you are, or launch a product with a fantastic product launch video.
Available for: Any Type of Desktop OS (Web-based Video Editing tool)
Pricing: Free, Premium($18), Pro ($30).
Okay, So Which Video Editing Software Is Best for You?
It all depends on what you need, your skill level, your operating system, how many features you want, etc. Here are our recommendations based on most eCommerce entrepreneurs' needs.
Simplest video editing software for Mac:
Top free video editing software options for Windows 10:
Movie Maker 10
VideoPad
VSDC
Best video editing software for YouTube:
Adobe Premiere Pro
Final Cut Pro X
Shotcut
Easiest video editor for newbies:
Lightworks
OpenShot
VideoPad
Best free video editing software for adding captions:
Best video editing software that supports vector images:
Best free video editing software with no watermark:
DaVinci Resolve
Lightworks
OpenShot
Shotcut
VSDC
Next Steps
First determine your business goals concerning video creation. If you don't have a measurable goal or a purpose, even the slickest of videos is really just a waste of your resources. Once you know your purpose and priorities and how to measure performance, you're ready to choose the best free video editor.
And remember that if you're adding videos to your online store (product pages, blog, testimonials, etc.), you need to have a strong, secure online sales platform and an awesome website.
X-Cart can help with both. Create your online store today with a scalable eCommerce website installed and hosted by us. Schedule a quick call with our solution advisors to find out more about the platform's capabilities.
And if you're already selling with X-Cart, check out the add-ons available to help you drive new traffic and deliver even more value to your existing customers.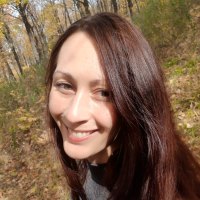 Maria Navolykina
SEO Content Specialist
Maria is an SEO Content Specialist at X-Cart. Once captured by digital and content marketing in her student days, she keeps living and breathing it ever since.
Subscribe to Our Weekly Newsletter to Get
Expert-Backed

Tips Straight Into Your Inbox

Awesome! You won't be disappointed 😉