←
Back to Blog
Is Affirm Worth It? Answering the Most Common Questions About the New BNPL Integration
As an online seller, you never stop perfecting your customer experience routines, the checkout process being its most significant part.
A long list of "must-haves" that make an ideal checkout process includes user-friendly UI and UX design, diverse fulfillment options, and a wide range of flexible and trending payment gateways.
Despite being a relatively new payment model, Buy Now Pay Later (also known as BNPL) is quickly becoming one of the most prominent eCommerce payment trends. What happens is that pay over time services keep winning affections among online store owners and their customers, and the installment payment options through Affirm are no exception.
Side note: Unlike traditional credit cards, the Buy Now Pay Later concept offers more customer-friendly financing options, allowing buyers to get the purchased item right away, but pay for it at their own pace. At the same time, online merchants get the total amount upfront, which helps to avoid headaches with delayed payments. The flexibility and transparency of the payment processing make BNPL a win-win deal for both sides.
Going by C+R Research, Affirm loans retain the # 3 spot among the most commonly used Buy Now Pay Later companies, such as Klarna, Afterpay, or Splitit, to name a few.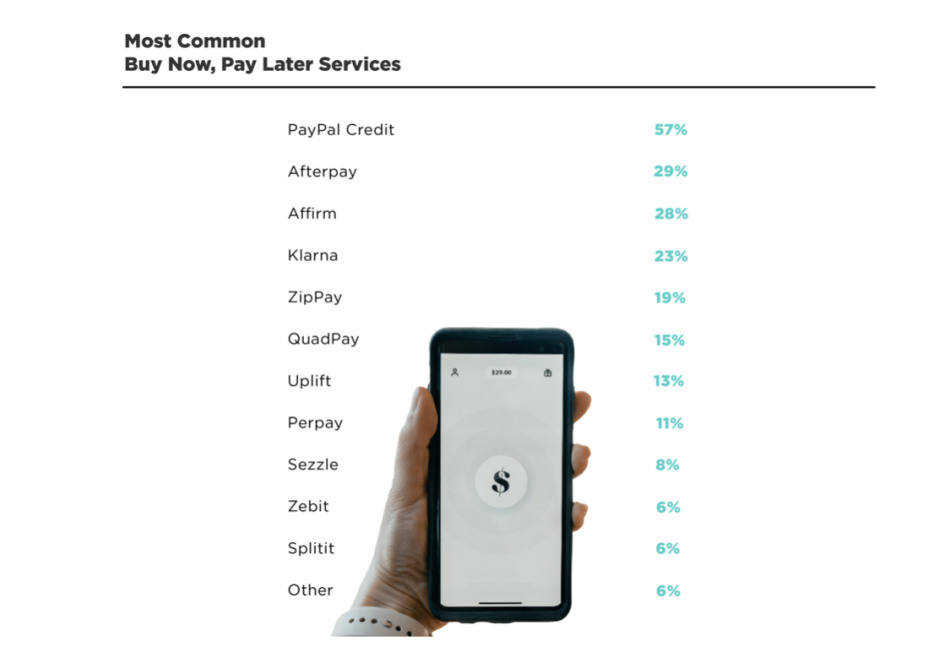 At X-Cart, we've seen firsthand how big the demand for Buy Now Pay Later options is among online merchants. Therefore, with an array of easily integrable eCommerce no-code tools available within your X-Cart online store, we are now offering a new installment payment method in solid partnership with Affirm.
Read on as we break down what Affirm payment option is to online sellers, cover its main features for online merchants, and touch upon the benefits of the Affirm integration connected into your eCommerce website.
So, let's drill down into the details right away.
What is Affirm to an Online Seller?
Affirm is a personal finance provider that offers flexible point of sale loans allowing shoppers to spread out payments over different term lengths. Although Affirm is known for its interest-free payment plans, it doesn't guarantee that a borrower will qualify for 0% interest financing.
Thus, depending on the term length, customer's payment history, and eligibility, the Annual Percentage Rate (APR) can vary between 0% and 30%.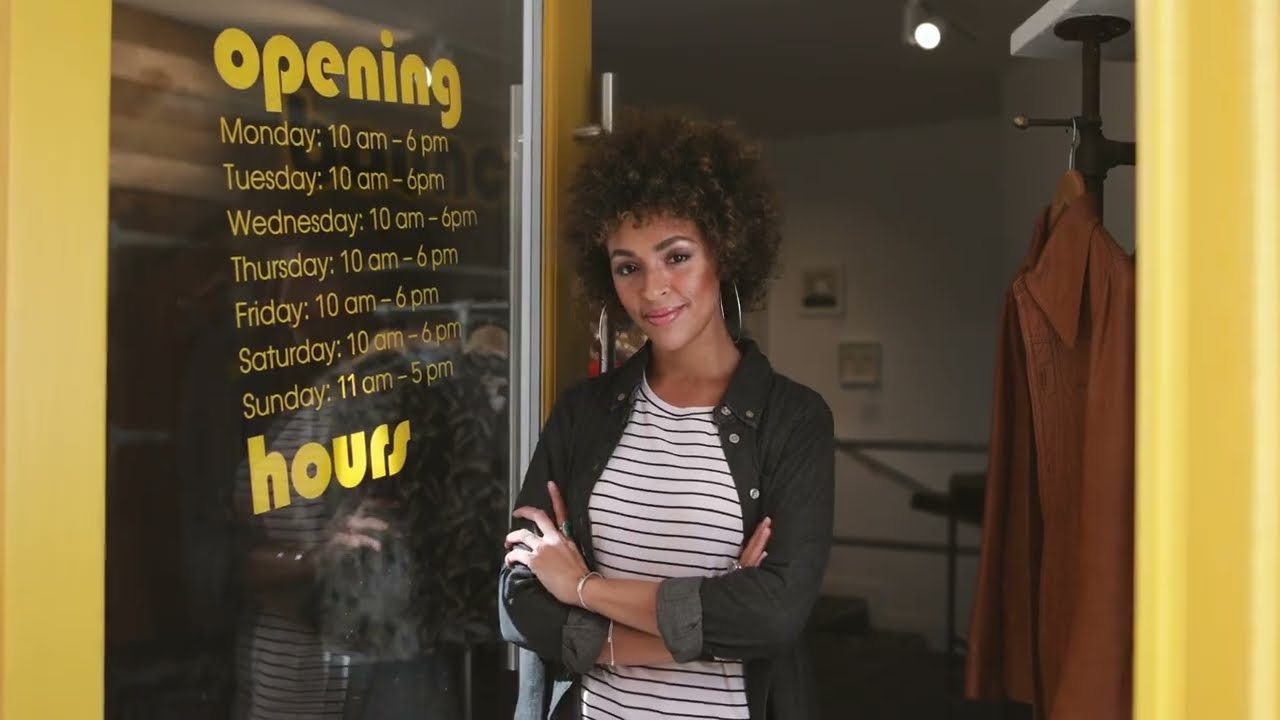 Can Affirm Affect Buyers' Credit Score?
Short answer: Yes!
Even though Affirm performs a soft inquiry of its borrowers' credit histories that doesn't show up on their credit reports, it can still affect the credit score of their customers.
When first introduced, BNPL services didn't widely report to credit bureaus. As of now, Affirm does report the whole customer's payment history to Experian, but for a few instances: 0 % interest four-month loans with biweekly payments and loans with a three-month payment term and 0% APR.
Another side note: In case of late payments, Affirm will report this to Experian without exception.
Does It Mean that BNPL Can Also Help Online Buyers' Credits?
Short answer: Also Yes!
Accurate and timely payments can help online shoppers build their credit history, whereas late payouts can hurt their credit score.
How Much Does Affirm Charge Merchants?
Like any other financing company, Affirm charges merchants a percentage fee for every transaction, plus a merchant discount rate (MDR), which can vary by business type and size.
Although the fees are not publicly disclosed, most estimates are around $0.30 per sale.
Quick Note from "Yours Truly": I would also double down on the fact that online merchants pay no integration fees, nor do they pay annual or monthly fees for using Affirm services.
How to Start Offering Affirm in Your Online Store
Affirm works with online businesses regardless of their sizes, and across various industries.
To be eligible, an online entrepreneur should sell directly to U.S. consumers, have a U.S. based bank account, a website in English, and prices listed in USD.
Side note: Affirm maintains a list of prohibited products and services and will not work with companies selling unauthorized goods, controlled substances, pseudo-medical products, firearms, knives, explosives, or incendiaries.
Once you meet the Affirm eligibility requirements, you should complete an application and create an account.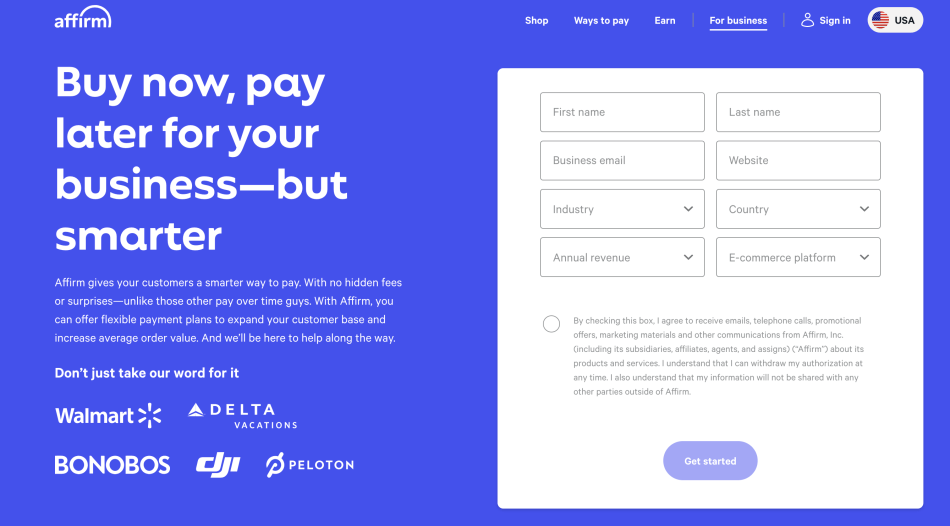 Online sellers also specify their average order value, annual revenue, and eCommerce platform, along with the basic information, such as your company name, phone number, and email. Typically, it takes Affirm from one to three business days to approve the application.
What Are Multiple Financing Programs?
With applications such as Affirm, online sellers can selectively offer custom financing programs to shoppers based on product or cart attributes that are defined in their eCommerce platforms.
The terms and conditions for any financing program determine interest rate range, loan term length, and merchant fee (MDR), which are agreed upon by Affirm and online merchants.
Important note: Not all merchants qualify for custom financing programs. Please contact Affirm Client Success team for details: merchanthelp@affirm.com
Multiple Financing programs (MFPs) are built by the Affirm Client Success team specific to each online merchant and base on:
Product/cart attribute

Cart amount
Product price
Product SKU
Product brand

Time/date

Weekend offers
Holiday offers
Date range
Time of day
Once the financing program is created, online sellers get a financing program ID and Promo ID from the Affirm Client Success team. These IDs should be utilized in the specific sections during the MFPs implementation and setup.
You can apply custom financing programs at your checkout via Direct API integration or by integrating the Affirm plugin into your eCommerce platform.
Affirm Features and Tools for Merchants
Known for its client-oriented approach, Affirm comes up with an array of handy features for shoppers and sellers alike. Whereas a streamlined and automated payment process makes the online store performance transparent and easy to leverage, it also plays the first fiddle when it comes to customer loyalty.
Thus, to help you form a complete picture of how Affirm can level up your online business, we've put together its most prominent features, designed for online sellers. Plus, we've mustered up a bonus pack of tools that are intended for customers but imply some extra value to merchants as well.

So, let's break down the nuances right away.
Affirm Features for Online Sellers:
Merchant dashboard. Affirm dashboard provides a robust user interface. Through this interface, each online seller can view transaction data, manage charges, access API keys, and configure the merchant's Affirm account.
Brand-sponsored promotions. Affirm can help large and diversified online merchants work out brand-specific promotional financing offers and maximize their bottom line. This is possible when promotions are initially funded by the online sellers' suppliers.
Whereas suppliers cover the costs of the lowered APR for their products, online merchants gain a powerful alternative to markdowns, as they can increase sales with no impact to their margins. At the same time, suppliers can sell through additional volume.
Flawless integrations with eCommerce platforms. All in all, Affirm partners with 47 eCommerce website builders, such as X-Cart, OpenCart, BigCommerce, and Shopify, to name a few.
Flexible marketing capabilities. With a powerful Affirm marketing toolkit, you can include the details about Affirm in your marketing content across the website: from social media posts announcing the Affirm partnership and landing pages with specific interest-free financing offerings, to seasonal email campaigns, and abandoned cart reminders offering the pay later option.
Affirm has seen firsthand that online merchants can significantly improve customer engagement and maximize their bottom line with the right marketing tools.
A major player in the aftermarket auto parts and accessories industry, SuperATV discovered a 333% increase in Affirm sales volume after incorporating Affirm messaging on product display pages.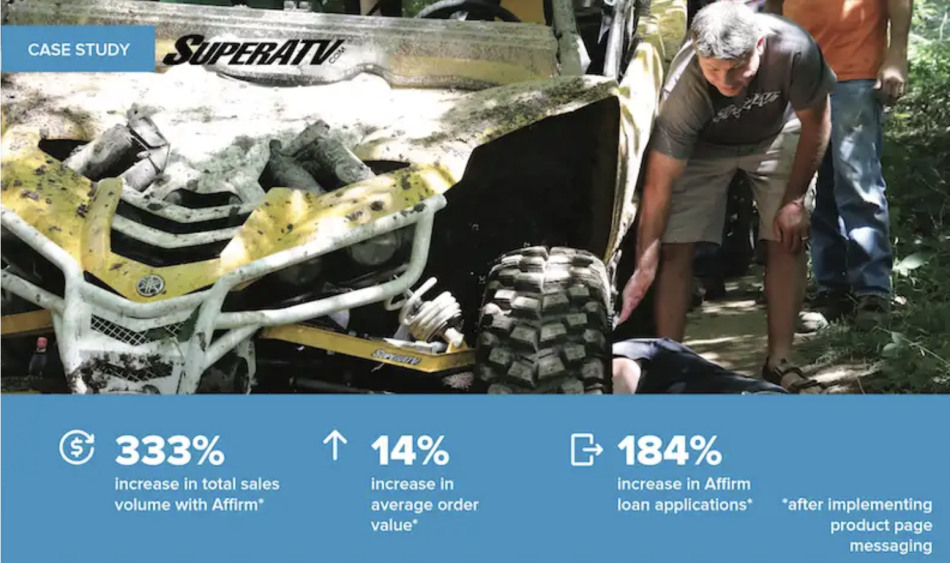 Quick Summary: Besides a flexible and transparent online store checkout, online merchants gain valuable insights into their customers' shopping behavior via enhanced analytic tools.
On top of that, their brand's appearance in the Affirm app can unlock many ways to grow revenue and continuously drive traffic through integrated campaigns, social media, and email marketing.
Affirm Features for Online Shoppers
Along with its well-known and established functionality, Affirm keeps developing brand-new features and services designed to meet buyers' needs and help online merchants deliver the golden standard of customer experience.
Features
Benefits for
online shoppers
Benefits for
online sellers


 Adaptive Checkout
– no late or hidden fees
– optimized and
personalized
set of financing options from which to choose
– customer acquisition
– sales growth without discounting
Debit + Card
– pay upfront like with an everyday debit card 
– split eligible purchases over $100 into four interest
-free payments
cashback rewards
– SKU-level data analytics 
– valuable insights into ads and marketing channels helping
to target customers
Affirm Super App
– timely insights into spent amounts and outstanding payments
– exclusive offers tailored based on the buyers' shopping preferences
– enhanced customer loyalty 
– increased repeat purchase rate and  AOV (Average Order Value)
1. Adaptive Checkout
As always the case with Affirm, customers never pay more than they agree to upfront and are not charged any late or hidden fees, while being offered an optimized and personalized set of payment options to choose from.
From an online seller's perspective: By pairing installments with 0% interest promotions, online sellers can attract more customers. They can also apply target promotions across their entire inventory or on particular products to boost conversion rates and grow incremental sales without giving discounts.
2. Debit + Card
The new Affirm Debit + Card enables online shoppers to pay upfront, like with an everyday debit card, or split eligible purchases over $100 into four interest-free payments. In addition, Debit + empowers users to pay for purchases instantly and earn cashback rewards.
From an online seller's perspective: With Affirm, you can leverage SKU-level data to understand what a specific consumer is buying or interested in, as well as the time of day they are buying something, and which marketing channels lead to a purchase. This will generate real insights for the merchant because they can identify which ads are most effective and how to better target current or potential customers.
3. Affirm Super App
In the new, improved Affirm App, your customers can see their Affirm snapshot, including the amount spent and the outstanding payments. They are also empowered to earn cash back rewards and shop exclusive offers, tailored based on their shopping preferences.
Side note: Additionally, Affirm rolled out its Chrome extension that allows online shoppers to buy online using Affirm right from their desktop, while managing their Affirm loans just like they do via the Affirm portal or through the app.
From an online seller's perspective: Online merchants have access to Affirm consumer base via the Affirm app, which allows them to provide personalized offers based on consumers' spending patterns, shopping habits, and purchase intent.
On top of that, they can take advantage of the bump in the customers' purchase activity backed by the security, convenience and ease of use that the Affirm App provides to its consumers.
What Are the Main Affirm Benefits?
While customers feel safe and confident keeping their budget under control, online merchants benefit from their loyalty. In terms of eCommerce, this translates to higher conversion rates, expanded customer base, and increased average order value.
Along with that, Affirm can back you while developing an efficient sales strategy and creating a winning marketing plan to boost your online store performance significantly.
So, here's a quick overview of the main benefits that your eCommerce business will enjoy with Affirm in its corner.
Main Affirm benefits for eCommerce businesses:
Advanced customer acquisition strategy
Higher conversion rates
Increased AOV (Average Order Value)
Boost in overall sales
Decreased cart abandonment
Powerful marketing opportunities
Improved customer loyalty
Seamless integration with eCommerce platforms
Competitive advantage over the sellers that do not offer BNPL at the checkout
Affirm Integration with X-Cart
Affirm offers plenty of simple integrations with the popular eCommerce platforms.
Alternatively, you can connect Affirm to your online store via direct API integration, provided that your website is backed by an open-source eCommerce platform.
With the X-Cart Shopping Cart solution, you can download the Affirm App in a few clicks and then enable and configure it with no coding skills required.
For this purpose, X-Cart offers its customers a newly-designed Affirm add-on that empowers X-Cart stores with the Affirm BNPL option and allows them to:
Accelerate customer acquisition by knocking down the price as a barrier
Manage and process Affirm charges in your order management system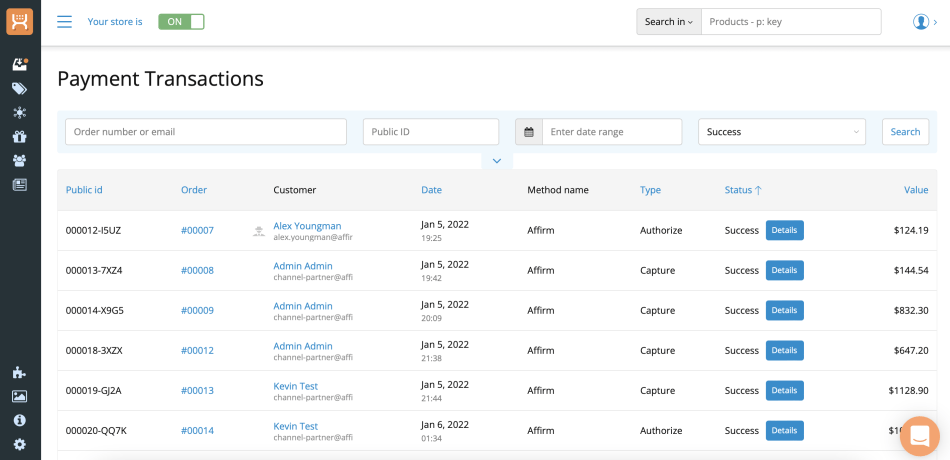 Enhance customer engagement opportunities by enabling Affirm promotional messaging at every phase of the shopping journey.
Affirm integration is compatible with X-Cart store version 5.4.1 or above and can be effectively implemented within all the X-Cart solutions: X-Cart Platform, X-Cart Auto, and X-Cart Marketplace.
If for whatever reason you prefer not to burden yourself with the add-on setup, you can reach out to our technical support team and let them do the heavy lifting for you.
FAQs
The Bottomline
Incorporating Affirm into your online store's arsenal of payment options can be highly beneficial. Although it's up to you to decide whether Affirm is worth the cost, we are sure that our newly-designed Affirm integration can give your eCommerce business a new lease on life.
Ready to add Affirm to your online store checkout?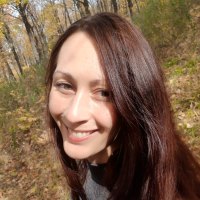 Maria Navolykina
SEO Content Specialist
Maria is an SEO Content Specialist at X-Cart. Once captured by digital and content marketing in her student days, she keeps living and breathing it ever since.
Subscribe to Our Weekly Newsletter to Get
Expert-Backed

Tips Straight Into Your Inbox

Awesome! You won't be disappointed 😉