←
Back to Blog
3 Undeniable Benefits of PayPal Pay Monthly Payments for Your Auto Parts eCommerce Store
For an automotive aftermarket online business, being adaptable and resilient is crucial. Much like flex-fuel vehicles designed to run on more than one type of fuel, auto parts stores that offer personalized payment methods outperform the competition through their flexibility.
Adding one or several Buy Now Pay Later (BNPL) options to your checkout is a clear win. With 22 million PayPal customers already tapped into the Pay Later option and a recent launch of a new Pay Monthly loan, we can safely say that PayPal consumer financing is gaining momentum.
In this blog post, we'll break down what PayPal Pay Monthly is, cover how it differs from the Pay in 4 payment plan, and highlight its main benefits for an auto parts online store. Let's get this show on the road right away!
What Is PayPal Pay Monthly?
Starting June 2022, the PayPal Credit option is no longer offered within the Pay Later consumer financing replaced by Pay Monthly. As the name suggests, Pay Monthly is an installment payment plan with flexible monthly payouts designed to match shoppers' long-term budgeting preferences.
Unveiled as part of PayPal Pay Later offering, Pay Monthly is available to customers as a payment option at the online store's checkout. They can opt to use either a debit card or a bank account for repayment and manage their payments through the PayPal app or online with the benefit of autopay.
Side note: Unlike interest-free, short-term loans offered by Pay in 4, PayPal monthly installments are subject to credit approval. If approved, shoppers will have three different payout options with a 6-month, 12-month, or 24-month repayment period. For these loans, PayPal charges APRs ranging from 9.99% to 29.99% based on consumer credit eligibility. The lender for Pay Monthly is Webbank.
For online sellers, Pay Monthly is key to a higher customer lifetime value (CLV) and a healthy bottom line.
And here's why.
According to Greg Lisiewski, Vice President of Global Pay Later Products at PayPal, the company rolled out this new BNPL product to align with the growing shoppers' demand for flexibility in paying for large purchases.
To a certain extent, Pay Monthly is PayPal's response to the current economic challenges that American consumers now face. Whereas the overall price spike urges customers to keep a tight hold on their wallets, the new service is a solution to the inflation-related decline in consumers' purchasing power.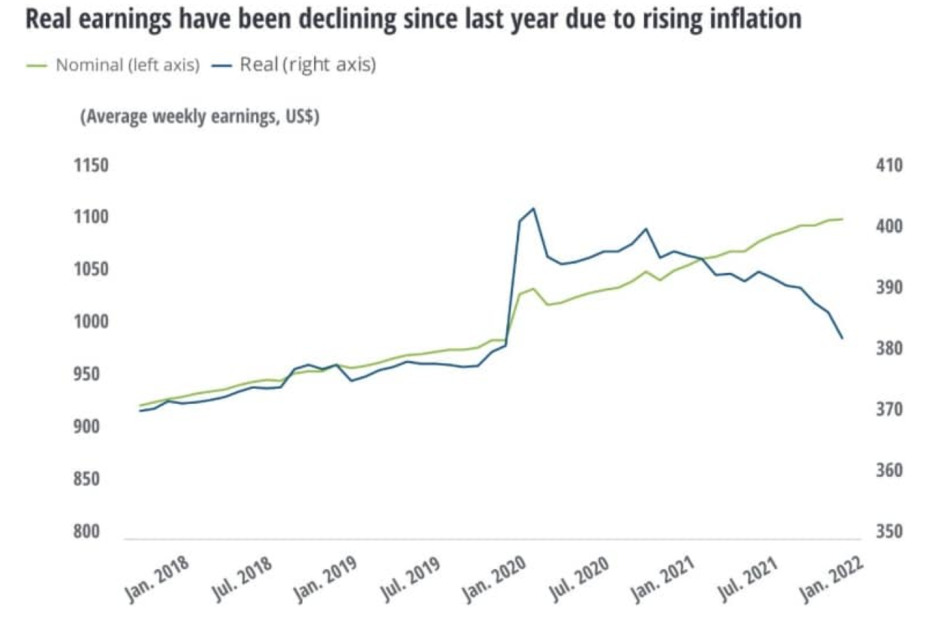 With PayPal Pay Monthly, shoppers are incentivized by the convenience of paying for big-ticket purchases over time, while merchants get paid upfront with no additional risk or fees. This makes PayPal Pay Monthly a win-win deal for customers and sellers alike.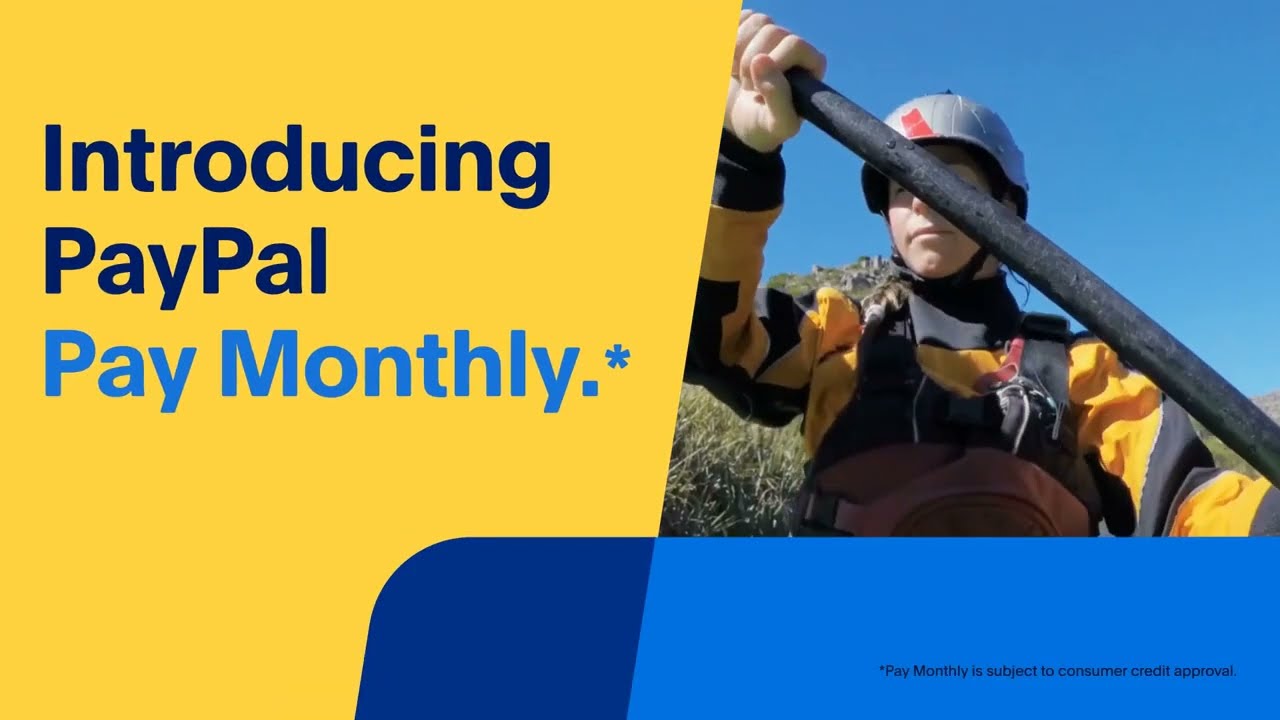 Pay in 4 vs. Pay Monthly
On top of Pay Monthly comes the Pay in 4 financing option. Let's take a closer look at both Pay Later payment plans to spot their similarities and differences.
Pay in 4

1

Pay Monthly

2

Purchase amount
purchases of $30 to $1,500
purchases between $199 and $10,000
Loan terms
short-term installment option with
4 bi-weekly interest-free payments
long-term installment option
with monthly payments over
a 6–24-month period, with the
first payment due one month after the purchase
Annual Percentage Rate (APR)
0% APR
APRs from 9.99% to 29.99%
PayPal Seller Protection
✔
✔
PayPal Purchase Protection
✔
✔
Repayments
repay using a debit card, credit card,
or confirmed bank account
repay using a debit card
or bank account
Similar to Pay Monthly, Pay in 4 allows splitting purchases into manageable payments. However, it is not meant for targeting high-ticket customers, taking a back seat to Pay Monthly as a payment option that helps shoppers align their budget to long-term expenses.
How Can Your Auto Parts Store Benefit from PayPal Pay Monthly?
Partly a result of the post-pandemic microchip supply chain bottlenecks, the shortage of new motor cars exploded the demand for auto parts for previously owned vehicles. At the same time, the global inflation surge fueled the overall price increase, and car parts are no exception.
According to the U.S. Bureau of Labor Statistics, the consumer cost of motor vehicle parts and equipment increased by 14.9% compared to 2021.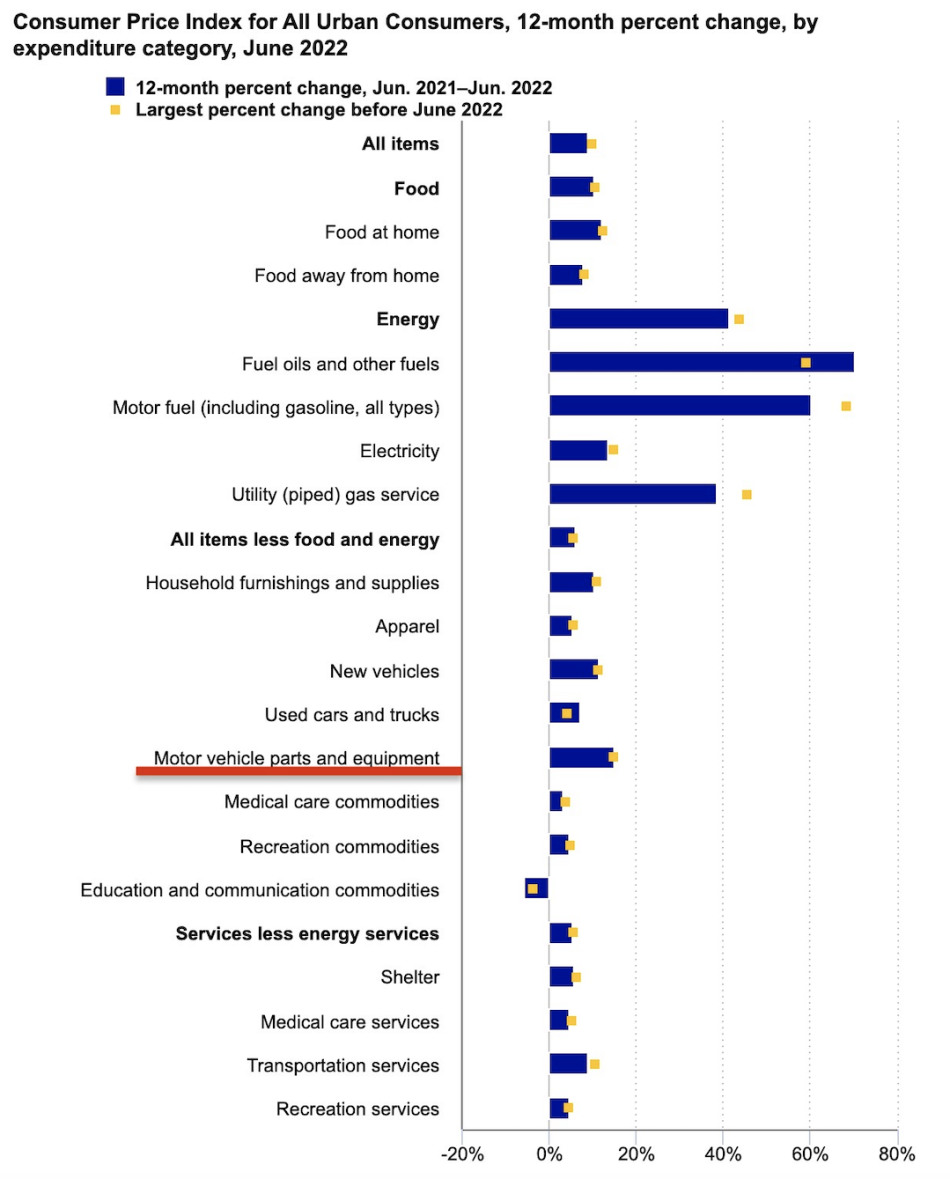 While auto parts are getting pricier, they are in a sweet spot for those retailers who offer PayPal financing at their checkout. According to PayPal, 31% of the U.S. online retailers offering installment payments say they help increase sales.
We'll give you at least three reasons to add the PayPal Pay Later option (that includes the Pay Monthly plan) to your auto parts eCommerce store's checkout.
1. Maintain Sales Despite the Inflation
For the estimated 56% of Americans who cannot afford a $1,000 emergency expense, buying an air intake system, a new set of winter tires, or a new transmission now feels like a catch-22.

Since motor vehicle owners are projected to spend an average of $940 on auto parts by 2030, offering them long-term and flexible payment options to cover their expenses is a wise idea.
An eye-opener: One of the online sellers' main perks with PayPal Pay Monthly is getting more high-ticket sales. You don't just remove price as a barrier but offer shoppers a transparent and predictable way to pay for large-ticket items over the selected time.
Summing up: With the Pay Monthly payment plan, you can ease your customers' budgeting headaches and encourage them to repeat purchases, significantly improving your conversion rates and average order value.
2. Solidify Brand Trust & Customer Loyalty
Do you know that customer-centric businesses are 60% more profitable? When it comes to building a successful auto parts business, it is not just about sales but the car enthusiasts' community and superior customer experience.
When you offer your customers flexible financing options, you show them that you put their needs first. Furthermore, with Pay Later dynamic promotional messaging, you let shoppers know upfront what they're going to pay and how it will fit their budget.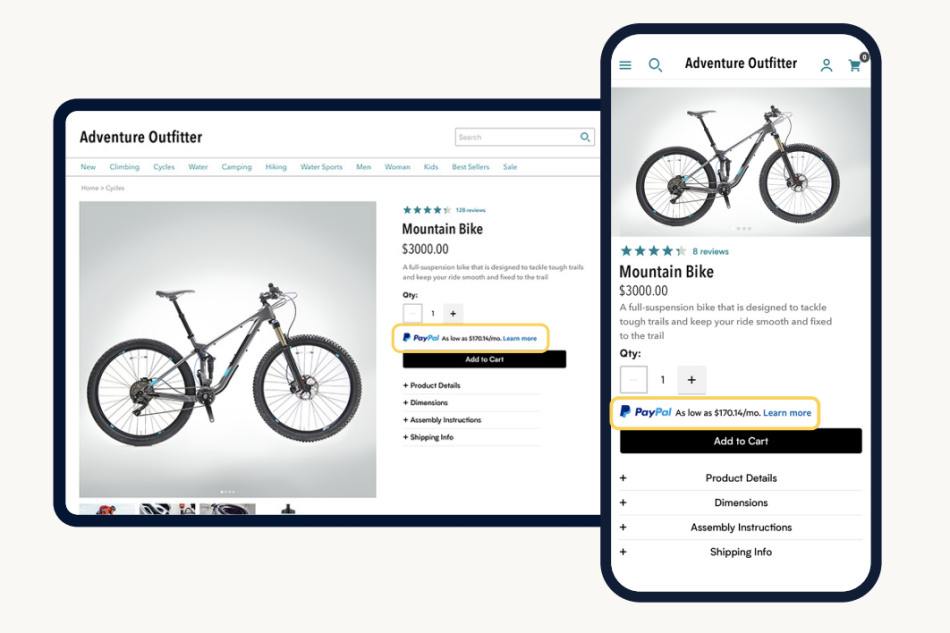 Summing up: Presenting transparent and manageable payment options early in your customers' buying journey gives shoppers the confidence to spread the cost of their purchases over time and contributes to your customer loyalty.
Pro Tip: You should never be tired of making your auto website trustworthy if you genuinely want to win the market in your niche.
The following are the four pillars of a robust automotive online store:
SEO optimization contributes to your automotive website discoverability
responsive user-friendly UI & UX design helps your customers navigate across your website
flexible payment methods, including consumer financing options, like PayPal Pay Later offering, Venmo, or Affirm, make your checkout personalized
seamless website performance ensures the maximized availability
If you are looking for an eCommerce platform that ticks all the boxes, X-Cart is one such solution.
Need a Trusted Auto Parts eCommerce Store?
3. Outperform Competition
Despite the current economic woes, eCommerce auto parts sales exceeded 8 billion dollars. The pie is bigger than ever, and while it keeps growing, it's time to claim your slice.
Your competitors are thinking the same thing.
As of 2022, there are 6,261 online automotive parts & accessories sales businesses in the U.S., which is an increase of 16.6% from 2021.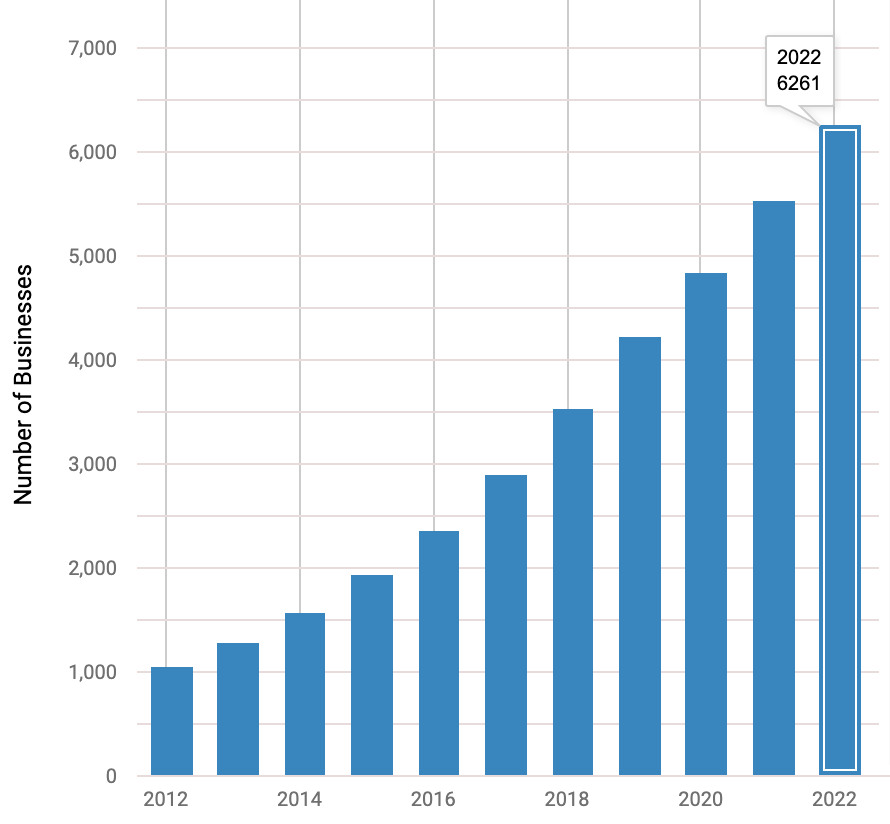 If you're open to tweaking your auto parts business to shoppers' needs, you're sure to outlast the competition. With Pay in 4 and Pay Monthly under the PayPal Pay Later umbrella, you can target all sorts of consumer pools: from Gen Z and Millenials looking for a quick short-term loan to Baby Boomers less wary of long-term installment plans. The extended online store's reach opens the door for new sales and helps you stay ahead of the pack.
Summing up: When you offer your buyers various types of car parts financing you gain more sales compared to those online retailers who don't boast such flexibility at their checkouts.
Important note: Pay in 4 and Pay Monthly are included with the PayPal Checkout and can be activated directly from the X-Cart store with no coding skills required. Moreover, you can install the PayPal addon for free and start offering PayPal Later payments to your customers right off.
Need a Payment Option that Matches Your Buyers' Needs?
FAQs
Final Thoughts: Is Pay Monthly Worth It?
At X-Cart, we are sure that PayPal Pay Later can be a game-changer for your auto parts business.
You'll get all the perks mentioned above with one single integration, that is:
free to connect
easily integrable
customer-oriented
secure
Plus, for X-Cart customers, the process of enabling PayPal Checkout and activating dynamic messaging is simple and straightforward.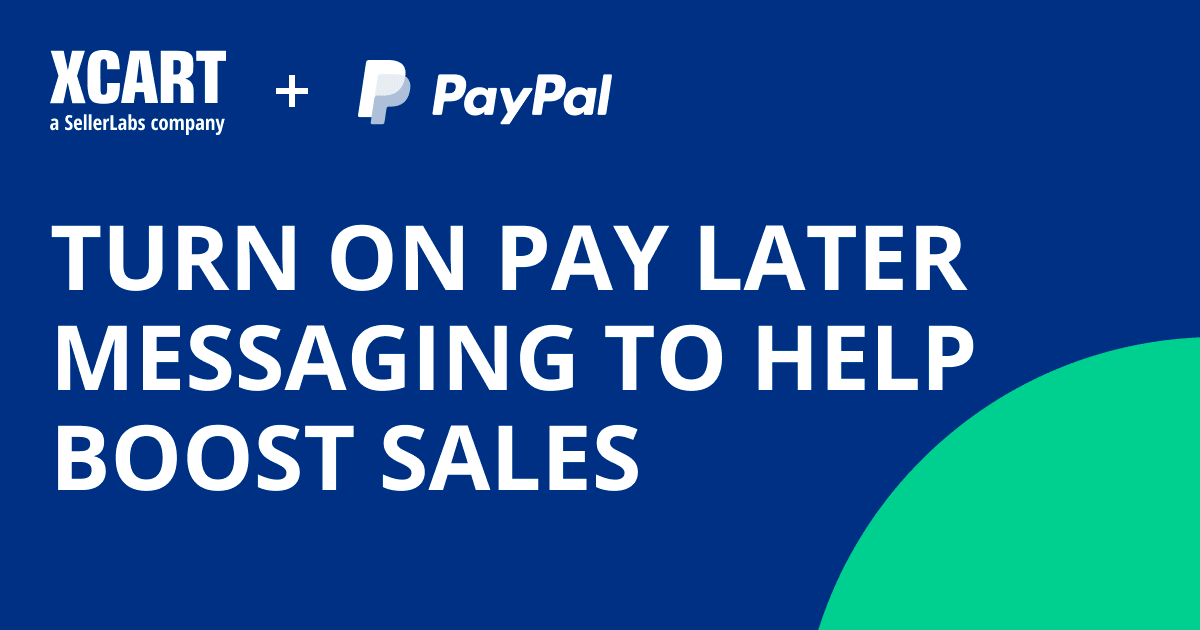 1 About Pay in 4: Loans to California residents are made or arranged pursuant to a California Financing Law License. PayPal, Inc. is a Georgia Installment Lender Licensee, NMLS #910457. Rhode Island Small Loan Lender Licensee.
2 Pay Monthly is subject to credit approval. 9.99-29.99% APR based on the customer's creditworthiness. PayPal, Inc.: RI Loan Broker Licensee. The lender for Pay Monthly is WebBank.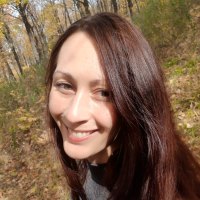 Maria Navolykina
SEO Content Specialist
Maria is an SEO Content Specialist at X-Cart. Once captured by digital and content marketing in her student days, she keeps living and breathing it ever since.
Subscribe to Our Weekly Newsletter to Get
Expert-Backed

Tips Straight Into Your Inbox

Awesome! You won't be disappointed 😉