←
Back to Blog
Multi-Channel Marketing: How to Sell on Multiple Sales Channels Like a Boss [Strategies + Examples]
This blog post was originally contributed by Christina Frey, a Marketing Associate with Kliken.
We have all seen it and we have all done it at some point, probably without even realizing it. I am willing to bet that even your family and friends have done it as well.
What is it, you might ask? The answer is simple, shopping on multiple channels.
You may not even realize it, but you have also been targeted by companies who have adopted multi-channel marketing as well.
But is it really worth it for your company to offer this to your customer base? Do companies benefit from providing multiple marketing and sales channels?
The short answer to all these questions is yes!
I. What is Multi-Channel Marketing?

Well, it is exactly how it sounds. It is marketing to customers across multiple channels.
Today's shoppers are not only looking for the channel of their choice to shop on, but also how information is conveyed to them, which means a shift to a multi-channel marketing strategy. Companies are utilizing social media more now than ever in order to reach customers in a way that is convenient for them. This can include:
Direct marketing
Television marketing
Push notifications
Marketing strategies have had to shift with the rise of technology over the past couple of decades. Customers are on the go and want to be able to consume information where they are and by the channel of their choice. This has opened up more places that companies can advertise to their potential customers.
Having multiple marketing channels is not only beneficial for you, but for your customers as well. Take JOANN Fabric and Craft stores for instance. They utilize direct marketing to send out their coupons, as well as email marketing and push notifications via their app.
The customer has the option to save the coupon on their app as well as using the coupon that was mailed to them. When they are in the store, they have access to both coupons.
In addition, if they forget the physical coupon, they have the digital coupon to use.
If they are making an online purchase on the app, they can automatically have the coupon applied to their purchase.
The customer also has the option to pick the item up in-store or have it shipped to their home.
The app will remind them through push notifications that their coupon is about to expire, giving the customer incentive to go in-store or online to make a purchase.
Omni-Channel Marketing
The holy grail of this type of marketing is omni-channel marketing. It is a multi-channel marketing strategy that is focused on and around the customer and their experience.

Each channel of marketing moves the customer further through the purchasing pipeline. This graph from PostFunnel will give you a clear picture of how centered on the customer omni-channel is in comparison to other forms of marketing.

Hubspot, hit the nail on the head with their description.

"Omni-channel marketing seamlessly integrates the different communication channels that businesses use to communicate with customers. This approach uses the customers' perspective and interests to optimize the consistency of the company's marketing messages. By utilizing the strengths of each communication channel, marketing teams can use omni-channel marketing to deliver a more consistent and effective brand message."
Examples of Omni-Channel Companies
Some examples that Hubspot listed of companies that have successfully integrated omni-channel marketing are:
Disney
Starbucks
REI
Walgreens
Sephora
Of course, the list doesn't end here, most major companies take advantage of multi channel approach to digital marketing, too.
II. Pros and Cons of Multi-Channel Marketing
Pros
You may be on the fence about whether to embark on a multi-channel marketing strategy.
ZoomInfo compiled a list of 57 Essential Multichannel Marketing Statistics that is worth checking out in whole.
50% of multi-channel marketers say they usually or always hit their financial targets.
13% more is spent by consumers who research purchases in advance.
Customer satisfaction is 23x higher in companies with omni-channel engagement strategies.
Customers on the receiving end of omni-channel marketing campaigns spend 10% more than those who aren't.
89% of customers are retained by companies with omni-channel engagement strategies.
Cons
Of course, there are some disadvantages of multi-channel marketing.
45% of marketers feel they lack the necessary talent, technology, and processes to master omni-channel brand marketing.
11% of marketers say it's difficult to roll out multichannel campaigns.
45% of consumers believe retailers don't deliver multi-channel experiences fast enough.
61% of customers have not been able to easily switch from one channel to another when interacting with customer service.
23% of marketers cite lack of time and resources as a major barrier to implementing multi-channel marketing.
Why Use Multi-Channel Marketing?
Marketing Sherpa conducted a survey in 2015 asking customers what their preferred channel of communication is to be marketed to.
They not only found that email was the preferred communication preference by most, but that the preferred method of contact varied depending on age range.
Customers today are looking for unique shopping and marketing experiences that are tailored to their specific preferences.
Companies that use multi-channel marketing and sales are more likely to have repeat customers that spend more in their stores. So really, it is a win/win scenario for you and your customers.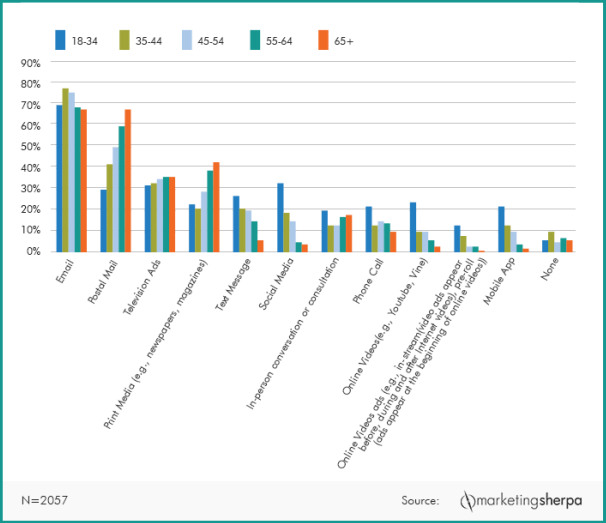 III. What is a Multichannel Business and Why Should I Care?
Multi-channel businesses have been around longer than you probably even realize.
Do you remember ordering out of a JCPenney or Sears catalog if they didn't have what you were looking for in-store?
Well, my friend, that is a multichannel business utilizing multiple sales channels. With the advancement in technology and smartphones, we browse, compare, shop, and purchase across multiple channels of shopping on a regular basis these days.
IV. How Does This Affect My Business?
Buy Online Pickup In-Store (BOPIS)
Companies have realized that the modern-day customer shopping experience goes beyond the walls of the brick and mortar stores.
It isn't just your regular everyday stores like Target and Home Depot looking to expand their customer experiences. Even the higher-end stores, like Burberry and Tiffany & Co. are starting to expand their customer shopping experiences by offering buy online and pick up in-store options (BOPIS).
Most retail stores will offer in-store pick up of 2 days or less, with quite a few even offering same day pickup, but there are still quite a few stores holding out on promising 2 days or less pick up with BOPIS.
As you can see from the chart below, approximately 30% of stores will not guarantee pick up in less than 2 days.
There are still approximately 20% of stores that are not offering BOPIS, but most likely that number will shrink in time.
In 2018 alone around 68% of shoppers participated in BOPIS and that number is expected to rise in the coming years. By 2025, approximately 10% of all sales will be a BOPIS purchase.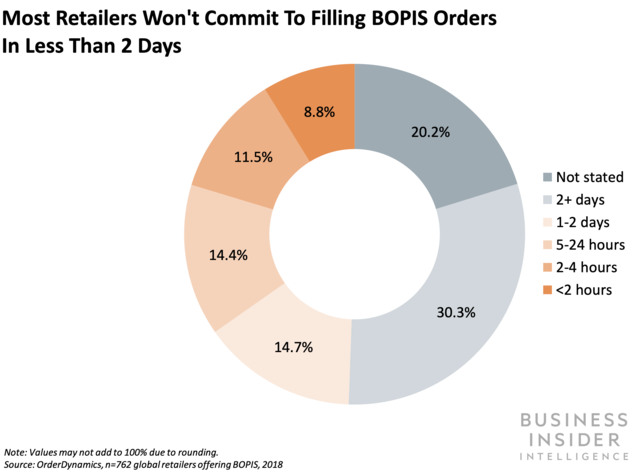 Retail stores offering BOPIS really have an advantage over stores who do not offer it. Not only does it offer potential customers shopping channels of their choice, but 49% of customers who come in to pick up their purchase end up making an additional purchase while in the store.
Examples of BOPIS
Target and Wal-Mart have started making BOPIS even more convenient by bringing your purchases to your car for you.
Not only do you get the ease of picking things out from the comfort of your own home, but you also don't even have to get out of our car. Imagine how much easier that would be for a parent with small children.
Amazon has even gotten into the game by offering customers the option to pick up their purchases at a centralized locker. While it isn't your traditional idea of BOPIS, it offers customers another option for ordering online.
If you have ever lived somewhere that your packages have been stolen, this is a huge benefit. You can have your items delivered in the standard 2 day Prime delivery and have the confidence that your package will not be stolen if you are not at home to accept the package.
Grocery stores are even getting in on the game of multi-channel shopping by offering home delivery. Order your groceries online or on your mobile app and someone will go to the store and pick up your groceries and bring them right to your home.
Clearly, there is a strong desire for people to be able to have more channels of their choice for making purchases.
If a customer cannot find it from one retailer, then they will find it with another.
Adapting to the change from in-store only shopping to multi-channel shopping is going to be key for the survival and growth of retail.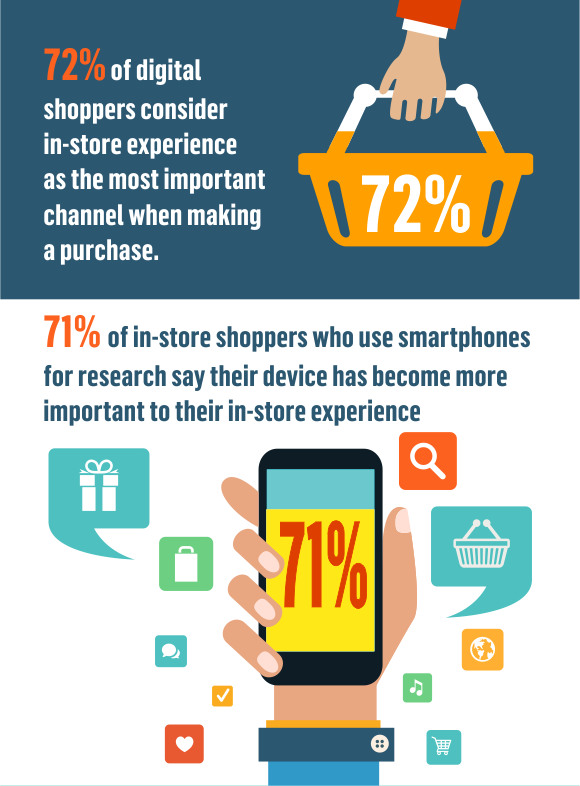 How Does This Benefit My Business?
Let me break this down for you. Let's say you have 500 customers who have utilized BOPIS in a week, that means that 245 of them are likely to make an additional purchase while they are in the store.
Let's say that they spend an average of $20 per person. That is an additional weekly revenue of $4,900, which totals to $245,800 for the year.
Plus, you also cut out the cost of shipping the items to your customer. In the end, not only have you saved money and increased your bottom line, but you have also given your customers a buying process that was convenient for them.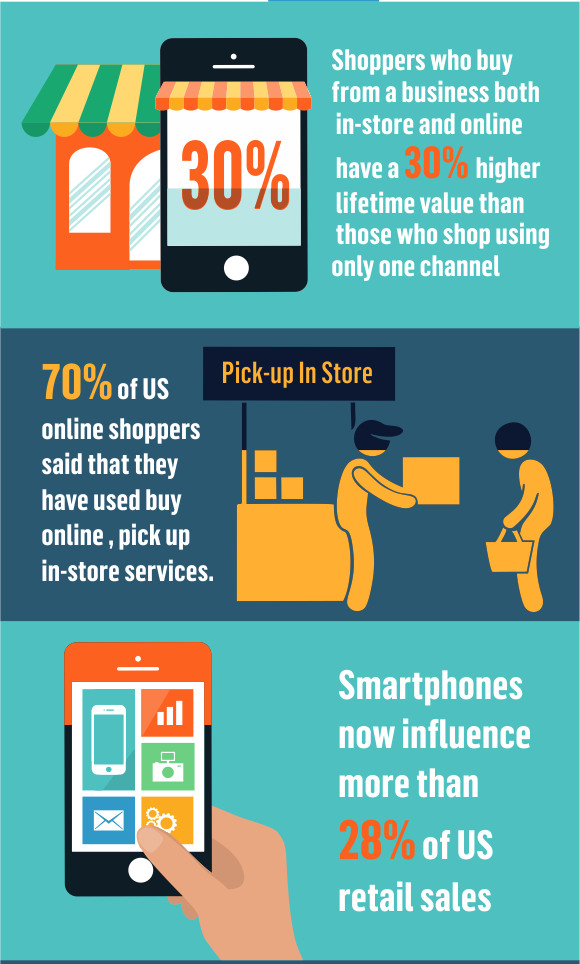 Omni-Channel Retail
Like multi-channel marketing, the holy grail of multi-channel businesses is omni-channel and the two go hand in hand with each other.
The whole experience centers around the customer experience.
The key thing to keep in mind though is that what works for some may not work well for your business.
Each company that wants to take on an omni-channel experience for its customers, is going to have to really take a look at what their customers want and then implement those strategies for their marketing and sales. It may take a few tries before you find the right fit, but in the long run, it is worth it.
According to a Harvard Business Review article, A Study of 46,000 Shoppers Shows That Omnichannel Retailing Works, states that not only are omni-channel customers "avid users of retail touchpoints", but that the "more channels customers use, the more valuable they are".
According to their research:
Omni-channel customers spent an average of an additional 4% on each shopping trip in the store.
10% more online purchasing by omni-channel customers over single-channel customers.
The more channels that the customer had open to them, the more money they spent in the store.
Omni-channel customers were found to be more loyal customers and more likely to recommend the brand to people that they know.
Customers who shopped with omni-channel options also had 23% more repeat shopping trips with that store in the course of a 6 month time period.
If you feel that omni-channel is not the right approach for your marketing strategies, then cross-marketing and multi-channel marketing are good options as well, though shown to not be quite as effective as omni-channel.
The bottom line is you have to take into account how much time and money you are willing to invest in your marketing strategy.
And just remember, the more touchpoints you have with a customer, the more likely they are to share their love of your company with friends and family.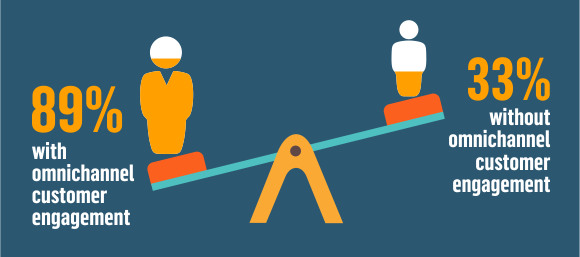 V. How to Start an eCommerce Store
With the increase in people shopping online, it is important now more than ever for retailers to provide an eCommerce platform for customers to shop on. You can easily choose from one of X-Cart's templates or have them custom build your online store for you.
Steps for How to Create an Online Store
Here are some basic steps to get your store online.
First, read this article from X-Cart on how to sell online.
Create an eCommerce website with X-Cart for your business.
Install apps that are applicable to your business on your site.
Include amazing pictures of your products.
VI. Pros and Cons of Multi-Channel Retail
As with anything, there are always benefits and challenges in starting an online store.
Benefits of multi-channel retailing:
Reaching customers that would not normally have access to your products.
Customers can have the convenience of shopping where and when they want.
BOPIS customers are more likely to make additional sales when in-store to pick up their items.
More channels for increased revenue.
Challenges of multi-channel retailing:
Keeping up with inventory.
Creating and maintaining an online store.
Shipping and purchasing shipping supplies.
Extra time with bookkeeping.
One of the most important aspects of a retail business is to keep up with real time inventory. Having an integrated system that keeps up with you and your customers is key to make sure you have plenty of inventory. X-Cart has teamed up with various inventory management systems to take out the challenges that come with multi-channel retail.
VII. Will Customers Want to Contact Me on Multiple Channels?
The answer to this is yes.
Adopting a multi-channel communication strategy is a great way to provide superior customer experiences for people who shop with you in-store and online.
Customers want to feel like they can have a personalized experience with you whether it is in the actual shopping experience or if they have questions that need to be answered.
This is especially important if the customer is having a less than ideal experience with your store.
Making it easier for the customer to contact you may mean a little more leg work on your end, but you can also use this to your advantage by offering ways of communication that you prefer as well.
Here are some examples of different channels of communication you can offer to your customers:
Phone
Text
SMS
Facebook Messenger
Instagram Messenger
Email
Depending on where your customer base is located other communication platforms might be good options to offer your customers.
For example, according to a survey done in 2018 by The Market Intelligence Blog, Line is the preferred method of communication in Thailand and Japan, while WeChat is number 1 in China.
It is important to not only offer multi-channel communications to your customers but make sure they are lines of communication that not only works well for them but for you as well.
This also goes for how customers want to be marketed to.
VIII. So Where Do I Go From Here?
Giving customers multiple channels on all levels of your business, including marketing, is the ideal consumer experience that customers are starting to expect.
If you are looking to branch out your business into the next step would be to evaluate ways you can move your business from single-channel to multi-channel.
Remember, you don't have to do it all at once. Each company is going to need to figure out what works best for them and their customers. It may take some trial and error to get you there, but it will pay off in the long run.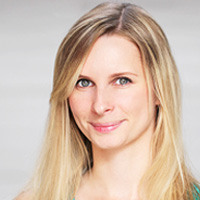 Helen Golubeva
Freelance SEO and Content Marketing Specialist
Helen is an SEO and Content Marketing Specialist. She has been creating and planning content for over 10 years, with 5+ years specializing in eCommerce.
Subscribe to Our Weekly Newsletter to Get
Expert-Backed

Tips Straight Into Your Inbox

Awesome! You won't be disappointed 😉