←
Back to Blog
Ultimate Guide to Word of Mouth Marketing in 2020 [+Tips]
Did you know that online shoppers are at least 70 percent more likely to make purchases based on social media referrals or recommendations?
These actions are more commonly known as word of mouth (WOM) referrals, and they are highly sought-after by entrepreneurs starting an online store as well as by established eCommerce players. With the right word of mouth advertising strategy, you can start earning what is known as "social currency," a very desirable factor by those who operate in the online retail sector.
As you learn to sell products online, you will encounter opportunities to develop word of mouth marketing ideas, which we will be discussing in this article.
For your convenience, we have organized WOM marketing resources into subtopics that make them easier to locate. We will also provide real-life word of mouth marketing examples from businesses that have successfully implemented this strategy.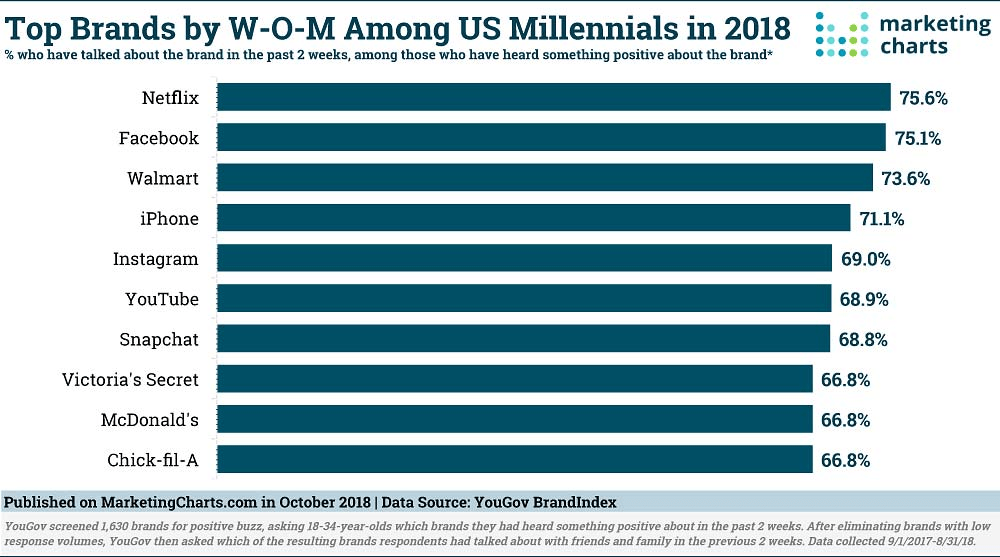 Source: Marketing Charts
I. Word of Mouth Marketing – What is it?
Word of mouth marketing (WOMM, or WOM marketing) is also referred to as mouth to ear marketing; it is one of the oldest and most desirable strategies known to marketing professionals, and it is a perfect companion to branding.
History of Word of Mouth (WOM) Marketing
As a form of advertising, WOM is a marketing tactic that was first identified in the 1970s, but its origins date back to the ancient tradition of storytelling and dissemination of information mastered by the aborigines in Australia. What we know today as spreading the word is a human need that is as old as verbal communication.
How Effective is WOM Marketing?
In today's highly competitive world of eCommerce platforms that look and feel very similar, digital word of mouth is something that can set your store apart. According to a recent survey by Marketing Charts, 78 percent of consumers value the advice they get from friends and family above all other marketing efforts. This is something to keep in mind when you start an ecommerce store.
II. Word of Mouth Marketing Statistics
In 2017, the Pew Research Center for Journalism and Media published the results of a longitudinal study revealing that 76 percent of Americans preferred to get news from close friends, associates and relatives.
Let's keep in mind that this survey was conducted at the height of the "fake news" and "deep fakes" phenomenon that has become a hot-button political issue in recent years.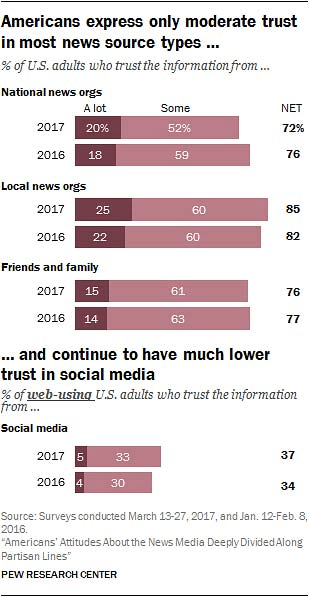 Source: Pew Research Center
Only 15 percent of Americans get their news tips directly through word of mouth on social media. They prefer to start off with news tips provided by loved ones and associates within their own social circles before seeking out full stories and researching on their own.
Today, it is easy to assume that the aforementioned statistic still holds true; however, it should be noted that friends and family members increasingly stay in touch and communicate on social networks, thus underscoring the power of word of mouth referral marketing.
According to online local business directory BrightLocal, more than 60 percent of recommendations are still being made on a word of mouth basis.
III. How to Generate Word of Mouth
When you create an online store, you are probably hoping for it to grow organically as opposed to being forced to spend thousands of dollars in targeted advertising, which, thanks to the growing popularity of ad-blocking secure browsers, may or may not be as effective as you think it is.
With online word of mouth, you know your message is not being blocked and can work on fostering a brand that people trust, and you can do so through the strategic use of social networks. In 2020, there is no reason why your online store should not include a plugin or app to share with friends.
In China, the largest eCommerce market in the world, customer impression and word of mouth marketing are extremely important.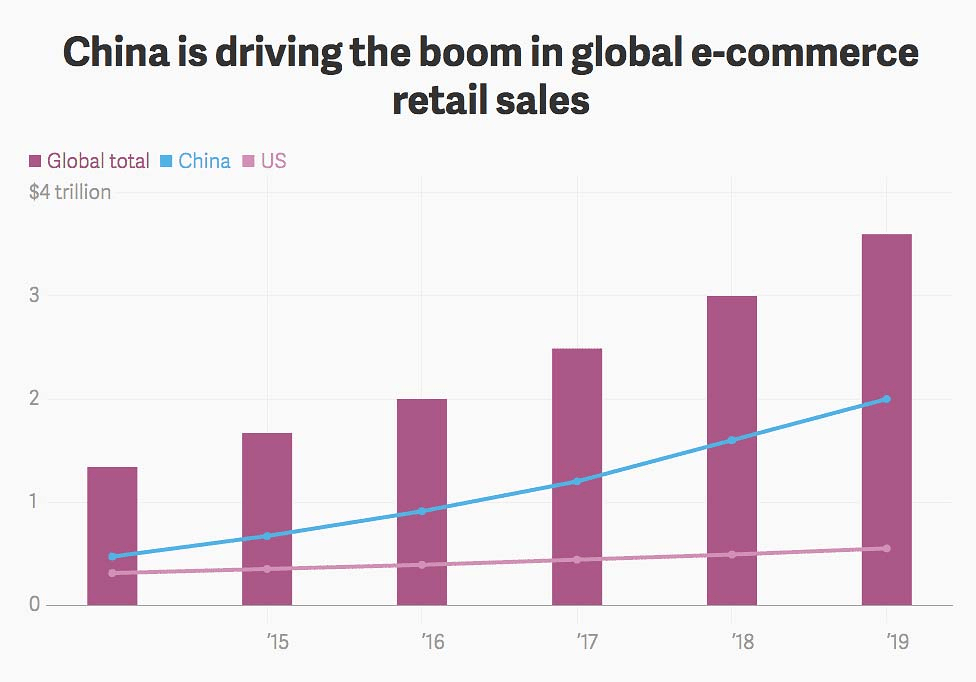 Source: SmartInsights
Online shoppers often base their purchases on comments left by others on popular social networks such as WeChat.
With all this in mind, making sure that your online store has a social media presence is the first step you should take with regard to WOM marketing.
1. Getting the Word Out
The first step of WOM marketing involves setting up digital communications channels. A plugin or web app right on your eCommerce website is "mandatory," but you also have to realize that not all customers are active on social networks.
Online retailers that operate in the business-to-business (B2B) sector know that their customers are more responsive to alternate communication methods like the tried and true email approach.
Aided by modern email marketing platforms like Constant Contact or MailChimp, sophisticated email campaigns are relatively simple to plan and execute. Do it right, and customers come to expect and look forward to the regular contact of a short, punchy newsletter to start off the week.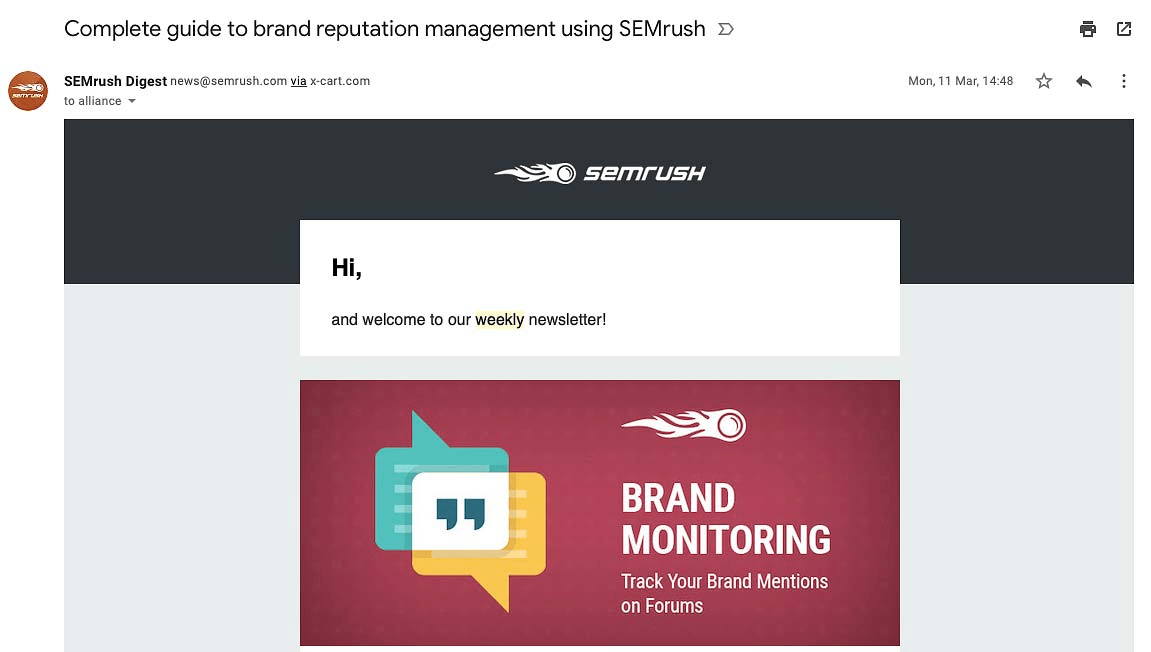 Once you have established the appropriate communications channels, sit down with your managers and associates, and brainstorm appropriate WOM ideas, starting with any charitable donations and community outreach, your company may have recently conducted.
You want customers to start talking about your company in positive terms, and showing that you care is always a good topic. B2B companies that send out email newsletters should remember to include ways to share content such as social media buttons.
2. Listen to Your Customers on Social Media
Social networks should not be treated like echo chambers because doing so defeats the purpose of WOM marketing.
Let's say your online store sells novelty items such as smartphone cases painted by hand; in this case, you will want to update your Instagram or Facebook page with a nice photo introducing a new design, but you should also pay attention to comments and questions made by prospective buyers about the item.
The idea is to reply promptly so that all followers get to see your response.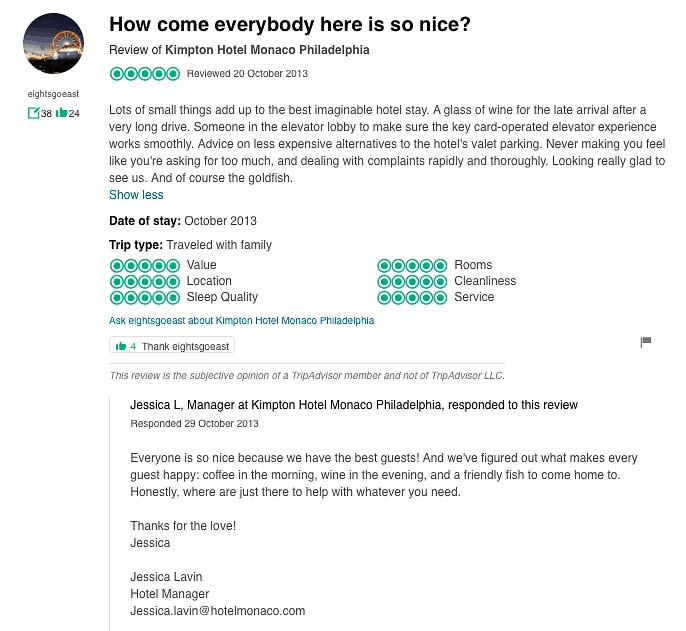 Source: Tripadvisor
Another social media marketing practice you can adopt is related to birthdays on Facebook.
You can remind your followers that they can get nice discounts on their birth months, but you may want to go an extra step by sending them a message or a greeting on their birthday plus a coupon.
If you can afford to pack small gifts along with the birth month or birthday orders, the chances are that they will get a positive round of WOM marketing.
3. Customer Reviews Are User-Generated Content
It's a well-known fact that Amazon elicits word of mouth marketing through reviews and discussions about purchases as well as customer service. This is something that you can implement in your eCommerce store by means of a plugin or an app.
Please note: Once customers are able to post reviews for others to read, they can be quite frank about their experience, which means that you should strive towards quickly handling issues.
If the products you sell do not match the expectations of some shoppers who were otherwise happy with customer service, this could be a WOM marketing advantage, especially if you try to make things better by offering a discount on future purchases.
The key is to let other customers see that you are mindful of their experience because they are likely to pass these experiences on.
According to recent marketing data, recommendations from friends and family are the top source of discovery for new products — so it's important to nail those reviews.
4. Give Customers Something to Talk About
When developing WOM, you should not attempt to control the conversation.
Instead, you should create situations that prompt customers and prospects to talk about your business. To this effect, clever content and human interest stories tend to be very effective, but the challenge is to keep them highly relevant without coming across as blatant advertising.
Even if you don't spend too much time on the internet, you are probably familiar with memes, those funny image macros, animated GIFs and exploitable graphic panels that friends share for a few laughs.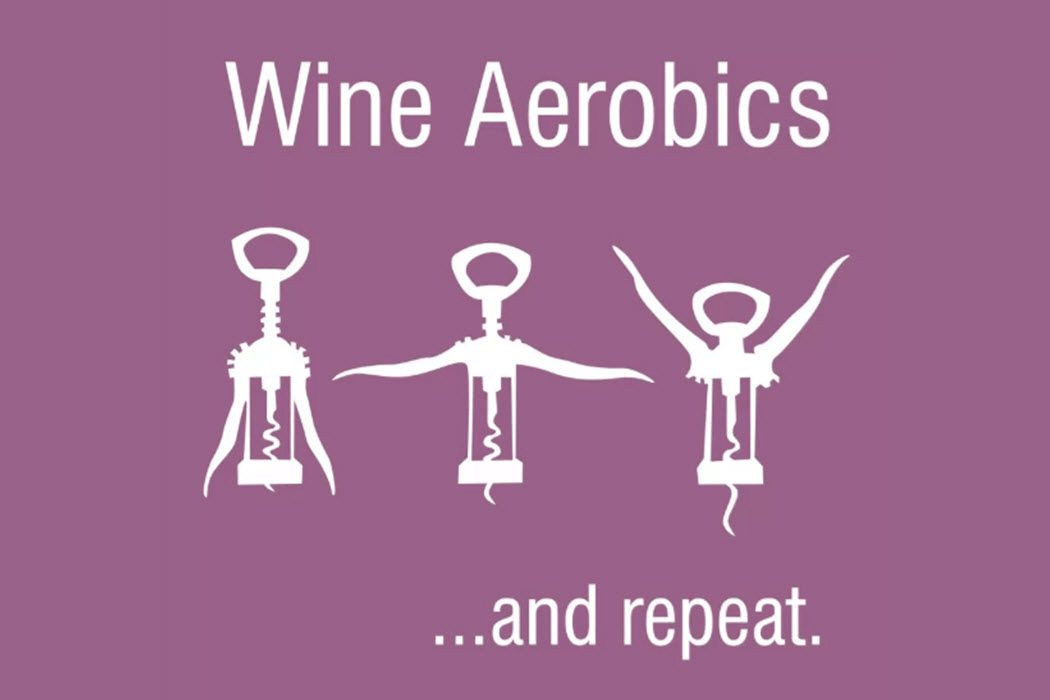 Many companies have jumped on the meme bandwagon and derived significant WOM success, but a few miss the mark because they try too hard or miss the point.
It is perfectly fine to use memes to promote your brand or products, but you should make sure that you have a good grasp of internet culture when designing memes.
IV. Word of Mouth Marketing: Advantages and Disadvantages
For the most part, WOM marketing is perfect for small business owners who want to drive traffic to their eCommerce sites.
The cost is minimal when the company is already providing excellent customer service, and attracting new shoppers becomes easier over time.
If you play your cards right, you can leverage WOM so that it becomes a strategy for customer retention. While the WOM marketing pros often outweigh the cons, there are some disadvantages to be aware of:
The potential of negative feedback: Always keep in mind that WOM can go both ways. Unhappy customers are in a position to share their bad experiences with friends and loved ones, and this is something that could happen behind your back. For this reason, large companies are known to invest in platforms that allow them to monitor social media sentiment.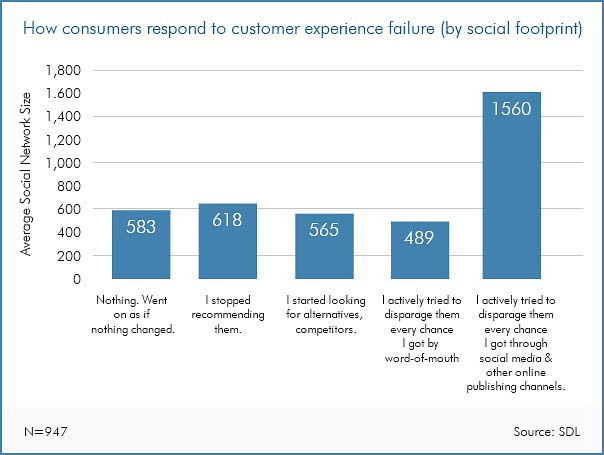 Source: SDL
WOM marketing can take time to develop: Similar to other organic marketing efforts, WOM will initially spread slowly because you have to test various ways to build a rapport with your customers, and you also have to encourage them to spread the word. Thankfully, modern business owners can speed up the process through the use of social networks, messaging apps, referral programs, and other strategies.
WOM marketing is easy to understand but not so easy to execute unless you take time to learn from success stories.
Buzz marketing is a sophisticated form of WOM marketing we can all learn from, and there are a few companies that have executed them masterfully: Coca-Cola, TOMS, and Amazon.
V. WOM Buzz Marketing Examples
TOMS
The TOMS word of mouth advertising campaigns are magnificent examples of how brands or products can tug at the heartstrings of customers through charitable actions. During a 2006 trip to Argentina, CEO Blake Mycoskie came up with the idea of starting a charitable campaign to donate one pair of shoes to children in developing countries for every TOMS pair purchased online or through a retailer. The timing was perfect because Facebook had made its debut a couple of years before the campaign, and the company is still engaged in this program.
Coca-Cola
In the case of Coca-Cola, this is a company that has always mastered WOM marketing. We could write books about this brand's clever advertising; in fact, several have been published on this particular topic, but the company's ongoing special vending machines campaign sticks out because of the considerable buzz it has generated over the years. Some of these machines only dispensed Coke cans when hugged or when shoppers danced in front of them. Others positioned in London and tied to the release of the 2012 James Bond film "Skyfall," required the completion of a secret agent mission before a can was dispensed.
Amazon
Amazon is a great example of a business that has mastered the art of how to create word of mouth by creating amazing customer experiences.
Let's not forget that Amazon CEO Jeff Bezos, currently the wealthiest individual in the world, started out selling books. He has always been interested in word of mouth quotes and data analytics that show 90 percent of book promotion comes from other readers.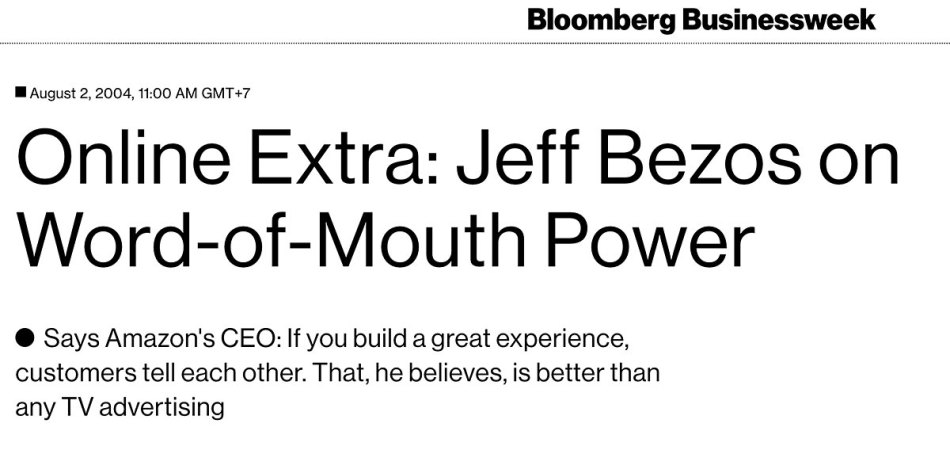 Source: Bloomberg
If you have previously purchased an Amazon product based on customer reviews, you are already familiar with the word of mouth business strategy. Each and every Amazon product review is a piece of user-generated content, a proven marketing strategy that is a good WOM marketing example.
Final Thoughts
You don't always have to be one who starts conversations. Online communities such as Reddit allow eCommerce operators to become resourceful members who can provide information, solutions and insight.
Let's say your online store sells auto parts and accessories for sports vehicles. If you or one of your associates is into the street racing and tuning scenes, being active in online forums can significantly boost the profile of your business. In this case, you can provide news, tech tips and advice while casually promoting your products.
Don't forget to offer discounts, promote community events and introduce new products when they are innovative. When members of online communities value your contributions, they will prefer to shop at your website even if you don't offer the lowest prices.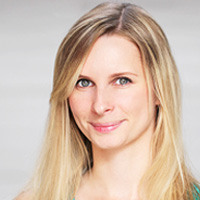 Helen Golubeva
Freelance SEO and Content Marketing Specialist
Helen is an SEO and Content Marketing Specialist. She has been creating and planning content for over 10 years, with 5+ years specializing in eCommerce.
Subscribe to Our Weekly Newsletter to Get
Expert-Backed

Tips Straight Into Your Inbox

Awesome! You won't be disappointed 😉