17 Awesome B2B eCommerce Website Examples You Need to Know

Providing the best eCommerce experience to your B2B customers is not an easy thing to do. However, if you're going to get a piece of those eCommerce transactions worth more than $6,7 trillion and stay relevant in the future eCommerce industry, you'll have to learn.
A big part of the learning curve is seeing how others do it.
In this article, we will give you the best examples of what an excellent B2B eCommerce site is and show you how you can create one with X-Cart. By taking a good look at the 17 examples and tools we provide here, you'll gain a clearer picture of what you need to do to be successful at B2B online sales.
Now, let's take a look at the examples.
1. Danish Water Technology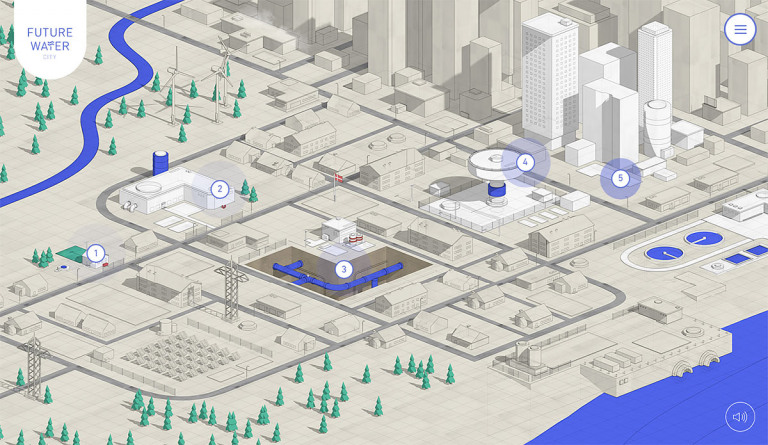 This excellent looking site belongs to a Danish company. It offers water pipeline infrastructure solutions for facilities and households.
The entire website is an interactive map where everything is visually and intuitively presented. The map is of a city block, and each piece explains how water circulation works. Once you click on any of the numbers, you can get detailed product information on its brand new water technologies.
It's amazing how everything looks, and it drags you in even if you aren't interested in what the company has to offer. That alone should be enough of a reason to consider this website a great example of how you should do B2B eCommerce.
2. 3DXTech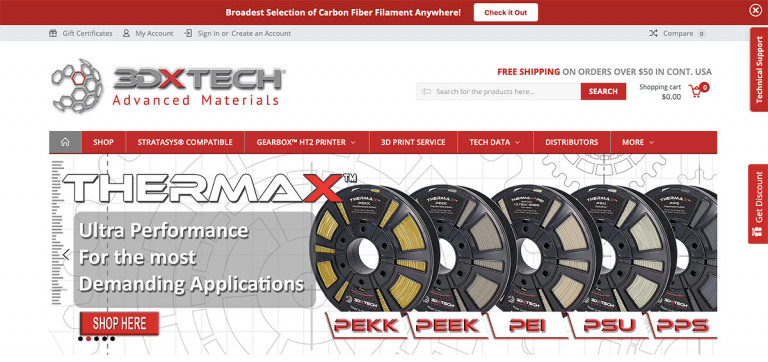 The 3D printing company 3DXTech is an excellent example of a B2B eCommerce website that's both invasive and successful.
Many e-commerce websites opt to use popups and banners, but they are usually annoying and counterproductive.
However, that's not the case with 3DXTech.
Its popup is well designed and offers a free product if you decide to provide your email. Additionally, its top banner always highlights a product that just came back in stock again.
On top of all of that, the company offers rewards for things like shares on social media and reviews.
All in all, it focuses on attracting the customer by providing her with what she wants. At the same time, customers manage to gain something from the offers.
3. Alibaba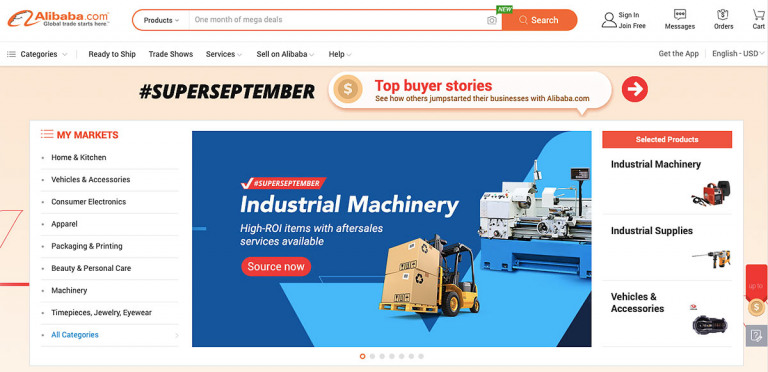 The Chinese juggernaut Alibaba is one of the biggest B2B and B2C eCommerce companies in the world. It sells products in 40 different industries in total. It also serves more than 18 million buyers and sellers in 240 countries and territories.
The key to its success was innovation from the very start. It started building an ecosystem with Chinese manufacturers and the global marketplace. However, Alibaba started doing it in 1999 when the internet barely existed in China.
Alibaba managed to build a system that automatically scaled with its success. The company did it by focusing on the customers' needs at all times (just like Amazon). However, it also did it by offering the same products tailored to each B2B marketplace it entered.
Additionally, all of that is free. As Alibaba connects buyers and sellers, it earns money from ads and commissions.
All in all, its success isn't so much about the website but how the company treats the customer. That translates to the website experience as well.
4. Amazon Business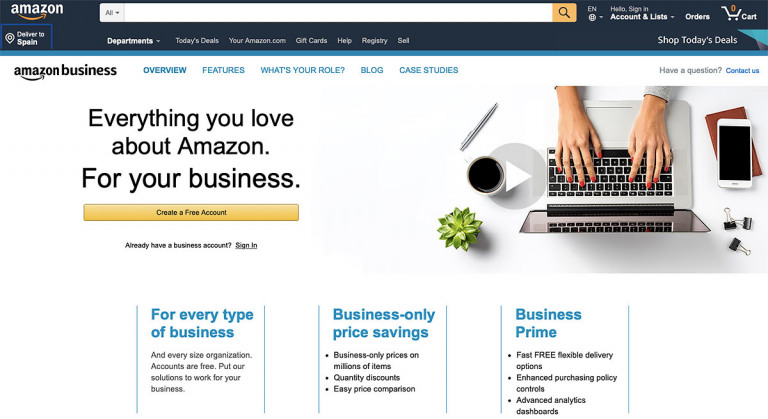 Just like Alibaba, Amazon Business is one of the most prominent players in the world. It started even earlier in the Western hemisphere, and much about the company you already know.
However, what many are not aware of is the success of Amazon Business – the B2B side of Amazon. It took them only four years to hit $10 billion in sales for 2018.
For the most part, it offers an all-around package that incorporates all possible features any B2B business might need.
What exactly does Amazon Business do that makes it so successful?
It makes it easy. It includes features like paying by invoice, approval workflows, multi-user accounts, and more.
It adds value. Buyers have Business Prime with different levels that unlock more benefits. Each level is unique and offers specific pricing, to the benefit of Amazon.
Amazon Business innovates. It continuously tests new features and makes changes to the existing experience. As you probably already know, it's always ''Day 1" at Amazon.
5. ACME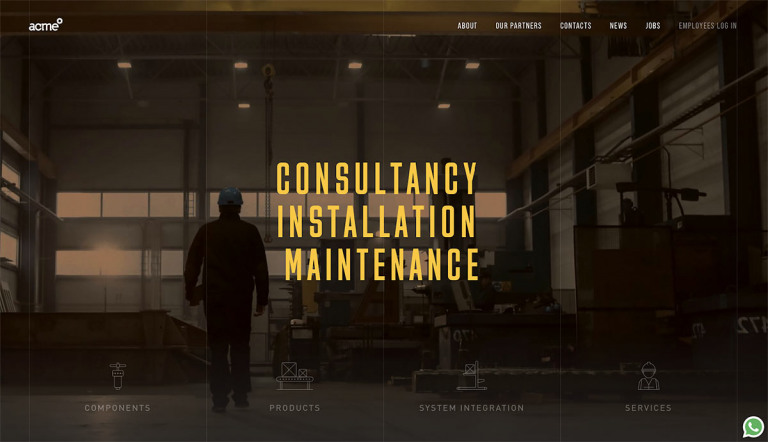 ACME is a big packaging provider for logistics operators and shippers. It has a minimalistic website that's genuinely carefully designed. The unique B2B eCommerce site is not one that was made without a lot of thought. It's one that the company made with too much thought.
Every image, piece of content, and every clickable area is carefully designed to please the viewer.
However, it's not all about the look. ACME also offers more than enough quality information on its products and services. The content and photos are all there to provide only the information the potential customer needs to see.
6. Curbell Plastics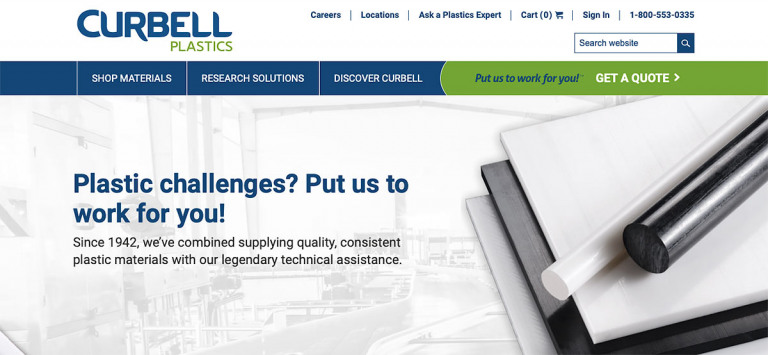 It's one thing to do eCommerce well, but it's a whole different thing to separate yourself from the pack. Curbell Plastics does the former as well as the latter.
This is a fabrication company that cares for customer experiences by offering them the most exciting way of finding products. It uses shapes in the reductive navigation to help them find what they need.
What's more, it works even better on mobile. Inconvenience on the site is not something the company's customers can ever feel. To top it all, Curbell Plastics also offers suggestions on how to save money on its site.
7. Firerock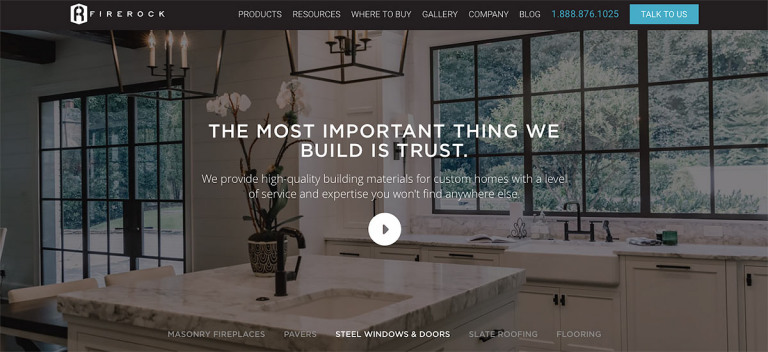 Firerock is a company that provides building materials for custom homes. The company quickly realized that pictures could tell a lot about the products. That's something it then utilized wonderfully on its site.
This great eCommerce website uses high-quality pictures to portray its offer adequately. Firerock even incorporates Pinterest to showcase these pictures.
Using these methods, the firm strives to mix business with pleasure. Its way attracts people with beautiful photos of what they do and educational blogs that help people improve their homes.
8. OverDrive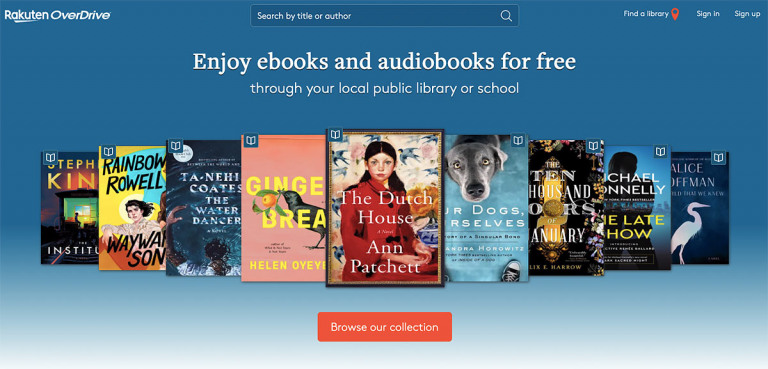 OverDrive is a renowned provider of audiobooks and ebooks for education and retail. It serves a global network of schools, retailers, publishers, and libraries. Achieving this is no easy feat, but OverDrive did it by striving to build long-term partnerships. It eventually ended up offering one of the largest catalogs of digital content.
Its product descriptions are thorough, but getting to each one is easy. That's mainly because the company's entire site is easy-to-use and doesn't overwhelm you with unnecessary content. The main focus is on the site's search feature that's pretty straightforward and fully responsive.
9. Quill

Quill is an educational and office supplies provider for businesses. Staples owns this business, and it has designed a website that quickly rose to be the greatest office supplier in the B2B eCommerce sphere.
Quill made the site with the sole purpose of having one of the best B2B eCommerce platforms on the web. The website uses all-inclusive categorization, filters, guided navigation features, and more. With all of this, the organization managed to make the customer experience seamless.
Besides all of this, Quill uses regular reward offers that further entice potential clients to become customers. These offers include coupons, exclusive deals, and more. Naturally, to get the most out of the offers, you need to subscribe to receive emails from the company.
As we all know, getting customers to subscribe is one of the best ways to keep them with you.
10. Blackbaud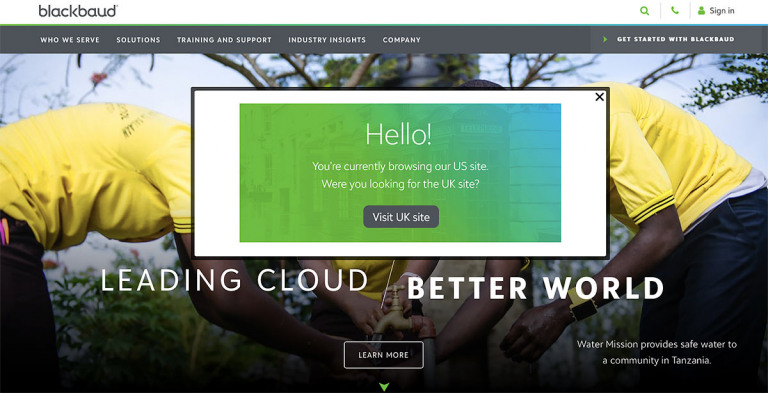 Blackbaud has a site that changes the game when it comes to interactive business to consumer websites. The company supplies software and services, as well as educational opportunities for nonprofit organizations.
Its site is very ordinary at first glance. Then you quickly realize that Blackbaud made a real effort to add a good deal of useful infographics and case studies.
However, its real success lies in the interactive content Blackbaud proudly provides. It includes a quiz, survey, and two distinct calculators. These essentially offer you to test out the success of the company clients for yourself. You apply what they did on your own and interactively see how it works.
All in all, Blackbaud offers a truly unique experience on its eCommerce platform.
11. Medline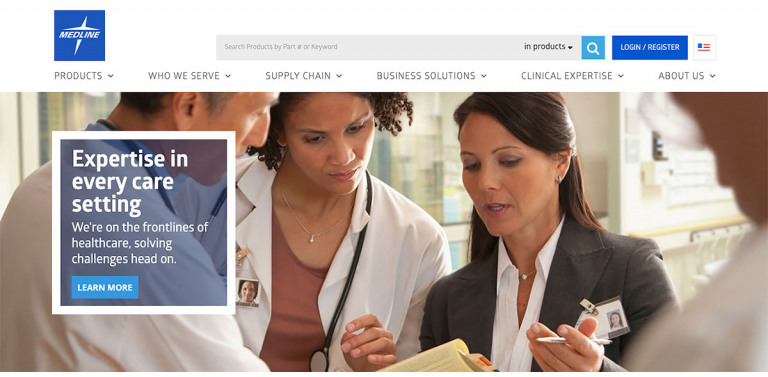 One of the largest private manufacturers and distributors of medical supplies, Medline also has one of the best sites in the industry.
It offers a massive array of over 350,000 products, all of which you can easily find on the site. You can use interactive features that help you find the exact information you're looking for.
It's even possible to learn something, like what is the key to a successful supply chain.
On Medline, you get a personalized view of the website that you as a customer deserve, and that's precisely what the company aims to achieve. You can narrow down on the specific categories you need.
12. Sterlitech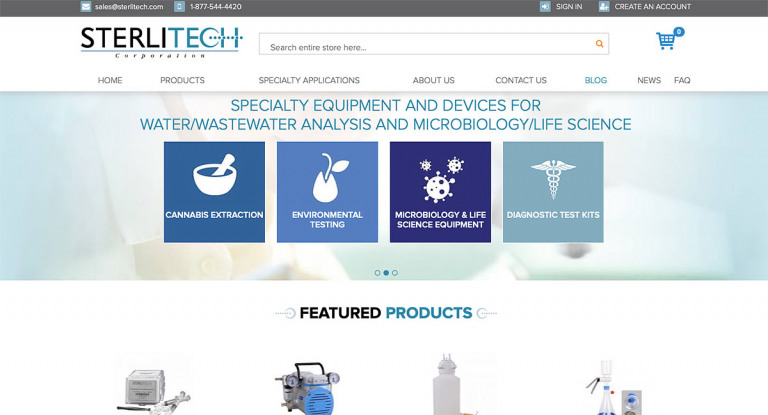 Sterlitech is a company that produces membranes and filtration products. Its success mostly lies in its e-commerce website that offers an extensive catalog of products. All products are listed online, and the site makes sure you can find them easily. This is achieved by using popups with search and filter features.
In addition, Sterlitech recognizes the benefits of content marketing. Its blog is genuinely detailed and offers a lot of useful information. Sterlitech's engineers make an effort to provide correct and accurate answers to any questions people have in the comment sections.
These leading features are all prominently displayed on the home page. Here the organization also makes a point to list its email and phone number. Sterlitech does that to show its B2B buyers that they can always reach them if they need assistance.
13. Massey Ferguson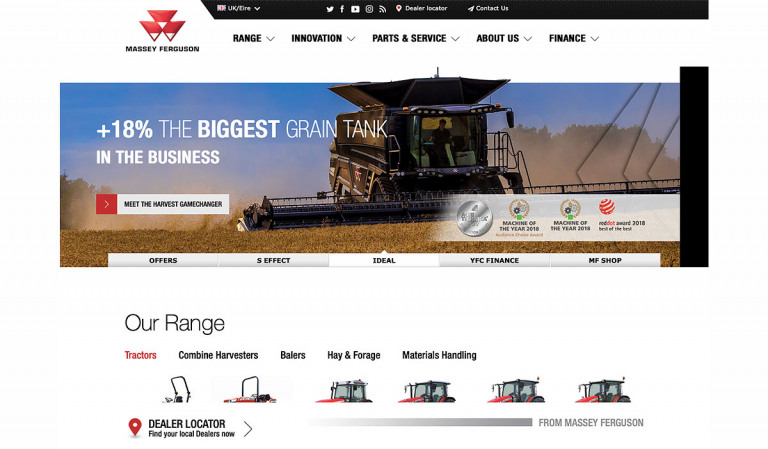 Massey Ferguson is not a pretty site, but that doesn't mean it isn't good. It is probably the best example of how you can create a unique and successful brand without focusing on the beauty of the design.
The site cleverly uses the same colors and shapes that create a clear brand identity. That's one of the critical things to be counted among the best eCommerce sites for B2B.
Plus, the site uses navigation creatively. Everything is presented well and in an orderly fashion. By having a glance at the site and what it offers, you already know what you can get from Massey Ferguson.
It has two navigation bars, which is not something you often see as it's not attractive. However, Massey Ferguson knows how to utilize it to present the viewer with a clear picture of what it offers.
All in all, it's essential to equally care about uniqueness and functionality when starting an online store.
14. Blake Envelopes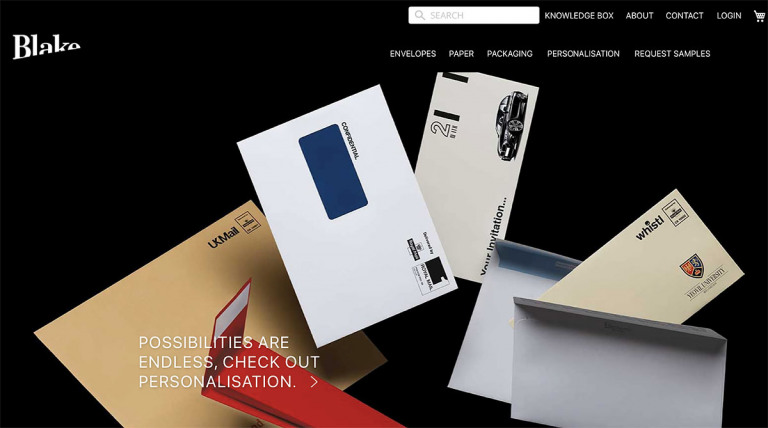 Blake Envelopes knows that envelopes are no longer as popular as they used to be. The company is well aware that the product it offers is not even exciting. However, it has still found ways of making itself attractive to potential customers.
First, it entices people with a well-designed site, which is a clear indication that its products are of similar quality.
Second, it uses straightforward features that enable you to navigate product lists and filter the ones you need easily. You can search the products by range, color, style, and more.
All in all, Blake Envelopes are a great example of how B2B eCommerce websites need to look to be useful to customers.
15. Kekselias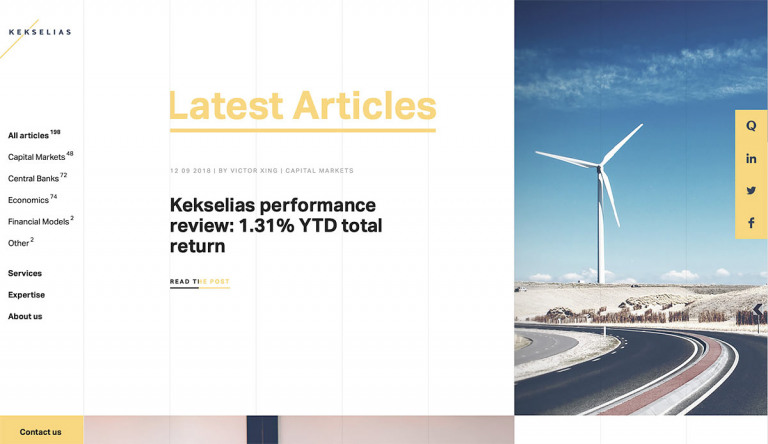 Kekselias is the most unique and appealing eCommerce website I was able to find. Being unique and appealing at the same time is not easy. Many businesses end up making something that only they like. But not Kekselias.
This is a financial service company that specializes in interest market rates, investment research, and policy analysis. Financial B2B companies like this one usually make a regular, boring site. However, Kekselias opted for a well thought out, minimalistic website. It made navigating the site an entertaining experience.
The left part of the screen is static and lists all main links and categories. The right side moves and doesn't spam you with a lot of unnecessary details. You only get what you need to know.
The company also adds value to customers by emphasizing the articles section. Engagement is the top priority. If you ever wanted to learn how to create an online store, this example is the one you should certainly study.
16. Ferguson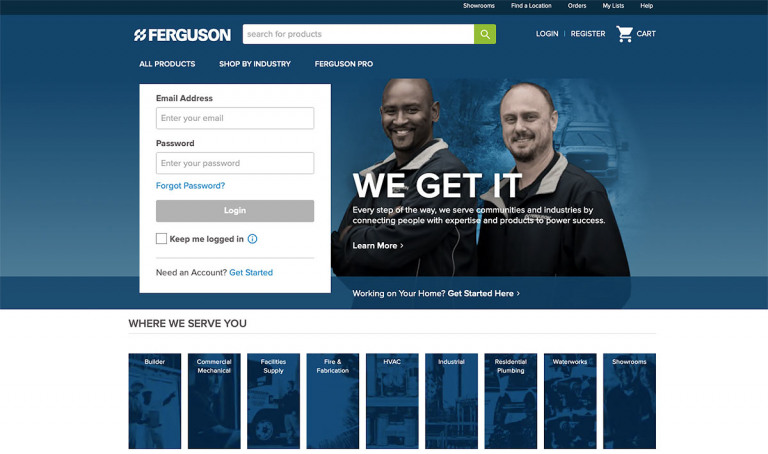 Ferguson is a successful provider of plumbing and building supplies. It is B2B and B2C, and it knows how to do both well.
The company focuses on having detailed product descriptions, which is why it focuses a lot on content marketing. That's evident in the fact that it makes a great effort to market to its target niche and provide the answers customers need.
The categories are numerous and detailed. Additionally, each product page is very clean and provides you with the information you truly need. Plus, there's enough imagery and product attributes, so you always know that the product you're buying is the right one.
In addition to all of this, Ferguson strives to answer all customer questions about its products and services. That's evident in the help section of the site.
17. Grainger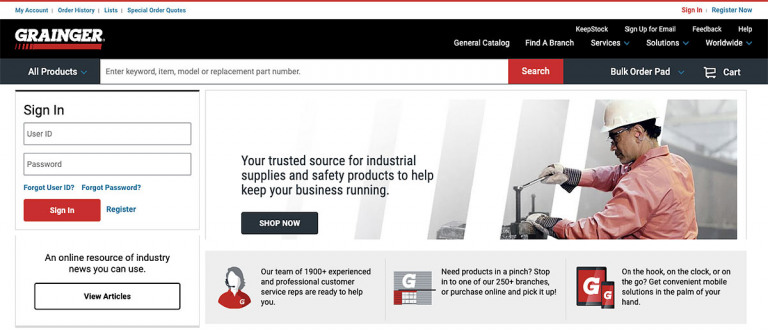 One of the oldest players in the game, Grainger, is still among the best e-commerce sites out there.
As it had ample time to study the game, the company has one of the best customer interfaces one can find. Each component on the site is well-tied together, but the best part is searching and ordering the industrial supplies Grainger sells.
It made sure that the way you order is easy and convenient. You don't have to log in; you can shop as a guest.
You get to use extended search filtering options, and it's clearly shown which products are available at any given moment.
Product arrival times are displayed everywhere you expect to see them — on all product pages.
In the end, Grainger also has a well-designed mobile app that makes everything equally convenient. Among the many useful options, the app lets you scan barcodes, so you can easily repeat orders.
All in all, Grainger makes the entire customer experience easy and fantastic. It's thus no wonder that it is usually at the top of most lists of the best eCommerce sites.
What Makes These B2B eCommerce Examples Great?
Now that you've seen the best examples, it's time to make a summary of what makes a B2B eCommerce site great. This will give you an idea of what an ideal B2B eCommerce shopping cart should be and bring you one step closer to creating your own website.
Quality design, functionality, and useful features are the three main things you need to worry about when making an online B2B store. However, delivering a truly-personalized B2B shopping experience is a bit more than that. It takes a lot of effort.
Below are six must-have features that make a powerful B2B ecommerce shopping cart:
Mobile & User-Friendly Themes
Given that 90% of B2B executives use mobile devices to do the research, having a mobile site is vital.
With X-Cart beautiful responsive eCommerce templates, you are free to create a cohesive customer experience across all devices and screen sizes.
Well-Thought-Out UI/UX
An elegant, easy-to-use interface and quality images of products are sure to enhance the discoverability of your products or services.
Coherent system navigational and informational components, such as breadcrumbs, tags, progress bars, and tooltips, will improve shoppers' experience even further.
Handy On-Site Search and Filtering
Highly-relevant eCommerce search engine, built naturally into your eCommerce wholesale platform, is sure to ramp up your search & filtering process.
Detailed filters will provide B2B shoppers with accurate search results and will make it easy to find the exact product the customer is seeking.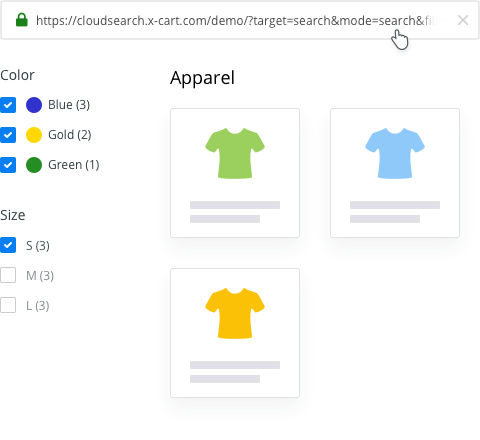 Reliable and 100% Secure Environment
Secure PCI DSS compliant checkout is vital. It will help you to authorize, deliver, and process B2B payments in a secure way.
Hosted on our dedicated high-traffic web servers, X-Cart eCommerce sites are guaranteed to be up 99,99% of the time, even during traffic spikes.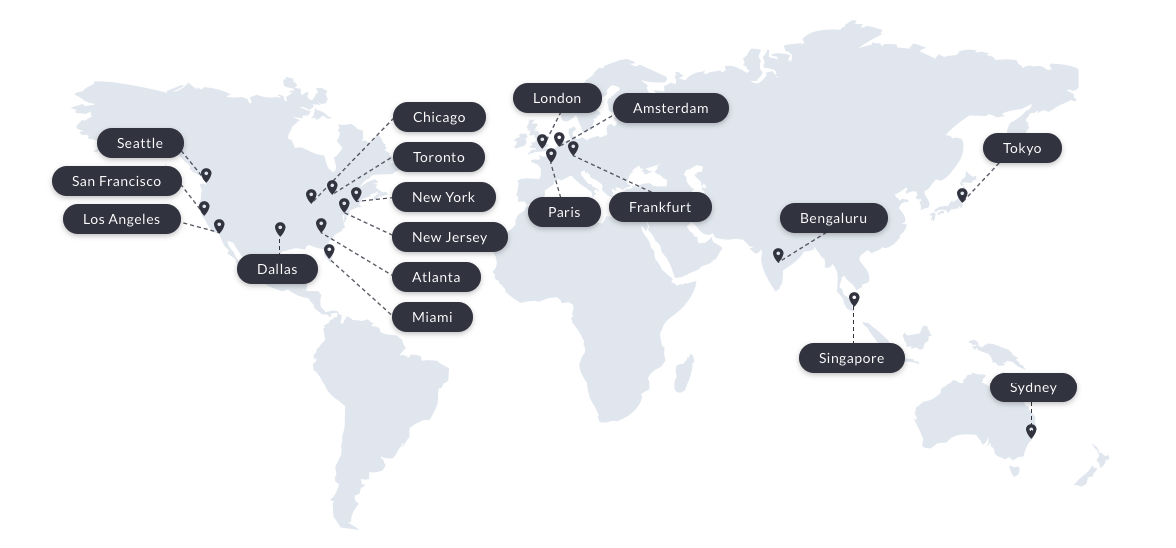 You can also enable HTTPS for your store backend, checkout, sign-in, and profile pages and enjoy options for SSL encryption.
These additional options will keep your B2B business safe no matter what.
Readiness For International Sales
If you are looking to expand globally in the future, your B2B eCommerce website should be ready to accept payments in all currencies.
For more exposure, you should also translate your storefront into the languages your customers use and offer affordable international shipping options.
High Performance
A proper B2B eCommerce shopping cart is fully compatible with the latest PHP version and, thus, speedy as a cheetah.
Stores built with X-Cart, for example, load in just 0.2-0.4 seconds, even without any caching.

Its robust REST API structure delivers impressive performance and allows for expedite inventory syncing with ERPs, making it possible to export all the data, including customized pieces of code.
Extensibility & Customizability Without Any Limits
A perfect B2B eCommerce site should be easy to tweak and modify.
Unlike hosted wholesale eCommerce platforms, like Shopify or BigCommerce, which offer a squeezed number of features as options for your site, the X-Cart B2B platform can be customized from the ground up.
It doesn't place any limits on the templates and the coding language so you can tweak it easily to your unique business needs.
Up-to-Date Functionality
A good B2B shopping platform is crammed full of useful features that allow you to grab and hold online users' attention and focus more on customer engagement:
Call-to-action buttons that catch the attention of the customer on most of the essential pages on your site;
Buttons that make it easy for the buyer to contact the seller or supplier for each product;
Social media buttons and a comments section in your site's blog posts that help you stay in touch with your audience in a more informal way.
X-Cart Gets You Equipped With Everything You May Need to Create Effortless B2B Shopping Experience
All of the things mentioned above, such as mobile-friendliness, polished UI, security, performance, and extensibility, are the bare essentials. It stands to reason that every B2B eCommerce shopping platform should have all these features built-in by default.
But, let's face it, B2B buyers have higher eCommerce expectations. To create a truly effortless B2B shopping experience, you have to think globally and offer at least a little bit more than your competitors.
And I should admit that X-Cart is pretty good at it:
1. Support for complex workflows & customer's self-management. A robust B2B wholesale platform, such as X-Cart, grants an extended range of options such as inventory management, payment processing, fulfillment, shipping rules, and customer service. Examples include the following:
access to order & transaction history per vendor;
bulk order approvals and inventory editing;
purchase authorizations;
order returns, repeat orders, & order reports;
automatic commission transfer;
custom quotes;
dynamic memberships & wholesale pricing.
2. All the Latest B2B Marketing Tools to help you boost brand awareness, increase search, and promote your products in the most natural, non-intrusive manner. Among these tools are:
customer feedback solutions;
powerful rating systems;
built-in promotions, discounts, and coupons;
business intelligence apps;
and other tools that will help you determine and channel your B2B marketing efforts correctly.
3. Ready-to-Use Integrations With Complex System such as ERP, CRM, Point-of-Sale, inventory, automation, and other systems are natively built-in the X-Cart shopping platform.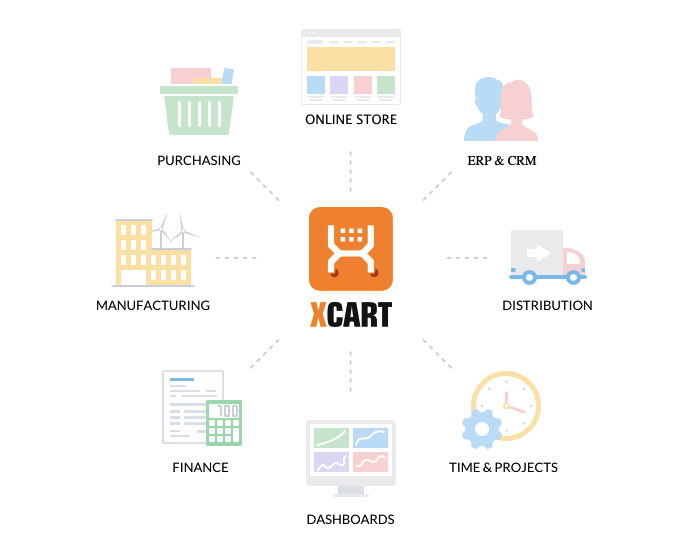 With X-Cart, online sellers can focus more on business development instead of wasting time trying to figure out how to operate complex systems.
4. Omni-Channel Digital Sales Process. All the X-Cart sales channels can be seamlessly connected with each other, which makes it easy for B2B customers to determine their preferred channel of engagement.
5. Support of Various Business Models. Distributors, retailers, resellers, and direct high-profile B2C customers — there's a unique set of tools for each business model in the X-Cart app store.
X-Cart Solutions for Store Owners:
Easily split your vendors' revenue with PayPal;
Control your vendors and pre-moderate their products;
Flexible shipping from a single warehouse or separate shops.
X-Cart Solutions for Vendors:
Easy sign-up;
Separate dashboard and storefront for each vendor;
Convenient inventory management;
Options to chat with customers.
Here's what makes X-Cart even more appealing to B2B merchants:
24/7/365. Attentive and helpful customer service, ready to help round the clock.
No hidden fees. Fair pricing policy and personalized offers for clients.
Easy sign-up process. Create a free 30-day trial with X-Cart and start selling online right away. No coding. That's our job.
Ready to Build A Well-Tuned B2B eCommerce Website?
X-Cart will provide you with all the necessary tools to help you create a compelling B2B customer journey and generate more leads
The X-Cart team has a Multi-Vendor module that is more robust than others.

Gary Pettigrew, Web Architect at WeBuyBlack
Bottom Line
So, there you have it, the best B2B e-commerce examples we could find. These show that there is always space for something unique and appealing to the customers.
All you need to do is innovate and try to give your target market what they need. That's the key to success in B2B e-commerce.
The first step is to start a sustainable website by using a comprehensive B2B wholesale platform like X-Cart. It will make it easy for you to start an eCommerce store and offer all sorts of tools so you can concentrate on improving and advancing your business.

Get the Best
Expert-Backed

Tips on Selling Online Straight into Your Inbox

Only one email a week, we promise

Awesome! You won't be disappointed 😉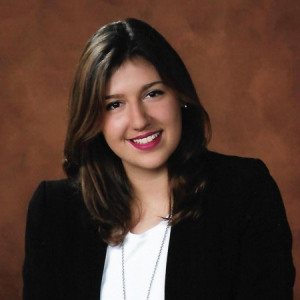 Ana Bera
Head of Marketing and Content at Subscriptionly.net
Ana Bera is a 5'3 ray of sunshine and a chocolate addict. As the Head of Marketing and Content at Subscriptionly.net, she uses every opportunity she gets to learn from others and generate fun and informative content. Ana is a Toronto born world traveler, hungry for knowledge and ready to make a difference in the marketing world.