←
Back to Blog
How to Use Instagram Stories in eCommerce [101 Guide For Beginners]
This blog post was originally contributed by Sasha Irvin.
Instagram is quickly becoming one of the most effective mediums for reaching customers. From influencer marketing to driving engagement with your brand, it's more than proving it's worth.
The platform is quickly evolving to capitalize on a business's use of Instagram. One of the most underutilized features available is using Instagram Stories for e-commerce purposes.
So how can Instagram Stories drive purchases on your online store? We've put together this comprehensive guide to Instagram Stories and how you can leverage them for e-commerce success.
This guide will show you:
Why you should use Instagram Stories
How to design your Stories to attract higher click-through
How to set up offers for your online store
How to measure your success
I. Why Use Instagram Stories?
Managing an e-commerce business is a lot of work. Expanding into managing another point of contact with your customers may sound overwhelming, especially if you're not too familiar with creating Instagram Stories. So, why bother?
Let's look at some stats that will show you why the e-commerce features of Stories can bring your brand to the next level:
60% of people say they discover new products on Instagram.
70% of shopping enthusiasts use Instagram specifically to discover new products.
1/3 of the most viewed stories are posted by businesses.
It's estimated that 71% of U.S. businesses are on Instagram in 2018.
Six in ten adults online have Instagram accounts.
These are just a few of the Instagram stats that show why you should be taking advantage of their shopping features.
II. How to Use Instagram Stories
Instagram Stories are temporary posts that run across the top left of a user's feed and can be photo or video content. The posts are timed to appear for 24 hours before disappearing unless they are added to your Story Highlights reel, which then appears permanently on your profile. Users will be able to open your Story by clicking on your profile photo at the top of the screen on their feeds.
Stories are often seen as a more informal way to post on Instagram, and often use a lot more video content, filters, and design features than regular posts. How regularly you post to Stories is up to you, but it's optimal to add new posts several times a day.
But before you dive into using your Stories to sell products, it's vital that your images are attracting as much click-through as possible. Here are some tips on attracting more customers with your Stories:
1. Keep It Consistent
Stories can be a mixed bag when it comes to the production of quality content. Some brands use it as a space to distribute User-Generated Content (UGC). Others only post high res, high-quality imagery, and video. Some use it more informally for behind the scenes style content.
Whatever type of content you choose to distribute, the most important thing is for your brand voice to shine through. Users who view your Stories should instantly get a sense of who you are as an organization and want to interact with you based on that.
2. Use Attractive Imagery
For an e-commerce company, the aesthetic is everything when it comes to Instagram. You have a ready-made platform built to show off attractive, high-quality images of your products that will get users instantly clicking and swiping.
Instagram takes this one step further in Stories by allowing you to add text, filters, and other features to grab the user's attention.
3. Get Creative
If you already have plenty of professional product shots and photoshoots to choose from, fantastic! If not, you can take your product shots and upload them to free graphic design tools like Canva.
It's easy to create graphics quickly, add custom text, and give your image or video a little something extra. Plus, you can customize the photo dimensions, so they're optimized for Instagram Stories.
III. Using Instagram Story Features
Any brand worth their salt on Instagram should be making liberal use of the many fun features available for Stories. Here are just a few:
1. Questions
The Questions feature can generate interactive engagement with your Stories. Brands often run a Questions post at regular intervals or when they host a "guest" on their stories, such as an industry influencer.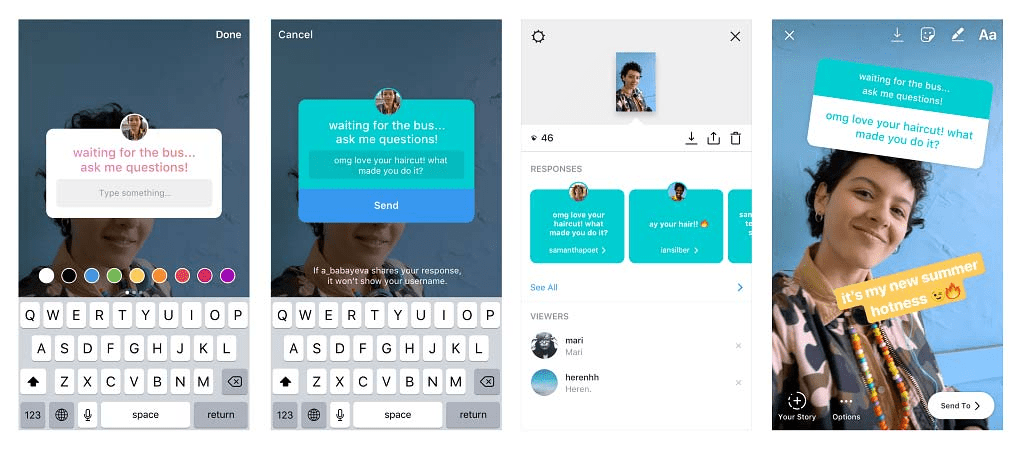 Source: Instagram from Facebook
2. Filters
Facial filters have been around for a while and have become a regular feature of many social media platforms. On Instagram, filters extend beyond faces and can be used to celebrate holidays or special events in the calendar.
After you have taken or selected your image, simply swipe left at the bottom of the screen to access the filters. Take some time to familiarize yourself with all the filters available for both images and videos on Stories and find ones that best suit your brand and message.
3. Polls
This is one of the most popular features on Instagram Stories and is an excellent way to encourage users to engage with your posts. From slider polls to A/B style, these types of posts are popular because users want to contribute their opinion and to benchmark their answer against the majority.
Brands can have a lot of fun with these types of posts, whether the topic is controversial, humorous, or to generate excitement about an event or new product launch.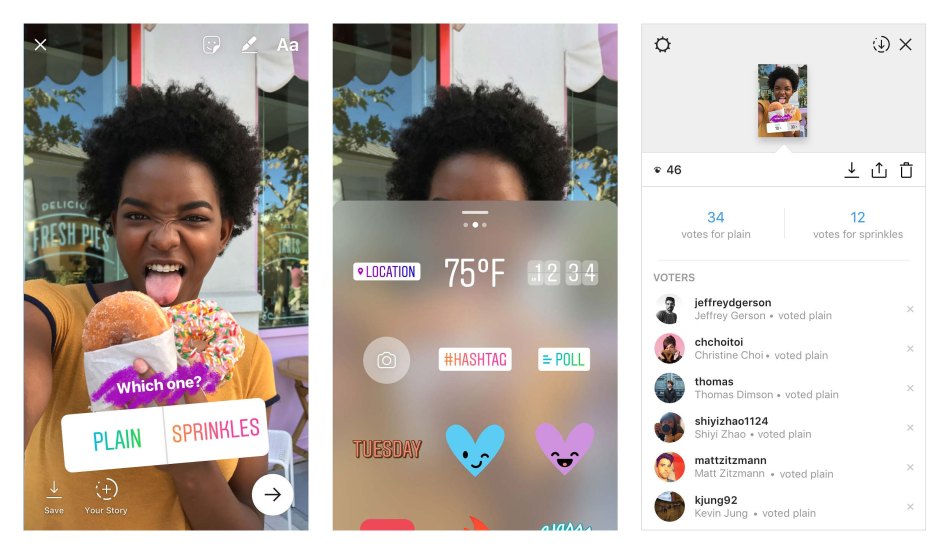 Source: Instagram Info Center
4. Stickers
Like filters, stickers can add some extra impact to your Stories. You can add gifs, emojis, and lots of other stickers to your posts. Instagram will also show you which stickers are trending. There's a lot there, so be sure to use the handy search function to find the perfect sticker for your post.
5. Countdown
For e-commerce brands, this feature is particularly useful for generating buzz around a new product launch. It can also be used to countdown the duration of promotion and encourage last-minute clicks to purchase.
6. Hashtags
It seems there's no escaping the ubiquitous hashtag when it comes to social media these days, and for a good reason: hashtags make your posts easier to find and can provide context to your brand and Story for users who are new to your content.
Instagram makes it easy to add hashtags to Stories through the stickers tab.
7. Location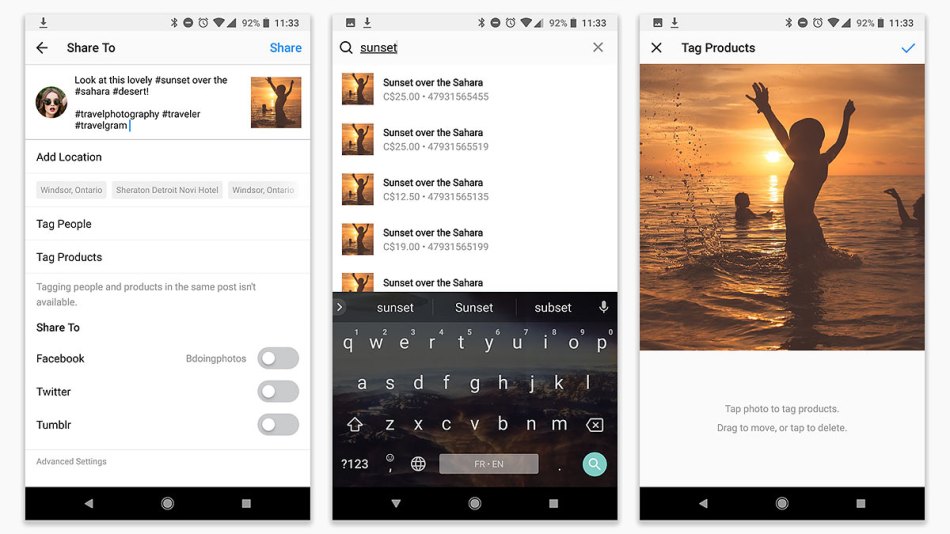 Source: iDigic
Filters and stickers aren't just about making your posts look better. It's been shown that using them (especially Geotags and Hashtags) can increase engagement rates with your posts and makes them easier for users to find.
Geotags allow you to add a location to your Stories. It may not be as relevant for e-commerce brands but can be particularly useful when running events, launching in a new market, or any occasion where showing your location can generate excitement and engagement with your post.
8. Links
This is especially useful for e-commerce brands that want to link users to specific landing pages, product categories, or promotions on their website. Users will see it as a "Swipe Up" option on your Story.
To use this feature, you must have over 10,000 followers or be a verified user. If 10,000 followers are going to take some time to get to, it's definitely worth taking the time to get your Instagram business profile verified so you can take full advantage of these features.
9. Video
Using video as part of your social media campaign is one of the best ways to drive engagement. Instagram Stories allows you to use all the great features above over video as well as photos. The platform has even made it as easy as possible to add a video to your Story by using the hands-free recording option.
10. Instagram Live Video
Another way to utilize video for your Instagram Story is to use the Live feature, where you can stream video content to your followers in real-time. Users can comment and interact with the video as you stream it.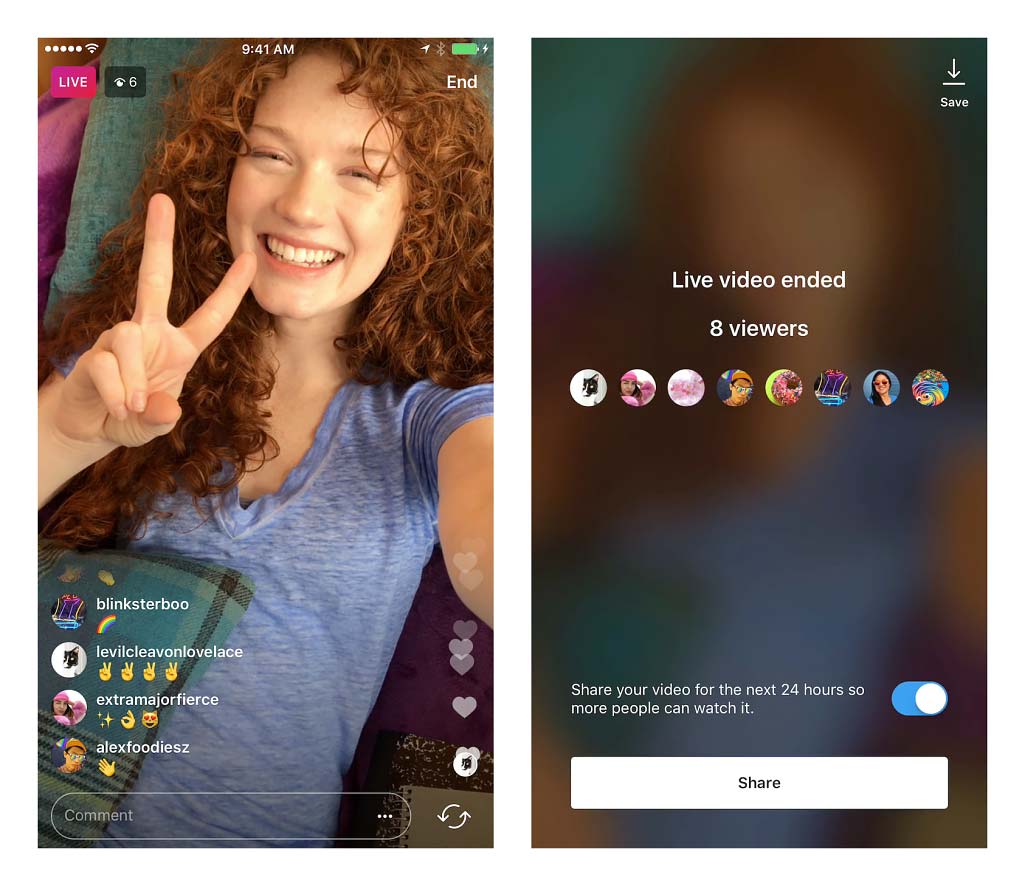 Source: Instagram from Facebook
IV. Getting Started
Before you can use the more advanced e-commerce features on Stories, there's a little bit of admin work to be done.
Make sure:
You are located in one of the 46 countries in which the feature is currently available
You have an Instagram Business account
You use the latest version of the Instagram app on either iOS or Android
Your products comply with Facebook's commerce product merchant agreement and commerce policies
Your Instagram business profile must be connected to a Facebook catalog
V. Optimizing Instagram Stories for Ecommerce
So now that you have on-brand, engaging Instagram stories that are generating engagement, and you've done all the setting up, it's time to ensure they're generating sales. Instagram is making it as easy as possible for brands to reduce the steps to purchase for users.
You can take advantage of this by making sure your Stories are taking advantage of the following features:
Product Tagging
Swipe-Up
Checkout
Not sure what items to sell? Do a quick poll first!
1. Website Links / Swipe Up
Instagram does offer the option for users to complete the entire buying process directly on the platform, but there could be a few reasons why you'd rather get the customer to your website.
To add a "swipe-up" link to your website, simply click on your Stories icon at the top of your Instagram feed (or on your profile picture directly on your page).
Once you select an image from your camera roll or record a video, click the link icon that appears in the banner at the top of the screen.
From there, you simply add in the link you want to direct users to, add a call to action, and your Story will enable users to swipe up to be directed to your chosen page.
2. Product Tagging / Shoppability
The Instagram Shoppability tags is another feature introduced by Synapse to further support the use of the platform by businesses for marketing purposes.
Once you have connected your Instagram account with a Facebook catalog, it's possible to tag your products in your Instagram Story.
Simply tap and hold on the item in your Story and search the item from the catalog. Users will then be able to tap a shopping bag icon over the item in your Story to see the name, price, and description of the item.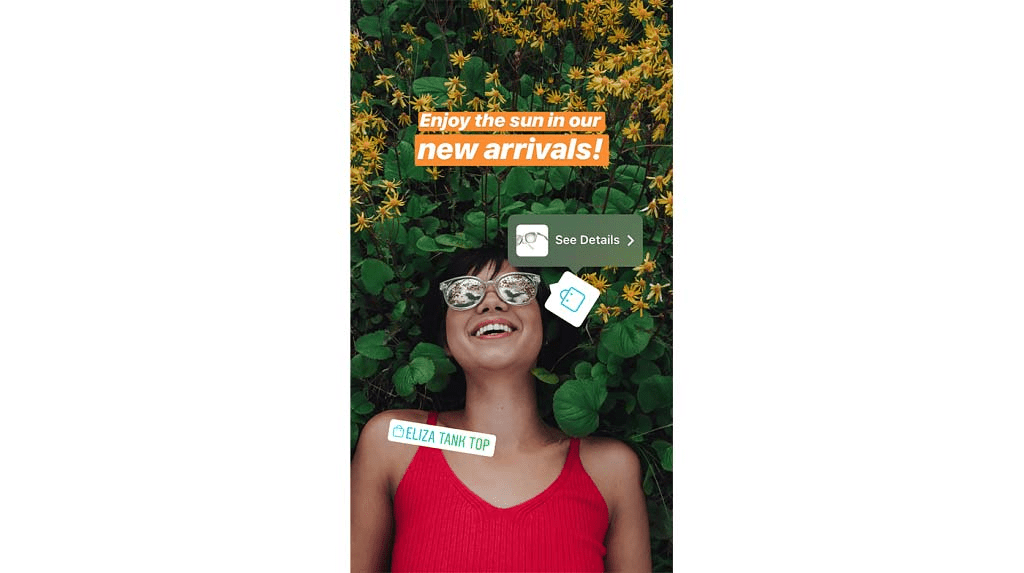 Source: Instagram for Business
3. Instagram Checkout
Not only can you add the Shoppability tags to your products, but as of March 2019 in the U.S., Instagram has been trialing a Checkout feature with selected brands.
This allows users to purchase items from a Story directly on the platform, without even having to leave the app or visit a website to buy from an online store.
Rather than being redirected to the brand's website, users are prompted to enter payment information directly in an Instagram purchase pop-up (which can then be saved for future purchases).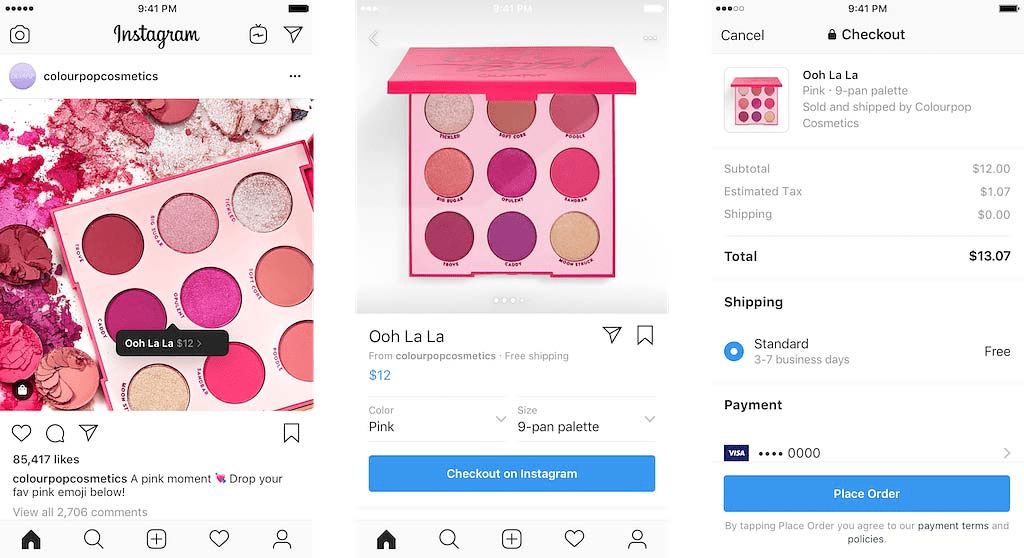 4. Sponsored Stories
Like most social media, Instagram offers business accounts the opportunity to run sponsored posts or ads alongside your organic strategy.
On Instagram, this includes both traditional posts and Stories. Instagram is owned by Facebook, so the ads must be set up and managed through Facebook Ad Manager.
VI. Measure Your Results
One area that Instagram lags behind a little is in analytics, but they are quickly catching up. Once users have started viewing your Stories or running sponsored posts, you'll want to see how they're performing so you can try out different content and see what works.
Instagram Insights can be accessed from the top of your profile page and will help you measure:
Impressions
Reach
Clicks to your website
Profile visits
Audience demographics
Insights provides information on your overall performance as well as individual posts, so you can continue to hone your strategy for optimal results.
Now that you know all the features of Instagram Stories and how to optimize them for ecommerce, it's time to get posting!
How do you use Instagram Stories for your online business?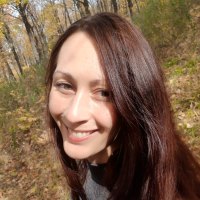 Maria Navolykina
SEO Content Specialist
Maria is an SEO Content Specialist at X-Cart. Once captured by digital and content marketing in her student days, she keeps living and breathing it ever since.
Subscribe to Our Weekly Newsletter to Get
Expert-Backed

Tips Straight Into Your Inbox

Awesome! You won't be disappointed 😉