Just like in every social group, there are very influential people on Instagram. Many celebrities have Instagram accounts with millions of followers. There are also some very powerful accounts that belong to people you don't necessarily know beyond Instagram.
Instagram influencer, what a fantastic beast you are and where to find you?
We refer to any person as an Instagram Influencer as long as:
The account has 1K+ followers

The account owner agrees to a sponsored post where he or she will advertise your brand or your product
They have their own community which trusts them. That's why if they post a pic or video where they're wearing or using your product and giving you a shout-out, you may immediately make a fortune by selling more than ever, even during the busiest Christmas season.
Resist the temptation to have your brand advertised by a celebrity. It will be easy as soon as you see the astronomic sums they ask for a post 😉
According to Mediakix, the top celebrity endorsement rates on Instagram look as follows:
@Beyonce with over 107M followers – $1M per post
@Selenagomez with over 128M followers – $550K per post
@kendalljenner with over 84M followers – $125K-$300K per post
@caradelevingne with over 40M followers – $125K-$300K per post
@gigihadid with over 36M followers – $125K-$300K per post
WHAT?
Pay a million for a single post?
No, we will leave this extravagant path to those rolling in money, generously pumped into their businesses by investors.
We will spend money smartly.
And you know what? Take a look at the figures below and tell me, what conclusions can you make?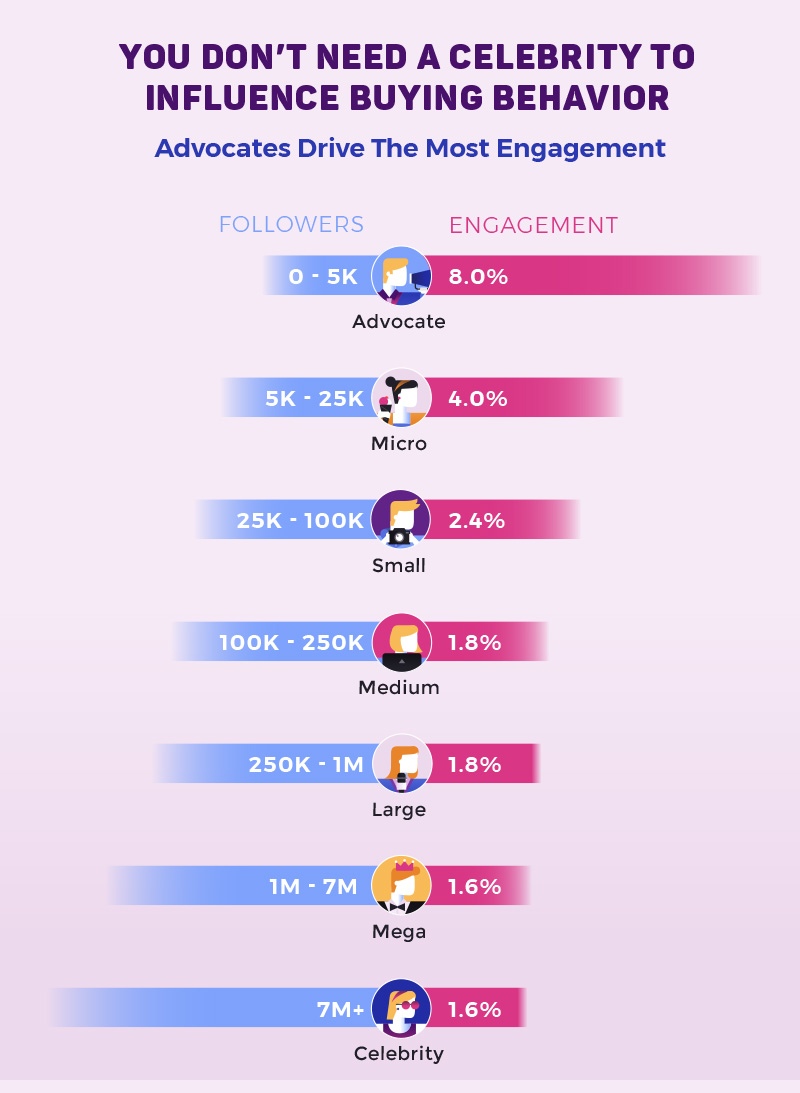 Right you are, what the above figures prove is that so-called micro-influencers with smaller audience (around 1-5 K followers) will be the smartest investment from the point of view of ROI.
Why a Micro-influencer is better than a celebrity for your brand?
The endorsement they want is affordable even for an SMB or a sole entrepreneur who decided to start an online store a couple of months ago

The audience response (that is "engagement rate") is almost 4x more than the one in the account of a celebrity.

You may choose an influencer whose audience is small but "concentrated", i.e. it consists of the real followers and is the closest to your target audience in terms of interests, gender, age and location
And as long as you understand who to search for, let's discuss how to do that.
How to find Influencer accounts on Instagram?
You can manually find influencers within your niche, searching for posts by hashtags, and try to reach them out using DM or contact info they list. The result really depends on your search skills.

You may use external services like Snapfluence or InstaBrand or Iconosquare, or even perform the search via numerous influencer marketing platforms like ifluenz, Hypetap, Tribe or alike.
Below is the description of 2 campaign types in Ifluenz. They start from $15 and from $1000, accordingly, and the differences are clearly outlined on the screenshot from the campaign creation page of their dashboard.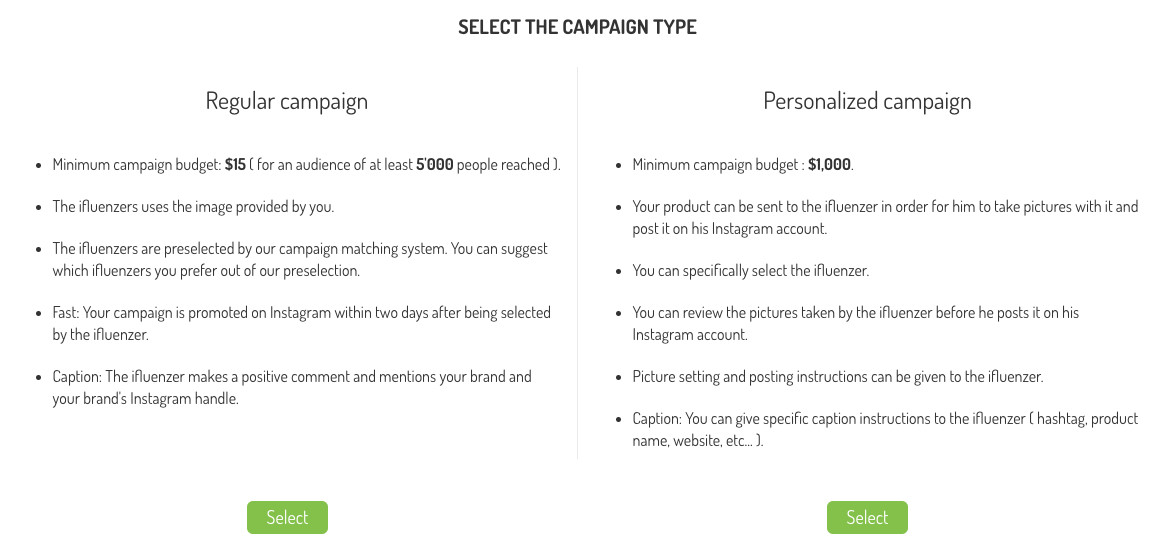 Iconosquare is a very powerful tool, and one of its strongest features is the advanced search of influencers and media.
First of all, you can search for media (i.e posts and accounts) based on hashtags and filtered by any of the below: number of likes, number of comments, number of followers/followings, date and even exact phrases in caption.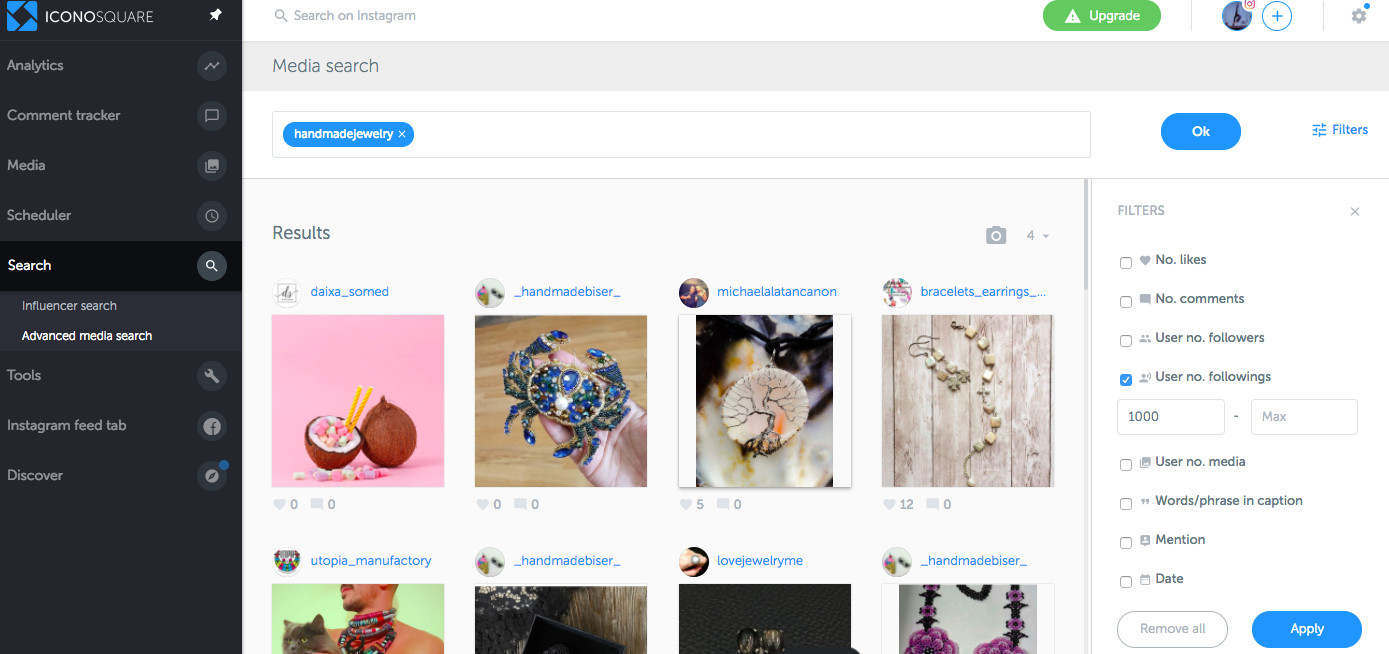 Second, it supports influencers accounts search by category and country.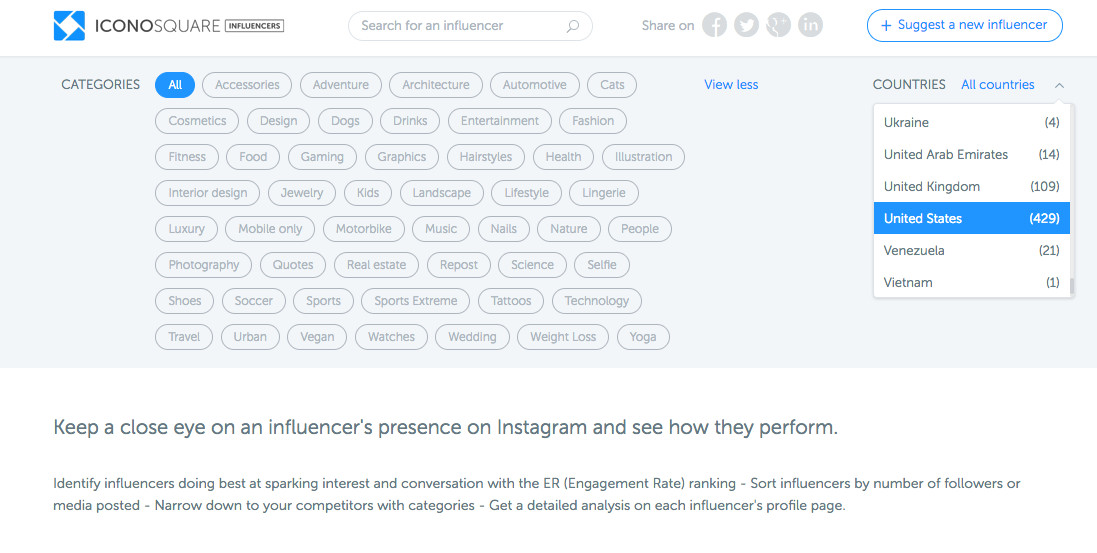 Third, you have a tool to estimate the Influencer's performance: follower growth, user engagement rate, recent activity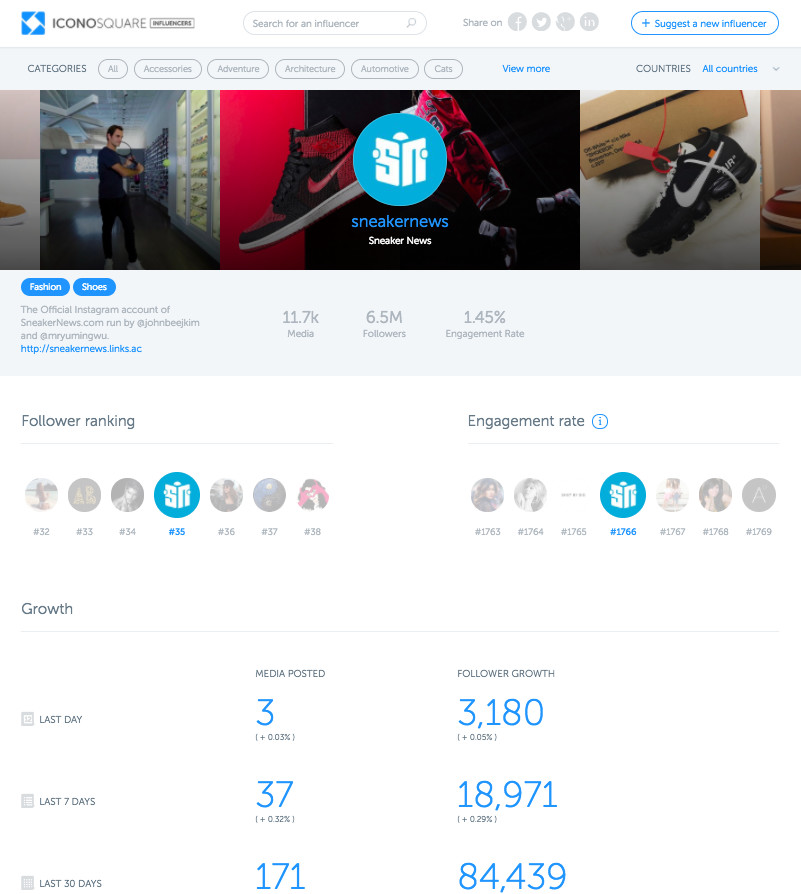 Altogether, this makes Iconosquare a popular choice for Instagram marketers who place their stakes on Influencers. There are also alternative Influencer marketing platforms that beat Iconosquare in some aspects. You will be able to find the review in the very last chapter of the Guide.
Understanding FTC guidelines: If an influencer is paid, it must be disclosed
Back in April 2017, after reviewing numerous Instagram posts by celebrities, athletes, and other influencers, Federal Trade Commission sent more than 90 educational letters to social media influencers and brands.
Consumers need to know when social media influencers are being paid or have any other material connection to the brands endorsed in their posts," said FTC Acting Chairman Maureen Ohlhausen. "This action, the FTC's first against individual influencers, should send a message that such connections must be clearly disclosed so consumers can make informed purchasing decisions.

Source: https://www.ftc.gov/news-events/press-releases/2017/09/csgo-lotto-owners-settle-ftcs-first-ever-complaint-against
On September 7, 2017, FTC sent warning letters to 21 prominent social media influencers, contacted previously, regarding their Instagram posts again. The FTC has also updated the guidance for social media influencers and endorsers.

Source: Source: https://www.ftc.gov/sites/default/files/u52513/dos-and-donts-350px.gif
What it means for you as an advertiser?
Well, you should be ready to see that the sponsored post in the Influencer's account will clearly disclose, that it's an ad. In the very beginning of post. And not in the ambiguous form like using #ambassador or #collaboration hashtags.
Will it be a stop-factor for their followers?
It can be.
But, on the other hand, done right, an influencer marketing campaign has high chances to be a success. The researches predict the further growth of Influencer marketing in Instagram from $1.1B 2017 to $1.6B in 2018 and $2.3B in 2019.
Also, all the other types of ad, like sponsored posts on Instagram or an ad on TV and radio, still do work well, even though it is obvious OBVIOUS that they are ads.
By the way, the next chapter is all about advertising in Instagram, another proven way to drive traffic to your online store from Instagram and sell online more than ever.
Chapters:
1: How to Create an Instagram Business Account
2: How to Get More Followers on Instagram
3: How to Get More Likes on Instagram
4: Instagram Influencer Marketing
5: How to advertise on Instagram
Go to the Beginning