Photo editors
If you run a personal account, the built-in photo and video editing tools of your smartphone may be pretty sufficient. But to create images for an account o[galleryf your brand you may need more bells and whistles. There are plethora of solutions on the market, which one is a gem?
Canva
Canva is one of my favorite free design tools for creating social media images, infographics, ads, emails, blog posts, and more.
There's a special Instagram template with the right dimensions, plenty of backgrounds, stickers, text options – more than enough to create a lovely pic.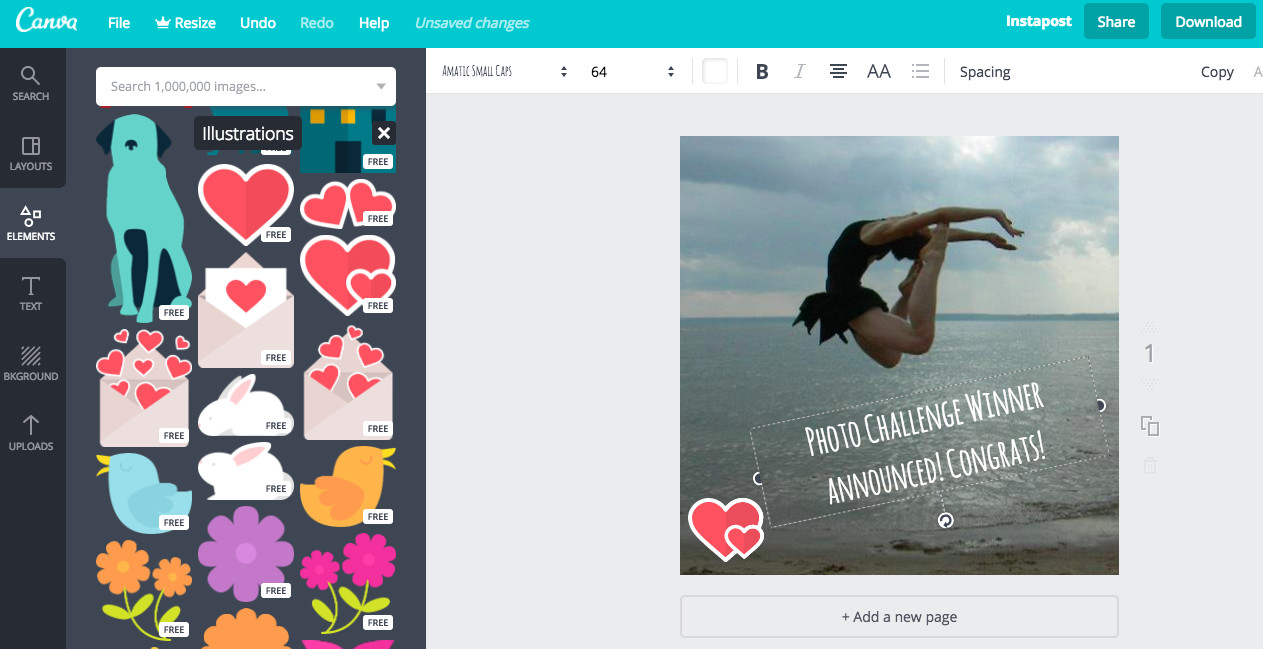 Aviary
Aviary is another 5-star app you will fall in love as soon as you try it. Stunning stickers, over 100 filters, Splash effect to selectively remove colour, amazing teeth whitening, redeye and blemish removal, not speaking of "standard" cropping, rotating, brightness and contrast adjusting and more.
One of the best New York times "Best apps for iOS 7", it remains a brilliant app for iOS 10, and, I believe, will remain a top choice for many.
As an Instagram marketer, you will need to work with your images a lot. With this app, available for both iOS and Android, editing photos is pleasure.
Hashtag research
Ability to find the relevant Hashtags is crucial for a successful instagram marketer. Not only will they bring followers, searching by hashtag, but also (if you're lucky) put your posts at the top of instagram's Explore feature, additionally boosting your following.
If in addition to manual Hashtags research you are looking for efficient tools, try these.
One of the top free services for instagram marketers, WEBSTA can help you with finding the best hashtags.
It has numerous tools at your service: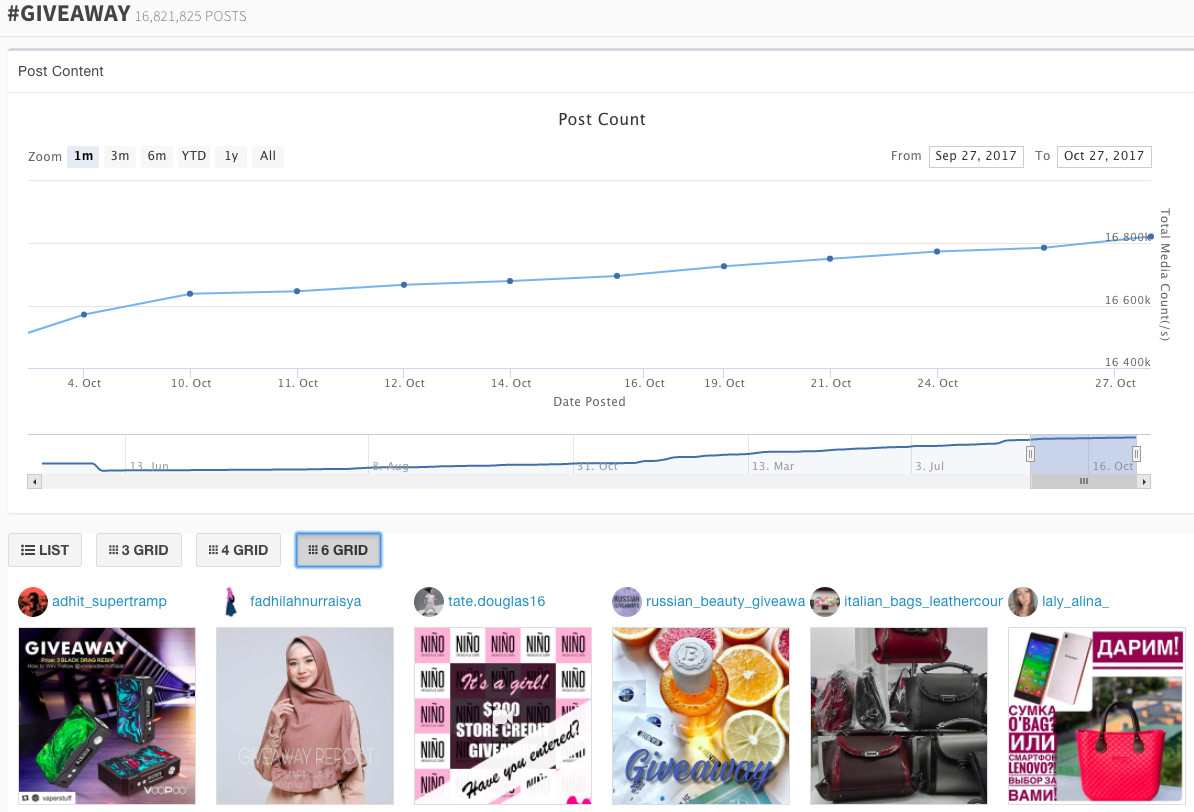 From the pricing point of view, nothing beats free.
But investments into marketing pay off, as long as you invest into efficient tools. Hashtagify is a tool you may want to pay for.
It can build a cloud of related hashtags based on correlation and popularity, and the results will be presented in either an easy to get visual form or as a report with many columns and figures.

It gives you a list of influencers related to the hashtag you research – so you can save on the influencer research platform 😉

they have a very useful report – the last month most popular hashtags ( no account required), as well as last week most popular hashtags and top-30 breaking out hashtags (you will need to subscribe at least to a 14 days free trial and they will ask for your credit card number for that)
This app shows the most trending hashtags right on the map, what makes it a good helper for a marketer looking for a way to target a particular location – city, state or country.
The research is based on Twitter, but a red hot topic trendy in twitter will most likely be equally hot in Instagram too.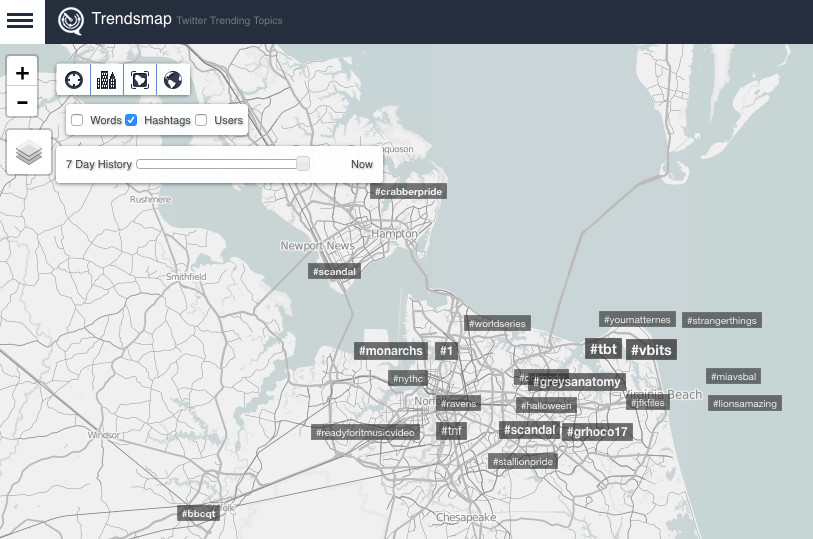 Instagram reposts
Run a regram competition where the followers need to repost (or "regram") your pic?
Want to share a Boomerang of your happy customer, wearing the goods of your brand?
You've got a shoutout by a celebrity and want to share this news with your followers?
These are everyday tasks of a SMM manager responsible for a Business Instagram account. Impossible in Instagram, but easily doable by 3rd party apps. These are most trusted.
Repost for Instagram by WuJiajia
Chose whether copy the caption or not
add a link to the original post author or not, and where
supports reposts of photos, videos and stories
In addition to "repost feature", it supports a couple of "side features":
it supports a follower tracker as a premium (paid) feature ("secret admirers, ghost followers" etc require a "pro" subscription)
"get likes"/"get comments" feature for "coins" that can be either earned for watching ads and liking/commenting on the other participants posts, mainly, low quality ones, or purchased for real $$
But let me please remind you that buying likes and comments is the last thing a good instagram marketer will want.
Repost – Repost Photo & Video Stories by XinYing Zhong
Is pretty the same as the above one. Interface, layout, workflow, coins, ads and likes/comments exchange. The only difference is that there is no followers tracking. But that's not the primary feature of an Instagram repost app.
As for its main function – sharing the other people's posts, it works just fine.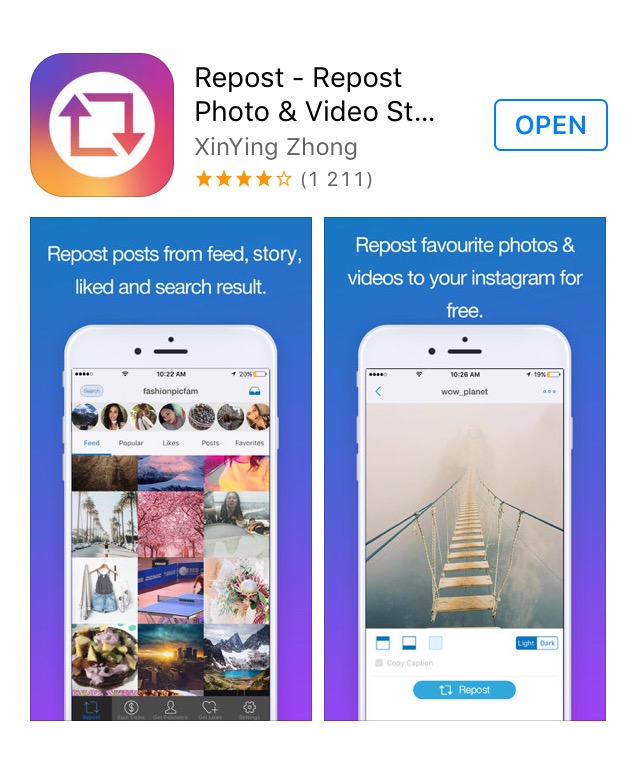 Instagram contests
Add this service to bookmarks if you want a reliable tool for your instagram contests. So far, it's completely free, but their website states that they're going to add some paid features soon.
It's a brilliant service that can choose and instagram contest winner based on a single condition of on the combination of them: likes, comments, flowing, tagging a friend, posting media with your hashtag.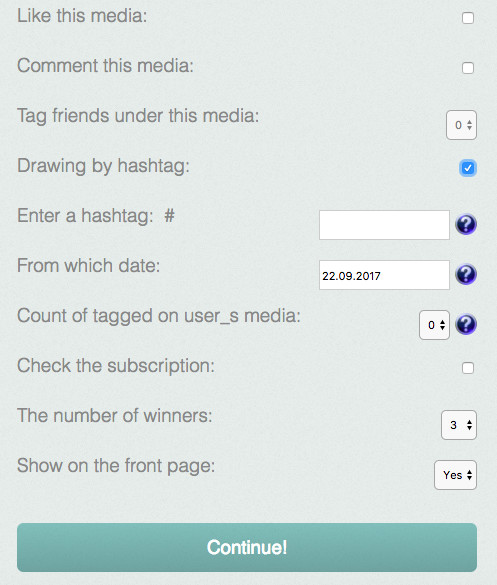 So, how to pick a winner of Instagram giveaway?
Go to https://giveawation.com/
Authorize the service to use your instagram account
Choose the post with your contest from the list of your recent Instagram posts.
Specify the rules of the contest. You can even set the number of winners
The service will get all the necessary tags, likes and comments, if this is relevant to the rules you have set, and the winner(s) will be chosen
You will have 2 hours to check the winners manually to make sure the criteria of participation are met
Now you can repeat the same drawing to record it and to share with your subscribers. It will not be choosing another random winner. You will get the same results. Show them to the participants, say, in the Instagram story or Live Stream.
Never has it been so easy!
ShortStack is what you should consider for organizing user-generated content contests. But it is a bit beyond the borders of Instagram itself, which you can turn into a huge plus for your brand.
The format of the contest will look as follows:
the participant makes a photo and shares it on Instagram
after that the participant fills in the form. There he/she chooses the contest photo from the list of most recent Instagram posts, and gives you, among all, an email address
now the entry is to be shared with friends to gain votes.
On the free plan, you can host an unlimited number of contests and collect up to 100 entries.
Compared to giveawation,it adds extra steps for the participants, which can be a stop-factor.
On another hand, if you have solid email marketing strategy, you will benefit from getting participants' emails. Also, it will increase your brand awareness and send extra traffic to the contest landing page, as the friends will come there to vote.
Instagram schedulers
Designed for spontaneous media sharing, Instagram does not support posting by schedule out of the box. If your target audience on the opposite side of the globe is most active, say, at your 3 am, wake up, get up, take your device and tap-swipe-type.
But there are numerous tools to fill this gap.
Most of these tools can not post media to instagram directly, just because Instagram's API would not allow that . They will remind you about the scheduled post via their own application. You will need to tap several times before it appears in your Instagram account, but anyway, it's a time saver, as the image and caption are ready, you do not need to create a post from scratch.
But an exception exists;)
Viraltag
A service like Viraltag will remind you about the scheduled post via its own application. You will need to tap several times before it appears in your Instagram account, but anyway, it's a time saver, as the image and caption are ready, you do not need to sit and type.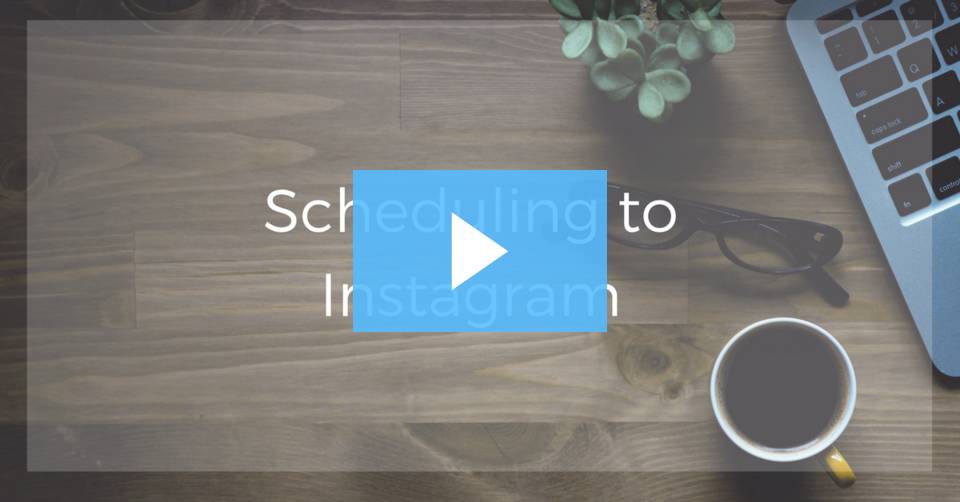 Iconosquare.com
Iconosquare.com also supports a scheduler, among the other strong features.
View this video to see how it works. In a nutshell,
You login to their website, create media, select time and date to publish, and wait for an Iconosquare app to remind you about the post.
When it's time to post, the app will show you a preview, after that you will be able to add a final touch to your media, add filters, paste the caption text, copied automatically, and hit the "publish" button.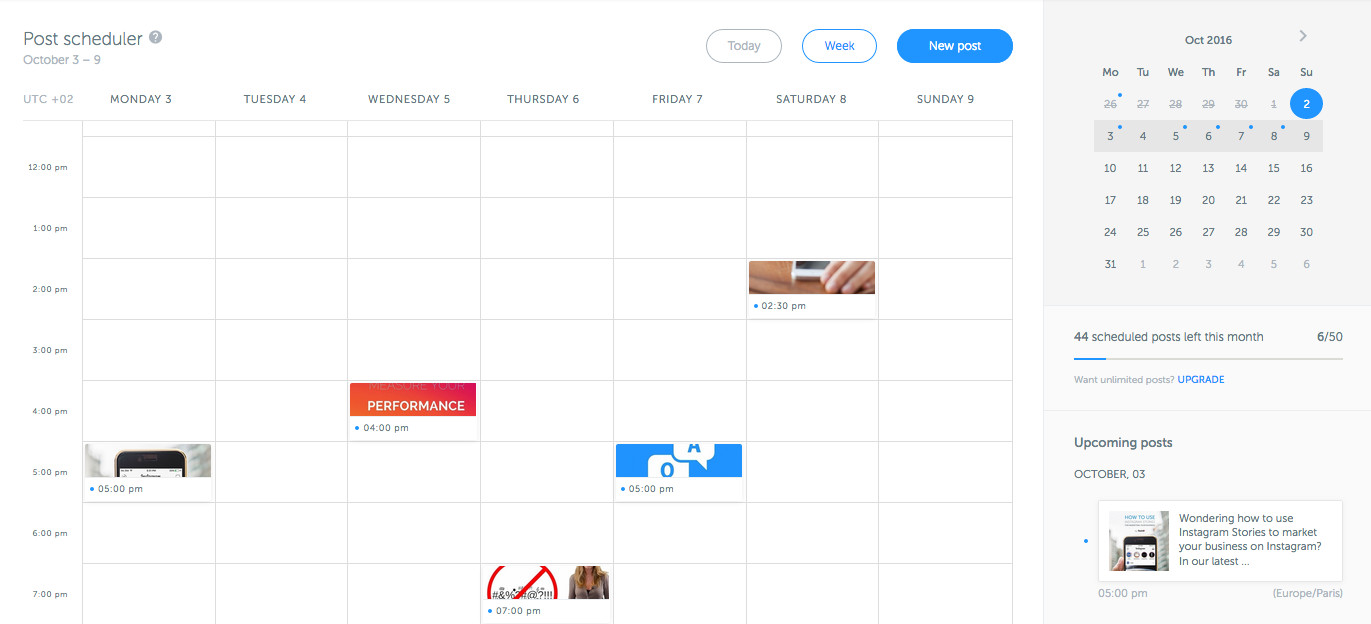 Hootsuite is more than just an Instagram scheduler. It enables you to schedule and publish content to Instagram, Facebook, Twitter, LinkedIn and Google+ all at once. Also, it's done for teamwork: several Instagram accounts can be managed, or several people can manage a single Instagram account, reply to comments and engage with followers.
A single-user plan for up to 10 social profiles starts from $19/mo, a multiuser one – from $99/mo. A 30-day free trial is more than enough to understand if you're ready to long-term relations with this tool.
But they ask for a credit card details when you signup for a trial, and I hate it.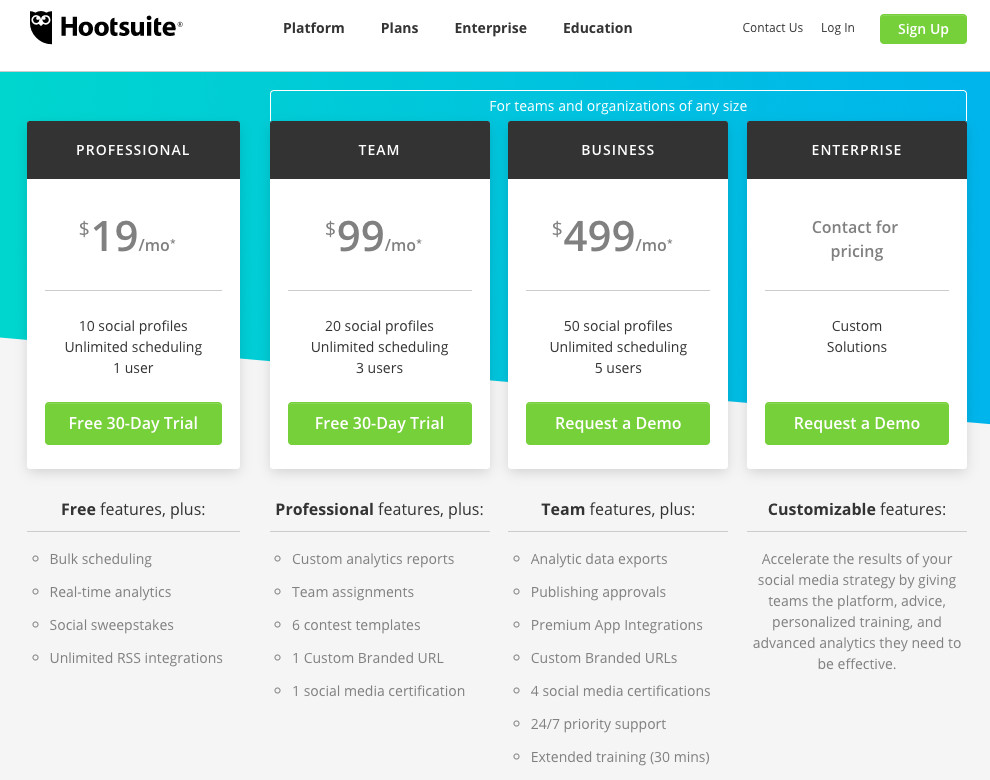 Schedugram
Schedugram is purely a scheduler and they handle it differently than many other instagram schedulers. They use a pool of real phones to post the content.
…
Here comes a pregnant pause, I'm giving you some time to imagine what their team may look like.
…
An army of with crooked necks, posting pics all day long?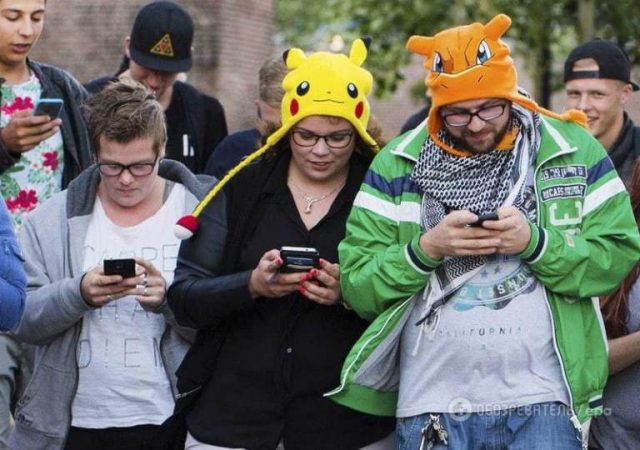 Source: Image source: https://e-w-e.ru/wp-content/uploads/2016/07/1-25-640×450.jpg
Fortunately, not at all. No single neck has suffered! The physical phones are used indeed, to comply with Instagram's requirements, yet they're operated by machines. For curious, read further here.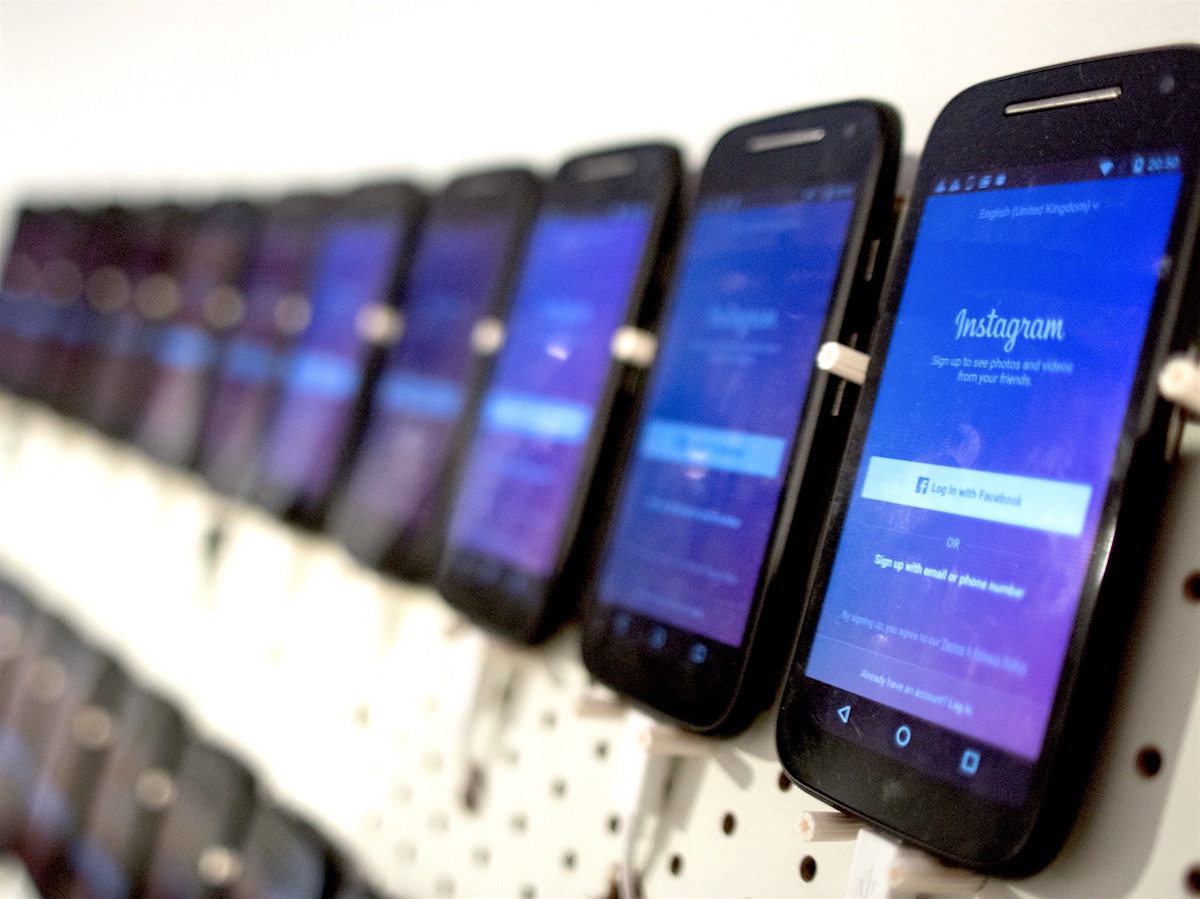 Source: Image source: https://schedugr.am/compare-instagram-scheduling-platforms/
Simply said, for you it means that your phone will not vibrate in the midnight, inviting you to get out of your cosy bed because "Instagram Marketing duty calls you". You just create and forget.
The monthly cost starts from $20 and depends on the number of followers you have.
Not a scheduler, yet a very related tool
You may be interested in this tool which suggests the best time and day of the week to post your content, depending on the industry (from the list of 65 industries available). It's based on a study of 17737 brands and on the anlalysis of engagement rate of 17.5 million social media posts. Check Best Time to Post on Instagram Generator tool before you set up a scheduler.
Influencer marketing platforms
Famebit is one of the largest influencer marketing platforms for marketing on Instagram, YouTube, Facebook, Twitter and Tumblr.
It's a self-service solution where it's free to post your campaign and receive proposals from creators. Only if you decide to move forward with a campaign and approve of the content, the service fee will apply, which will add quite fair 10% to the campaign budget.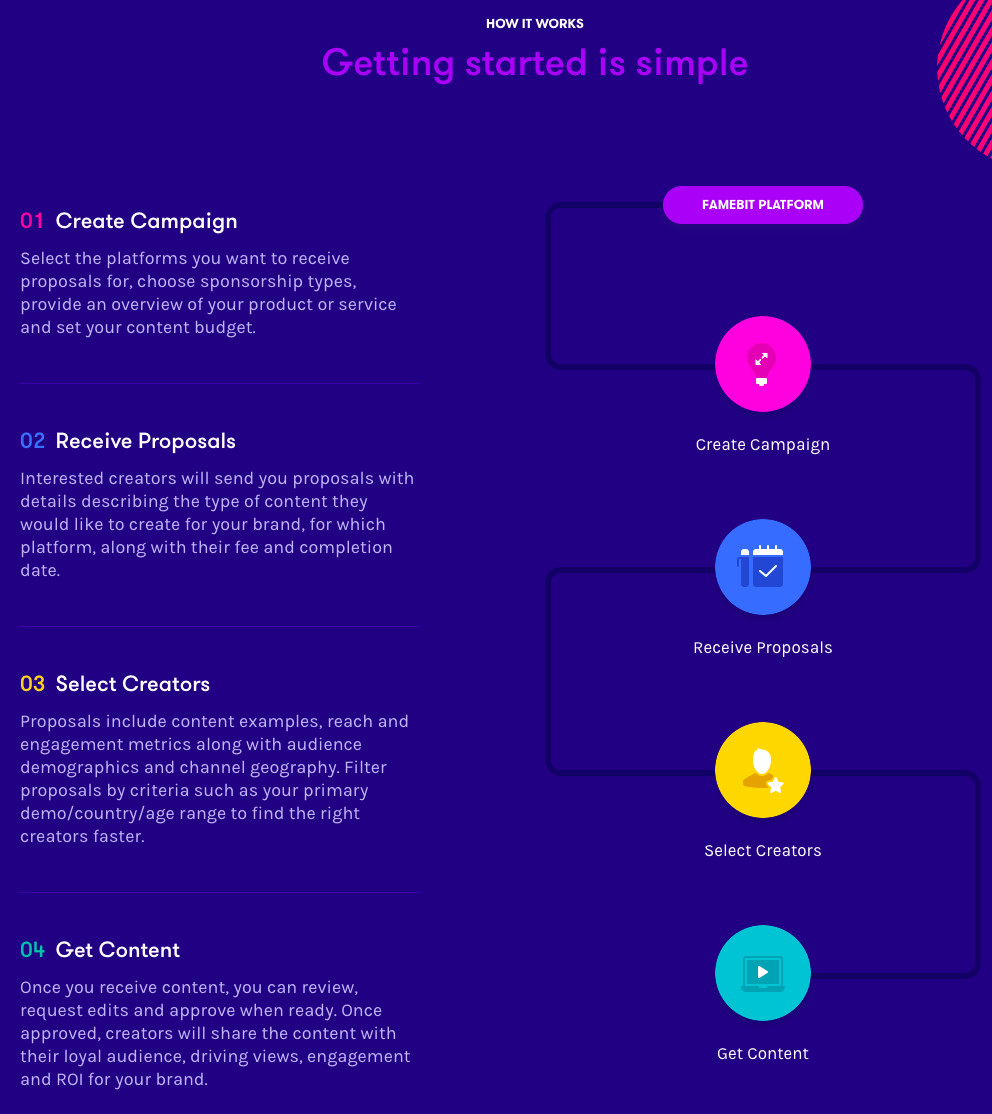 A marketplace to buy shoutouts by Instagram influencers. And to sell, too, but we're looking at them from the point of view of a brand, hence we're buyers.
You can filter influencers by category (fashion, sports, pets, food and more) and social network (Instagram or Twitter), sort them by price, number of followers or score, preview the influencer and place an order right away.
Sorting the sports category by price returns the results within $1-300 range, so you can find a low-budget options to try them out.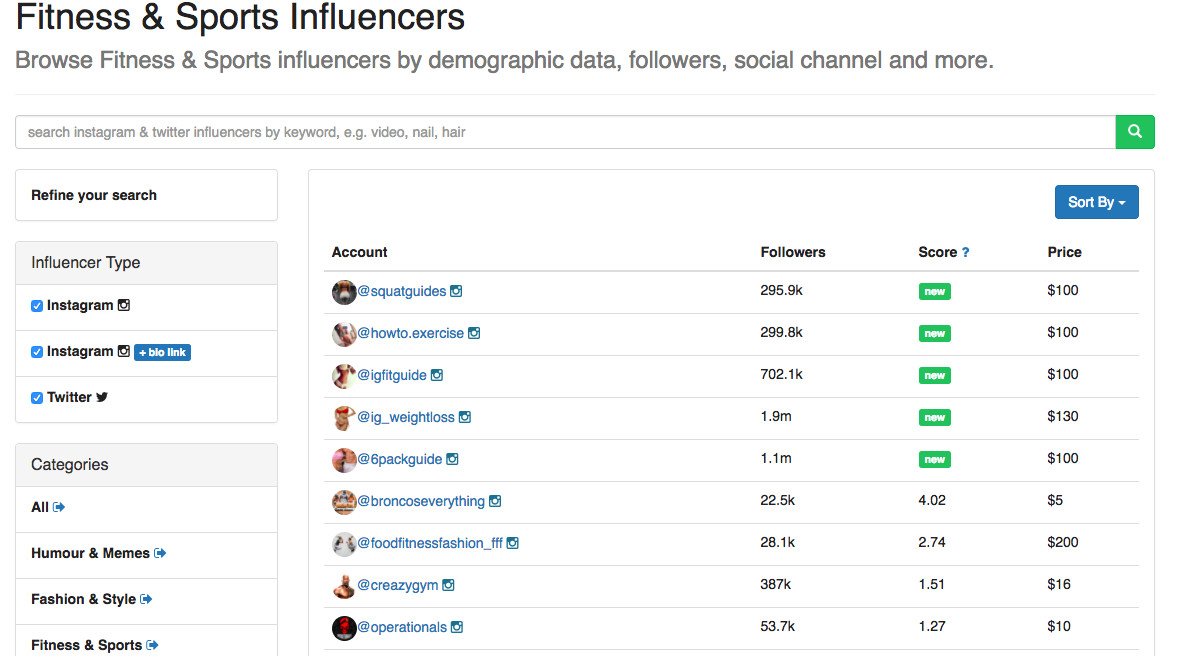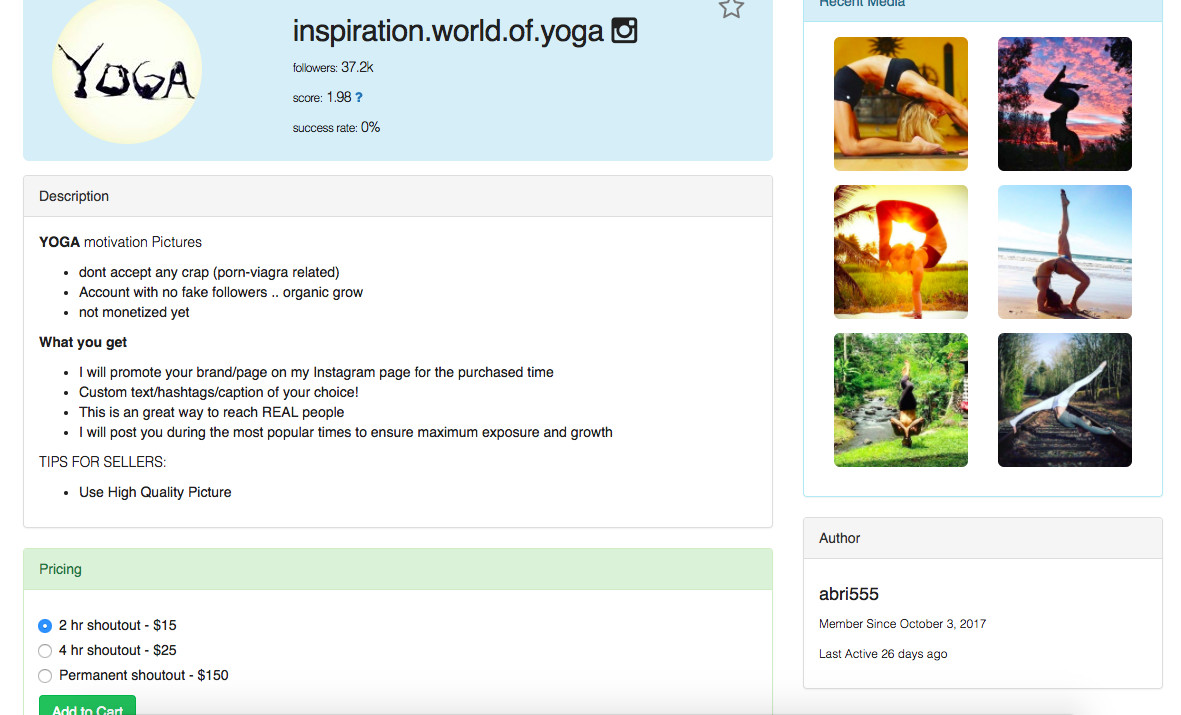 Iconosquare
Unlike the aforementioned influencer marketing platforms, Iconosquare doesn't need an influencer to register with them and explicitly express their wish to collaborate with brands. It just offers a very good search tool to find the accounts in accordance with your criteria like number of followers and post, keywords in bio, hashtags used and more.
It has is cons and pros:
person may be a good influencer in his niche, but never register with shoutcart, famebit, nichify or alike. You will still find him. That's cool.
an influencer you have found may not be open for partnership, so your effort to reach him or her for advertising your brand may be in vain. That sucks.
Nevertheless, I would still bookmark it. Check out a free Influencer searcher available at Influence.iconosquare.com. Also, you can look for an influencer right inside your Iconosquare account, see video below :
Instagram Analytics
Understanding your Instagram account performance is an essential part of Instagram marketing. Who are your followers, when to post to get maximum engagement, what type of content they like and comment on most.
Your Instagram account will no longer be a blind zone with the analytics tools below.
Instagram insights
First and foremost, switch your Instagram account to a business type, and you will immediately get full (and free) access to the essential information about your posts, account and followers. Reach, impressions, comments. Probably, not too detailed, but comprehensive and digestible even for a beginner
Socialbakers
Here you can get a free report with you top filters, top hashtags, most tagged users. Also, top-liked and top-commented posts and distribution of posts per month. A lovely tool to take a look at it out of curiosity for a 15-year old girl who posts selfies, but it seems useless for a business owner who is serious about selling on Instagram.
What you should take a closer look at is Socialbakers Suite. In addition to the valuable insights about your own Instagram account, engagement predictions and recommendations, it can give you some pretty useful info about your competitor's instagram strategy. What content they are promoting, when they are promoting it, and how effectively it works for them, the ratio of their paid and organic posts and overall share of interaction.
A free trial and no credit card asked – that's the way I like it!
Try it!
This social media management software can work with Facebook, Twitter, Google plus, Linked in and, of course, Instagram.
It's features are wider than just analytics – it's a feature rich software to manage your instagram account a-z: plan and publish, monitor and engage, analyse and report.
I have listed it in the analytics section, because the reporting part is very strong. Audience growth, sent messages, team report, competitors report, hashtag performance and more. A cherry on top, this tool can create beautiful, client- or presentation-ready PDF reports or easily export the data in CSV.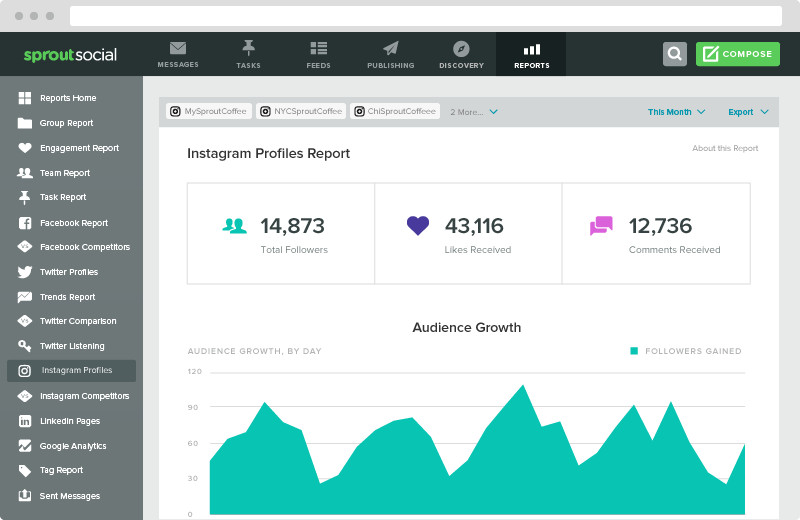 Source: image source: https://media.sproutsocial.com/uploads/localization/en/report-team-instagram.png
The pricing starts from $59 per user per month on the "Standard" plan, free 30-day trial does not require you to submit credit card details.
Minter.io
That's my favourite Instagram analytics tool. If you're looking for comprehensive info about your followers, with Minter.io you will get it for as low as $20/mo.
I would say it's the best follower tracker tool, as it gives you, among all, the understanding of the quality of your audience: how active they are, how many account they follow (and you have to compete with in their feeds), how many followers they have and so on.
City and country and language of followers, average likes per post and total likes, number of interactions for photos and videos, profile engagement rate as a graph, top posts and best time to post – analyze that all!
Miscellaneous Apps
@melania_ciao_shoes uses a "giant grid" (or "big grid") approach and when you're watching their profile you may like the result.
However you be careful with this quite a controversial strategy.
the individual images are still shown in your followers' news feeds and they look weird.
and so will the home screen of your page, unless you post ALL the further photos in portions of 3
A giant grid can be with Pic Splitter.
One of the very Instagram-specific types of content is Boomerang, a very short video that plays forwards and then backwards, so looks rather like a GIF than like a video. To create a Boomerang you need the Boomerang app available both for iPhone/iPad and Andriod-based smartphones.
It may be very engaging and funny, but the era of Boomerangs seem to be declining – it is no longer so trendy as it used to be, when it has only appeared in Instagram.
* * *
These are all the apps for Instagram that I wanted to tell you about. For sure, there are dozens if not hundreds of other tools for businesses and brands on Instagram. And even more will appear after this guide goes live. Please drop me an email to ksenia@x‑cart.com if you know a must – have tool that I missed.
My Instagram marketing guide ends here too. I hope it will help your brand, and you will have such a presence in Instagram, that the upcoming guides will feature you and your posts as the best examples of how to do that right… But you will be busy accepting the orders coming and coming and coming like crazy 😉
See you on instagram!
Chapters:
1: How to Create an Instagram Business Account
2: How to Get More Followers on Instagram
3: How to Get More Likes on Instagram
4: Instagram Influencer Marketing
5: How to advertise on Instagram
8: Instagram tools
Go to the Beginning