←
Back to Blog
Instagram Analytics Guide For Beginners: Everything You Need to Know in 2020
As an eCommerce marketer, you have to deal with all sorts of analytic tools to measure the results of your marketing campaigns, right?
Instagram Analytics is one of them.
This awesome tool can help you discover various data assets and get answers to the questions like that:
What kind of posts works better on Instagram?
What time and days are best for optimal audience reach?
How relevant was the audience of the Instagram influencer you paid to?
What is the quality of traffic referred by Instagram?
In this chapter, we will discuss three different aspects of Instagram analytics:
Your Instagram profile performance: followers data, engagement rates, statistics of posts and stories;
The behavior of users referred by Instagram to your website;
Finally, we'll try to figure out what free Instagram analytics tools will take your digital marketing to the next level.
Together, they will build a complete picture of your eCommerce business… and, of course, help you generate even more revenue than you plan.
I. Optimizing Your Profile With Insights
The easiest way to see the most important profile analytics is Instagram Insights. The free in-app analytics becomes available as soon as you convert your regular Instagram account into a Business one.
Tap the bar graph icon in the right upper corner of your profile to access it.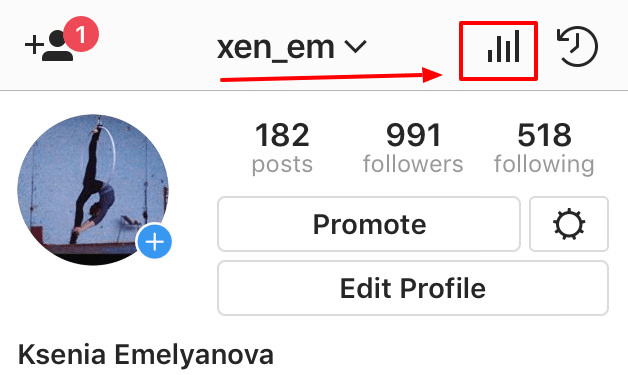 What info does Instagram Insights contain?
The total number of followers + how it changed in the last 7 days
The entire number of posts + how it changed in the last 7 days
The full number of impressions/reach/profile views + how it changed in the last 7 days
Detailed info about your followers: Gender split. The age range for all and for men/women individually. Top locations on the city and country level. Best time to post when your Instagram followers are most active – hourly and daily.
All your posts sorted by impressions: Detailed info about each individual post: likes, comments, engagement, saved, reach, impressions.
Stories insights for the Instagram stories created in the past 14 days:impressions, likes, replies, and exits
Promotions insights for the most recent Instagram ads
Reach — the number of unique accounts that viewed any of your posts
Impressions — the entire number of times all of your posts have been seen
As a business owner, I would probably like to see the info about most active followers: top likers, top commenters.
So far it is not available, so if you know any tool that can give this useful info, please post in comments or drop me a DM on Instagram (I'm known as @xen_em there, as you might have already noticed on the screenshots)
II. Using Free Instagram Analytics Tools to Improve Marketing Efforts
Some businesses are trying to earn on Instagram. And the other businesses are trying to earn on solving their pain points.
I have checked several Instagram Analytics tools, and I should say that it's mainly the layout they're different in.
Yes, they're trying to offer some unique reports, filters and metrics, but in terms of data, they're pretty much alike: top Instagram hashtags, top posts, top filters, most liked media ever, most commented media ever, your posting statistics and your follower growth, etc.
I guess it can be explained by the fact that Instagram's API is the same for all the developers, so they can operate the same scope of data that Instagram is ready to give them out.
1. Socialbakers AI-Powered Instagram Tracker Tool
Socialbakers social media marketing suite is probably one of the most impressive tools.
It can help you understand your audience, create captivating images, grow your subscriber list, and, what interests us most of all, measure the impact of Instagram ads on your eCommerce business.
It's a paid tool, but you can try it for free.
Here are a couple of screenshots from this analytics app.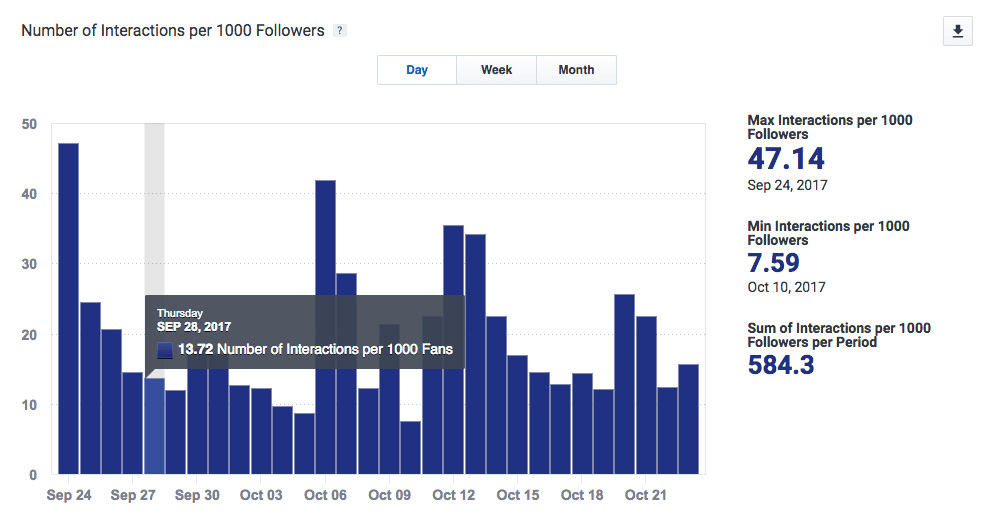 2. Union Metrics Analytics App
Another robust tool that should help you analyze your Instagram business profile in real time is Union Metrics. It allows you to go beyond the basic insights and capture all the data you need to understand your Instagram marketing efforts better.
What I love this app for are its beautiful, interactive reports that you can easily share. You can save all the data including mentions of your brand, post performance etc., in PDF and share it with your colleagues or your boss.

Union Metrics is not a free tool as well, but you can get your free trial checkup.
What is great about it is that it provides you with the latest insights on the go.
3. Websta Instagram Tracker App
Another free Instagram analytics tool is called Websta.
It gives you the access to analytics for your 20 most recent posts, likes and follower growth history, popular Instagram hashtags, and other key tracking metrics you may need.
The tool is free to use.
Below you'll see a couple of snaps that will give you an idea of how this analytics tool looks like from the inside.


4. Simply Measured Tracker App
Simply Measured data drive social media analytics tool, acquired by Sprout Social back in 2017, would be a great asset for your Instagram advertising strategy.
It offers detailed stats and insights about engagement. Using this tool, you can instantly measure the overall engagement of your photos and videos, the percentage of likes in relation to the number of Instagram followers, and even compare this engagement to the past posts.
That's a pretty easy way to find out which photo filters and copywriting techniques drive the most engagement, isn't it?.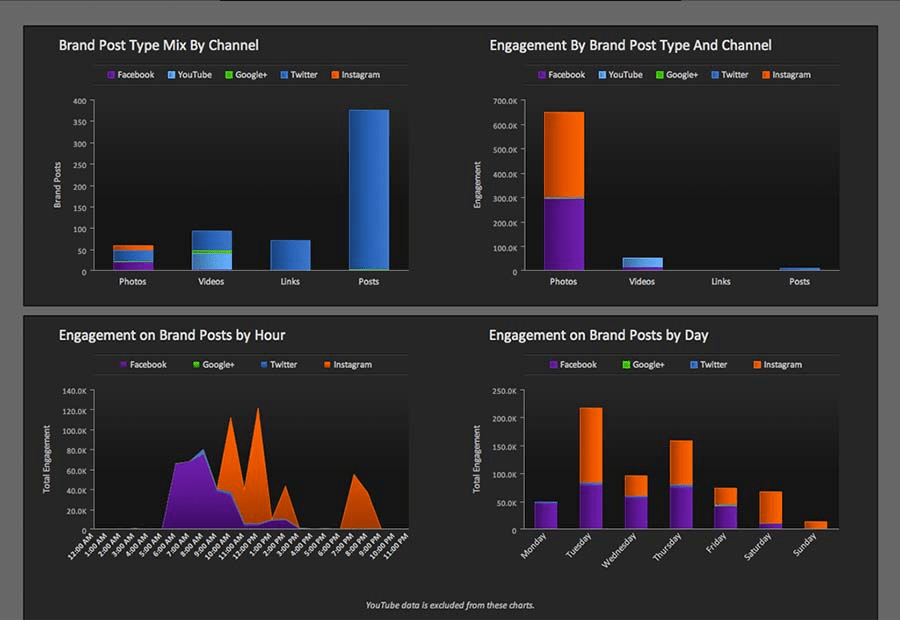 5. Squarelovin Analytics
Squarelovin also offers a nice free report about your Instagram account performance.
This social analytics tool offers a full range of optimization options, such as search history analysis, Instagram hashtag analytics, follower growth, and others.
Squarelovin even shows you the worst and best times to post. Isn't that a great tool to try?

6. Minter.io Instagram Tracker Tool
Minter.io is the Instagram analytics tool that can, among other things, give you a little bit more interesting info about the quality of your audience.
It helps you to estimate how reachable they are (how many accounts you compete with in their feed) and how many new followers you can achieve through them if they give you a shoutout.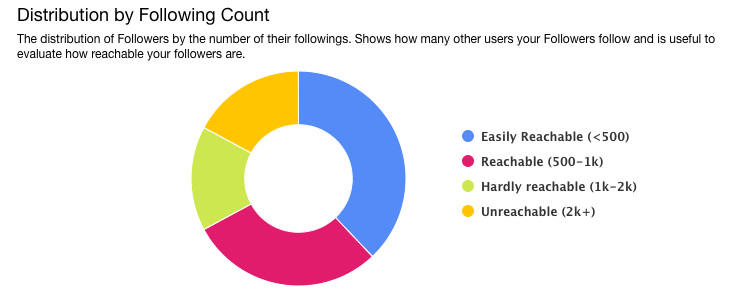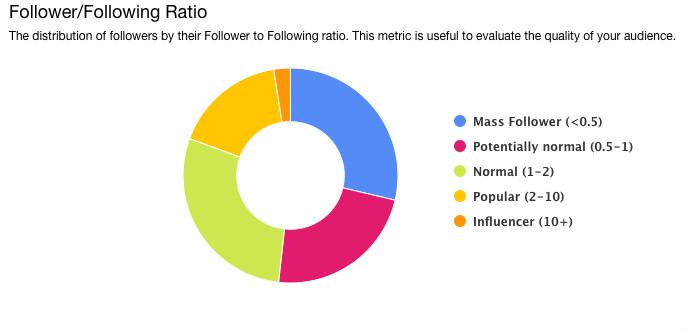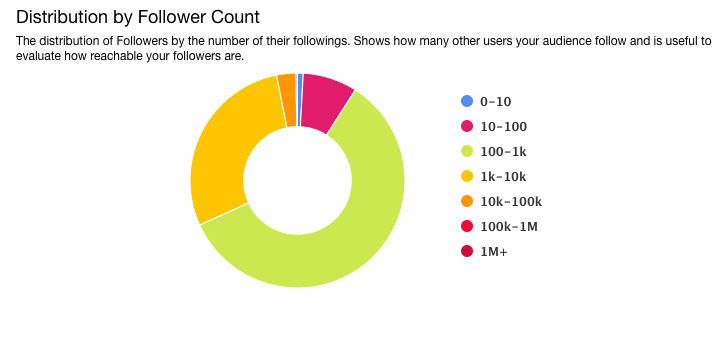 Another interesting report is the source of engagement: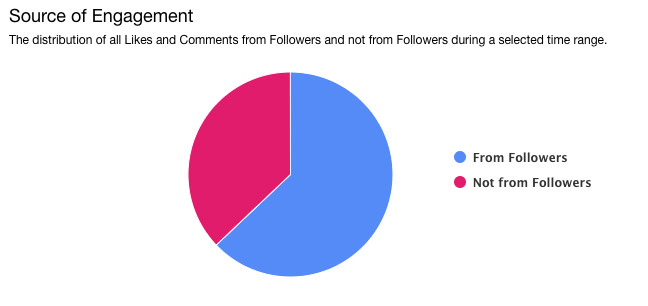 Honestly, it looks surprising that the average number of comments and likes from non-followers I have is quite high, taking into account that I have never promoted this very Instagram account and that all the ghost followers and likers are being immediately blocked. Hm, I should think about it.
And you think of trying Minter.io, it deserves a closer look, absolutely.
7. Picture.io Instagram Tracker Tool
This is a relatively new and completely free analytics app out there.
It shows you your Instagram Influence Score, designed to measure the impact of your visual content. In other words, instead of providing you with hundreds of unnecessary reports, Picture.io gives you a single score that shows how mighty you are among your competitors.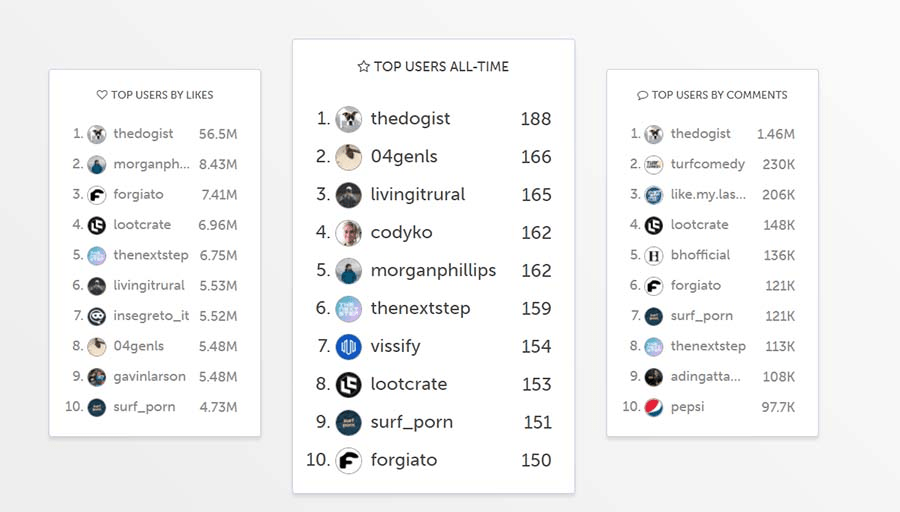 As you can see on the screenshot, Instagram user profiles are categorized in the list based on the number of likes, comments and so on.
Surely, there are other Instagram analytics tools out there.
Iconosquare, Hootsuite and Sprout Social are the solutions that combine analytics with content creation and management tools. It means that in addition to seeing how your social media account is performing, you can also schedule an Instagram post, find relevant influencers, and so much more…
… but we will discuss the best Instagram tools in the very last chapter of this guide, and now – back to analytics.
III. Instagram as a Referrer: Measure Traffic Quality on Your eCommerce Website
Instagram sends traffic to your website. Link in bio, shortened links in caption tests, direct links in DM — Instagram selling is all about generating traffic.
And in terms of traffic analysis, by popularity, Google Analytics is second to none. According to BuiltWith, 50% of all websites are connected to this tool. I bet you're among this 50% – or will be.
You may spend hours in Google Analytics, building and analyzing hundreds of reports, creating filters and segments, playing with data sorting, comparing the data for different time periods – and there will still remain the "dark spots" where you have never been.
Obviously, I will not be able to squeeze the GA knowledge base into this chapter, so I'll tell you the basics. Google's support portal will be your further reference if you want to learn more.
This useful tool, without any extra steps from your side, will be able to show you the number of visitors referred by Instagram.
With a couple of Google UTM parameters you add to links, it will show you even more:
the behavior of users Instagram referred;
the statistics of clicks for different locations of your link;
the number of orders you attracted;
and much more.
You see. There's no need to find tools that will track your Instagram performance.
1. Using UTM Params to Calculate Clicks in Different Locations
Specify UTM source as "Instagram", medium as the exact location of the link (bio, DM or caption text), and set a campaign name in accordance with your content marketing calendar, for example: utm_source=Instagram&utm_medium=linkinbio&utm_campaign=christmas_sale

Shorten the link via bitly.com or goo.gl or alike to make it look neater.…<wait a couple of days to collect some statistics>…

Login to your Google Analytics account, go to Acquisition > Campaigns > All Campaigns. Choose "source" as a primary dimension and either scroll down the list you see, or search by the word "Instagram".

That's it. The analytics will show all the standard set of data: number of sessions, percent of new Instagram users, bounce rate, session length, number of pages viewed, and so on.
2. Calculating CTR For a Link in Caption
The figure you received will give you a clue if you should keep using this method of link sharing or not.
Take the info about the post impressions from Instagram insights (see the Chapter I).
Take the number of sessions from Google Analytics, as described in a previous example.
Calculate the Click Through Rate.

Prepare yourself to see extremely low figures here: even such a simple action as double-tapping the image (or "like") is taken by 2-8% of post viewers only. Even fewer people strain their muscles to type a comment.
Typing a link that one must remember first is going to be a very rare action. But as long as you see at least occasional purchases from the heroes who went so far as to enter the link to your products manually, keep pasting this link in your caption.
3. Finding Out How Many Orders Instagram Has Brought
Configure order confirmation page as a goal in Google Analytics.
Go to Conversions —>Goals Flow.
Choose "Source" in the green dropdown and Instagram will be there — together with the figures you want.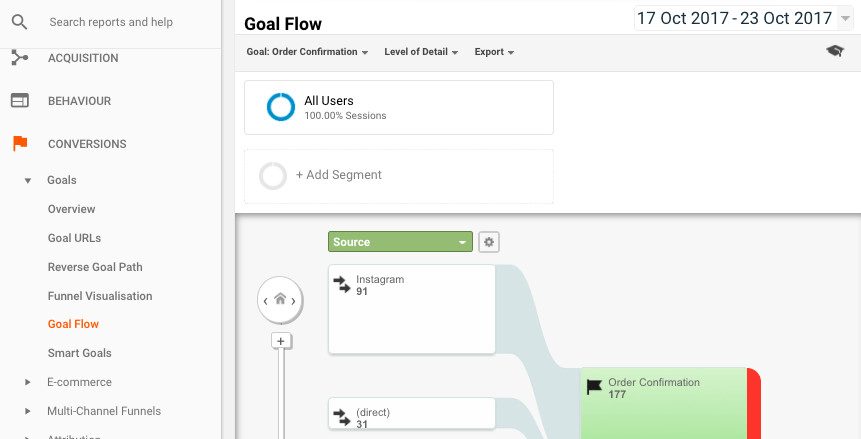 You may also create a separate segment for visitors from Instagram and build many other Google Analytics reports for them.
But the examples above seem to be the most vital — and sufficient enough — to begin with.
What Instagram tracker tools do you use to measure your social media performance?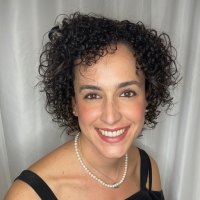 Carolina Lorenzzetti
Sr Marketing Manager, X-Cart & Seller Labs
Carolina is the Senior Marketing Manager at X-Cart. Results and data-driven, she has spent her career navigating through multiple disciplines within Marketing, and lately focusing on her passion: Content and Organic growth. She is fluent in 3 languages, with 14 years of experience leading B2B marketing strategies domestic & internationally. In her tenure, she has had the opportunity to navigate in multiple industries: Technology, Telecommunications, Construction, eCommerce and SaaS. An avid traveler, she's now halfway through visiting all of US' 50 States.
Subscribe to Our Weekly Newsletter to Get
Expert-Backed

Tips Straight Into Your Inbox

Awesome! You won't be disappointed 😉