←
Back to Blog
How to Create a Perfect Social Media Calendar [+Template]
This blog post was originally contributed by Julia Samoilenko, a Product Marketing Manager at Devart, on behalf of Chanty.
Nowadays, when we are sinking in an ocean of information, ideas, and news, it's very easy to miss out on the latest trending topics and spend too much time on your social accounts. Social media calendar, a tool to help you plan all your social content activities in advance, may become a powerful weapon of your overall social media marketing strategy.
A social media calendar will give you strategies on ways to manage your schedule and how to promote collaboration across your company, as well as save your time and allow you to test out various posts to see what resonates most with your target audience. Additionally, scheduling posts ahead of time will save you from looking for ideas every day and help to build your brand voice.
This ultimate guide will provide you with everything you need to know about social media calendars, so you always know what to post. What's more, in this article, you will find free templates to organize your social media content today. Let's dive right in!
I. Benefits of Using a Social Media Calendar
Whopping numbers show that 92 percent of marketers use social media to promote their companies.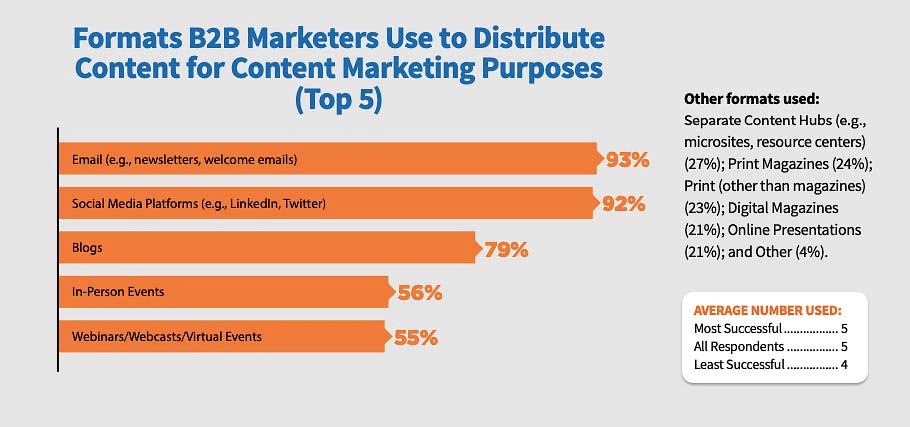 As a result, it is getting harder to stand out in customers' feeds. Nevertheless, injecting social media calendar and content planning into your marketing strategy can give you a competitive edge and leave lazy, disorganized social media posting behind.
The following list consists of indisputable advantages of using a social media content calendar:
Knowing What to Post
The first issue every social media manager faces is 'What actually should I post?' It may be a little bit overwhelming to have enough post ideas every single day. Every. Single Day.
What's more, the number of awesome activities happening within your company can be low. And it's okay. Having a long-term social media calendar will make your social media content marketing plan more clear and manageable. Doing that, you will never run out of ideas.
Setting Measurable and Clear Goals
Social media calendar allows you to set objectives for every piece of content you post on social media accounts and, what's even more important, understand what's working out.
Start with deciding what your ultimate goals are.
Generating more leads?
Increasing social media traffic to your website?
Revenue?
Brand awareness?
Or something in between?
Then, break them down into long-term and short team objectives. Be specific and realistic. At the end of each week, month or quarter, track your growth, and set new goals for the future.
Never Miss Important Dates
Celebrating important (or just funny) days on your social media accounts can help you acquire new followers and increase website traffic.
Everyone and their mom loves #StarWarsDay, #NationalPuppyDay, and #NationalPizzaDay along with holidays like Thanksgiving and New Year's Day.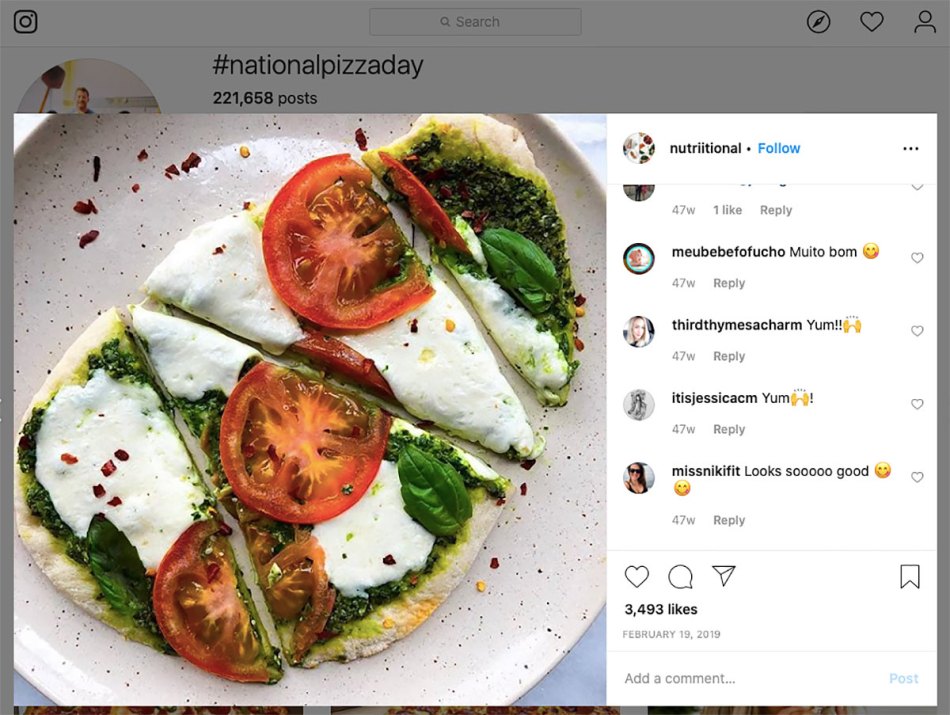 Post Consistently
Sticking to a consistent posting schedule is one of the powerful methods to increase your social media community. What's more, it looks very suspicious if the most recent post on your social account is from a year ago. A consistent schedule tells your followers and potential clients that you are a reliable company, and it's worth their time.
There's a lot of competing information on how many times to post content on social accounts. In our humble opinion, there is no silver bullet. Check out what others recommend, but test everything by yourself and don't emphasize quantity over quality.
Find Your Ideal Mix of Content Types
There's one ground rule: resist the urge to talk only about yourself. In other words, it's crucial to add to your sales offers other types of content, such as:
High-quality videos and GIF files
News stories from your industry
User-generated content
Content that engages with followers directly, and more
Social media calendar ensures you are posting a balanced amount of sales, educational, and entertainment content.
Foster Collaboration in Your Marketing Team
In a nutshell, a social media calendar located in Google Sheets, Dropbox, or dedicated software is a collaboration tool. Here you can manage everything from sharing content with your colleagues to scheduling social media posts.
Save a Huge Amount of Time
Although creating and maintaining a social media plan requires some effort, eventually, it pays off. Using a social media calendar, you save your time and allocate activities wisely.
Use Resources Effectively
Social media marketing is a complex thing: involves social media managers, copywriters, designers, video makers, and others. And the principle to get work done at the very last minute before actually posting is a very bad idea.
Alternatively, scheduling ahead puts less strain on the company resources. And increase your chances to create and post your best quality work. Also, the social media calendar helps you be aware of other teams' schedules and tasks to avoid superloads or a standstill.
Eliminate Cross-Platform Errors
Let's face the truth: companies often post the exact same message across multiple social media channels. And it's okay. However, it may lead to some 'funny' incidents like asking your Instagram fan base to 'retweet' you. As a result, you are looking foolish and disorganized to your social media community.
If you plan ahead, it's less likely to happen. A social media calendar allows you to create unique captions for each social media platform in advance.
II. How to Create a Social Media Content Calendar
Let's move on to the practical side of injecting social media calendar into your marketing strategy. The following steps will provide you with a clear plan that will lead you to thorough and effective social media planning:
1. Determine Your Social Media Calendar's Appearance
At first, it's important to make a decision about a few crucial things like the level of details your calendar requires and if you need a separate spreadsheet for each social media network. Other decisions can relate to assigning responsibilities to your team.
Btw, do the posts need to be approved by someone before going live?
How far in advance will you schedule posts?
What are the required items of your template (Date, Time, Copy, Image, Link, etc.)?
2. Know Who Your Audience Is
You may already understand who your followers are. You should similarly know the broader demographics of the social network you post on. For example, people might use LinkedIn for professional reasons while using Instagram for personal and entertainment purposes. It's crucial to post relevant content for the right audience.
3. Conduct a Social Media Audit
Before adopting a social media calendar, take stock of your current social media activities.
What platforms are you using and which ones are performing the best?
Should you continue publishing to them?
What are the short-term and long-term goals for each network?
Who is responsible for each social network?
What posts have performed well in the past?
What things are your business rivals posting?
Also, do a content audit. It's usually not necessary to create content from scratch. Chances are, you will find evergreen content among your previous posts. Collect all of your existing content to see what can be repurposed. For instance, you can break big content pieces (like blog posts) into a set of social media posts.
4. Determine Your Posting Frequency, Schedule, and the Content Ratio
How many times and in which form will you post self-promotional, curated, or user-generated content? Posting frequency will determine the shape of your social media calendar as well as configure your content categorization system.
Content variety is important in terms of social media strategy, public relations, SEO, and overall marketing plans. Putting out the same content every day, you scare away your followers. So, it's a good idea to come up with a versatile content plan that compromises images, videos, text, and links.
When you've made it, it's time to schedule the content. And it can be a tricky thing: every social network has its own 'perfect' posting time. For instance, the best time for the Travel and Tourism industry is between 9 a.m. and 1 p.m. on Friday. Here you can find useful tips for scheduling posts to the following networks: Twitter, Instagram, YouTube, Facebook, LinkedIn.
5. Set up a Content Storage
Content storage is a place to store all the content ideas you may have. You will be able to extract appropriate posts from it later on when building your social media calendar for next week.
6. Invite Key Stakeholders to View It
One of the main benefits of a social media calendar is the ability to interact with others: content writers, video producers, designers, pay-per-click specialists, team leads, project managers, and customers. But don't forget to set individual permissions for each member.
III. Free and Ready-To-Use Social Media Calendar Templates
Luckily, others have already done the hard work for you and created social media calendar templates that you can adopt from now on. You can simply download a template and fill it up with your content.
Downloadable and absolutely free social media content calendar template from Biteable to get you started. Designed for those who use Facebook, Instagram, LinkedIn, Twitter, Pinterest.
HubSpot also offers a pre-made, free, and downloadable template. What's more, the company offers a special template edition for startups.
This social media calendar template is very similar to HubSpot and Biteable's ones, but also has tabs for content ideas and measuring results.
If you're working in a team, share your social media calendar with all stakeholders, even if they don't need to work directly with it and don't have the right to edit. That will help everyone to be on the same page when it comes to social media activities.
IV. Handy Social Media Calendar Tools to Use
If you want to use a dedicated tool, there is an ocean of tools to schedule social posts in advance. Some of them also help you plan when and which content will be shared, manage campaigns, see engagement statistics, and track deadlines.
Overall, they typically can be divided into a few groups:
Spreadsheets (Google Sheets, Microsoft Excel): a cost-effective way to plan your social media activities in advance.
Software tools (HubSpot, HootSuite, CoSchedule): the professional, yet an easy-to-use option with advanced automation and time-saving features.
If you just start out, consider spreadsheets: they are quite workable solutions at first. When your social media strategy evolves and grows, a dedicated software service is a better option. So, let's drill down a little bit more into social media calendar tools.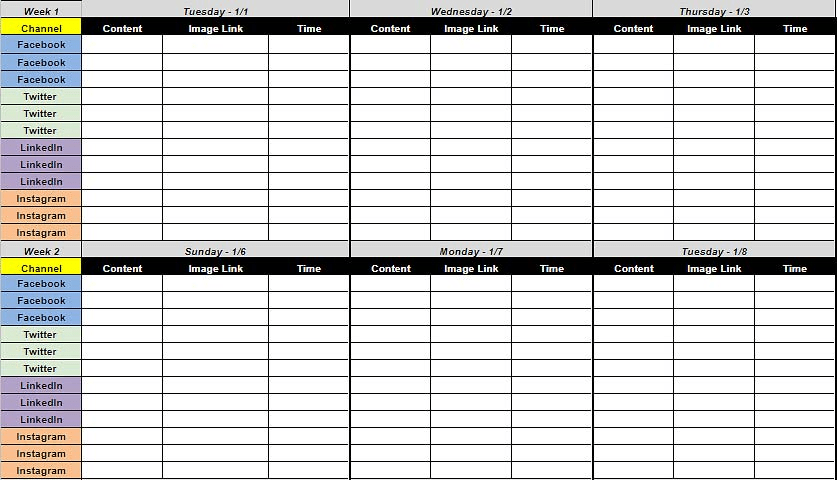 In a nutshell, Google Sheets provides everything you need to create a basic social media calendar. It's super easy to use and extremely easy to share. What's more, if you like any of the free calendar templates from the previous section, you can start customizing and using it right now.
Hootsuite Planner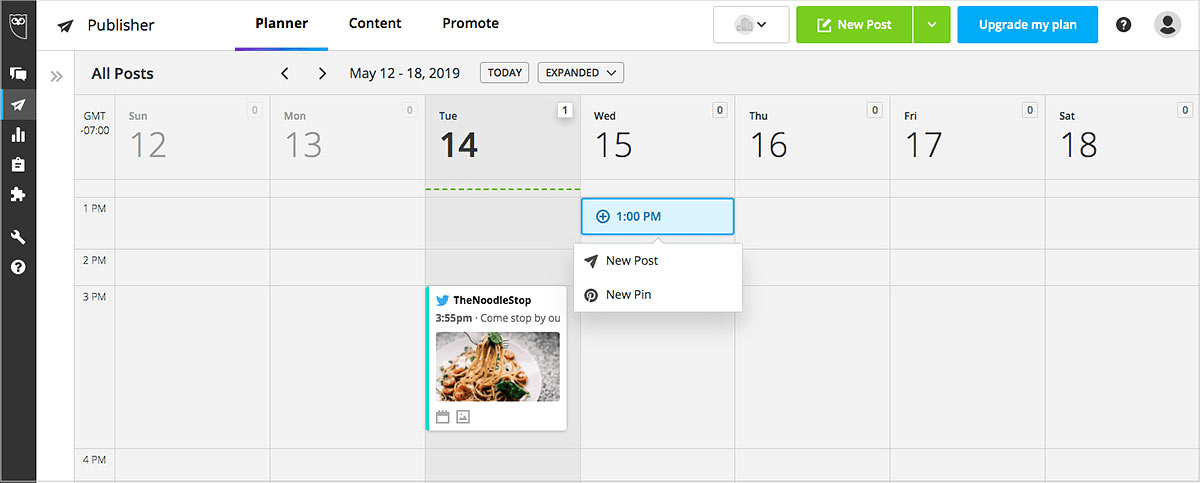 Using these comprehensive social media management tools, you can manage all your scheduled social media posts in the Hootsuite dashboard. Also, you can create brand-new posts here.
Depending on your social media planning needs, Planner might supplement your Google Sheets calendar, or serve as your sole social media content calendar.
The good news is that Hootsuite offers a free trial period with limited functionality: 30 scheduled messages per month, one user, three social media accounts. The paid tier starts from $19 per month.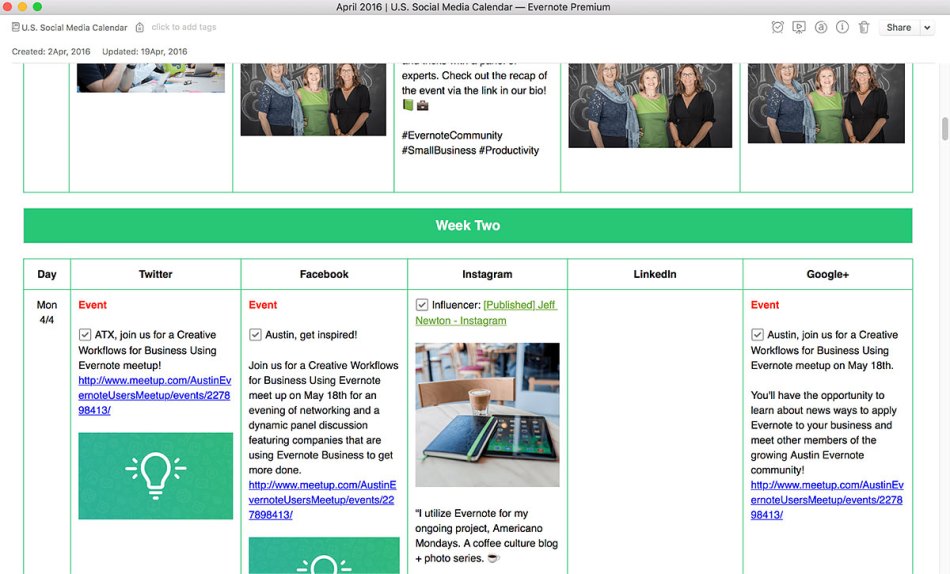 Evernote is a simple note-taking app that offers some useful additional features: customizable planning and calendar templates. Evernote's calendar templates can be used to keep track of your social activities. What's more, its Web Clipper extension for Chrome allows marketers to easily save links to their Evernote Notebook for sharing later on.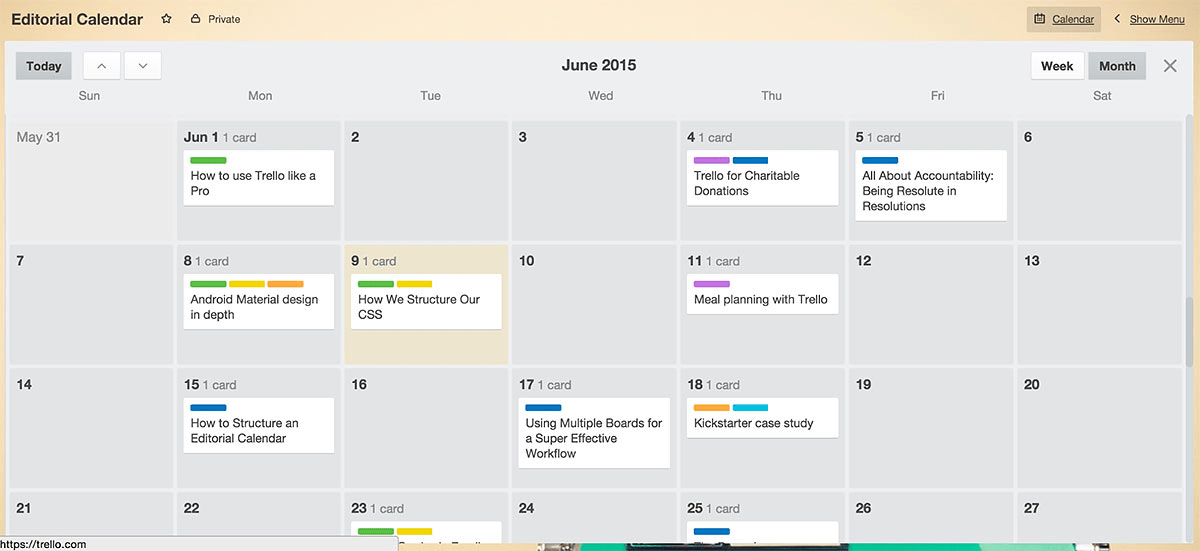 Trello is a no-brainer collaboration tool with an intuitive user interface. With its Cards, customizable Boards and Lists, you can manage your social media posts as well as the whole production process from start to finish.
Wrapping Up
A social media calendar is a planning tool as well as a way to track and measure your marketing efforts across every social network you use. Having a record of what you've posted makes it easier to look back to make sure you're not repeating yourself and measure results. Needless to say, the social media calendar saves you time and cuts back on the stress.
In this article, we have highlighted a clear route to adopt social media planning from now on. Start from choosing one of the above-mentioned templates you like more. Then, continue to test and optimize your social media planning until you find the perfect publishing schedule that suits your company best.
Good luck on the road to effective social media marketing!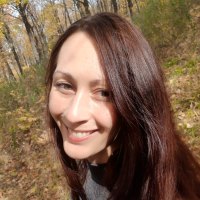 Maria Navolykina
SEO Content Specialist
Maria is an SEO Content Specialist at X-Cart. Once captured by digital and content marketing in her student days, she keeps living and breathing it ever since.
Subscribe to Our Weekly Newsletter to Get
Expert-Backed

Tips Straight Into Your Inbox

Awesome! You won't be disappointed 😉