←
Back to Blog
37 Free/Paid Social Media Resources to Start With [+ Tips]
Social media marketing may sound like a simple thing to do. However, when you grab a spade and start digging a tiny bit deeper, you grasp it at once that there's more than meets the eye.
Creating a good bit of buzz on social media is definitely more than just going live on Instagram and running Facebook ads. There is a sea of social media strategies, metrics, and tools that you should carefully scrutinize first.
(But, believe me, this information overload will inevitably stress you out so you'll soon dream of going on a silence diet.)
And here's where we come to rescue you. To ease out your social media efforts, we've put together this list of social media resources to start with.
Some of them are totally free, like blogs or podcasts. Others cost something like $20, which is quite fair when it comes to courses.
I. Social Media Marketing Courses
Taking free social media marketing courses online is probably the best way to spend my evening time.
They deliver a good portion of nuggetized goodness I would never be able to find on Google. And it's so much fun.
Moreso, they help me suck in lots of things without enrolling in some pricey social media marketing courses from Harvard University and sometimes without the need to talk to real people. (Hey, isolatos, I'm looking at you!).
Of course, the courses I'm attending virtually are not always about ways to post on social media. I also practice copywriting, SEO, and yoga. I find them vital to keeping my career skills up-to-date and feeling fresh.
Below is the list of free and paid online social media marketing courses with certificates.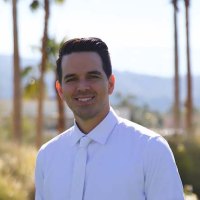 Price: $197
Author: Justin O'Brien
Language: English (+ auto-generated German, Italian, Polish, Portuguese, Spanish, French)
What you'll get:
– 10.5 hours on-demand video
– 40 articles
– 29 downloadable resources
– Full lifetime access
– Access on mobile and TV
– Certificate of Completion
I'm sure you know how powerful and mighty Facebook advertising can be for businesses who want to boost brand awareness and generate new leads. Grown under the care of Mark Zuckerberg, this social media site is definitely worth your attention.
This course from a Los Angeles based company will help you level up your Facebook Marketing from novice to expert.
Here are a few reasons why you should enroll right now:
The author of this course, Justin O'Brien, promises to answer every single question you may have along the way.
Provide you with authentic and tested knowledge that will enable you to reach any type of market segments.
Update the course with new marketing resources on SEO, Facebook, and social as long as they roll out.
You'll learn how to:
lower your engagement/like/click prices to $0.01
get familiar with Facebook Ads Manager
connect with new audiences without much spends
cope with analytics with Facebook Pixel
use secret features available in Facebook Business Manager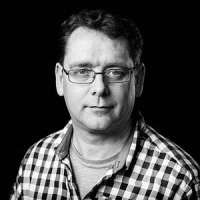 Price: $300
Author: Mark and Philomena Timberlake from SME Heroes
Language: English
What you'll get:
– 20.5 hours on-demand video
– 1 article
– 9 downloadable resources
– Access to personal community
– Social media marketing certification
This guide provides a firm base offers for the total beginners on social media management and digital advertising. If you are just starting your social media research and got NO idea of what the 'snowball effect' and '80/20 marketing' are, this course is right for you.
But if you are a marketing pro and tired to death of all those cookie-cutter promise-you-earn-all-the-money-in-the-world strategies, scroll down to the next course. You'll hardly get any off-beat tips here.
Created by an online training company, called SME Heroes, the course expands its coverage even beyond social media marketing strategies. It also includes a couple of tips on psychology, copywriting, email campaigns, product pics, search engine optimization, and other things.
Reasons to enroll:
You get access to some private community on Facebook where you can get all your questions answered.
All the info is updated for 2020. Also, the authors promise to post all the updates and tips in their private Facebook group as long as they roll out.
You'll get priceless information on how to market your eCommerce business for free with the help of social media tools and not paid advertising.
You'll find out how to:
Create a social media plan for your next marketing campaign
Learn the ropes of SEO, email marketing, blogging
Use all sorts of social media management tools to level up engagement
Set up a simple marketing strategy
Create a pro-looking social media profile and YouTube channel
Build buyer journeys
Work with influencers and build your brand in social communities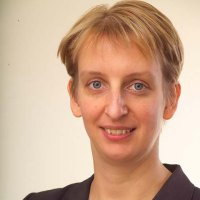 Price: Free
Author: Henneke Duistermaat
Language: English
What you'll get:
– 16 emails with easily applicable tips inside
First things first — this course is about copywriting. That doesn't mean it's here accidentally. Nope. I've added it here deliberately, as I'm convinced that a skillful social media marketer is no great shakes without copywriting skills.
Why have I picked this copywriting course out of thousands of similar ones? The reason is simple — Henneke. This is my fav blogger, who knows how to make words swing and swirl. Through the articles published on Copyblogger, Forbes, and Huffpost, she empowers people to write more vividly and sound more convincing.
Reasons why you should enroll right now:
It's doesn't take much effort to start. It's as easy as subscribing to an email newsletter.
Mastering conversational style of writing, you pull closer to your social media audience.
You'll learn how to:
Make your messages more persuasive
Use the power of the subtle nod to make your customers say yes to your sales offer (it's all about behavioral psychology, huh)
Learn how to write juicy content to get more sales on social networks
Social Marketing Training by Hootsuite Academy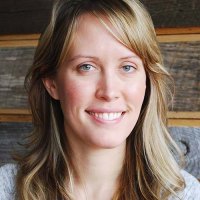 Price: Free
Author: Social media marketing specialists at Hootsuite
Language: English
What you'll get:
– 6 levels from beginner to intermediate
– 27 lessons
– 6 experts
– 6 hours
– Social Marketing Exam (optional, $199)
– Social Marketing Certification
This is another course that should help you be consistent with your social media marketing efforts. It will teach you how to grow your audience engagement, follower base, and, as a result, sales.
What I love about this course is the practical skills you can implement and start getting visible results right away.
And you pay only if you need a permanent online certificate that demonstrates your knowledge and helps employers find talented social media experts like you.
Reasons why you should enroll right now:
Get invaluable insights on how to build a thriving community of brand fans, start meaningful conversations, and find leads.
Conveniently organized chapters that make it easy to gain new skills.
You get listed in the Hootsuite professional directory.
It's free.
You'll learn:
The basic info on each social network including the massively neglected ones such as Snapchat and Pinterest (btw, we've got an extensive guide on how to sell on Pinterest, check it out)
The secrets of profile optimization — they know how to do it the smart way
How to set goals, carve a robust marketing plan, and find the right strategy
How to build a community using different digital channels
How to create wowsome content (Nah, no one knows it better than Henneke)
A thing or two about ads.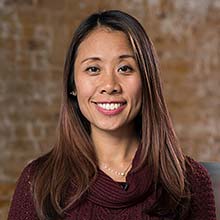 Price: $31
Author: Sharon Lee Thony
Language: English
What you'll get:
– 7 chapters
– 22 videos
– 1.7 hours
– Badge on your Fiverr profile
Understanding social media metrics and analytics is a must for every marketer nowadays. With this knowledge, you'll be 100% sure which 'bells and whistles' that you use are bringing results and which are not.
The author of this course is Sharon Lee Tony, a social media expert with over 15 years of experience building such global brands as Axe and Dove. And she is ready and waiting to share her insights with you.
This course will help those who manage organic and paid campaign activity have a better understanding of what the numbers mean.
Reasons why you should enroll right now:
That's an easy way to get the basics of how social media analytics works.
For freelancers: a badge that will be attached to their Fiverr profile will make it look more reliable.
You'll walk away with:
The knowledge of how to measure the referral traffic coming from Facebook, Twitter, YouTube, Instagram, and LinkedIn
An understanding of what such terms as 'impressions' or 'bounce rate' mean
The great tools that you can use to inspect your competitors
Ideas on how to present all the data to your boss
Knowledge on how to use analytics to improve your social strategy
II. Social Media Marketing Blogs
One of the quickest ways to power level your knowledge is to explore social media marketing blogs. That's what I was fond of back in 2010 when I was taking my tiny tentative baby steps into the world of marketing.
I used to hit the red-hot 'Subscribe' button something like 5 or 6 times a day. And, as you may picture it, my mailbox was cram-full of free guides on social media of all colors, sizes, and filling. Sure thing, there were loads of trash that was immediately swept away.
Below are some of the tested resources about social media that you can rely on.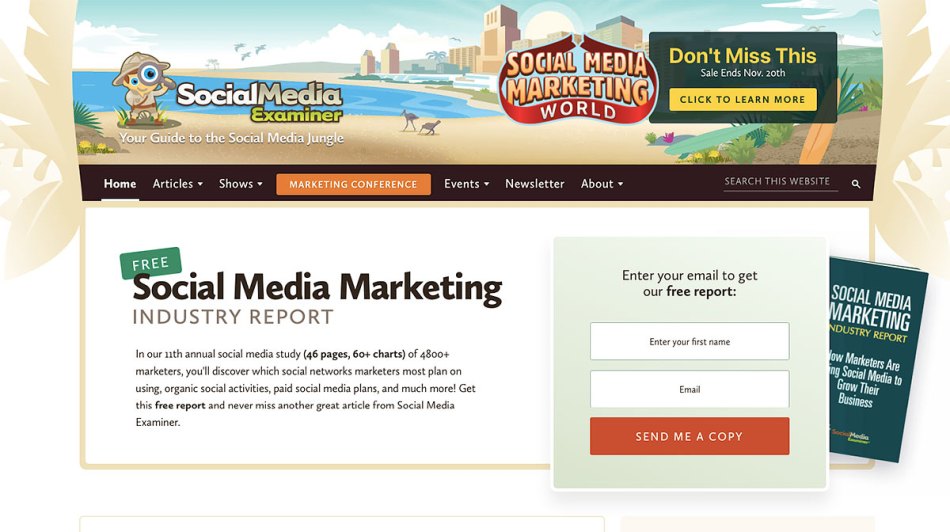 Have you already seen that odd-looking guy wearing a hat and looking through a magnifying glass? I bet you have.
The blog posts from Social Media Examiner are often spotted on the first page of Google's results. Whether you are curious to know how to create effective social media posts or monetize your YouTube channel, this blog is right for you.
Apart from that, they regularly do social media marketing industry researches, record podcasts and talk shows, hold workshops all over the globe.
By the way, the next one will take place in San Diego, March 1-3, 2020. And if you are not able to travel you can purchase an online ticket and attend the event virtually.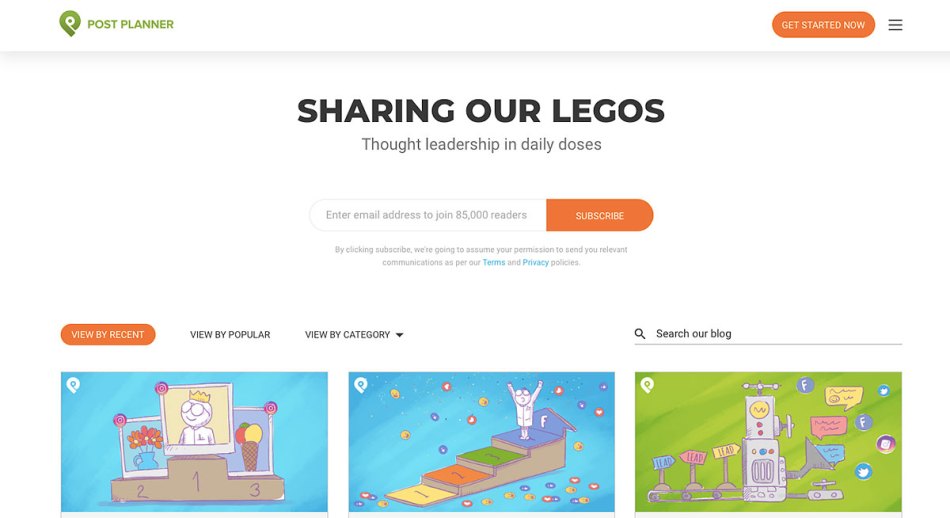 The first thing you see when you join the community of 85K readers is flashy blog thumbnails that look like lego blocks.
If you take a look under the hood, you will definitely find something that comes handy for you — from social media marketing tools and case studies to tutorials and PostPlanner announcements.
There is also a formidable community of experts who generously share their wisdom with subscribers.
Go on, open this precious box full of the hottest social media tips and tricks.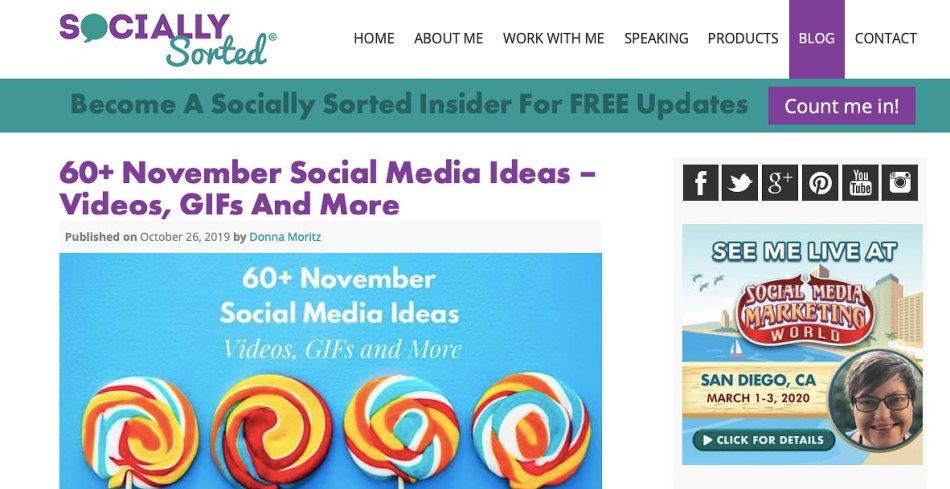 This is one of my fav social media blogs, developed by Donna Mortiz, a digital content strategist and a regular speaker and trainer in the marketing industries.
The fundamental purpose of the blog is to help businesses from all over the globe connect with their potential customers. You'll also find out how to build trust, increase organic reach, boost traffic, and get all other nuggetized goodness you may get through social media channels.
Tip: This blog can be your source of inspiration where you can get social media and blog post ideas for your eCommerce site. Check out this guide featuring 60+ October Social Media ideas, to begin with.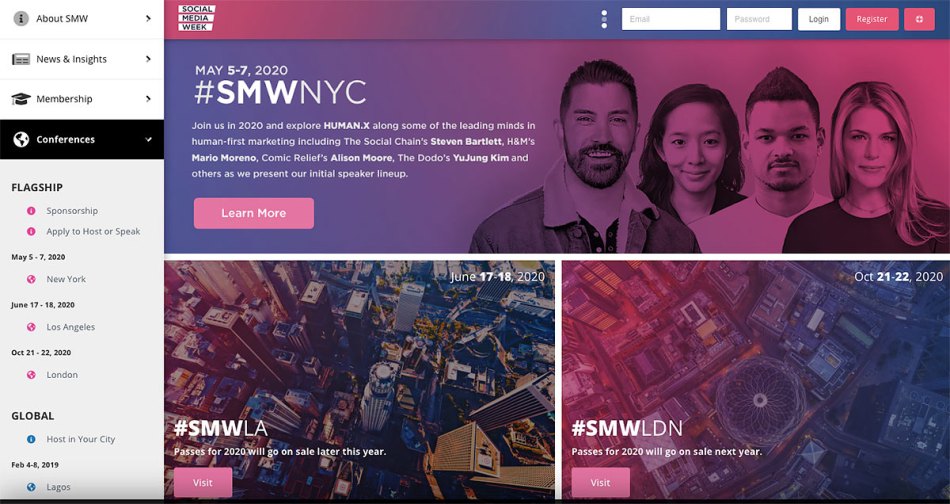 SMW (that's the abbreviated name for this blog) will provide you with the freshest insights, trends and best practices from trending influencers.
With over 1K contributors and 200K monthly readers, these guys top the list of social media trailblazers.
They host SMW conferences in 25+ cities globally and stream over 300+ hours of talks and interviews online so that anyone could watch SMW New York and other events live.
III. Social Media Marketing Video Blogs
Judging by the latest video marketing stats 2020 has to offer, video marketing blogs are among the most popular sources of knowledge for social media managers; that's for sure.
There are lots of social media tutorials for beginners available on YouTube and Vimeo.
Below are the five most trending video blogs (or vlogs) on SMM that you can't miss. Go on, take a quick shufty at these expressive guys.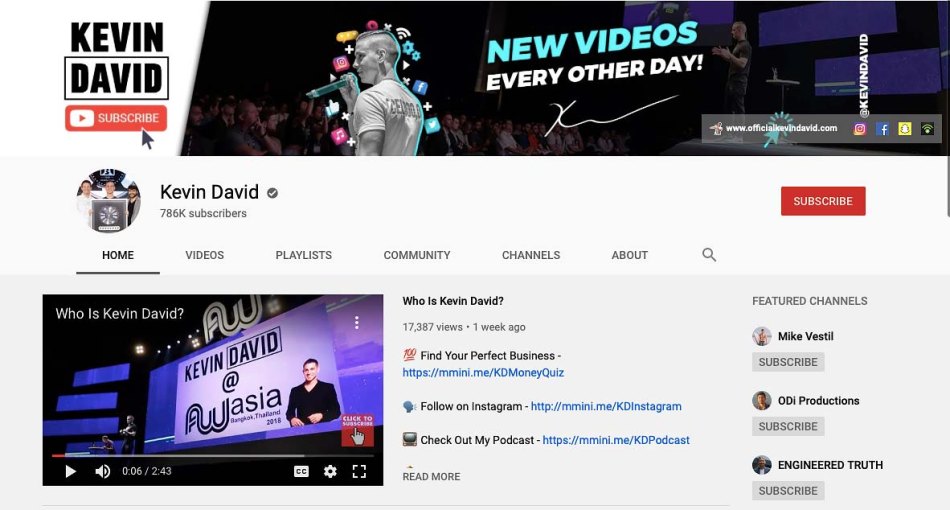 Kevin inspires people to do whatever they want to do in their lives. He is not the guy who is just sharing a bunch of fluff or the latest rumors on social media. This is the guy who is continually testing everything to make sure he understands it all clearly.
Kevin also gives real-world tips on how to start selling on YouTube and tweak Facebook ads that you can take it on board straight away.
Video to start with: Facebook Ad Ninja Secrets (playlist with 44 videos inside)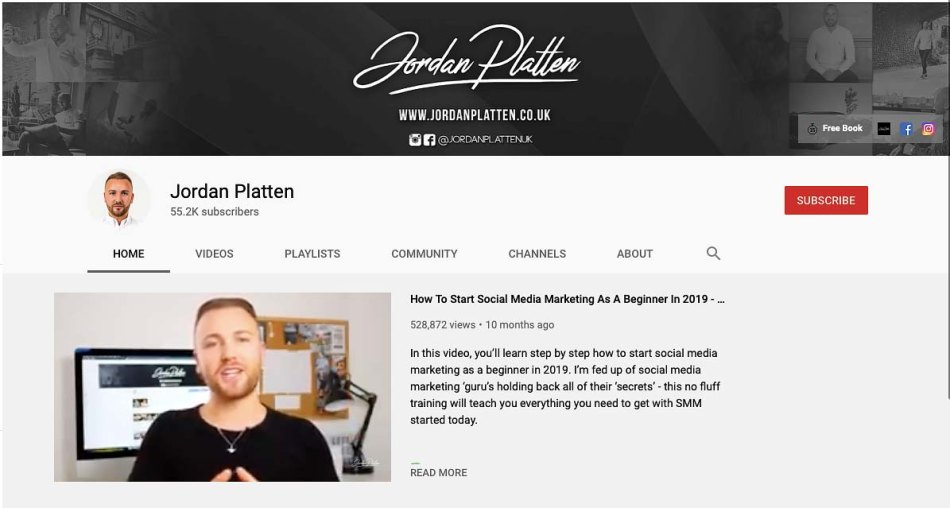 Jordan shares video lessons on how to start social media marketing as a beginner.
You'll learn:
Video to start with: Just pick one of the links above.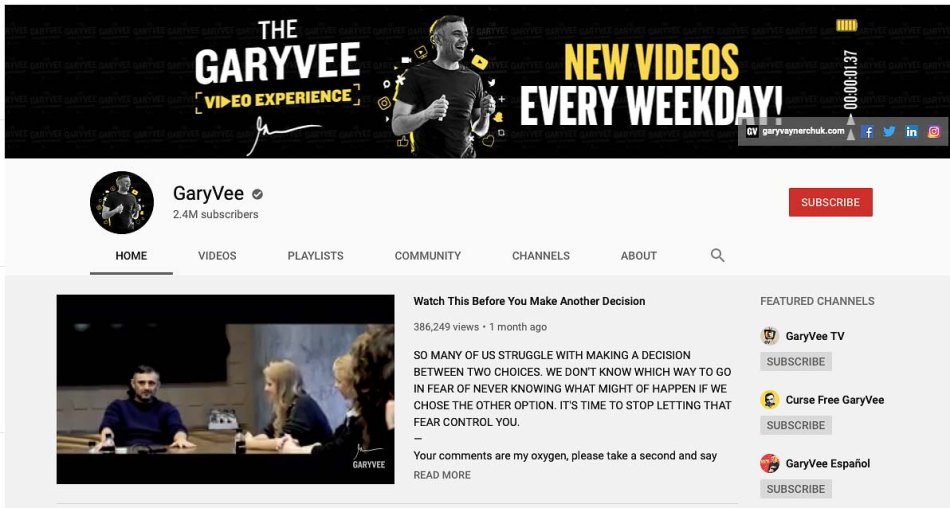 Gary Vaynerchuk is a Belarusian-American public person, CEO of VaynerMedia advertising agency, best-selling author (he published 5 books already!), and an angel investor in companies like Facebook and Tumblr.
This guy has got lots of motivational videos about making the right choices and building yourself. But apart from that, he's got gigabytes of videos on what people want to see on social media, boost your social media following, and promote your biz in social networks.
Video to start with: Gary Vee social media marketing videos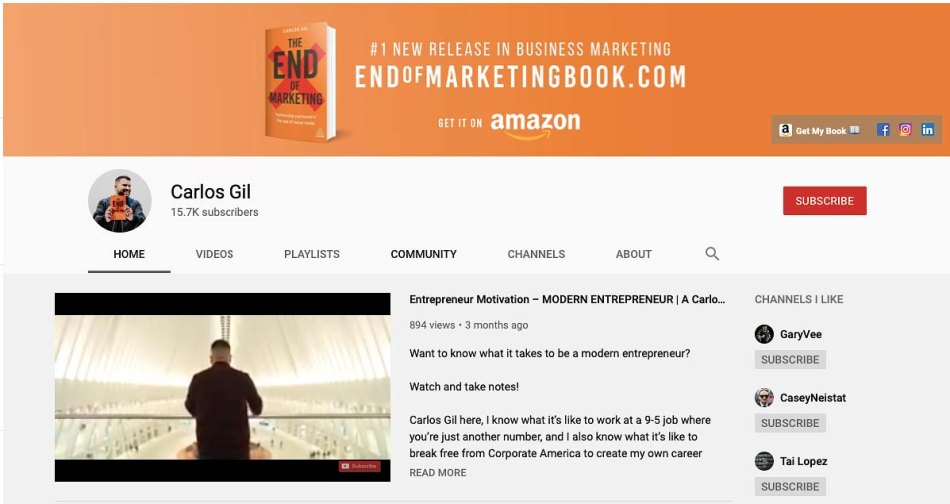 Carlos Gil is another whirlwind entrepreneur, social media marketing strategist, and public speaker. His work has been appraised on Mashable, CNN Money, and Social Media Examiner.
On his YouTube channel, he's sharing his secret tips and hacks on social media marketing. He'll tell you how to use Facebook stories, unfollow inactive people on Twitter, grow your YouTube channel and other things.
Video to start with: Social Media Tips and Tricks 2019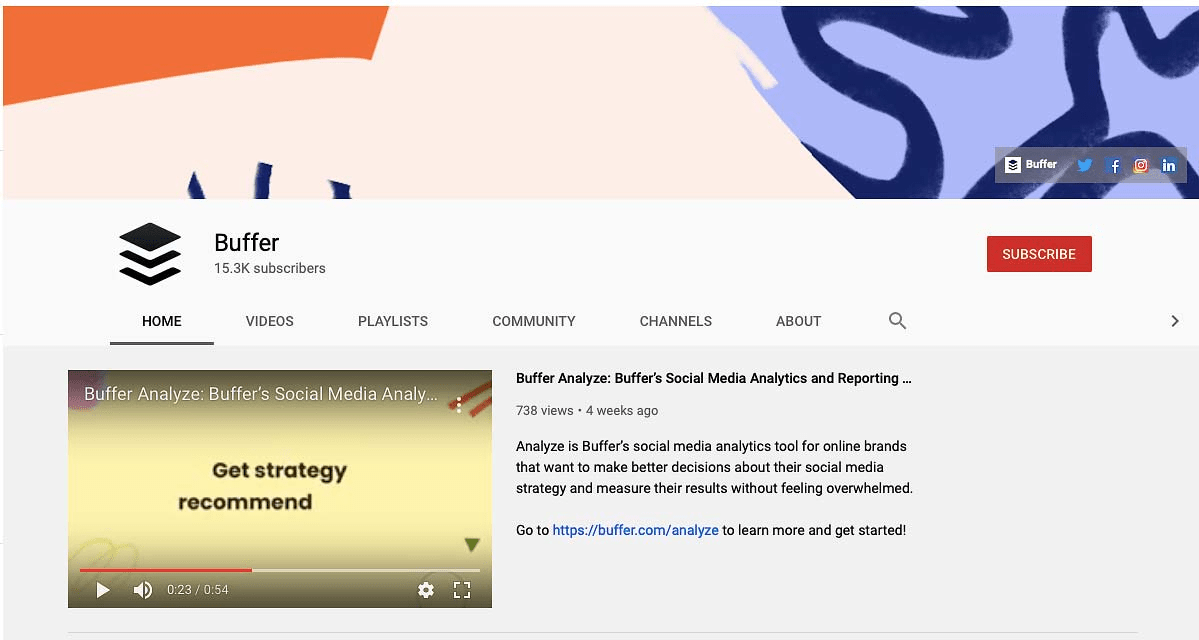 Just to make sure you know, Buffer is a social media analytics tool. It helps ecommerce brands improve their social media marketing strategy and measure their stats without feeling totally overwhelmed.
Their YouTube channel is cram full of tips on how to get content seen in the Facebook news feed, beat the Instagram algorithm, and drive more sales on Instagram.
Video to start with: Social media and Marketing (Strategy and Tutorials)
IV. Social Media Marketing Podcasts
Some people are visuals, others not. What if you hate reading definitive guides on social media (like this one, huh) with no end in sight but prefer listening? And what if you've got no time to watch YouTube videos?
Podcasts are well and truly a perfect source of info for audials (not for visuals or kinesthetics, sorry).
And yeah, as with audiobooks, you are free to listen to them on the go. Here's the list of 5 must-hear social media marketing podcasts that will teach you how to use social media safely and boost profit.
Copyblogger FM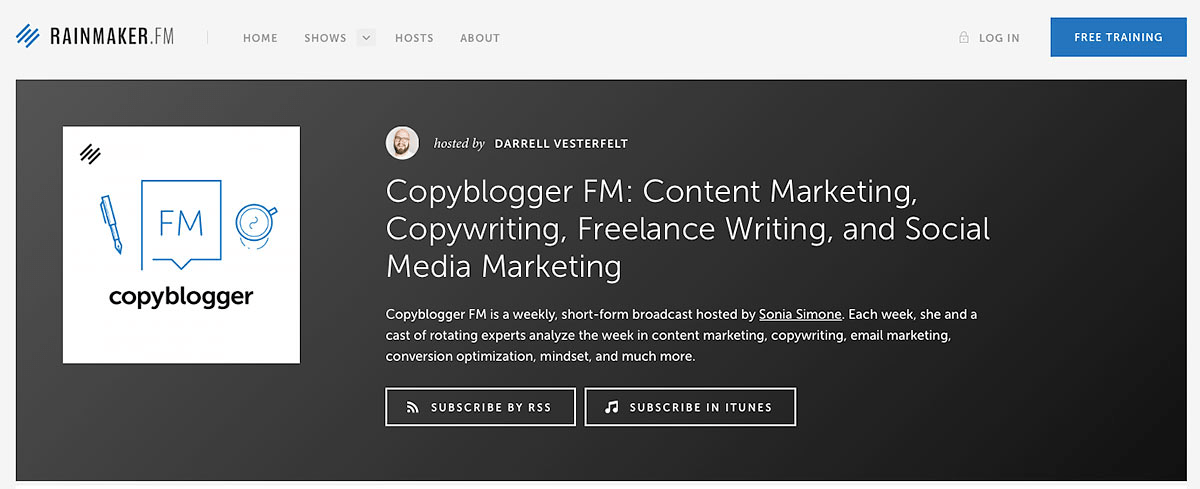 Copyblogger FM is a weekly short-form broadcast hosted by Sonia Simone, Chief Content Officer & co-founder of Copyblogger. Each week she invites experts in marketing, social media, and copywriting to discuss the things happening around.
A podcast to start with: The Social Media Platform Every Content Creator Should Be Using in 2019 (Nope, It's Not Facebook) with Amber Naslund (33 min)
Convince and Convert Podcast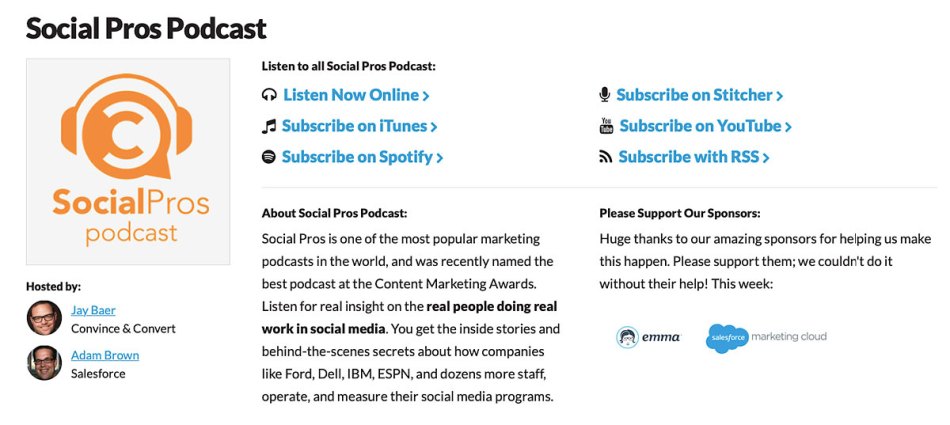 With Social Pros podcast, you get the insider stories and hidden social media secrets behind such companies like Ford, Dell, IBM, and others. It was recently named the best podcast at the Content Marketing Awards.
A podcast to start with: How to Maximize the Storytelling Impact of Your Social Media by Kindra Hall, President, and Chief Storytelling Officer at Steller Collective (35 min)
Maximize Your Social Media Influence with Neil Shaffer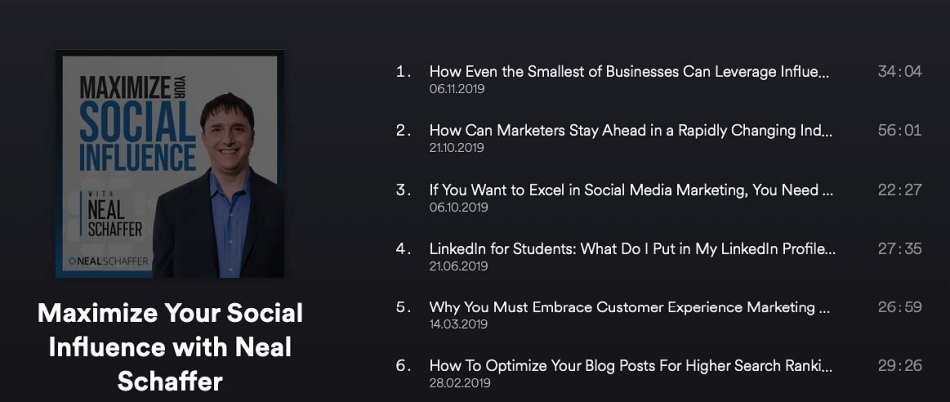 This podcast will help businesses and professionals find out how to use social media effectively and maximize their sales on sites like Facebook, Twitter, Pinterest, Linkedin, and many more.
A podcast to start with: If You Want to Excel in Social Media Marketing, You Need to be an Active Consumer of Social Media by Neal Schaffer (22 min)
Master of Scale by Reid Hoffman

Hosted by LinkedIn co-founder Reid Hoffman, these episodes will teach you how eCommerce businesses grow from zero to a gazillion, testing out his theories of growth. You'll find out everything from social media basics to the tools for digital asset management.
A podcast to start with: How to Do Good — and Do Good Business with Howard Schultz, Chairman & Former CEO of Starbucks (42 min)
Podcasts from Social Media Examiner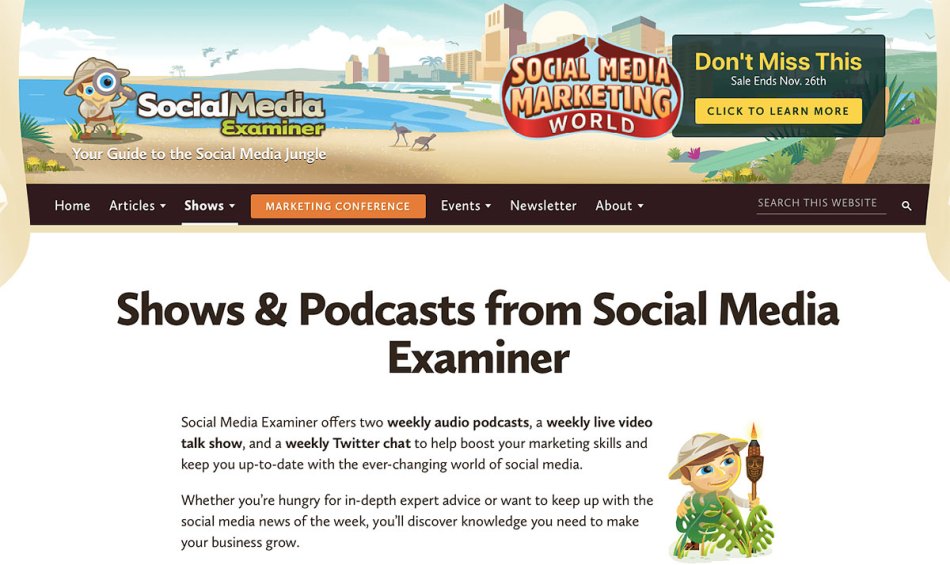 And here it is again, Social Media Examiner — a guru of social media for dummies. For the last 7 years, their weekly 45-minute podcast from leading social media marketing pros has been one of the top 10 best podcasts out there.
A podcast to start with: Social Media Marketing Talk Show from Social Media Examiner
V. Social Media Marketing Influencers to Follow
There is a group of people who sets trends in the social media world. Here's a list of 6 social media influencers I listen to quite regularly. They will show you how to use social media correctly and what the best SMM resources are to start with.
Neil Patel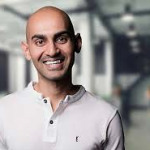 That's the first digital marketer I've stumbled upon when I started working in eCommerce something like 9 years ago.
(Show me the one who has never heard about Neil.)
He is the founder of such tools as HelloBar and Crazy Egg. The New York Times best-selling author, he is among the top 10 marketers, according to Forbes. In his blog, you'll find everything from social media marketing to SEO.
Article to start with: How to Grow Your Brand's Social Media Presence the Smart Way
Mark W. Schaefer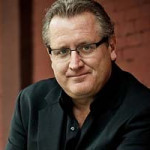 Mark is a renowned social media marketing expert, speaker, and author of several books, like 'The Tao of Twitter.'
He also conducts social media workshops and consults suсh well-known brands like Dell, Adidas, and Pfizer.
What to start with: Subscribe to Mark's newsletter to get tips on social media every 2 or 3 days.
Jeff Bullas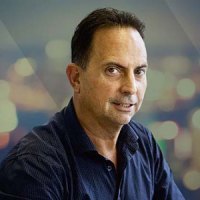 Jeff Bullas is the one you should follow on social media. He is included in the list of top 100 social media influencers in 2015 and ranked #8 on Forbes World's Top 40 Social Marketing Talent in 2014.
What to start with: Subscribe to Jeff's Twitter (he posts several times an hour)
Ann Handley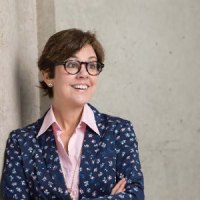 Ann Handley is a digital marketing pioneer, speaker, author of 'Everybody Writes,' and other books. She loves inspiring people to grow their businesses and get real-world results.
What to start with: Subscribe to Total ANARCHY to get high-spirited shenanigans on social media marketing every two weeks
Joe Pulizzi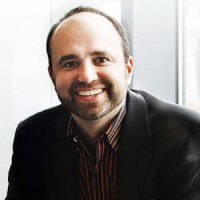 Joe is a podcaster marketing speaker, author of books about content and social media, and the Random Newsletter that is sent out to thousands of people two times a week.
What to start with: Download Joe's FREE audio guide 'The 3 Keys to Life & Marketing' and subscribe to his newsletter.
Rand Fishkin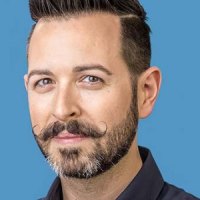 Rand is a founder of SparkToro and ex-CEO of SEOMoz. The author of books on marketing and SEO. The latest and most popular one is 'Lost & Founder.' He writes about everything — from SEO and PR-focused outreach to social marketing.
What to start with: Subscribe to Rand's Twitter account and read his blog on Medium.
VI. Social Media Marketing Audiobooks
Listening to audiobooks on social media marketing is a fantastic way to study on the go — while you are jogging in the morning, or driving to work, or just cleaning your house. You don't have to watch the speaker or look at the monitor of your laptop to read.
You just grab a pair of headphones and start listening. And no, they do not lull me to sleep. If that's what happens to you, please press the Pause button while you are in the driver's seat.
Below are 6 audible books on social media marketing you should download and listen if you dream of becoming an SMM pro.
Note: All the books below can be easily found and purchased (or downloaded if the book is free) on Amazon.

In this book, you'll find the most useful and curious questions answered by Gary Vaynerchuk (scroll up to read who he is). How do you use Twitter to prepare your startup for the launch? How do you hire superstars to advertise your brand? All that and much more is hidden inside this book.

The author of this book, Kimberly Olson, is a true social media expert and a must-follow person. This book will be super valuable for those who are looking for the right way to launch their eCommerce website and start selling online. You'll find out how to turn your Facebook group into a prospecting machine and learn how to take your social media presence to the next level.

This audio guide to SMM is created purposefully for business owners, professionals, and entrepreneurs. It gives you instant access to the expertise of 47 top social media experts. They will show you how you can use social media to build your business and get ahead of the competition.

This book covers pretty much everything related to social media marketing — Facebook, Instagram, YouTube, and a lot more. This book is more than just tips and tricks you can apply. It's a done-with-you guide to ensure your success on social media platforms.
Social Media Marketing Tips 2019 By Jason Miller

This is not just one among many books claiming to teach you how to sell online. This audiobook contains tested tips on social media marketing based on in-depth research and what is currently working in 2019.
VII. Social Media Marketing Books
Books, if compared to audio format, are handy as you can peep at them at any time, and all the info is easily accessible.
(And, hey, kinaesthetics, I'm looking at you now.)
Below is the list of social media marketing books sorted by popularity on Amazon. They will teach you how to use social media wisely in today's ever-changing world.

This book on social media marketing by Kim Garst is marketed as the most popular among Amazon users. No wonder, it is about the new sort of relationship between buyers and sellers. The trigger for this change is social media networks, as they are redefining the whole process. Read this book if you want to understand how you can benefit from it.
Sometimes Reading a Book on Amazon Is Not Enough
Seller Labs have got all the right tools to grow your Amazon business.

With consumers having control over 60% of marketing through social media, reviews, and word of mouth, sellers should find their way back by becoming more human. This book calls out many of the previously unchallenged ideas around today's social media marketing practice — marketing funnels, metrics, and the like.

The author of this book believes that modern sales are possible only through building relationships with customers. Social media is an amazing place to put it into practice. Larry Levine will teach you how to do it naturally.

Social media power influencer, John Sparks, shares his secret tips on how he managed to grow his Twitter account from something like 800 followers to almost 200K followers in just a couple of years.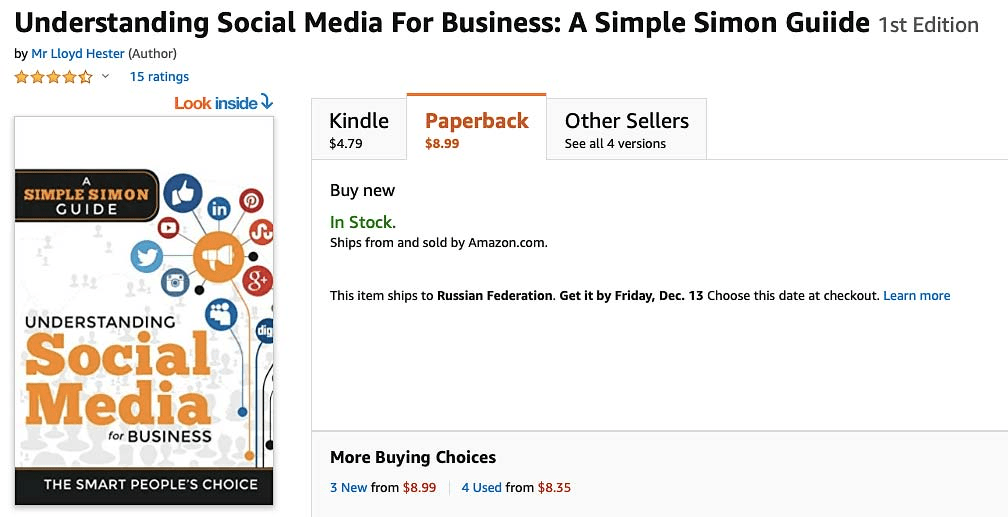 This book is (again!) about the changed ways to communicate with customers. Social media is something that you are not allowed to ignore. Mr. Lloyd Hester explains how this can be beneficial for your eCommerce business.

This book is an excellent resource for eCommerce merchants who want to utilize Social Marketing to grow sales and expand their customer base. It covers the latest social media sites and location-based services like Foursquare and Pinterest. You'll also discover new ways to reach out to the existing customers and learn how to complete more transactions.
VIII. Social Media Marketing Templates
Whether you want to build a social media marketing strategy from scratch or just improve your existing social media workflow, we've got you covered.
Here's the social media marketing template that we use to plan social media posts for X-Cart social media networks, such as Facebook, Twitter, Linkedin, Pinterest, Reddit, Quora, and others. Of course, we alter it from time to time. But in general, it looks pretty much like this.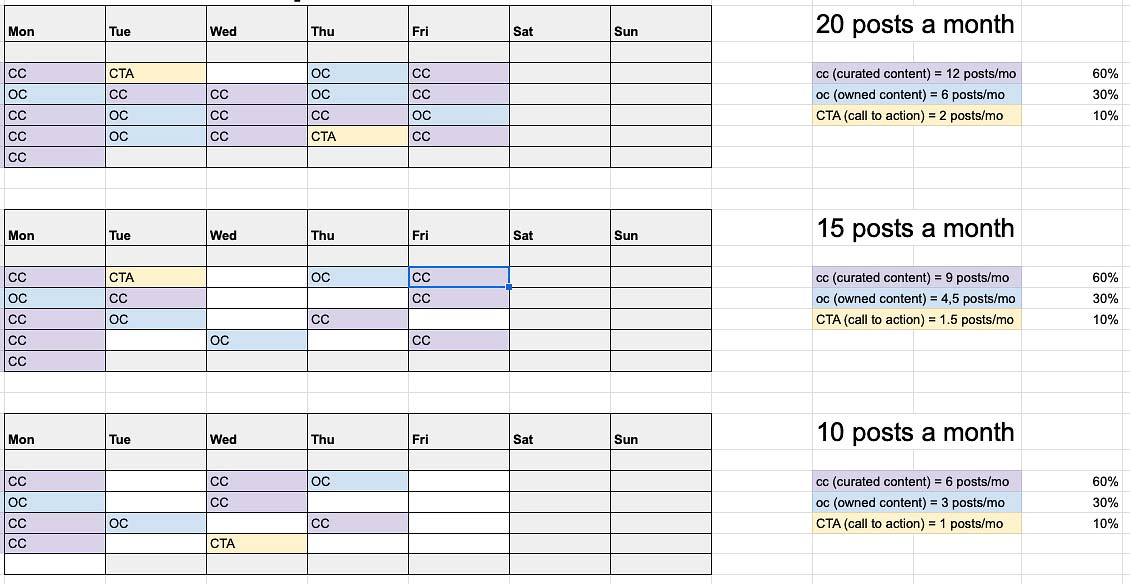 Feel free to fill it out with your ideas and adapt it to your buyer personas. But before you start, let me give you a quick overview of the abbreviations used in the template above.
CC — Curated Content (articles from your existing or future partners or everything that caught your eye).
OC — Own Content (articles created by your team).
CTA — Call to Action (ads, questions, promos etc.).
We use the 30/60/10 principle for content on social media. According to this rule, 60% of the content you post on social media should be curated by your brand. 30% should be created by your company. And the remaining 10% may be promotional.
Over to You
Now that you've got this full list of social media marketing resources, it's time to dive in. Try every resource out one by one and find what is more applicable to your business.
What social media marketing resources do you use for your online business? Please share your thoughts and ideas in the comments below.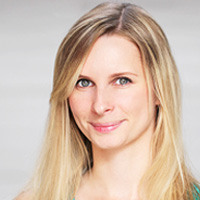 Helen Golubeva
Freelance SEO and Content Marketing Specialist
Helen is an SEO and Content Marketing Specialist. She has been creating and planning content for over 10 years, with 5+ years specializing in eCommerce.
Subscribe to Our Weekly Newsletter to Get
Expert-Backed

Tips Straight Into Your Inbox

Awesome! You won't be disappointed 😉