There are many merchants using PayPal to accept payments in their store. Being a reliable and trusted provider of such a sensitive service, PayPal do their best to guarantee the top-notch security to their users. That's the reason why we all feel so comfortable using PayPal for local and international payments. But sometimes the security upgrades require actions from the users too – at least, making sure nothing is broken after another update. This is exactly what is happening now, so you might have already received an email titled "IMMEDIATE ATTENTION REQUIRED: PayPal service upgrades" with the content below: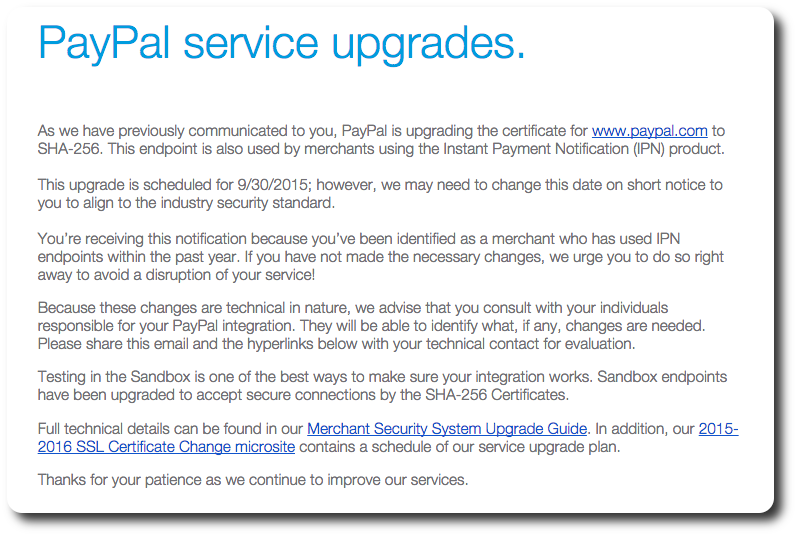 They advise that you consult with people responsible for your PayPal integration. In case of X-Cart, we're these people, so I'm here with the official comments of X-Cart team.
Alexander Dyatchkov, head of X-Cart Hosting and Support, comments:
ACTION REQUIRED
In case you are using VeriSign certificate, find out if root CA certificate of G5 format is installed on your server:

if your website is hosted with us, rest assured, the proper SSL is used on our machines

If you host your X-Cart with another hosting provider, contact them to find out, what certificate is installed

Check the type of your SSL certificate with this tool

.

If the Signature algorithm value is SHA256withRSA, SHA384withRSA etc, you're all set

If it shows type SHA-1 (Signature algorithm =SHA1withDSA), you should urgently reissue SSL of SHA-2 type. If it can not be reissued, you may purchase a new certificate with us
If you need any help or have any questions, please do not hesitate to contact our support team.