Making your own online home store sounds like a great idea. You're not one of the big online retailers. You don't have the budget to cover the creation of an online store by an agency. With X-Cart, you can just build your best online store yourself using drag and drop interface.
But hey, don't you have to be a designer to do that? There are hundreds of considerations for the creation of eCommerce platforms. How can you possibly make good online shopping sites from scratch?
If you can't get what makes a good eCommerce site, take a look at these 7 success stories of online stores made on the eCommerce platform. Learn from them and start your own story.
Pearls Only: AI & customer care
When it comes to finding what to sell online, Pearls Only have made a wise choice. This website sells men's and women's pearl jewelry. Here's what you can learn from this success story and implement it at your own online shop.
Start the communication with your customer with care.
The very first thing Pearls Only shows you is a small pop-up page. Most people ignore it, but it contains something important for the customer.
The website determines their location automatically and sets the currency to the local one. It's a small thing, but an important one for your customers.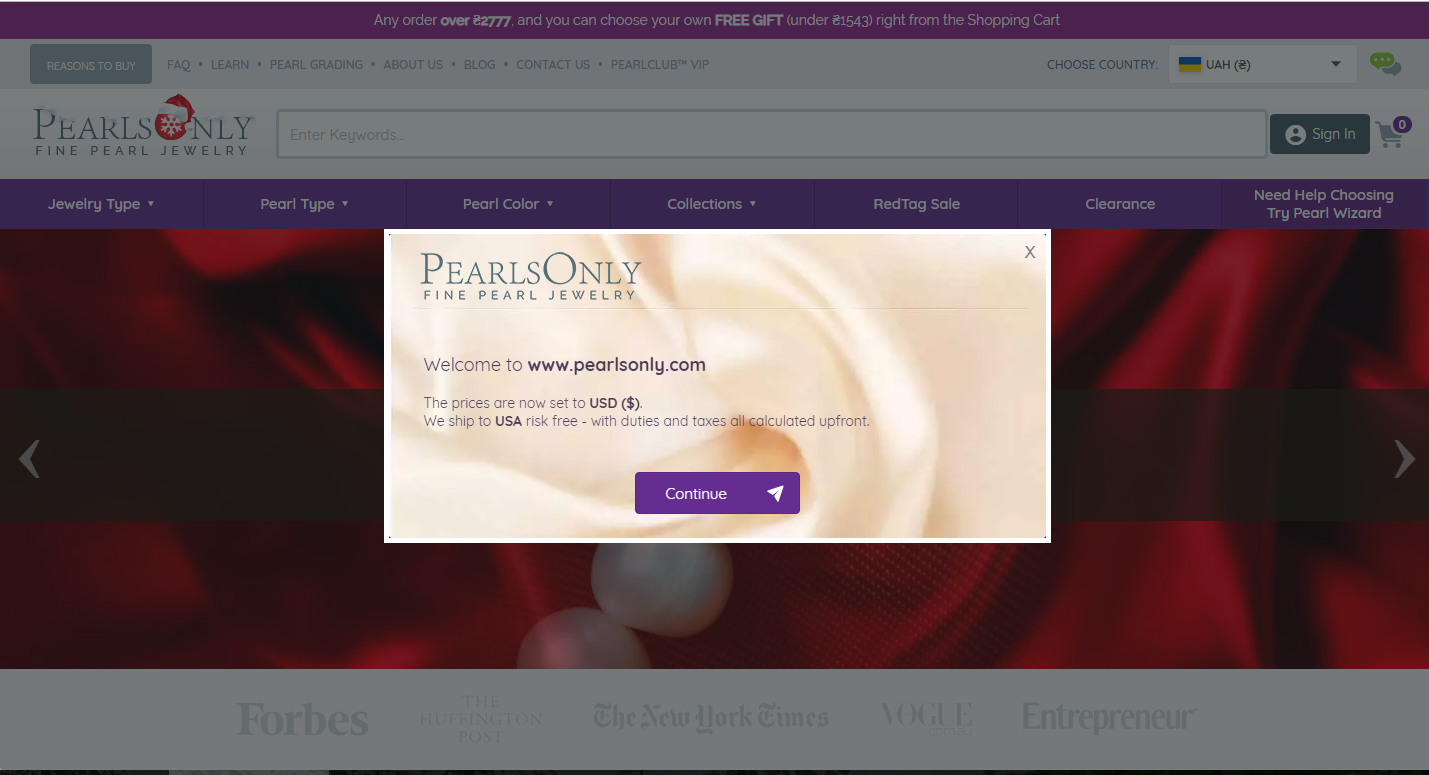 Provide in-depth FAQs
What can be so difficult about pearl jewelry? It's not obvious, but there are a lot of questions people are interested in. How to take care of your piece? What price is too much? How do you choose pearls for a gift? This is just for starters.
Answer all the questions your clients may have. Do it with all the expertise you have, and they will be happy to buy.
Make your client's decision easier.
Why does Pearls Only rank among the best shopping websites on X-cart? Because it makes it easier for their client to decide.
With hundreds of options, making a choice can be hard. Many people are browsing for weeks before they buy. Helping them narrow the options results in faster purchases.
Pearls Only uses an AI to do that. It asks you personal questions and then returns a list of jewelry that would suit you best.
You don't have to hire a team of data scientists to do that. Instead of an AI, come up with a good filter system. This way your customers won't have to browse through dozens of pages to find what they want.
Siloed content & adaptive design from EliteTrimworks
Want to start an online store that grows? It always seemed to you that your business is too boring for modern SEO? It's not. Take a look at these guys.
They sell trim works. Not the funniest of things to market, right? Well, with X-Cart they've seen a 253% increase in traffic. Check out these highlights to learn how.
Neatly siloed content.
While there is no way of knowing how exactly siloing content helps SEO, it remains one of ecommerce best practices.
Siloed means put in narrow categories. Take a look at the screenshot. A single page can be inside up to three subcategories. This makes it easier to find both for your customer and for Google.
Take a hint, and categorize your content as well. Putting it all in one bunch won't work nearly so well.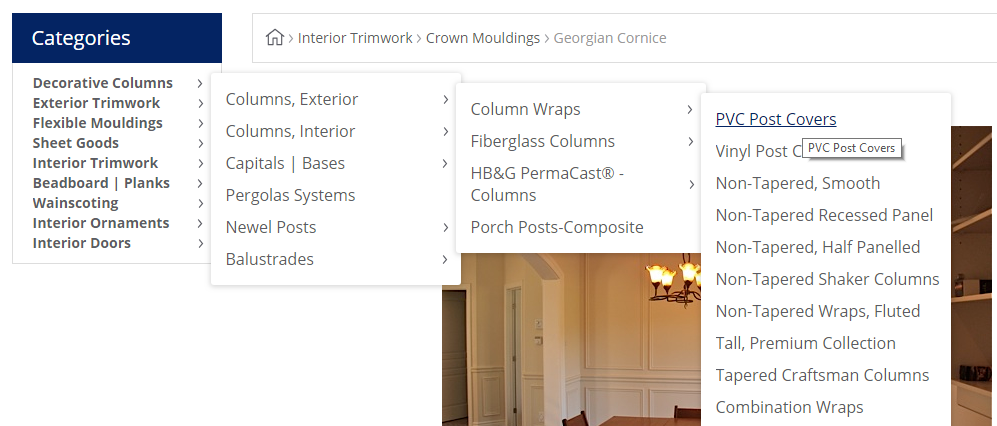 Mobile first is customer first
More and more people use the internet from their smartphones. This means if you want to sell anything online, you have to be mobile first.
EliteTrimworks made their website adaptive and gained 33,000 additional website views. All these visitors were people using mobile phones.
Change on the go
No great website is the result of one day's work. The best online shopping sites become the best after a long period of changes. You make up a plan and then adjust as you progress.
The latest version of X-Cart eCommerce platform allows you to adjust and change things on the go, all by yourself.
Guides and discounts at Brighter Blooms Nursery
This online garden store shows some classic examples of good marketing done by a small business. On top of providing high-quality products that people recommend to their friends, it does two things that you can learn from to create an online store.
Product guide
Is your niche difficult for an average Joe? Do people struggle to understand what your site offers? Maybe it's time to make a product guide.
You know your products better than the customers. Compile a brief guide that would educate the readers about what you're selling. More knowledge brings more sales.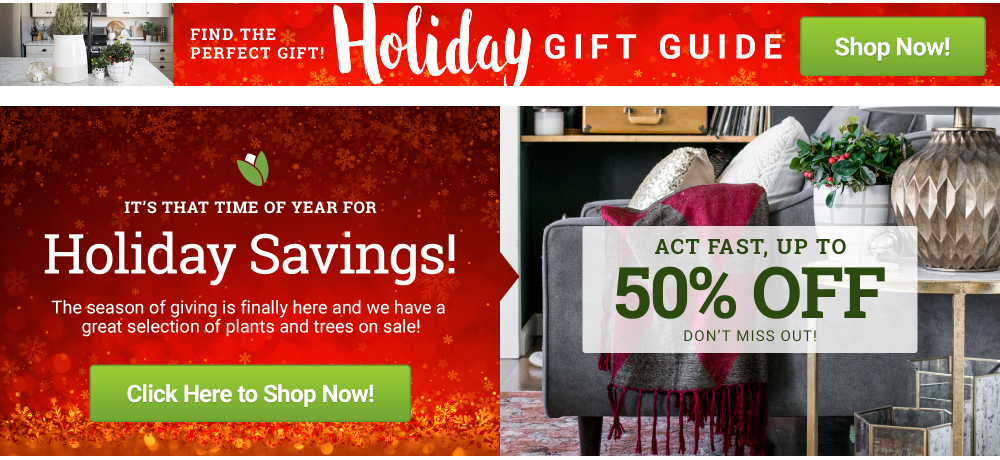 Emphasize scarcity
Take a look at the Holiday Savings screen right below the gift guide. It is a pure classic. Bright red to attract attention, a small triangular arrow to redirect it, a discount in all caps to sell.
A small phrase above the discount itself makes a huge difference. It mentions the fact the discount is going to expire soon. This makes your customers decide on the purchase faster and results in more sales.
Bedstar: social proof and delivery options
One of the best online furniture stores on X-Cart, Bedstar keeps the plank high. It doesn't have an outstanding design like the giants of the industry have. But you don't need to have that to provide a great shopping experience. Using our best advice and popular templates should be enough.
Here are the features from Bedstar you can implement on your shopping sites.
Coupons
Yup, coupons. Simple as that.
Coupons have been the go-to advertising method for years. It still is. What coupons do is provide your customers with the sense of exclusivity. Only those who have the code get the discount.
This makes for one of the best online shopping experiences and an increase in sales.

Pro tip: Research
Talking about coupons, you can use some as well.
What you won't see on any website is all the research that stands behind it. While X-Cart is one of the best online store builders, you can't start an eCommerce store without understanding your customers.
How do you do that? You do research. Apart from Google Analytics addon, you should get feedback from your customers via questionnaires. Get a 10% off Survio on CouponBuffer, and start understanding what your audience wants.
Smart delivery options
Not all customers are the same. They have different preferences when it comes to online shopping. Understanding these preferences is the key to success. And it's not just about free shipping.
Bedstar does that on their website. They offer a category of beds sorted by their immediate availability. If a customer needs a bed as soon as possible, they can order one from the list of next day delivery beds.
Social proof done right
You have probably heard that reviews on your website make it trustworthy. You have probably seen a lot of websites with reviews that were not trustworthy at all.
You know, these poorly made sites with three reviews that tell how great their product is. No one in their right mind would buy anything from them.
How do you make a good review section? Just like Bedstar did. On the bottom of their online shop, they show a section with embedded reviews from a large reviews website.
Look for platforms that allow an eCommerce site to embed reviews, or just include a link to the person's Facebook profile. This is an easy way to show your customers this is a genuine review.
Ann 'N' Eve's pins
Take a look at the screenshot. Judging from the design, Ann 'N' Eve is not among the best online clothing stores. It doesn't stop it from being successful, though.
X-Cart made a lot for the owner of this clothing store. However, arguably one of the most important details doesn't stand out. A red arrow points at that detail.

Pin it
That's right. This red button is responsible for dozens of sales. If you want to open an online beauty store or rank among the best online decor stores, you need that Pinterest button.
True, other social networks are important as well. However, Pinterest leads the way in terms of clothes and shoe sales.
If you are selling clothes online, having a Pinterest share button is a must.
Pitimana photography & native marketing
Many people believe that Pitimana offers the best online shopping for women in France. It is run by a mother of three. The shop sells crafts and jewelry. The owner's experience will show you how to create an online store that returns a profit.
Outstanding photography
You may think that your product is so good everyone will just buy it not looking at the price tags. This is not how things work, unfortunately. Even in good online stores to shop, a badly presented product sells badly.
Take a look at the picture Pitimana posts in one of its product cards. It's not a stock photo. It's not something the owner's nephew took with his camera. It is a great example of a photo taken in the brand style.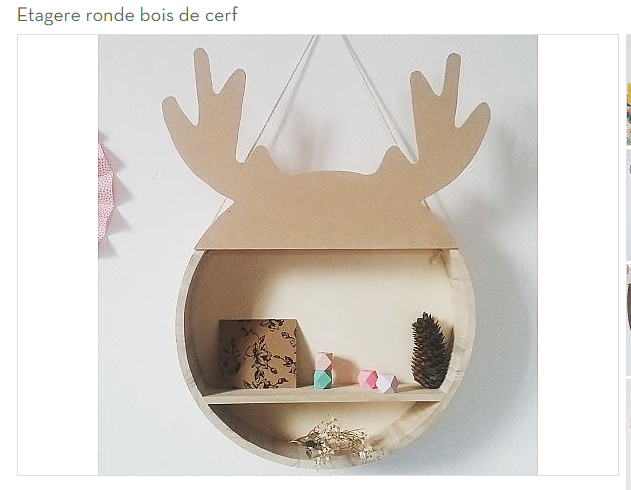 This photo shows the item in the interior, not in your warehouse. Potential clients will have an easier time imagining this shelf on their wall.
Make your product photos look nice and easy to imagine for your visitors.
SMM your way to success
You cannot see this on the screenshot, but most traffic comes to Pitimana through Pinterest. This was easy to predict from the quality of the photos they take for the store.
The truth is, your business may not even need extensive SEO efforts to return a profit. With one or the other of the best online store builders, you don't have to think too much about making your website SEO-ready. The platform does it for you. For instance, X-Cart provides clean canonical URLs and gives you the opportunity to configure page titles.
That said, your eCommerce website can get traffic directly from social networks. This works best for products that can be used to create visual content. Clothes, furniture, jewelry, and crafts sell like crazy on Pinterest.
If you are working in one of these industries, consider creating a Pinterest account.
Oak Hall history
Advice that you can take from this store may not apply to every business. However, if it does apply to you, you can't just shrug it off.
Many people argue that the best online business is selling clothes. If they are right, Oak Hall knew that well over a century ago. The first retail store under the name of Oak Hall was opened way back in 1859. It has been through 159 years of history, and now it's online.
If your business has a path worth telling, tell it. Don't be boring with it, however. Make it simple to follow and include the things your clients may want to know.
But what if you don't have a rich history? Here's what.

Tell a story
Stories sell as well as price tags and flashy ads, if not better. If you don't have a story, create one.
Show how you are doing a renovation in your restaurant. Share pics of you and your employers playing ping pong on a Friday evening. Tell your clients about your milestones.
Don't make it a personal blog, however. Tell a story that would make your clients like your brand even more.
Starting an online store is never easy
It is never easy to create an online store from scratch. While a ready eCommerce platform like X-Cart can provide plenty of tools, you still need to know how to use them. A couple of small things can be the difference between hundreds and thousands of customers.
Starting an online store is way easier with an all-in-one solution like X-Cart. Consider the tips from this article before you create an online store. Learn from the other success stories to start your own.
Here's what you should focus on:
Make a great first impression
Create a comprehensive FAQ
Create a product guide if needed
Make your customer's decisions easy
Silo your pages
Make the design mobile-friendly
Adapt your design and strategy as you go
Emphasize scarcity
Offer coupons
Conduct customer research
Do social proof the right way
Use outstanding photography
Leverage social networks
Tell a story
With X-Cart guides, creating a website is super easy. Draw design inspiration from other websites, follow the best content strategies and borrow a few ideas from these successful shopping websites. This will give you enough knowledge to leave the competition behind.