←
Back to Blog
42 Top-Selling Items on Amazon Everyone is Ordering Right Now
This blog post was originally contributed by Victoria Sullivan, a Partner Marketing Manager at Simplr, on behalf of Payability.
Selling products on Amazon can be very profitable — that is, if you sell the right products and know how to sell them well.
In this guide for sellers on Amazon, we're breaking down everything you need to know about what to sell on Amazon — and how. Here's what's included:
A list of Amazon top-selling products
Product research best practices
The most popular sourcing models
… and more.
So whether you're new to selling online and don't know where to start or you're a top seller looking for the next big thing, we've got you covered.
The 42 Top Selling Items on Amazon and What You Can Learn from Them
To start things off, let's take a look at the top-selling items on Amazon. Keep in mind that we're not necessarily saying you should sell these specific products. After all, competition would be intense (more on that below) and, before moving further, you may have to do thorough competitor research using a tool like Seller Labs Pro's Keyword Center. But when you pay attention to trends like these, you get a better sense of what Prime members and other Amazon shoppers want and need. So, use this Amazon bestseller list as a jumping-off point on your product research journey.
Note that these products were ranked "best seller" at the time this article was written. Amazon's Best Seller list is updated hourly, so for the most current list, click here.
Without further ado, here are 42 best selling products on Amazon across each major category.
Toys & Games
Children make up a large majority of consumers, so it's no surprise that the Toys & Games category is such a strong performer. The six best Amazon products in this category include: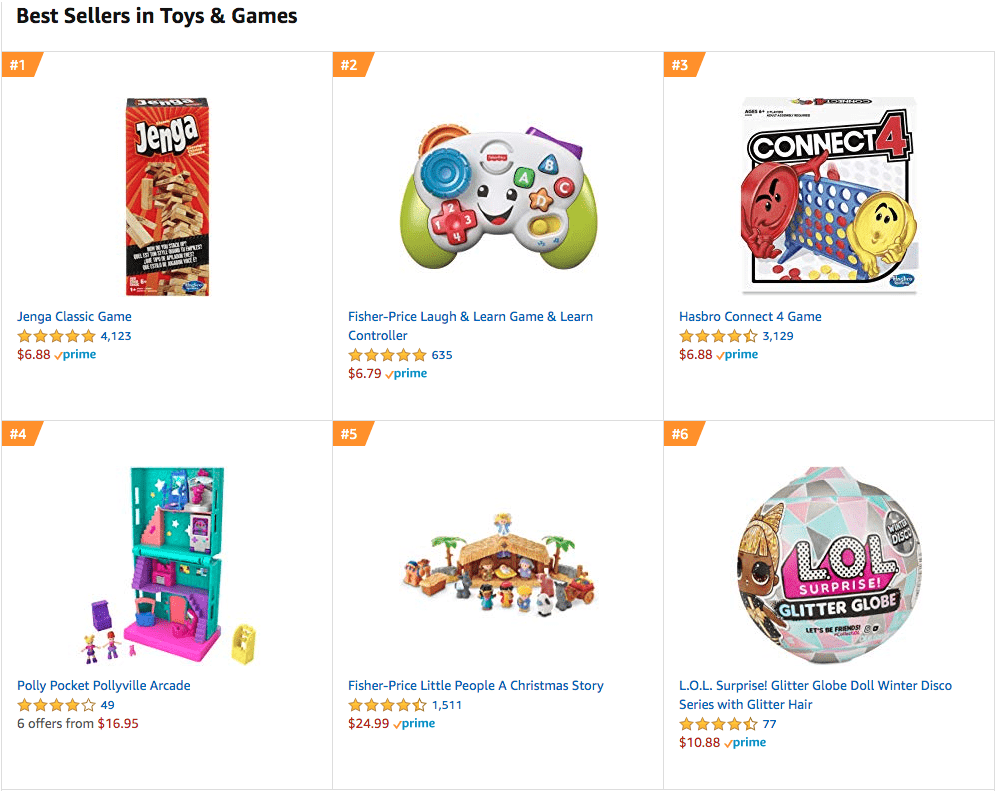 Electronics
We live in a digital world and selling electronics online (including on Amazon, another eCommerce platform, or your own eCommerce website) can be hugely successful. Topping the list of Electronics Best Sellers are Amazon's own products, including: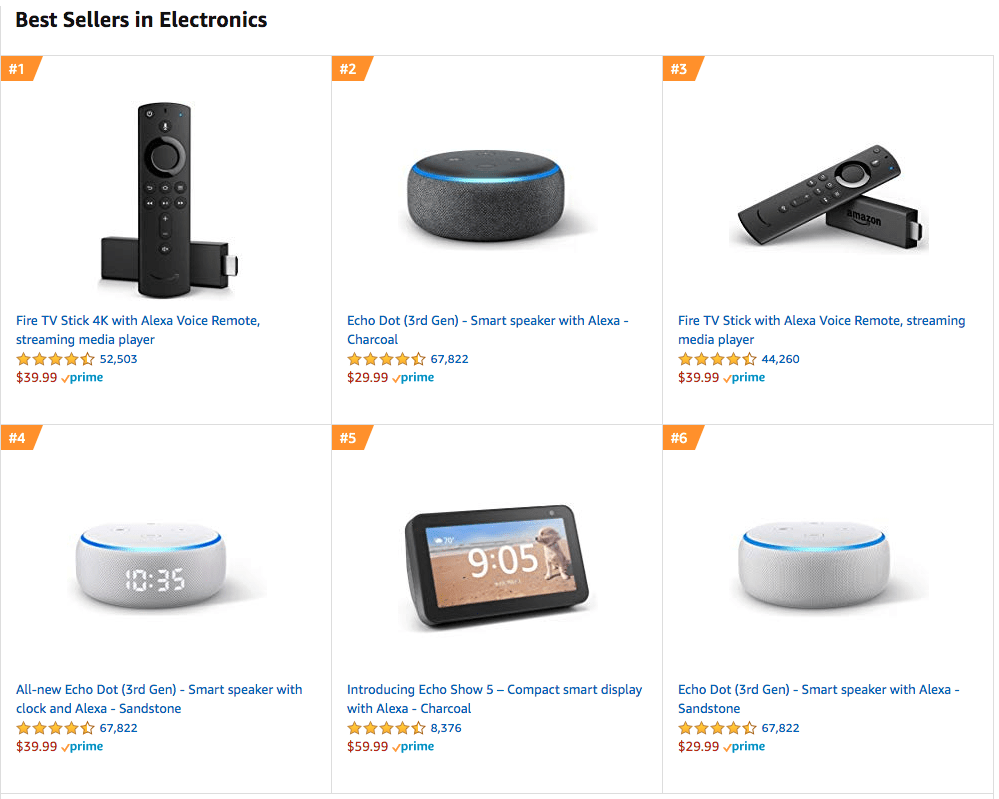 Camera & Photo
Top Amazon products in the camera photo category include everything from wifi enabled cameras to instant camera film. The most popular items on Amazon in Camera & Photo are:
Wyze Cam 1080p HD Indoor Wireless Smart Home Camera 
Upgraded Version Bluetooth 5.0 Earbuds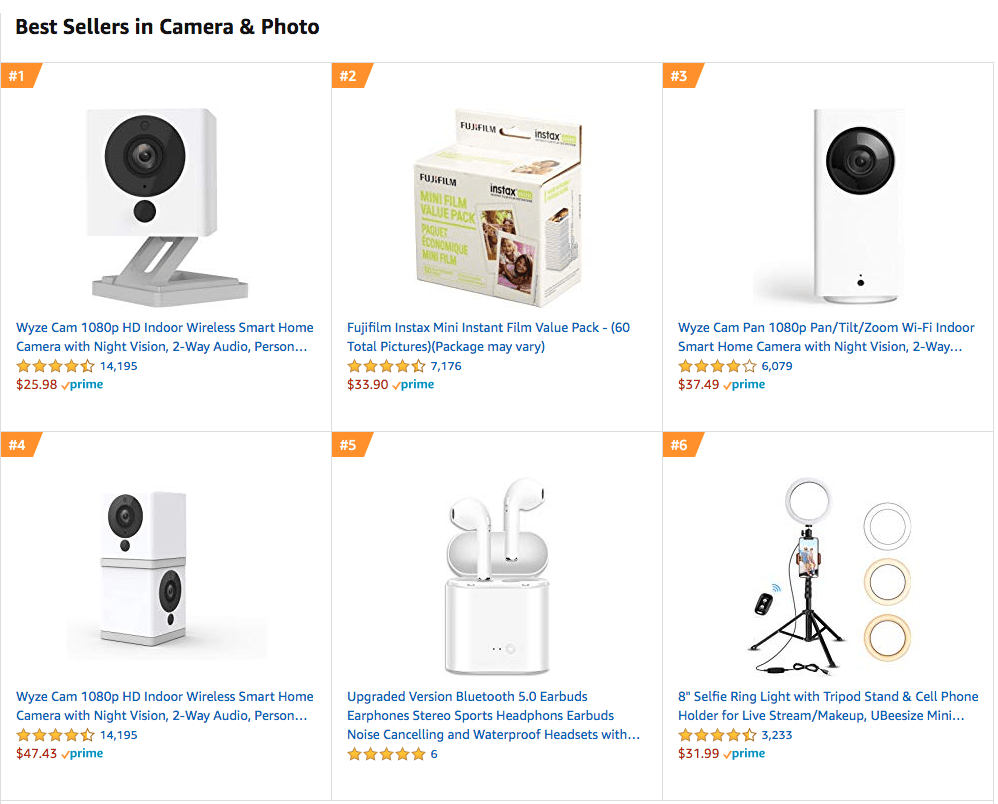 Video Games
The Video Games category includes everything from gift cards, to actual games, to hardware like controllers and headsets. Surprisingly, such hardware barely even made the top 10 here. Instead, gift cards and games are the most popular: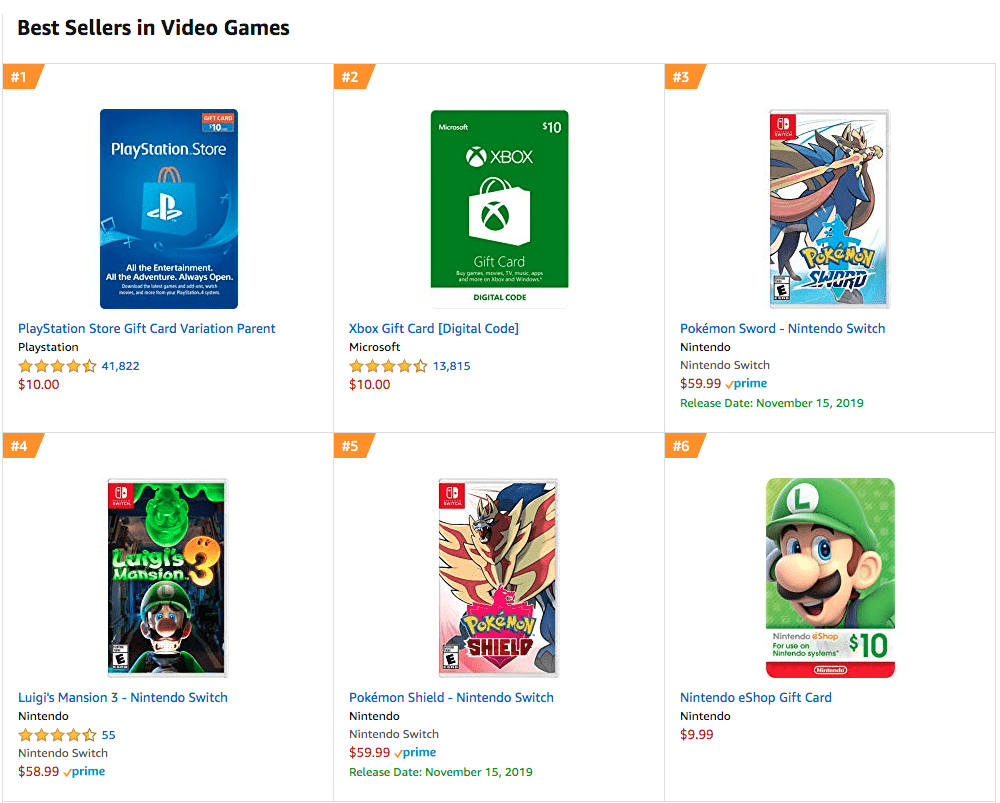 Books
Many of the top-selling books on Amazon have upcoming release dates, so there likely are marketing and PR campaigns encouraging pre-sales. Here's a look at the top six books: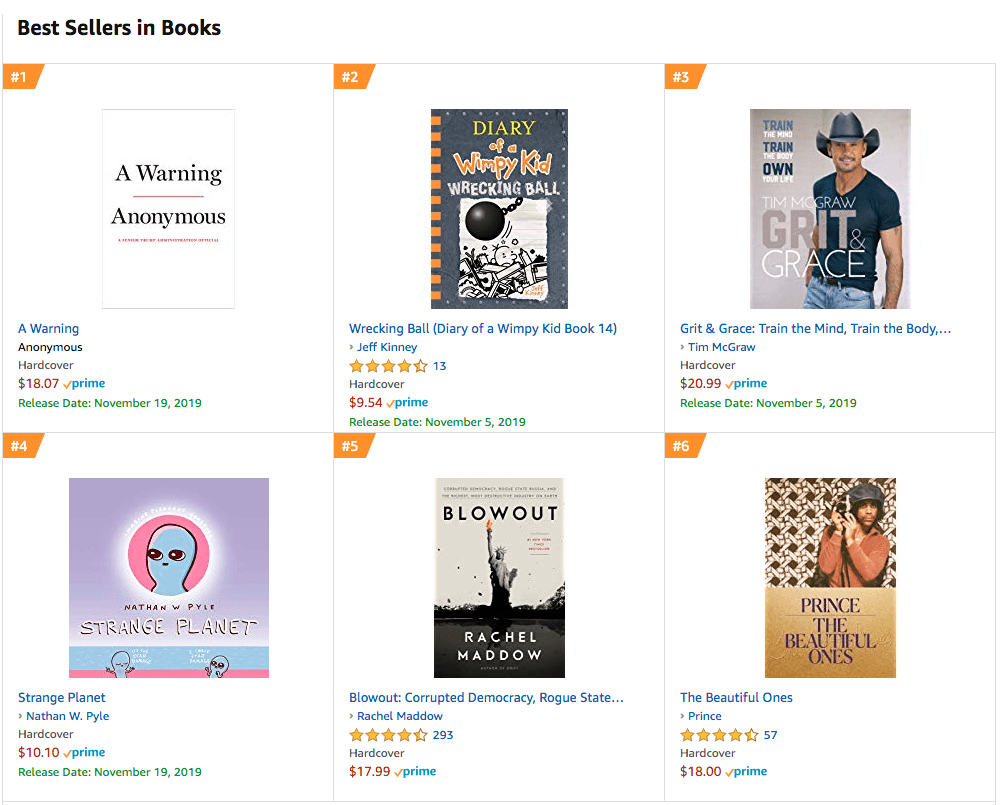 While sales and popularity for certain books can come and go, there are still top-selling books of all time that might be worth researching.
If selling books on Amazon seems to you like a viable way to earn money (and it actually is) then this guide will help you get the ball rolling.
Clothing, Shoes & Jewelry
Amazon has been building out their Clothing, Shoes & Jewelry category for some time now. A quick scroll through the top 100 products in this category shows that comfort and warmth are a priority for Amazon prime shoppers. No surprise there, what with the colder temperatures of fall upon us (and even colder winter ones ahead). With that, here are the best sellers in fashion: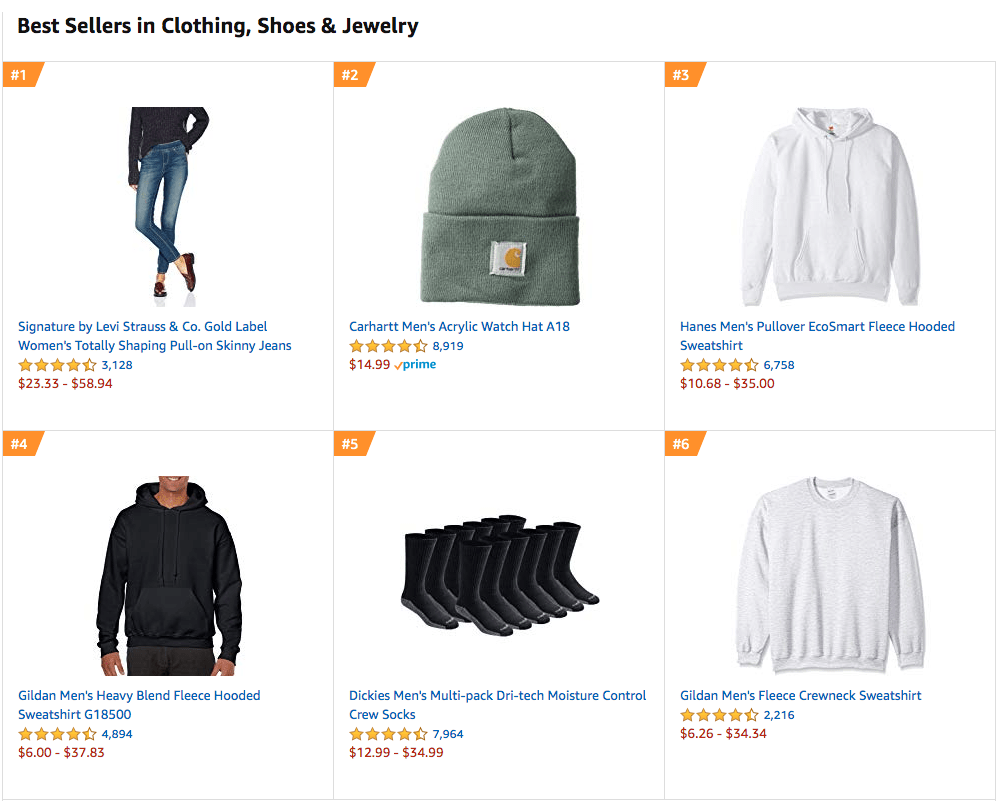 Home & Kitchen
It's no surprise that the InstantPot pressure cooker tops the list of Home & Kitchen products. Technology gives us the power of automation and consumers love devices that can make their own lives easier — be it for cooking, cleaning (many vacuums are in the top 100 for home and kitchen, including a robot vacuum), or something else that can be time consuming and/or a hassle. As you can see, the rest of the top six home and kitchen items are pretty utilitarian: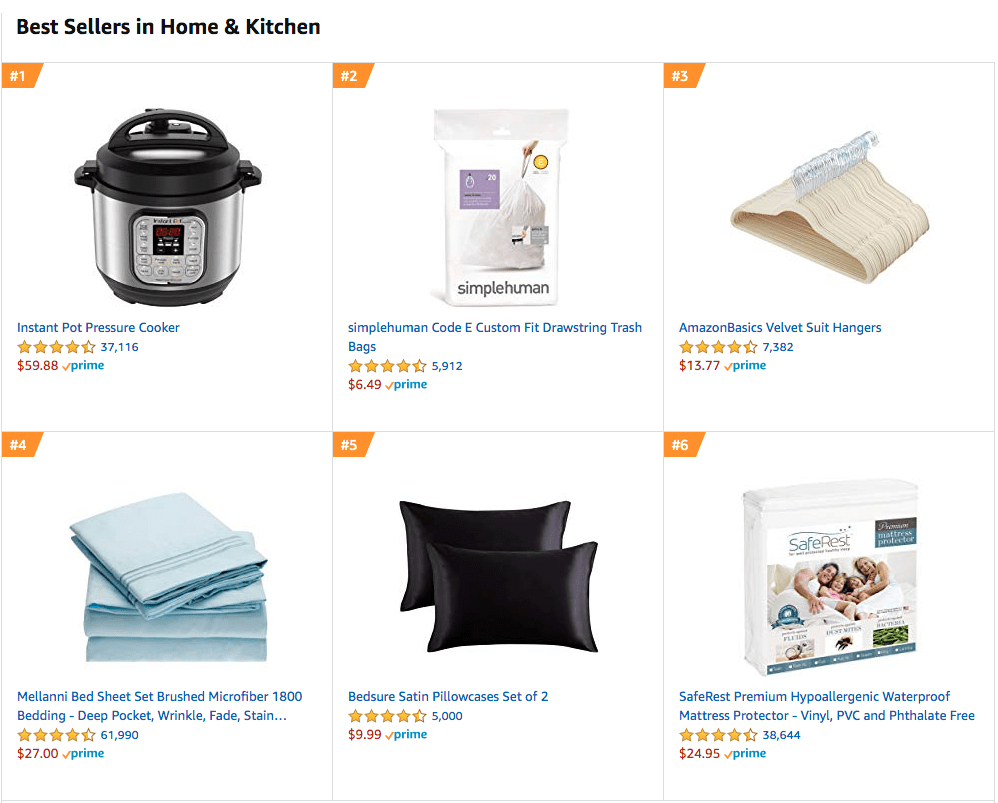 Product Research Best Practices: Other Ways to Find the Best Selling Products on Amazon So You Can Grow Your Sales Fast
As we mentioned in the previous section, your product research process should extend beyond Amazon's list of best sellers. That means looking into third party product research tools, using the scanner app to get a sense for an item's selling history, and more.
But that's not all. Here are some other best practices to follow as you're thinking about what to sell:
1. Make sure there is some demand
The last thing you want to do is invest in a product that no one wants or needs. Looking at the top-selling product for each category, researching the most searched product on Amazon, and finding trending products to sell can all help you get a sense of what people are most likely to buy.
After you make sure that the demand for the product is there (and the competition is not), you can move right to the next step: bringing your brand to life. Showcasing your brand on Amazon is easier when there's someone to assist.
Our partners from Seller Labs are here to plan, create, and execute your brand on Amazon with a toolbox of performance strategies that can be customized for your business. Interested in talking to their team and exploring your opportunities?
2. But don't pick a heavily-saturated market
If there is an overabundance of options (i.e. supply) from different sellers, you'll have a harder time getting your listing in front of the right customer. To work around this, go to a top-selling item's listing and find the "Customers Also Bought" recommendations for inspiration.
3. Find a niche
Avoid selling products with big-name brands, those also sold by Amazon, or those with a lot of third-party sellers. When you find a niche with consistent demand, your competition narrows dramatically. After all, you're not competing against other sellers like you, brands with big budgets or Amazon's aggressive desire to be THE top seller.
4. Pick products that are easy to ship
Investing in a product that isn't fragile, breakable, or perishable will make shipping easier and less expensive for you. And when a product is not prone to damage, you're less vulnerable to returns or negative reviews.
5. Look for products that are inexpensive to make/acquire
The smaller your upfront investment, the larger your margins could potentially be. Not only that, if your investment turns out to be bad and you don't recoup your money, your overall loss will be lower. Just make sure to test the quality before you invest. Many suppliers will send you product samples, so be sure to request those while you do your research.
6. Leverage existing reviews
Reviews can tell you a lot. For example, the number of reviews could indicate how long a product or listing has been up, or how often it's been purchased. If there is a small number of reviews and they are in the 4-5 star range, it could mean that that product is emerging as a top seller. In other words, there's potential and likely little competition, so you might want to give it a try. Additionally, the actual content of the reviews could give you more insight into a particular item — for example, what people like and don't like about it. That type of feedback could give you ideas on how to sell your own version that will resonate with customers even more.
Looking to harness the power of Amazon reviews? By working with Seller Labs' Communication Center, you can automate your messaging workflow with templates and connect with your customers in a more timely manner. Have a few bad reviews? Seller Labs can also help you minimize the damage with alerts.
7. Don't be too trendy or seasonal
To ensure you have consistent sales throughout the entire year (of course with surges around Prime Day and the busy holiday season), invest in evergreen products. That means staying away from only selling Christmas-themed items, for example, or sunscreen. You could absolutely sell items like these during their respective seasons, but selling products that could be in demand 24/7/365 will give you a better chance of achieving sustainable growth.
8. Research top sellers on other marketplaces
Seeing what's popular on other marketplaces can give you further clarity on what to sell. For example, it could confirm or deny an overly-saturated niche, show you any product gaps that might exist on Amazon, and more.
How Your Sourcing Model Can Impact and Inform What You Sell
There are a variety of ways to source your inventory. Here are five of the most common:
Retail Arbitrage means buying discounted products from retail stores, liquidation and surplus stores, flea markets, auctions, etc. and then reselling them on Amazon for a profit. This model can be time-consuming because you have to actually travel to each store and spend time scouring clearance aisles. On the flip side, you're likely not buying in bulk so your upfront investment shouldn't be too expensive.
Online Arbitrage is just like retail arbitrage except you're shopping online instead of in person.
Wholesale: As a wholesaler, you'd buy name brand products directly from the manufacturer or brand owner, most often in bulk and at a discount, and then resell them on Amazon. While the upfront investment will be bigger than, say, retail or online arbitrage, your overall unit costs will likely be lower — especially if you develop a good track record with your supplier and are able to negotiate better terms.
Private Label: Similar to wholesale, private label involves working with manufacturers/suppliers. The only difference is that you buy generic products, add your own labels and sell under your own brand.
Dropshipping: With dropshipping on Amazon, you can sell without having to store any inventory yourself or in an FBA warehouse. Instead, you run the Amazon side of things — set up listings, manage marketing efforts, respond to customer inquiries, etc. Then when a sale is made, your supplier is notified and they ship the product directly to the customer.
As you can see, the types of products you sell would differ depending on the sourcing method you choose. For example, with retail or online arbitrage, you would need to be more flexible about what you sell, since you're dependent on the items they decide to markdown. Conversely, you'd have more control over what you sell by choosing one of the other methods.
How to Sell Your Products Well So You Can Maximize ROI and Achieve Sustainable Growth
Now that you've got a better picture of what to sell and where you'll source it, you can focus on how you're going to sell it well. Here are five ways to maximize your ROI and grow your business for the long-term:
1. Optimize your product listings
Create accurate and descriptive listings with photos and/or video, popular keywords, and any relevant information on features, dimensions or size. Your listing is the only way for a potential customer to experience your product before buying, so be thorough and clear — that way, they won't be surprised or disappointed when their package arrives.
2. Manage inventory so you don't stock out
Staying in stock is so important for your eCommerce business. One way to manage your inventory well is to centralize your efforts.
For example, if you use a service like Amazon Feed, you can list your products on Amazon, sync your Amazon and X-Cart catalogs, and fulfill orders from one place.
Check out what the OrthoticShop has been able to do with their online business since syncing X-Cart with Amazon.
3. Ask for customer feedback
Besides your sales, customer feedback is a bonafide way to see how your product is performing. Not to mention, having more feedback could help you improve your Amazon SEO rank. So ask your customers for reviews. To make it easy, you can send automated emails a certain number of days after delivery.
4. Diversify across marketplaces or your own eCommerce site
Even though Amazon is arguably the most profitable marketplace to sell on, it shouldn't be the only one you sell on.
After all, selling policies change all the time and Amazon could decide without warning to revoke your selling privileges, sell the same products and/or take the Buy Box from you.
To protect yourself from something like this, consider spreading your efforts across other marketplaces (there are a ton of places to sell stuff online) or even create an online store of your own.
5. Increase cash flow to turn inventory quickly
Because of Amazon's two-week payment schedule, cash flow can be a constant headache for Amazon sellers.
Without reliable cash flow, sellers have a harder time buying inventory when they need it, investing in other growth opportunities, and more. Thankfully, companies like Payability exist to bridge cash flow gaps and make daily, real-time payments a reality.
When you have regular cash flow, you can turn inventory more quickly, keep up with growing demand, and more.
How Payability Can Help You Cover Product Investments, Turn Inventory More Quickly & Grow Sales on Amazon
Designed specifically for marketplace sellers, Payability offers a variety of financing options that can help you maximize cash flow and take your eCommerce business to the next level:
Payability Instant Advance: Payability buys a certain amount of your future receivables upfront and at a discount, giving you a large lump sum of cash. You can use this cash to buy bulk inventory orders or invest in other growth opportunities. Fees start at 0.50% per week but could be lower if you pay back early.
Payability Instant Access: Payability pays you your income one business day after making a sale, giving you next-day payments every business day. You can use these daily payments to make real-time resupply orders and cover other day-to-day expenses. A fixed flat fee of 1-2% of gross sales is typical.
Payability Seller Card: Access your funds even faster or on-the-go, and earn 2% cashback on purchases. Available to Instant Access customers only.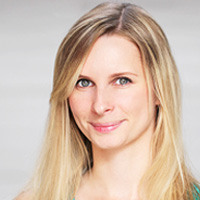 Helen Golubeva
Freelance SEO and Content Marketing Specialist
Helen is an SEO and Content Marketing Specialist. She has been creating and planning content for over 10 years, with 5+ years specializing in eCommerce.
Subscribe to Our Weekly Newsletter to Get
Expert-Backed

Tips Straight Into Your Inbox

Awesome! You won't be disappointed 😉